As boaters, and travelers in general, many of us walk the line between getting away from it all and staying in touch with people back home. With social networking, e-mail, and blogs we have the opportunity to share our adventures, most likely leaving our friends and family green with envy. Aside from the entertainment factor, sometimes we're required to conduct business so everything runs smoothly at home. If we need to or choose to accomplish these things, reliable internet access is a big help.
Last summer, I spent several weeks cruising on my boat, Jolly Mon throughout British Columbia's Gulf Islands and Desolation Sound. I'll share some of my experiences and solutions for staying in touch.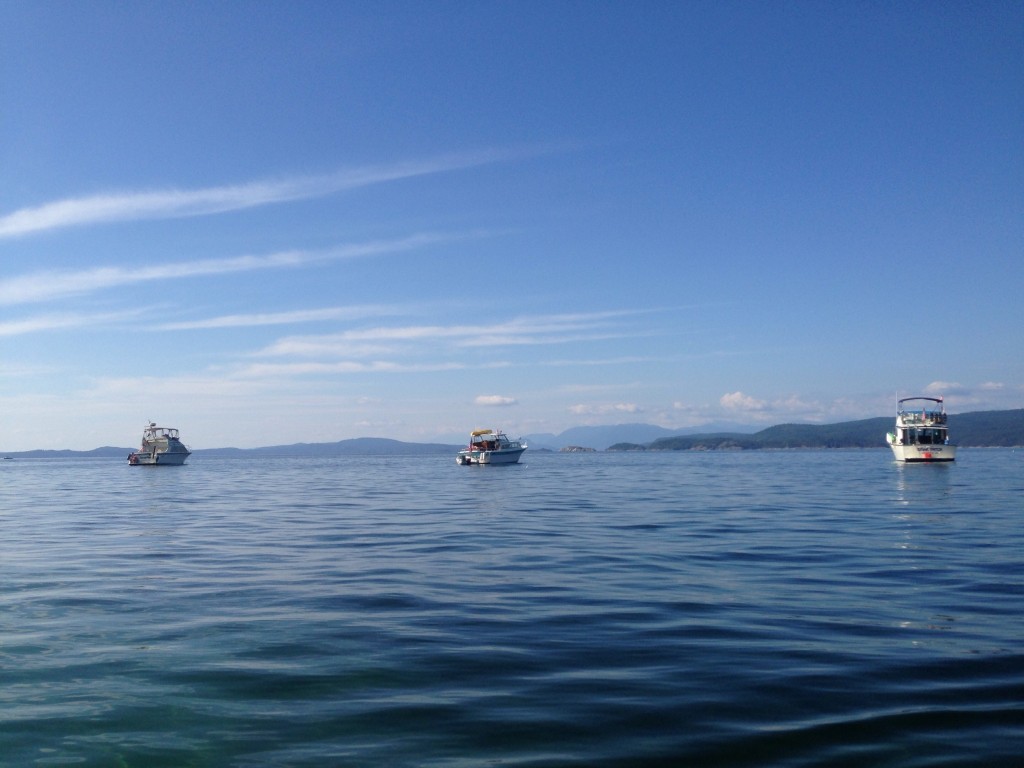 There are plenty of options; ranging from simple to complicated, and free to very expensive. The free option, of course is to search out free wifi internet access. Marinas may offer free wifi, as well as coffee shops, cafés, and other businesses. Often the service is slow and unreliable, and access might not be available on board.
Another option is paid wifi services supplied by a vendor through a marina or other facility. There are various providers, and their service can differ site to site, and they may have pricey daily or monthly rates, but most inconvenient is the fact that you must be in range of the wifi equipment,
Yet another option is using your mobile device: mobile phone, tablet, or wifi hotspot. While these may provide excellent coverage, roaming charges can be astronomical while out of your carrier's primal service area.
I travel with an Apple iPhone 5 and an iPad 2. My iPad is a 3G version, which means that it accesses the internet either through wifi or its built-in cellular data connection, with service through Verizon Wireless. My desire was to be able to connect one, if not both devices to the internet. I found a solution that accomplished both, that required just a bit of legwork up front, but resulted in good, affordable service while traveling in Canada.
First, I shopped eBay, where I purchased a gently used mobile wifi hotspot. Essentially it's a little box with a cellular data receiver, or modem, that wifi devices can connect to. I paid around forty bucks for it. My device was originally sold and serviced by AT&T, and came "locked", meaning that it would only operate on AT&T's network, so I needed to go through the steps to unlock it, allowing it to operate on any network. The way to avoid this, is to purchase a device that is already unlocked, and with a little bit of searching they can be easily found.
One unlocking method is to contact the carrier and request an unlock code. There's a process involved, and it can take several days. I didn't have several days, so I chose another method.
The method I used was to purchase an unlock code from an online vendor. I simply did an internet search with the manufacturer and model of my modem and included "unlock code". I had several options to chose from, and chose the one that was the quickest and cheapest. I completed an online form requesting information about my model of modem, and $15 or so later I had an unlock code and a link to download software to complete the process. I downloaded the file, connected my modem, followed the directions, and in moments I had an unlocked mobile wifi hotspot that will work with carriers around the world.
If I were to do it all again, I would simply purchase an unlocked modem from a vendor such as Amazon.  In the end, I didn't really save any money going the E-Bay route.
There's a key component, though, and that is a SIM card or chip. SIM stands for Subscriber Identity Module, and a SIM card is basically a small computer chip that serves as the "key" for a mobile device to access a network. Each carrier, if they use SIM technology, has their own.
In many parts of the world, carriers have made it easy to obtain SIM cards. You'll see them in gas stations and phone kiosks and they can be purchased on a pre-paid basis. We don't have it so easy here, so there are a few hoops to jump through.
Since I wanted to have access while cruising in Canada, I chose Rogers Wireless. There are other carriers, but I chose Rogers because of their pricing and coverage. Check for yourself to determine which carrier best meets your needs.
Obtaining the SIM card required a little time and a few steps, and a drive across the border to visit a Rogers Wireless store in person and jump through a few hoops. In order to open an account and obtain a SIM card, you need a Canadian address. If you have friends or family that live in Canada, see if you can use theirs. You'll also need your passport and some other sort of ID such as a credit card. Policies and practices can differ from store to store, and I was advised that "dealer" stores or "non-corporate" stores can be easier to work with. The representative I worked with recommended I access my account online and set up payment and contact preferences, which gave me the opportunity to change my mailing address to my home address when I did so.
I chose their "Network Access Plan", which is a flexible rate plan based on usage. The price starts at $5 a month for up to 10 MB and increases incrementally to $40 a month for up to 5 GB. I figure during the off season, the $5 minimum monthly fee is well worth not having to go through the steps to open the account.
Once I had the SIM card, I simply plugged it in to my modem and was good to go! When I turned it on at home, it warned me that I was roaming, but once I entered Canada, I had service.  With data roaming turned off on my phone and iPad, I connected the devices to the hotspot through wifi.  It's small enough to fit in a pocket to take ashore or along in the dinghy when going in search of cellular coverage.
Coverage was what I expected, with better coverage in the more populated areas, and little or none in the remote areas of Desolation Sound and the Discovery Islands.  Coverage in the Gulf Islands is fantastic.  When connected I was easily able to access the internet to update my blog, keep up on e-mail, check wind and weather reports, and torture my friends back home via Facebook.  I even made a couple of Skype phone calls.
All in all, I'd say it was a success and worth the effort it took to get everything set up.  Now I have a device that is ready to travel, with reliable service that doesn't break the bank.