Like other boaters I'm sure, I find myself daydreaming about places I've been and places I'd like to visit on my boat.  This seems to be especially true during the rainy winter season.  Some winters I manage to get out and do some cruising, while others I don't.  This has been one of those when my boat has been confined to her slip, aside from a few day cruises.
If you're suffering a similar affliction, the folks at Pacific NW Boater have made coping a bit easier, allowing an opportunity to visit the San Juan Islands from the comfort of your living room with their new DVD: Washington State Parks Cruising Guide – Volume 1, San Juan Islands.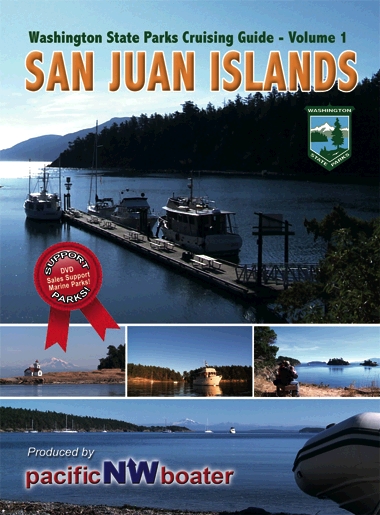 The beautifully-produced DVD, showcases nineteen State Park locations in the San Juan Islands.  Producers Darren and Lisa O'Brien take you along as they explore the parks, and provide an excellent overview of park facilities and attractions, so you'll have a pretty good idea of what to expect when you visit.  While the videos aren't intended to be an aid to navigation, the O'Briens do bring attention to possible navigation hazards, and share some useful hints on accessing park facilities.  The DVD is great for all boating audiences, as they cover State Park docks, mooring buoys, an on-shore facilities.  The photography is excellent, capturing the beautiful scenery the San Juans are known for.
My boating life began when I was weeks old, riding around in a small runabout, where my brother and I were stowed under the bow when the water got rough.  My family visited many of the Washington State Parks in the San Juans, but there are some I've never been.  The DVD introduced me to some new destinations I now look forward to visiting that I've motored past for years.
Whether you're new to boating the San Juans or have spent a lifetime exploring the Islands, you'll enjoy Pacific NW Boater's DVD: Washington State Parks Cruising Guide – Volume 1, San Juan Islands.
Be sure to check out the "Extras", though…  The music video is just what the doctor ordered for a case of the winter blahs.
Pacific NW Boater: www.pacificnwboater.com