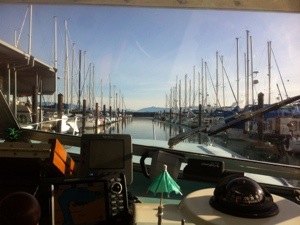 A few years ago, I was backing Jolly Mon out of her slip, heading out for a trip. Being a twin screw boat, most of my close-in maneuvering is done with the transmissions and throttles and the rudders remain centered, but as I motored down the fairway, I grabbed the wheel to correct my course. As I attempted to turn it – nothing. Locked up… I tried again. Locked up. I was able to negotiate the fairways to get to a more open area of the marina without a problem. I tried to turn the wheel once again, this time with a little more muscle. "POP!" The wheel turns. So does the boat, fortunately.
I got used to the above routine occasionally, but I began making sure the rudders would turn while still in the slip. Aside from some slop in the 43 year-old rack and pinion cable steering, things worked pretty well. Until, that is, the system started to get stiffer, and hard over to port was nothing like hard over to starboard.
It was time for new steering. You think?
Another upgrade I've been wanting to do is to add autopilot. I've really began to enjoy slow cruising, and autopilot would help make it even more pleasant, and surely more efficient, steering the boat in a straight line, compensating for current, and just making running the boat less "work" at slow speed. I figured while I was at it, and had the boat torn apart installing new hydraulic steering, I would go ahead and install autopilot at the same time.
I'm installing Teleflex Seastar hydraulic steering, which I purchased through Fisheries Supply with the addition of a Raymarine p70R autopilot.
Old steering components were removed and transferred to the nearest dumpster. I began by planning my install of both systems, considering the best order to install the new components.
The autopilot control head is a very nice unit, but required some sort of surface to mount it. I got ahold of friend Ray Robinson of Robinson Woodworking to see about getting a little piece of mahogany to make a mount. I showed him the control head and shared my ideas, but he would hear nothing of it. Instead, he fashioned an absolutely beautiful mounting pod from a solid piece of mahogany.
The project, while time consuming, wasn't too difficult, and I'm very happy with how it all came together.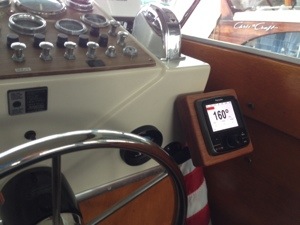 After getting everything back together, it was time for sea trial and calibration of the autopilot. The hydraulic steering is smooth and easy. Calibrating the autopilot was simple, and except for a few adjustments, it's ready to go.
So am I!