It's finally spring. Just barely.
Friday, March 22
This weekend adventure began with finishing up a few chores at home, locking up the house and heading for the boat Friday evening.
JaCarol'sJim & Carol had just arrived at the marina- their first visit for the year. After dropping some things of on my boat, I ventured over to C Dock where I joined in sipping a cold one, already in progress. Cara (Enough Time) was there, too. It was nice to sit and catch up. JaCarol would be staying at the dock this weekend due to some commitments at home for her crew.
The consensus was we were all hungry, and after minimal deliberation, we loaded up and headed downtown for some dinner at the Rockfish Grill. Jonathan, Lori, and Thomas (Briar Patch) rolled into town and joined us at our table, as well as some other riff raff that made their way in. Overall, a nice evening, but it was nice to say goodnight and head back to the boat and find my bed.
Saturday, March 23
Up early, I readied the boat, found some breakfast, made some coffee and waited for the cue that the rest of the fleet was ready to go. After a quick stop at the fuel dock, Jolly Mon, Enough Time, and Briar Patch were under way.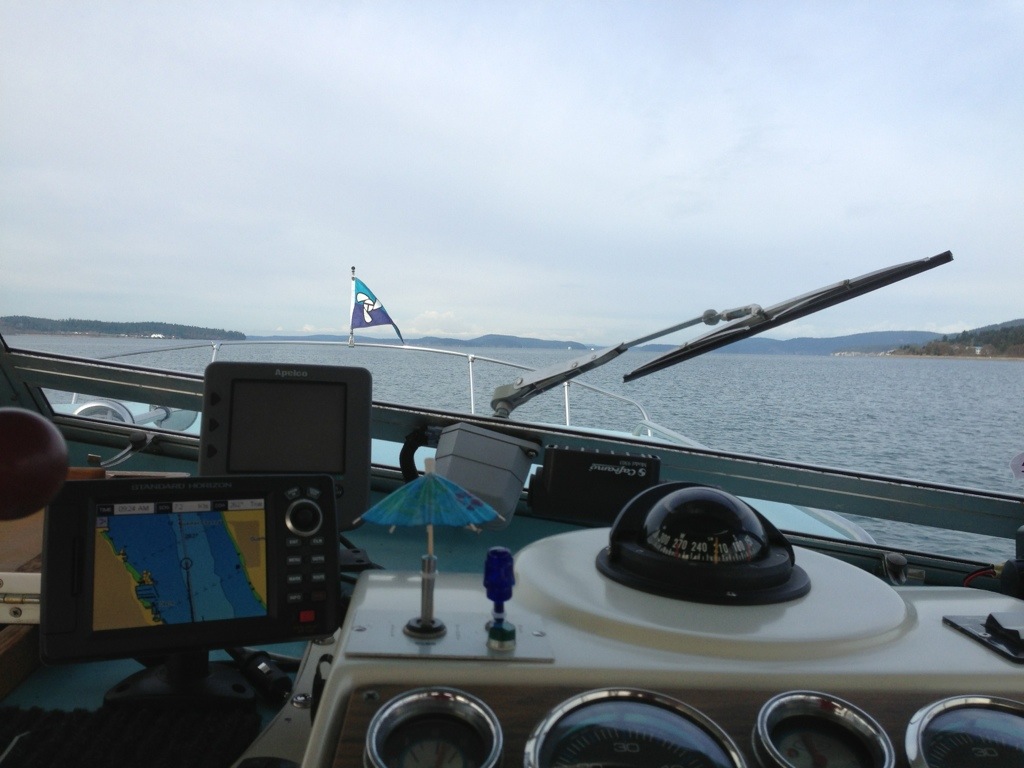 The evening before, I had plotted a route to Fisherman Bay (Lopez Island) on my chart plotter. I was excited to try out my newly-installed autopilot. I called up the route, engaged the autopilot, and sat back and enjoyed a leisurely 6 to 7 knot cruise on calm seas, in no hurry to get anywhere. The autopilot performed nicely, as did the new hydraulic steering.
We pulled into Fisherman Bay around lunch time, and docked at the Lopez Islander Marina. While waiting for the lady responsible for checking us in to return from an errand, we enjoyed a pint in the bar… The islander has a great off season rates- $20 a night for my boat.

We settled in, and enjoyed the afternoon sun. Maybe even caught a short nap. Jonathan and I launched the dinghies for a ride, running out of Fisherman Bay and across to Shaw Island for some sightseeing. On the run back, my GPS clocked us at a top speed of 17.3 knots. We arrived back at the boats just in time to sit down for some dinner together aboard Briar Patch. Dessert, too, of course.
Sunday, March 24
After breakfast, we all walked into Lopez Village for some exercise and some exploring. It had been several years since my last visit, so it was nice to check things out again. Back on the dock around noon, we got ready to depart.
I didn't feel like going home. So I didn't. I had a couple more days off, and the weather forecast looked decent, so I elected to stay out another day. As Briar Patch and Enough Time motored toward home, I pointed my bow in the direction of Friday Harbor.
On arrival, I called the harbormaster's office on the VHF and was invited to take my pick of any open slip on G Dock. I found one near the end, with no other boats around it. It was quiet, with a perfect vantage point for watching arriving and departing ferries, seaplanes, and a great view of Mount Baker in the distance.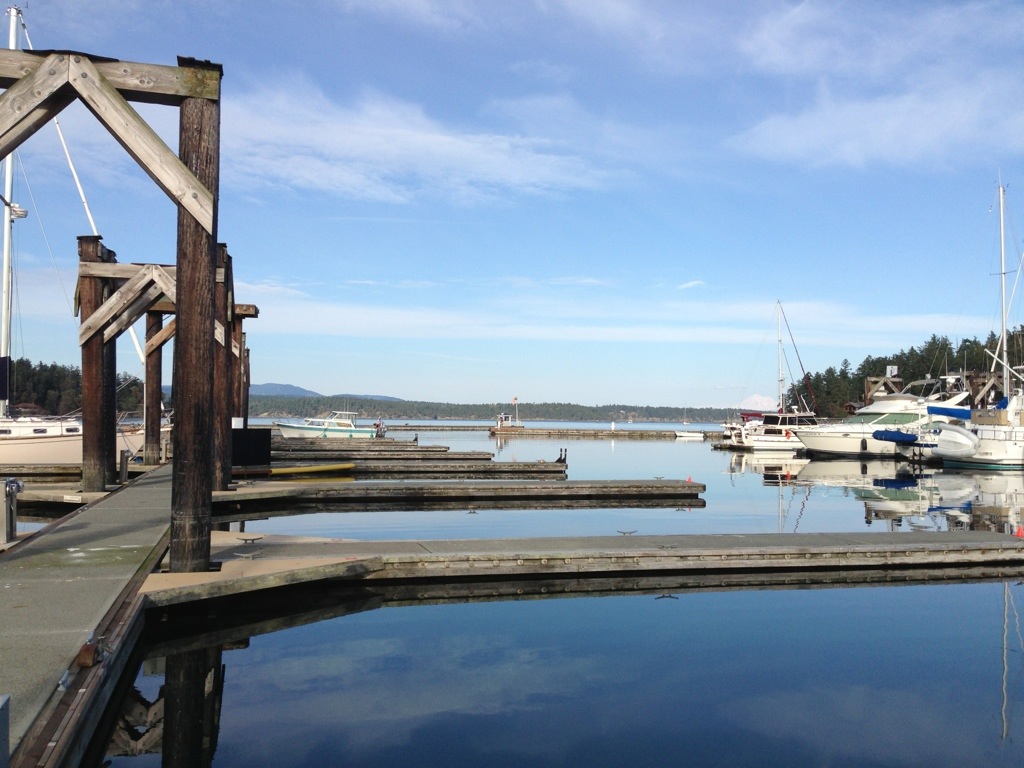 I always enjoy a walk around town in Friday Harbor, window shopping and people watching. When my evening appetite came on, I decided to give the Cask and Schooner Public House and Restaurant a try for dinner. This was formerly the Front Street Ale House, a place I used to enjoy. The place had quite a dinner crowd, so I sat down at the bar, next to a local guy we'll call "Tim". Everyone seemed to know him and they all came to greet him. He was chided for missing morning yoga by a few. His excuse was that he had a little too much fun square dancing on Lopez last night.
For dinner I chose a burger which the menu described as grass-fed island beef that I ordered topped with white cheddar and bacon. It came out nicely prepared with a generous portion of house cut fries. It was delicious, washed down with a pint of Stone IPA. From where I sat, I saw some nice looking plates going by as they left the kitchen. Definitely a spot to visit again.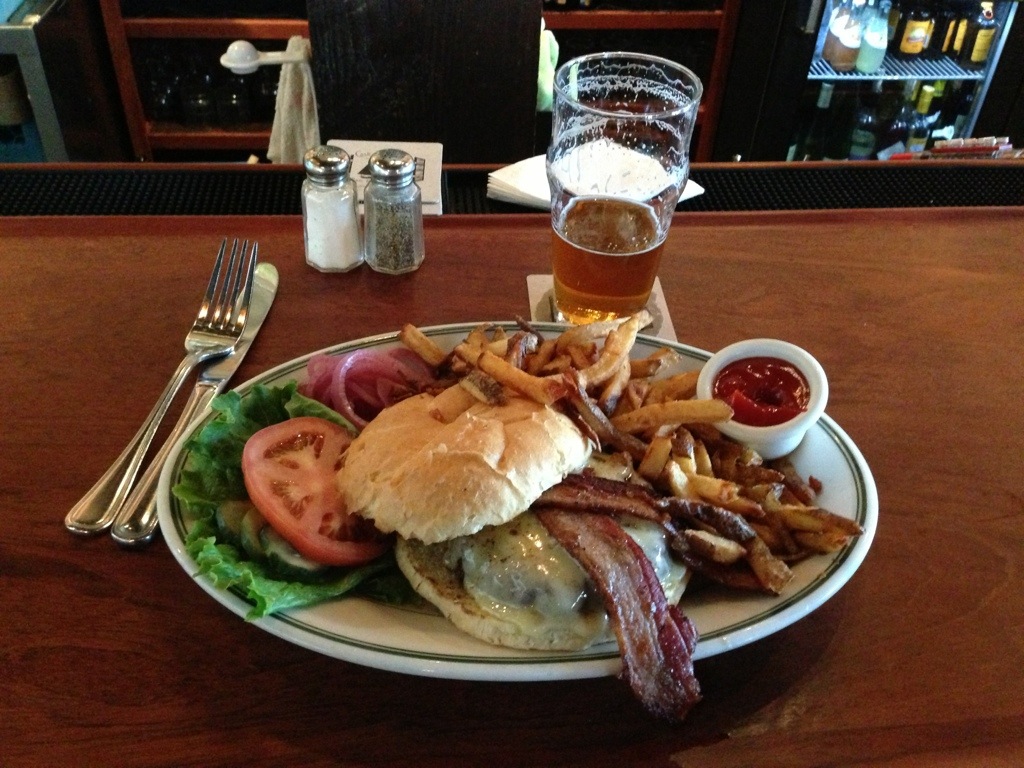 I took my time getting back to the boat, walking the docks, checking out boats and visiting with others doing the same. The marina is quiet – but there are boaters here, and we're all enjoying the quiet.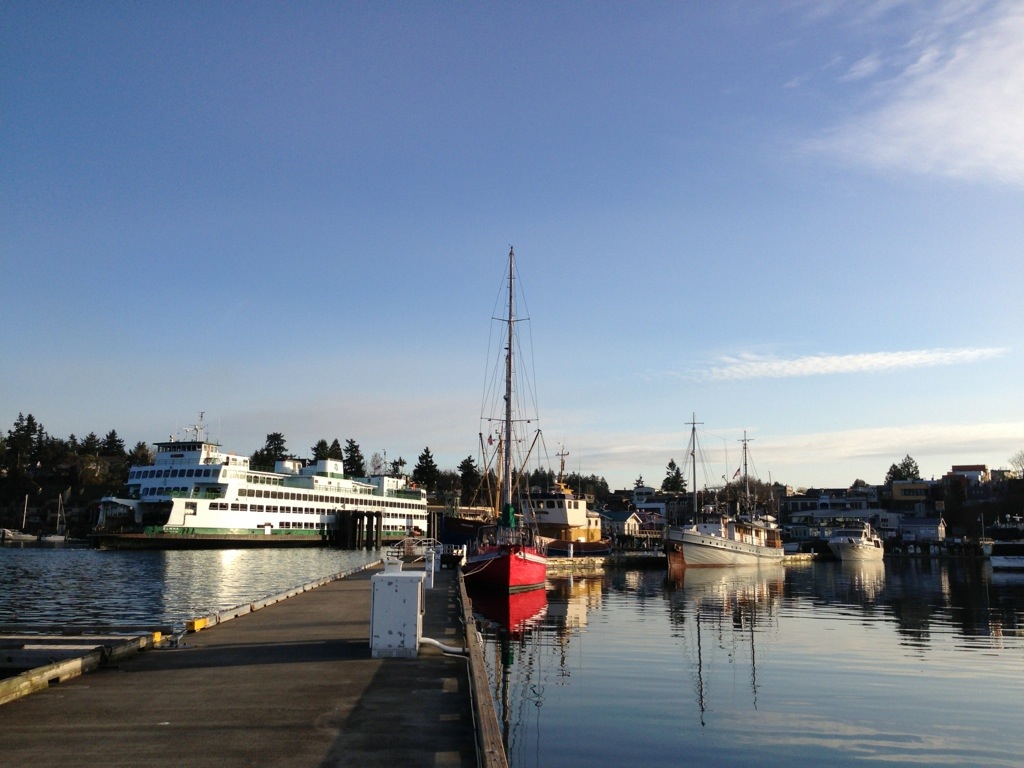 Monday, March 25
Had a great night's sleep, and actually slept in a little, waking to clear, sunny skies already warming the cabin. I made one last walk through town to check out King's Market, which I missed the day before, and had some morning coffee sitting in the sun. I meandered back to the boat, got things ready, and pushed away from the dock.
For a change of scenery, I decided to go home via Wasp Passage on the west side of Shaw Island, as I'd seen Upright Channel plenty. Just as I was preparing to round Neck Point on Shaw, I saw a speedy little orange boat coming the opposite direction. Coast Guard… Instead of continuing on their way as I had hoped, they turned toward me, so I pulled the throttles back and greeted them as they pulled alongside.
They politely said hello and asked when I had been boarded last. Nine months ago, or so I thought, but I invited them aboard. They asked if I had the report from my last boarding, which I did, tucked into my notebook of vessel documents. I keep this book neat and organized, with everything easy to find. I think that helps when dealing with officials… They checked the report and said there was no need for inspection. They returned to their boat and left me on my way.
I ran the entire trip home at displacement speed. I was going slow and I didn't care. Too nice of a day to be in a hurry.
Trip total: 47.7 Nautical Miles
View my track.