We were standing in front of Refuge Cove Store on a warm, sunny Desolation Sound July afternoon. I spotted her in the distance, making her way up the steep and rickety ramp from the dock below.  She was was coming our direction, on a mission, looking for someone or something.
"Do one of you fellows own the Tolly 28 Express?" she asked.
The outstretched arms and pointing fingers from my friends turned her attention to me as I was working on a humongous ice cream cone, customary when visiting Refuge Cove.
"That would be my boat," I replied, wondering what I possibly had done this time.  Did I cut them off?  My wake? My boat was still tied to the dock and afloat, so I guessed it wasn't some sort of emergency.  She was cheerful-looking little lady, wearing a big smile and a sharp summery nautical outfit.  I figured I wasn't in too much trouble.
"My husband I and saw you coming into Squirrel Cove a few days ago, and we were hoping you would come anchor by us," she said.  "We bought a 24 Express brand new in 1967, and we just loved seeing your boat!  You have kept your boat pristine."
I had just met Donna Yellam.  "You must go down and introduce yourself to my husband!  He's on our boat, and he would love to talk to you," she said.  We chatted a while, and I thanked her, but testified that my boat was far from pristine.  I made my way down to the dock and found Donna's husband, Dick Yellam aboard the Happy Wanderer, a 1996 3388 Bayliner.  He was changing his boat's propane bottle while Donna was tending to laundry on an afternoon layover at Refuge Cove.  We exchanged greetings, shook hands, and Dick stood back, and looked toward Jolly Mon.
"I gotta tell ya… this brings back a lot of memories," he said.  "We cruised on a 24 Express for 27 years!"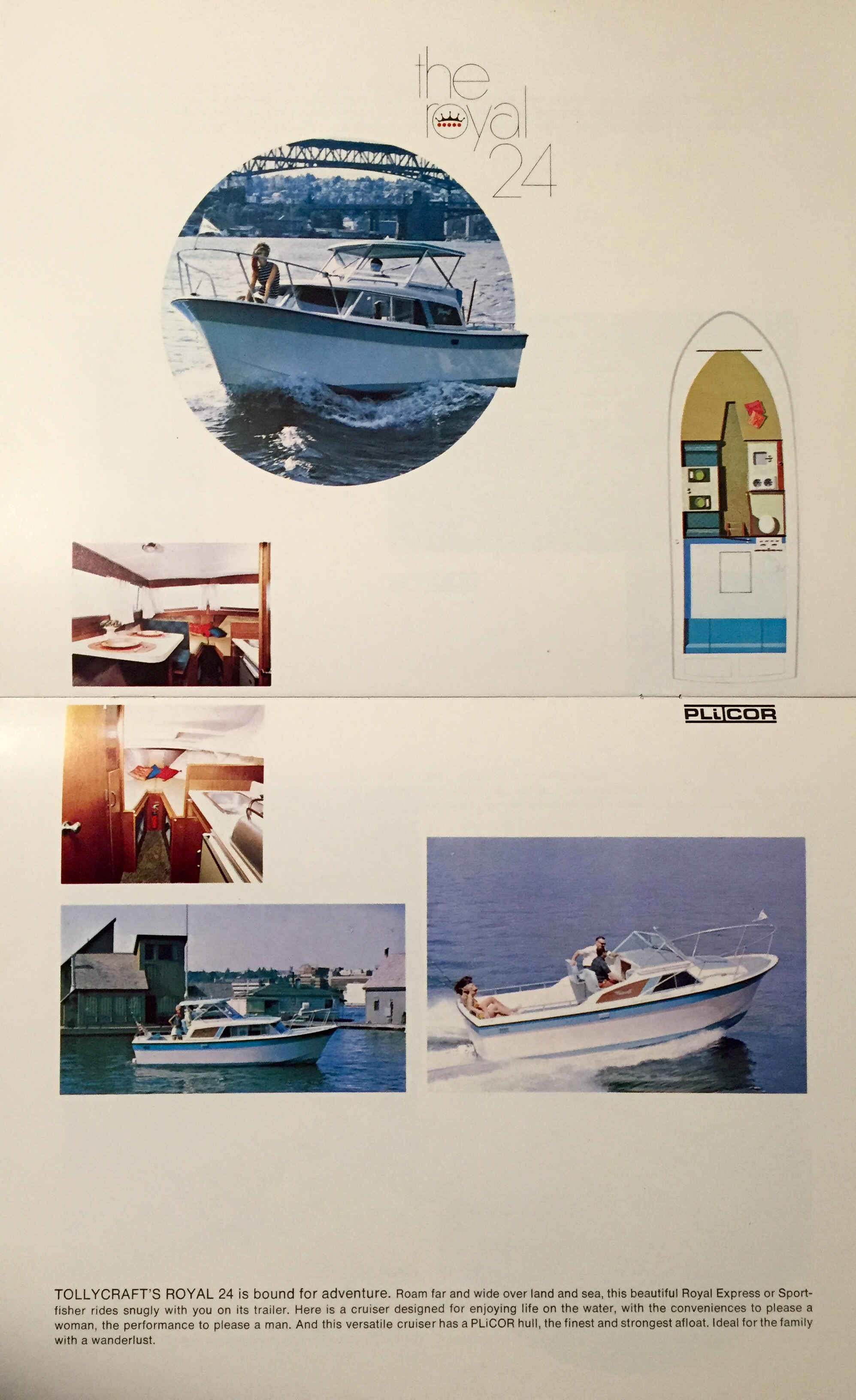 The Yellams told of visiting the 1967 Boat Show, looking at other brands before settling on a 1968 Tollycraft 24 Royal Express.  In 1970, the couple cruised the boat to Alaska – one of two trips they made with the boat, and have been cruising somewhere north every year since.  This year would be Desolation Sound and the Broughtons.
It might be difficult to imagine a couple cruising a 24 foot boat to Alaska and back, but Dick made some modifications for improved comfort.  The factory hardtop was extended, with a canvas and isinglass enclosure.  "You often run into wet weather cruising to Alaska, and this turned the entire boat into usable space," he explained.
The Yellams are obviously experienced cruisers, but Dick is pretty certain they have an edge in one area.  "We are the most experienced boaters… in one aspect of boating," Dick exclaimed.  "And that aspect is being towed!"  He explained the original OMC outdrive was the boat's weak link and true to their reputation, was less than reliable.  After ten breakdowns that resulted in being towed nine times, Dick began carrying a complete rebuilt OMC outdrive in the bilge.  When the outdrive would fail, he had a procedure.
"First, I'd start up the four horse kicker and head for shore," he described.  "I'd find a spot to drop the anchor and back the boat into the beach in three feet of water, put on my hip waders, jump in the water, change the outdrive, and we'd be back on our way!"  "I got pretty good at it," he said. "I could change an outdrive in thirty minutes!"
Dick told of meeting Tollycraft builder, "Tolly" Tollefson while cruising Princess Louisa Inlet, asking why the boat couldn't be built with twin inboard power, recognizing the OMC outdrive did not provide for reliable cruising.  "He didn't seem too interested," he chuckled.
Finally enough was enough, and Dick would have no more of dealing with repeated outdrive failures.  He abandoned the Chevy engine and OMC drive, and after significant modifications installed a 454 Chevy engine coupled to an inboard v-drive.  Dick smiled and reported, "From that point on, life was good."
With a cruising speed of 26 knots, topping out at 44 knots, the boat could cover some ground.  "At the time, fuel was cheap, so we could cruise to the San Juans from Seattle for the weekend," he said.
The couple happily cruised on their Tolly, logging many hours and miles.  "There comes a point… when you get a little older," Dick, who has entered his eighties, said, "That you need a little more room… and a little more comfort."  They sold their beloved Tolly, and purchased their current boat in 1996, and have been happily cruising since.  Just as they did with their previous boat, the Yellams have upgraded and personalized this Happy Wanderer for more comfortable and safe cruising.
Our meeting was brief, but I hope to cross paths with Dick and Donna again, as one of the joys of cruising is the people you meet along the way.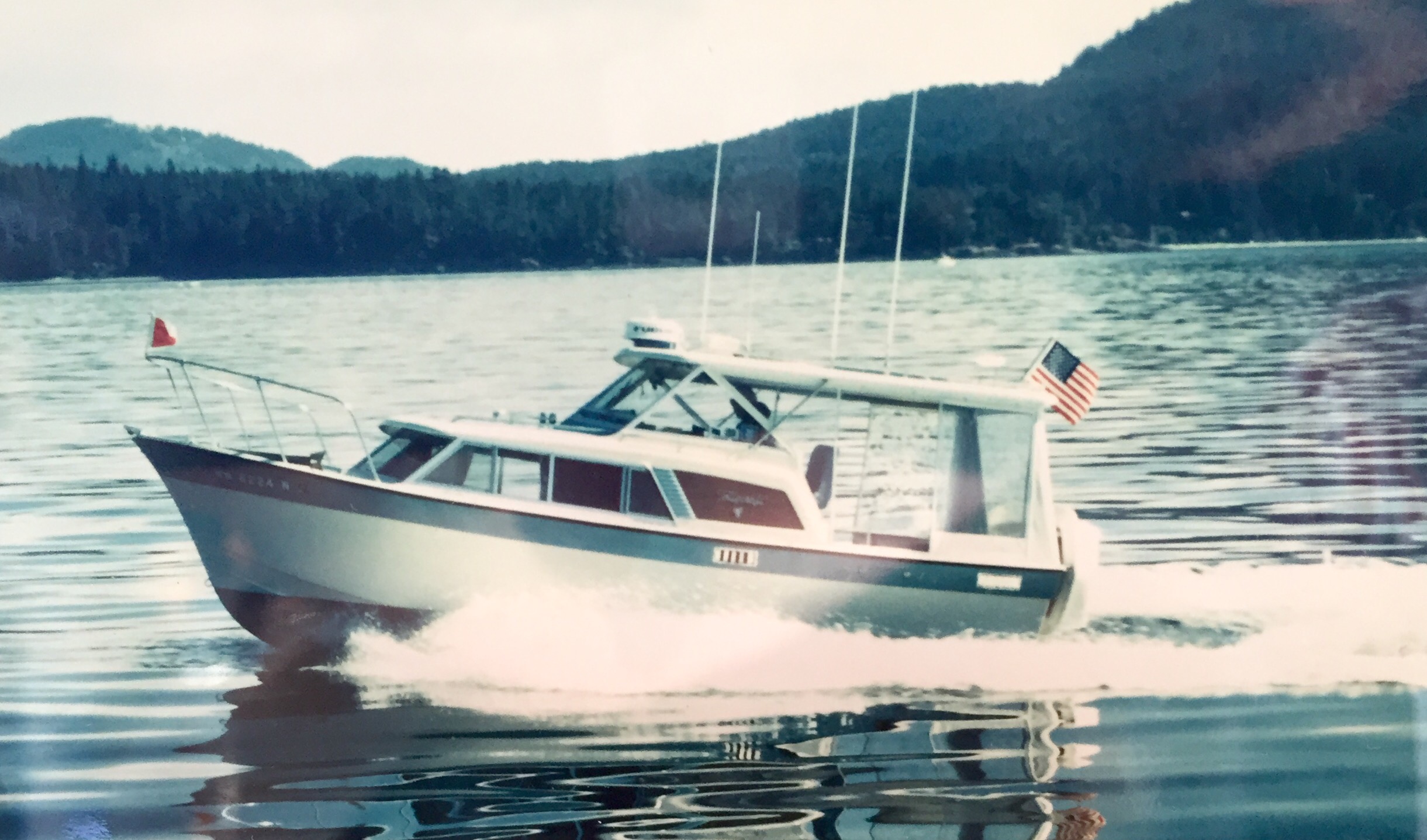 They finished their chores and shopping and were gone, but before we parted, they invited me aboard for a tour.  Dick pointed out a photo of their old Tolly framed along with a poem penned by Donna.
Happy Wanderer
The earth is such a beautiful place,
with land and sea to grace its face.
Her wandering passages I was made to explore,
poking my bow in tranquil coves for more and more.
I relish the beauty of each little bay,
that my anchor rests in, ending each day.
I am a Happy Wanderer.
Some mornings are misty or a pale gray,
becoming a cleansing rain or a sun-bathing day.
I love the sky playing with the sea,
Casting a cloud shadow or even an image of me.
And the shades of blue green and even pink she gets,
In between quiet sunrises and breathtaking sunsets.
I am a Happy Wanderer.
The myriad of islands caressed by the waves,
Beckon me – come, explore my secluded bays.
And there unfolds the pleasure of why I explore.
An eagle, a kingfisher, or a family of geese to adore.
Playful otters, a seal, or a mink scampering on shore, 
Graceful jellyfish, gnarled driftwood, evergreens and more.
I am a Happy Wanderer.
I am happiest when my bow is skimming the water so blue,
Seeking new adventures from destinations old and new.
I watch rolling wales and for playful porpoise I slow way down, 
They must be God's happiest creature, there's never a frown.
I beam when my captain and first mate share a tale,
About the beauty of places they've been and have yet to hale.
For they are the true Happy Wanderers.
~Donna Yellam