If you've been following along, you know that I've been out cruising a bit this summer, leading to speculation among friends that I've retired, quit my job, or been fired. None are true, that I'm aware of anyway.
I've been cruising through the San Juans and Gulf Islands with an ultimate destination of Telegraph Harbor for the 25th annual Canadian Tollycruisers Rendezvous, which deserved a post of its own. Now, I'm on my way home, but in no hurry. If you click back through some of my previous posts, you'll see what I've been up to.
Sunday, September 15
Woke up to skies that were nearly as foggy as my gin-clouded head, after a long weekend of fun and everything that goes along with it. As much fun as the weekend was, I'm plain worn out and ready for some quiet. I'm happy to have several days to make my way home.
By the time I was ready to go, after a shower and getting the boat ready, the fog had pretty much lifted (from the sky). Most of the boats had already left by this time, so I said some last good byes and pushed away from the dock. Briar Patch had a head start on me, but we hoped to meet up somewhere for the evening.
I made a slow run through Sansum Narrows and met up with Briar Patch at Musgrave Landing (Saltspring Island) at the community dock. A friend spoke of this as a nice spot, so we decided to check it out. Aside from some rollers that come in from passing boats, it is a very nice, mellow spot.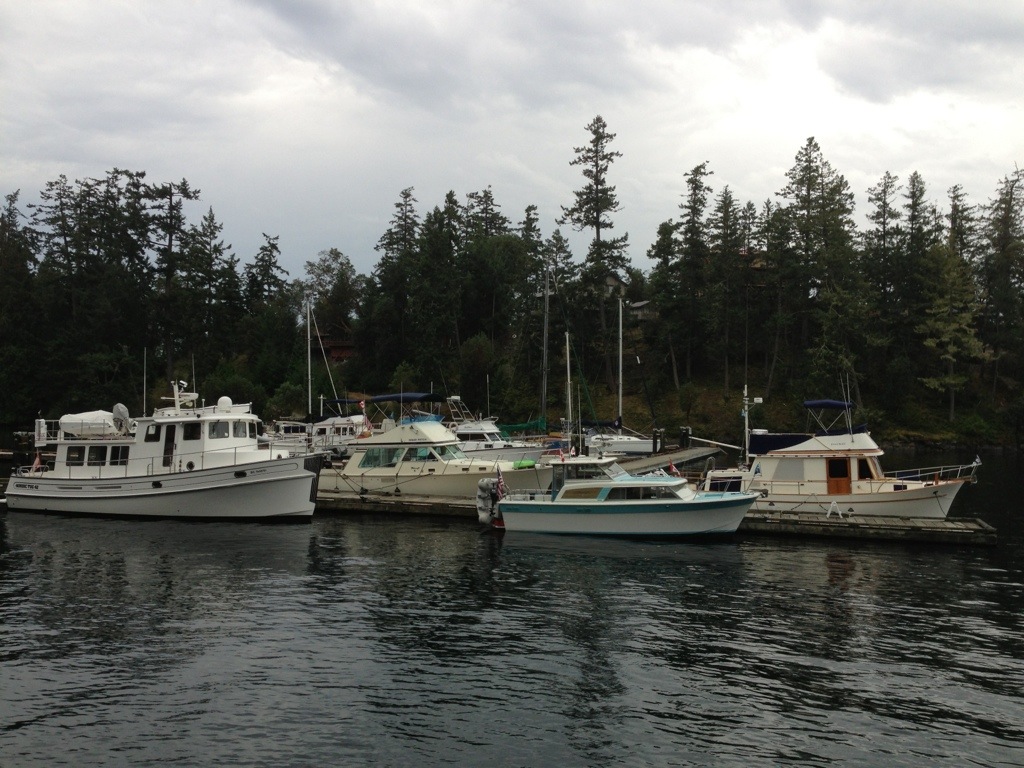 Today's total: 15.3 Nm
Trip total: 93.7 Nm
Monday, September 16
It rained during the night. A lot. But it's a pretty decent morning, and there are blue holes in the sky in the distance.
After breakfast, Briar Patch, began toward home. I left shortly after, except I'm not heading home. Today I'm heading to Tod Inlet – one of my favorite places of all.
The ride to Brentwood Bay was flat, and aside from dodging a stick or two and altering my course for another boater, the autopilot drove a straight line to the entrance to Tod Inlet.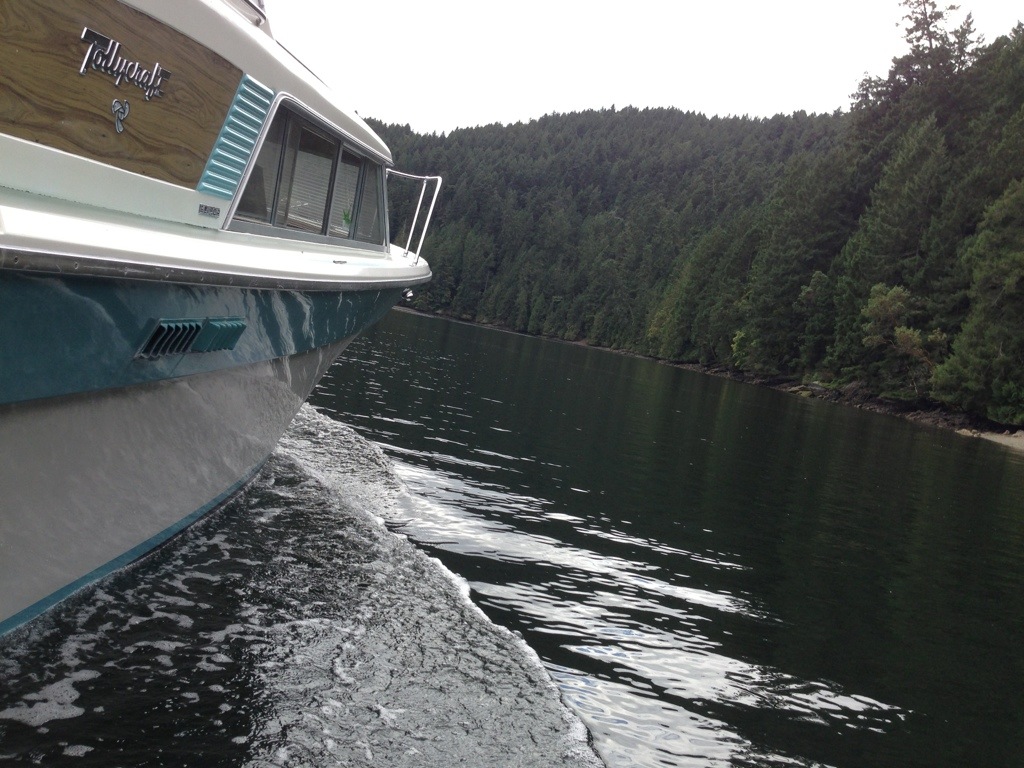 Once in the inlet, I dropped the hook in a favorite spot back near the head of the bay, joining two other boats already anchored. After settling in, I caught a quick nap. When I got up, one of the boats had left, only to be replaced by Scott and Bev on Rain Bird. The water was reasonably warm, so I took a swim.
Later, I took the dinghy to the public dock and walked to town where I picked up a few groceries before returning to the boat to make dinner. After dinner, I joined Scott and Bev for a glass of wine before calling it a night.
Today's total: 12.4 Nm
Trip total: 106.1 Nm
Tuesday, September 17
Rain Bird was under way by late morning, leaving me with two boats share the anchorage. My hook is staying down today, and maybe longer. Who knows…
As I mentioned before, Tod Inlet is one of my favorite places, and this is my favorite time of year to visit. It's a popular anchorage, and in the peak of the summer it can be quite busy, but this time of year it's very quiet. As you enter the narrow inlet that opens into the anchorage, it feels much more remote than it really is.
What I like about Tod Inlet is there is plenty to do, or if you'd rather, nothing all. A short dinghy ride away are two docks with access to town: the public dinghy dock, and the Brentwood Bay Marina. A healthy walk away is a great grocery store, liquor store, and other shops.
Today, I'm going to take advantage of the cheapest sightseeing there is and take the bus to Victoria. The ride costs $2.50, a bargain. There's a bus stop just steps away from the dock, and in an hour or so, you'll getting off the bus right next to the Empress Hotel.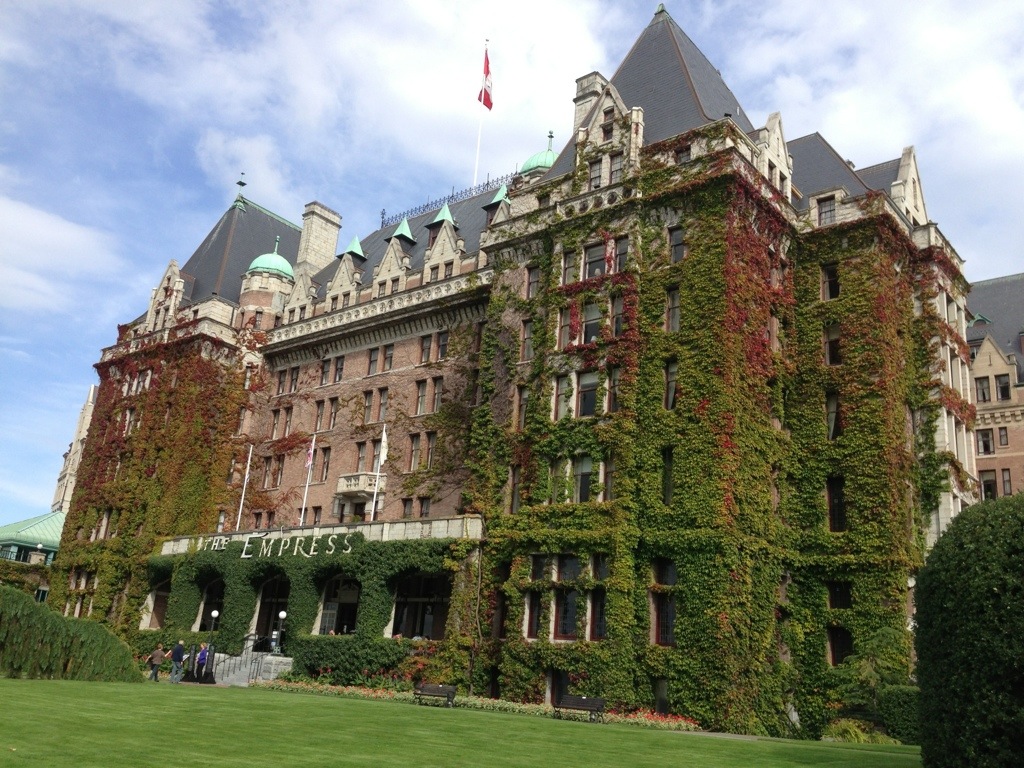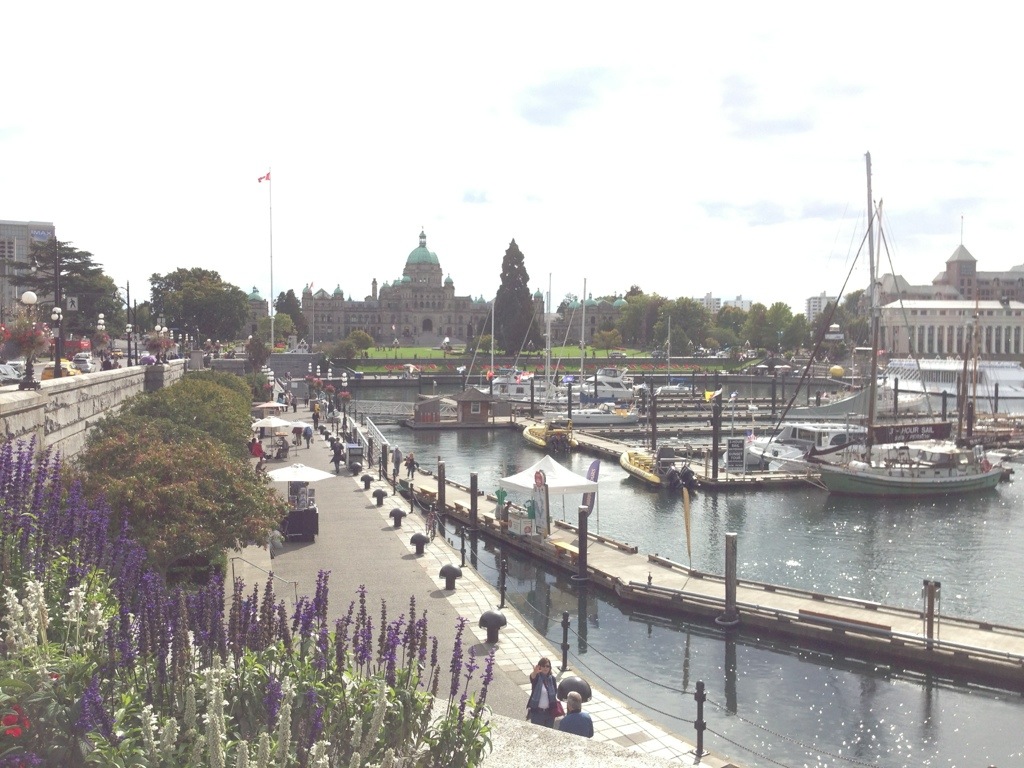 I walked around downtown for a while before it was time to head back. I managed to keep most of my money in my pocket, except for the the cup of coffee and the snack I had.
To help me find my way and navigate the bus system, I used my smart phone, in my case an Apple iPhone 5.
I simply opened the maps application and "dropped a pin" at my desired destination, and went through the steps to get directions for the route. When I selected transit as my mode of transportation, the Google Maps application was launched, and provided a list of bus routes with stops nearest my current location and time.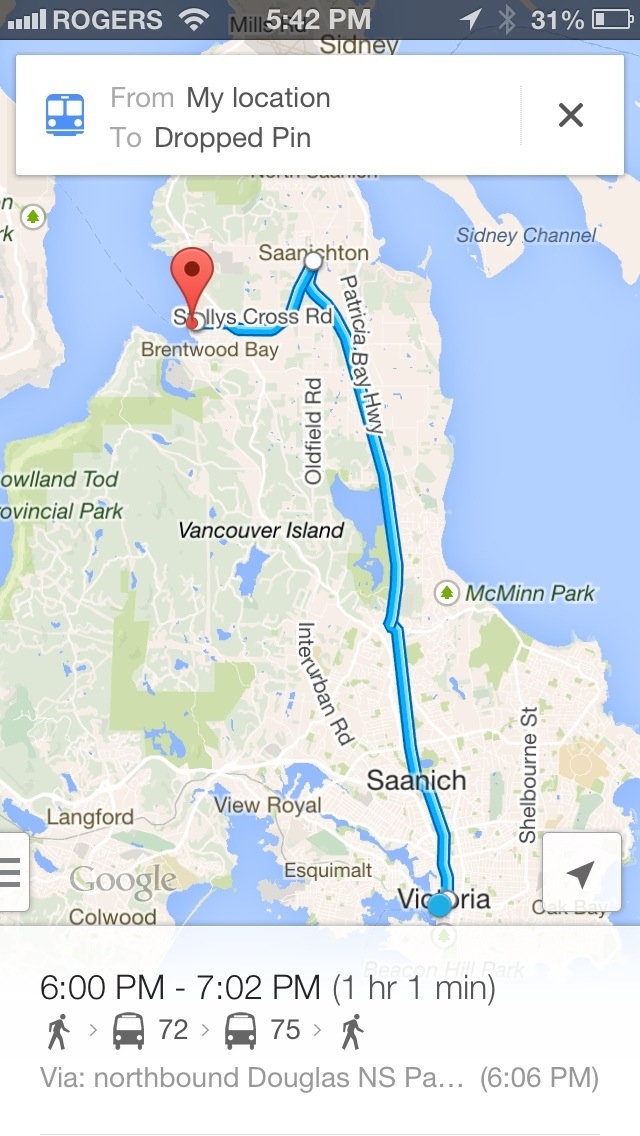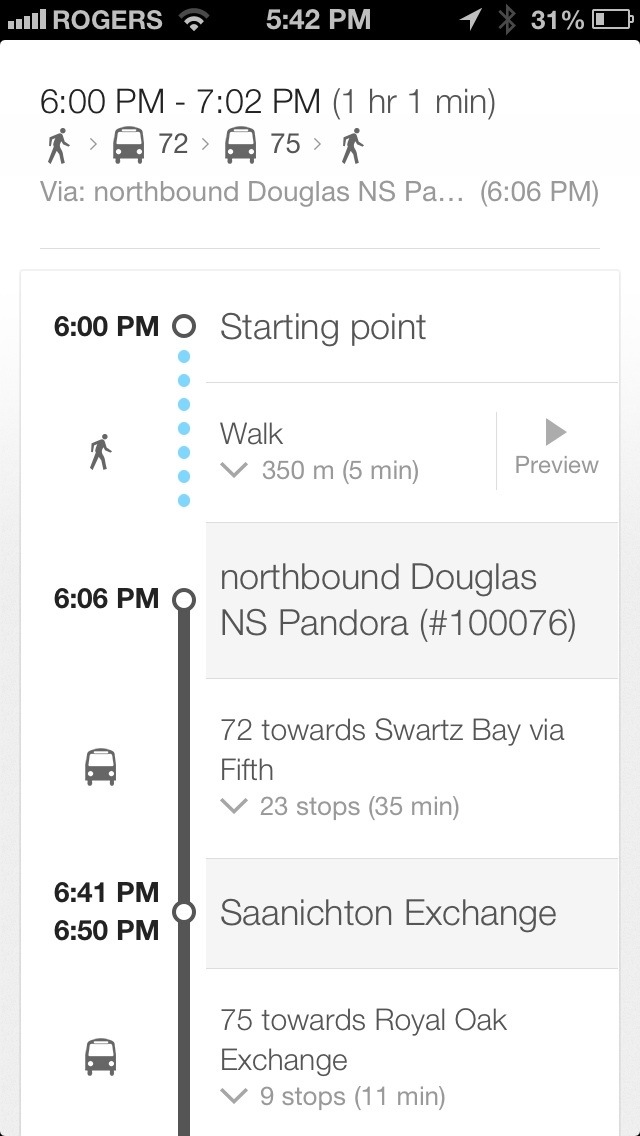 The app provided waking directions to the nearest stop on the map in real time. It told me what transfers, if any were required to reach my destination. Thanks to my iPhone I got on the right bus and made it back to my boat… A great feature is the phone stores the information on your route, making it available while not connected to the internet. This is particularly useful in an area of expensive data roaming; find a coffee shop or other source of wifi where you can research your route, and you're good to go.
More information on BC Transit can be found here.
Wednesday, September 18
Woke to clear blue skies and sun. Wasn't sure if I wanted to leave today to head toward home or not. I decided not.
Lazy day on the boat. Did some reading, a little writing, and took some pictures of jellyfish.
Went for a hike on the trails around the bay.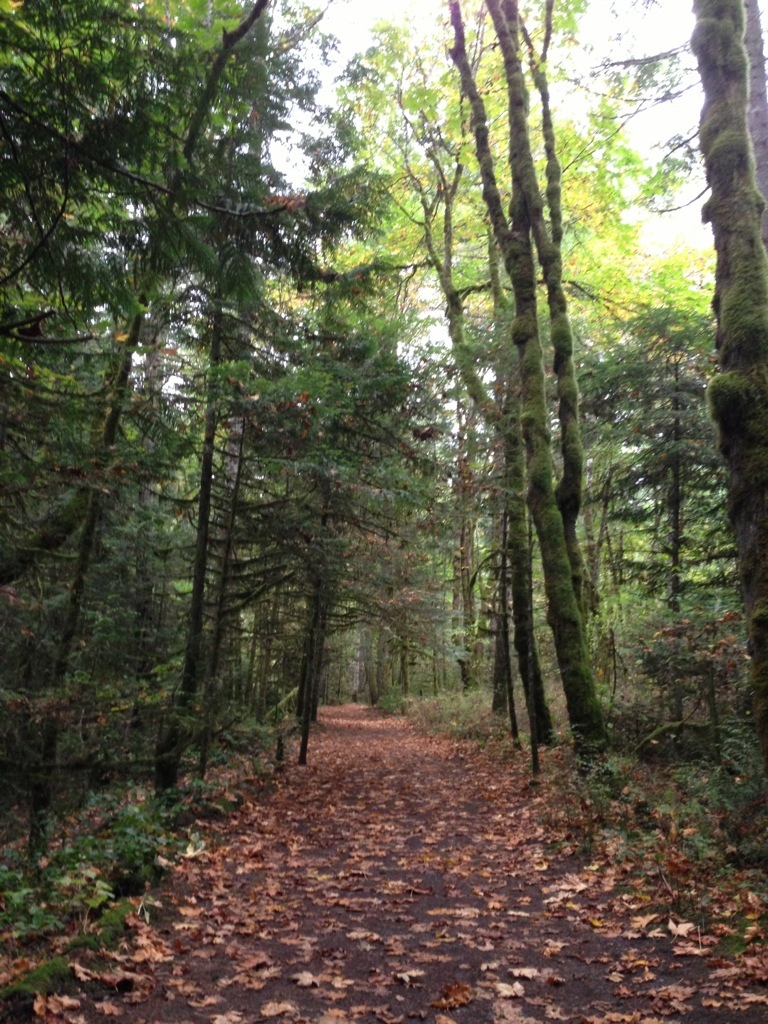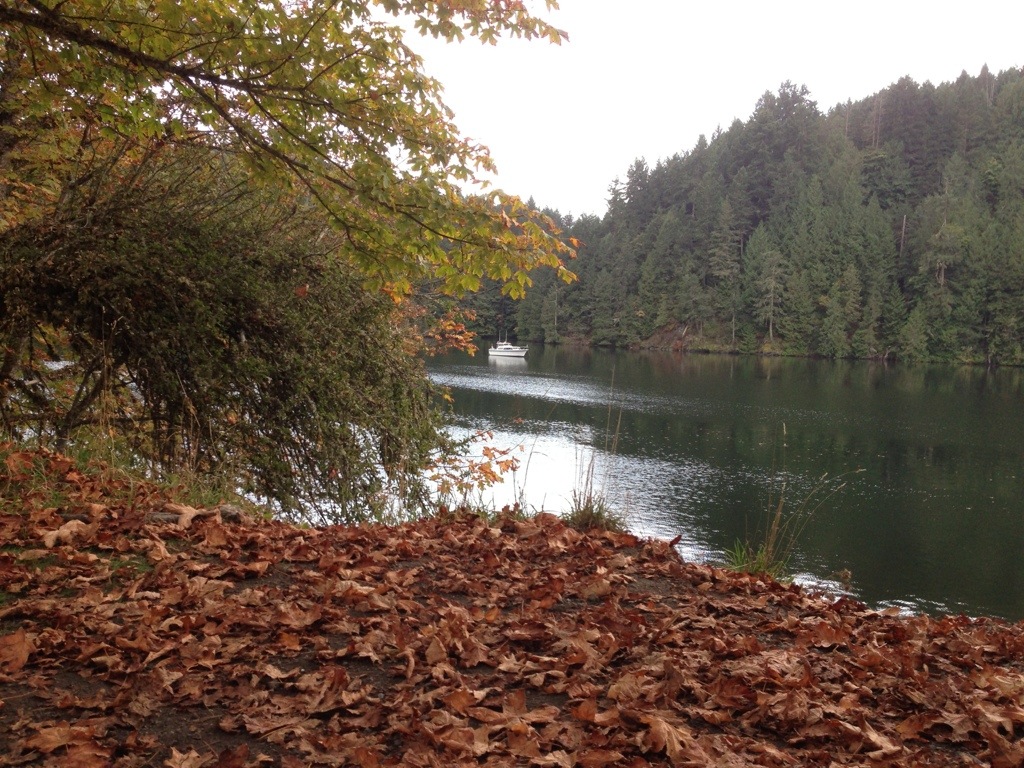 It's really beginning to feel – and look – like fall…
Thursday, September 19
Although I don't want this trip, or summer for that matter, to come to and end, I guess at some point I need to do the responsible thing and begin heading toward home. I'm taking my time, though. In no real rush, after I was sufficiently fed and coffee'd, I pulled anchor and idled out of Tod Inlet.
With no real destination in mind, I motored in the direction of home and figured I'd decide where to go along the way. After I crossed the border, I called to clear customs using NEXUS, and was welcomed back into the US after answering a few questions.
I decided Garrison Bay would be a nice spot for my final evening, so I turned into Roche Harbor and made my way through Mosquito Pass.
For a while now, I've had a boat-crush on a cool old Bellingham-based boat; M/V David B. I've thought it would be neat to cross paths and share an anchorage some day. I became a "fan" after reading More Faster Backwards: Rebuilding David B, so I smiled as I turned into Garrison Bay to see David B anchored. I'd get to share an anchorage this evening, the final night of my summer's cruising.
I set the hook in a pretty spot in about sixteen feet of water. After I got settled, I launched the dinghy and motored over to David B to say hello. Jeff and Christine were very friendly, but I only stayed for a minute so they could tend to their happy guests.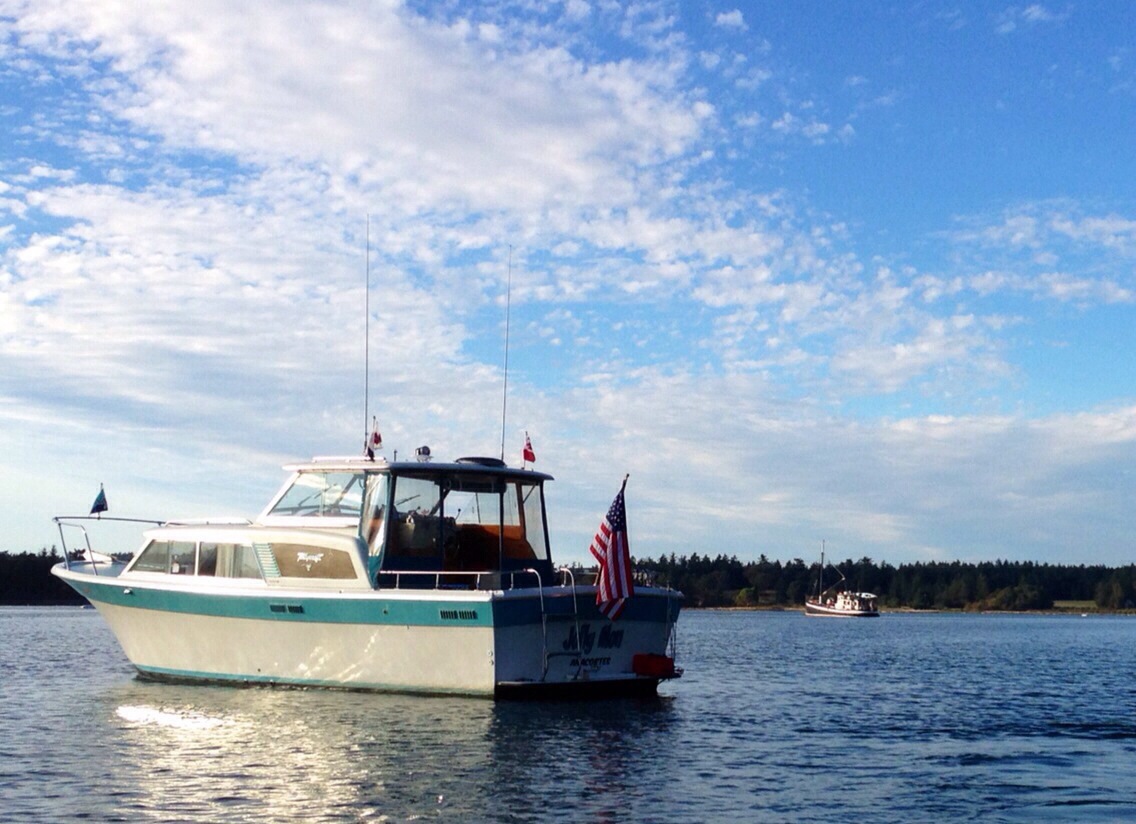 I motored over to the dinghy dock, and went ashore for a walk around the Bell Point trail and the English Camp.

After some dinner, I sat in the cockpit with some good music playing and watched the full moon rise over the trees and Young Hill. It was a beautiful almost-fall evening and a great send off of a wonderful summer.
Today's total: 26.1 Nm
Trip total: 132.2 Nm
Friday, September 20
Although there was a forecast for some southeast winds overnight, the night was still. After a good sleep, I got up and got ready for the run home.
The ride home was nice. Aside from the usual Speiden Channel slop, the water was flat and there was hardly a breeze.
I was back in my slip by late afternoon, where the boat got a much-deserved bath.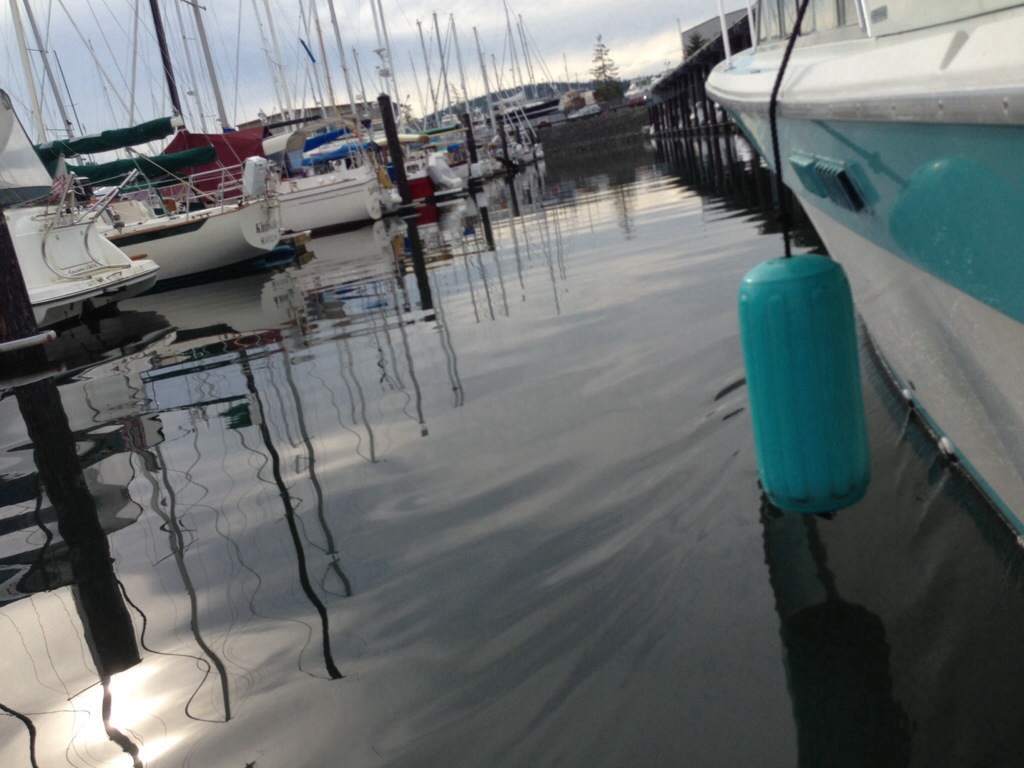 Today's total: 32.3 Nm
Trip total: 164.5 Nm
It's been an amazing summer, and I was very fortunate to be able to spend as much time as I did cruising. The boat was my home for nearly five out of e past six weeks. She took me to some beautiful places through varied conditions in safety and comfort, and brought me to spend time with some very special people.
I'm not able to do the things that I love to do because I am rich, because I definitely am not. However, I am rich because I am able to do the things I love to do.