"It's time to drink the Tolly Kool-Aid," said Kathy Bell of Bell Elaff.
"I'm pretty sure I did that about ten years ago," I replied, referring to my indoctrination into what some might refer to as the cult-like following Tollycrafts enjoy. I reached to take a small paper cup filled to the brim with a "Tolly teal"-colored adult beverage concoction, and down the hatch it goes. I'm not certain what I just drank, but apparently I took yet another swig of the Tolly Kool-Aid.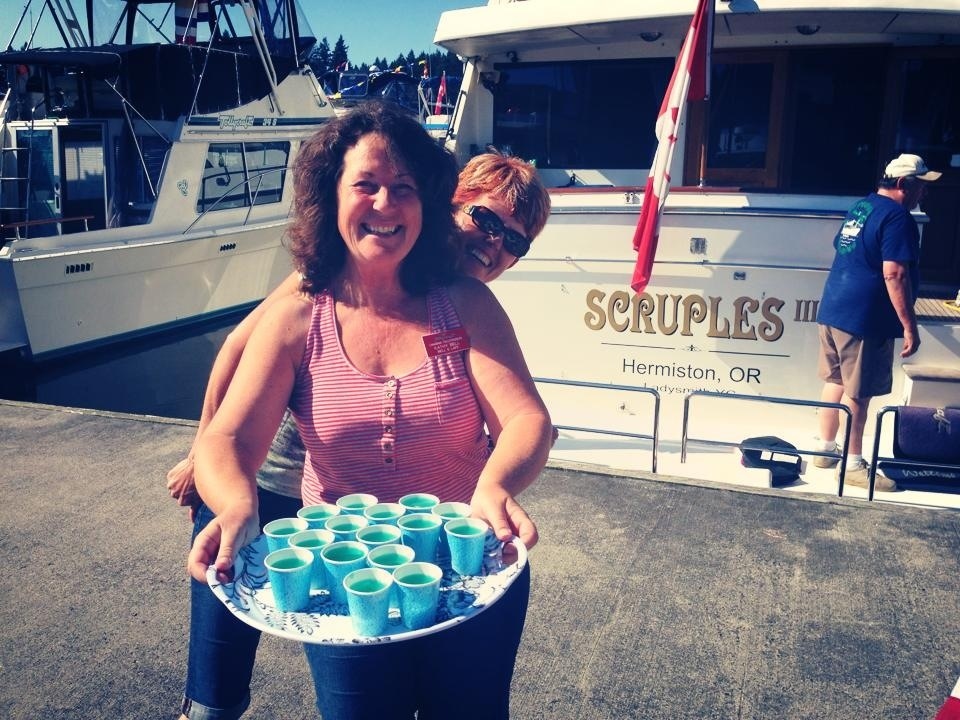 I'm at the 25th annual Canadian Tollycruisers rendezvous at Telegraph Harbour Marina on Thetis Island. Terry Murphy, who owns Papakea, a 40 foot tri-cabin, has been organizing the rendezvous for the past fourteen years or so, with a dedicated group of helpers.
"The best thing about this club," Murphy said, "is we're not a club at all. We're just a group of people who get together and enjoy our boats."
That's been the case since 1988, when a handful of Tollycraft owners in Victoria, BC gathered with five boats. Year after year, the event grew. People kept coming back. The rendezvous moved to Port Browning for a spell, but has called Telegraph Harbour home for most of its years.
The Tollycruisers "club", which you already know is not a "club" at all, doesn't operate according to by laws, or answer to a board. It operates on the hard work and dedication of individuals that have obviously all sampled the "Tolly Kool-Aid". Attendees of the rendezvous all pitch in somewhere to make the event a success. Some innovation has been employed to get things done, though. For example, for Thursday evening's rib and corn feed, about fourteen dozen ears of corn need to be shucked. Just how do get people to volunteer to shuck that much corn? You create a corn shucking contest. Carol Pizzey from Sunrise IIhas held the title for the past few years.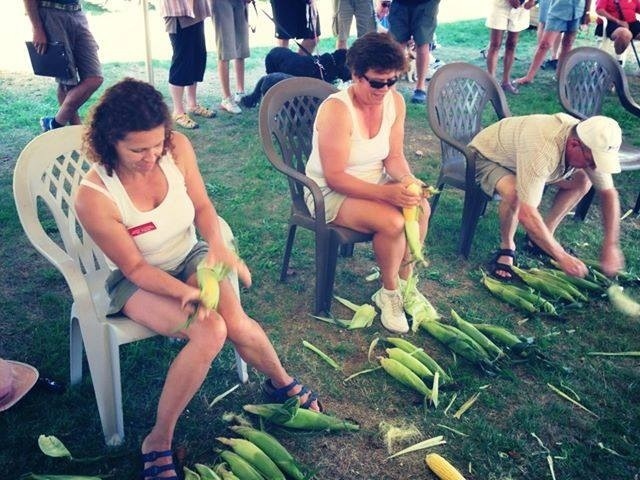 There's history among this group. There are folks like Marge Fulton, who bought her 24 foot Tolly Express Rhubarb Toobrand new in 1967. It's been repowered and shines like new. Many have owned more than one Tolly – Murphy's Papakea is his third. It's not uncommon at all to find folks here who have owned multiple Tollys. Boats are sold and bought, but stay in the family to return to the rendezvous year after year with their new owners.
Pride in ownership is evident as you walk the docks, and peruse the boats ranging from 24 to 61 feet. Some have been highly modified and updated, while others remain mostly original, but in amazing condition. "Welcome Aboard" signs are posted along with information sheets explaining the boat's features. Owners check out other boats, eager to see what updates or changes have been made. Each of the boats is personalized to meet the needs of its owner, there is nothing cookie-cutter here.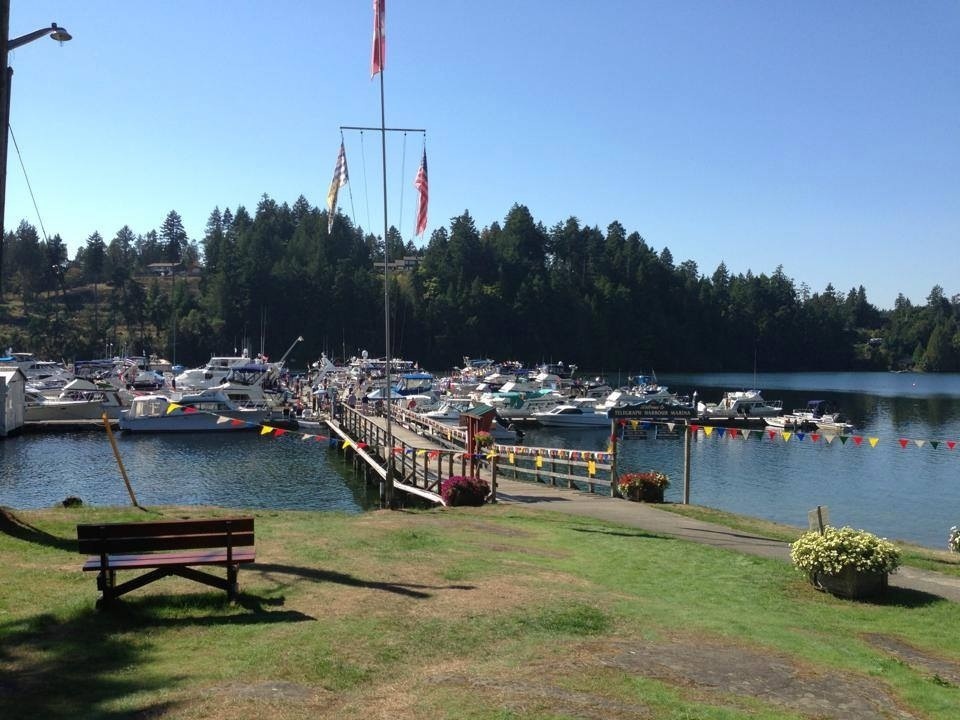 Away from the boats there is plenty going on. This year, Cec Sampert from Copy Cat won the "Tollycraft Classic" Golf Tournament. His chip shot of a marshmallow into an anchored dinghy was nothing short of impressive.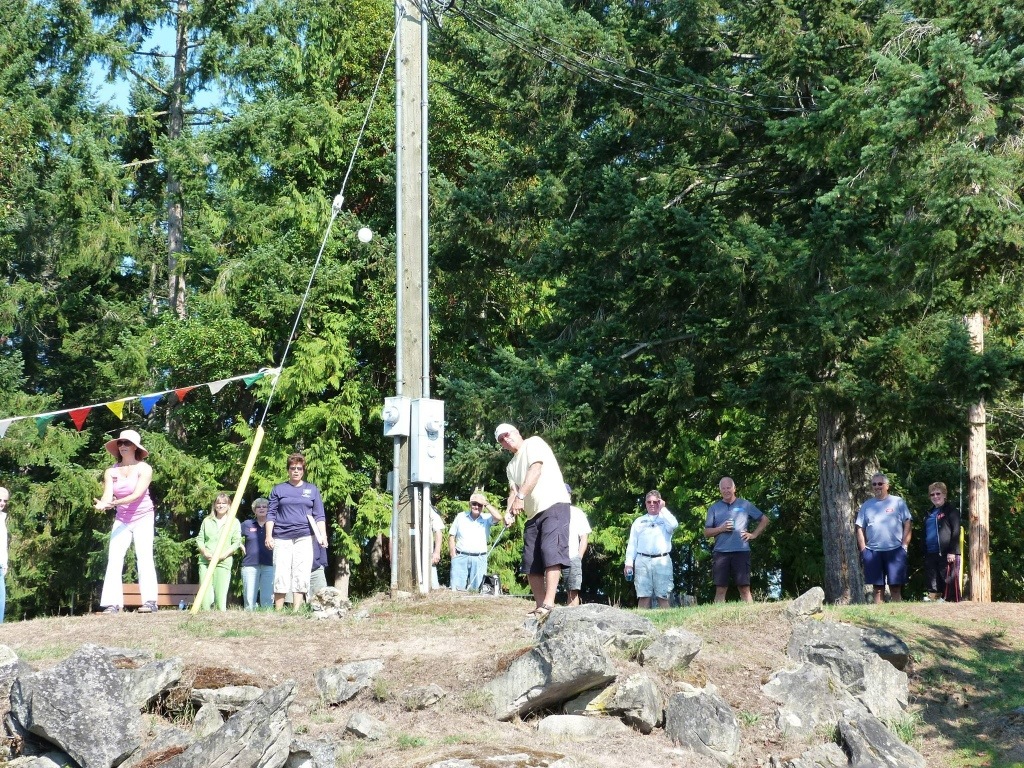 The four-legged crew members certainly weren't left out, with a pet parade. The competition was stiff, and the judges had their work cut out for them.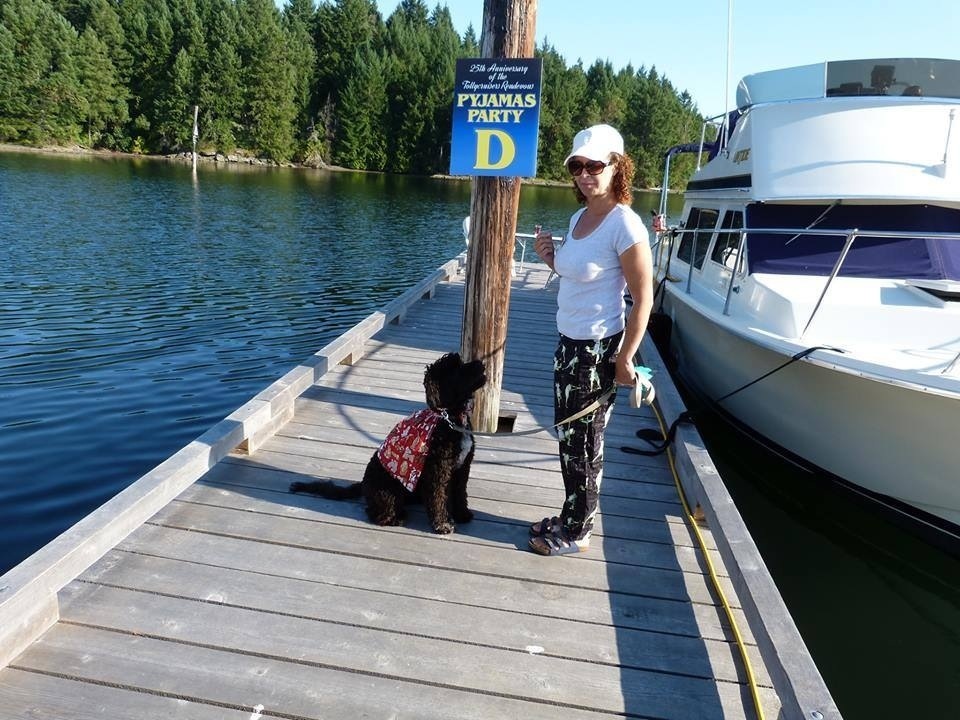 Each rendezvous has a theme, and this year's was "Pajama Party". These folks pull out all the stops.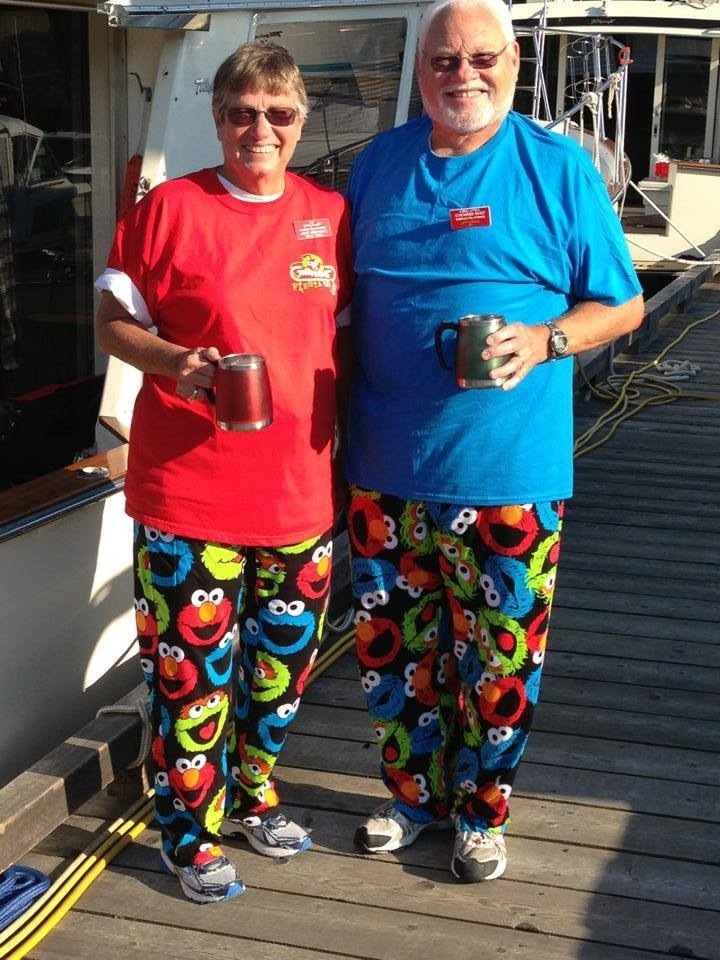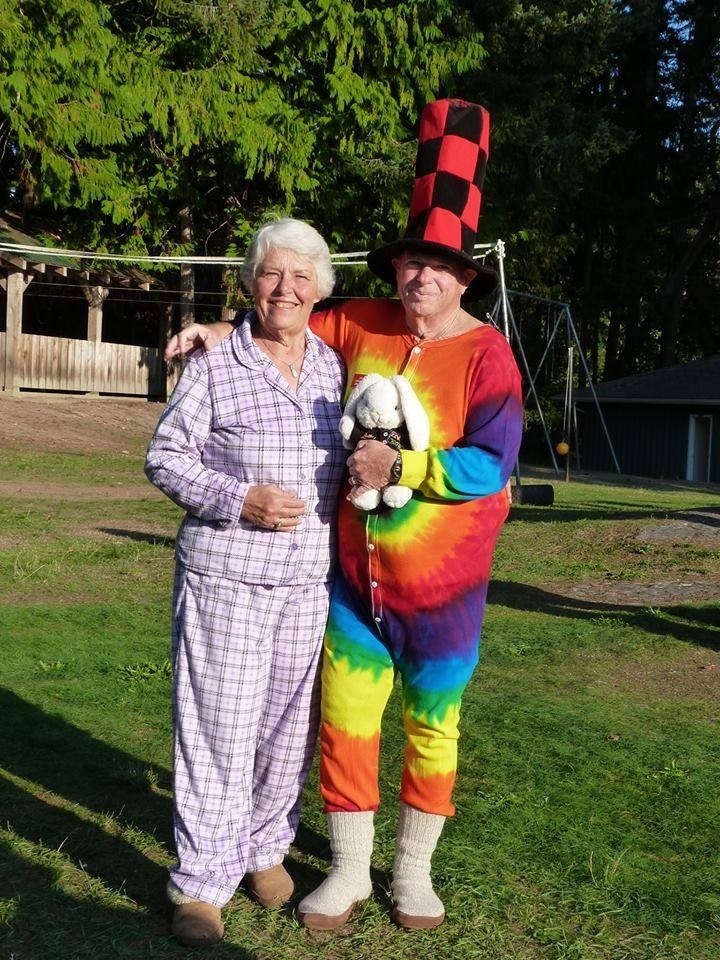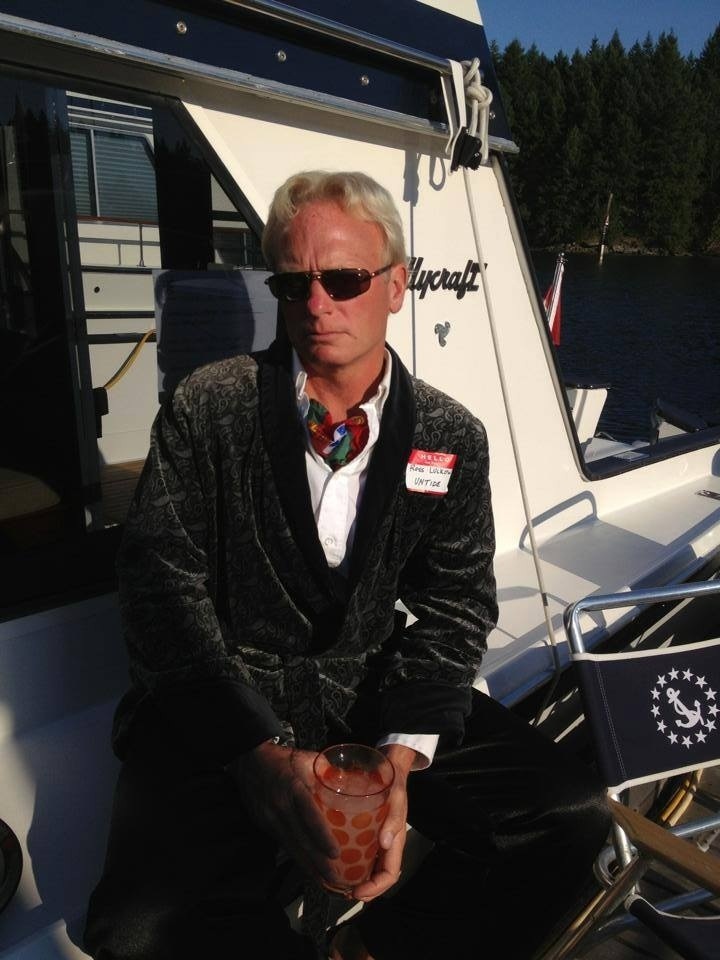 There were lots of smiles and lots of laughs throughout the weekend, but also a few tears. Longtime Tollycraft owner and rendezvous attendee, Gary Salmon, passed away after a battle with cancer just days before the rendezvous. He had many friends here, and there were a lot of heavy hearts. In memory, there was a gathering to share stories and fond memories, and all were invited to join in a gin and tonic, Coors Light and Hawkins Cheezies – A few of Gary's favorites. A wonderful, informal tribute, that served as release; an opportunity to shed some emotions and do just what Gary would have wanted them to do: have fun.
All the tears weren't of sadness, however. "What makes this rendezvous great is all of you," said a tearful Murphy to the group on the final evening. "Because without you, there wouldn't be a rendezvous at all." An emotional guy, who confesses to crying at parades, he had just been presented with a painting of his beloved Papakea, painted by member Becky Trapp, recognizing his hard work over the years.
"She even made me look handsome," he remarked, pointing to the rendering of himself at the flybridge helm. The audience stood applauding and cheering, some with a tear as well, as Murphy and his wife Susan stood in front of the group.
Could you ever imagine when buying an old boat that it would come with such a group of people? Acquaintances become friends, and soon you have a circle of friends that you never would have, had you not owned a boat.
I'm sure other boating groups build the bonds and friendships like those that Tollycraft owners do, but I for one am so glad I had my first drink of the "Tolly Kool-Aid" years ago.