Sampling and writing this one, is like the old proverbial "fish in a barrel". I don't need my boat to get there, as The Brown Lantern is in my home port of Anacortes, and I can get there afoot from home or boat.
An easy walk from the Port of Anacortes' Cap Sante Boat Haven, "The Brown", as you might hear it referred to in the local tongue, is located on downtown's main drag Commercial Avenue. Being a bar, it's 21 and up, but they will gladly prepare takeout orders.
In the afternoon and early evening, The Brown is a popular lunch and dinner spot that is relaxed and casual. As evening rolls on, things get more lively and the place can fill up. The staff is always good about finding a table, even for a group. There's something happening almost every night, from game nights to a Thursday open mic, and live entertainment on weekends. A schedule of events can be found on their website.
They make a great burger. I should know. I've had more than a few of them. Their menu offers several different burger selections and the option to substitute chicken breast or veggie burger. They even offer a lamb burger.
My burger of choice on my most recent visit was the tried and true bacon cheese burger. A 1/3 pound beef patty topped with cheddar and thick-cut bacon on a sesame seed accompanied by very fresh lettuce, tomato, and red onion and pickles served on the side, along with a heap of fries. This is an excellent burger, and one of my go-tos.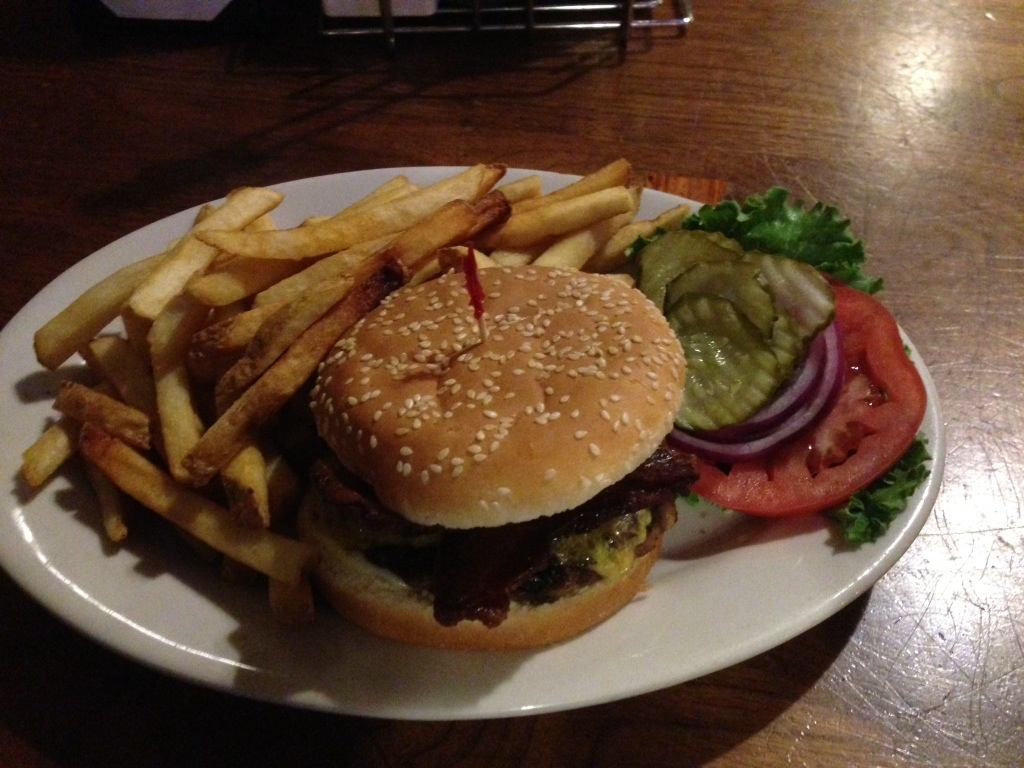 For the non-burger folks (I scoff), there is a wide variety in the menu, including some great soups, salads, sandwiches, and they always have a daily special. A full bar and several beers on tap will keep your thirst quenched and conversation lively.