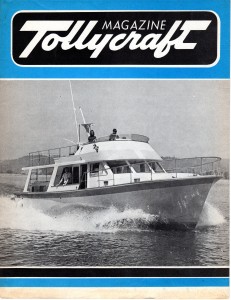 Over the past several years, I have aquired a considerable collection of what I have referred to as "boat porn".  It's a bunch of old boating literature – some Tollycraft, some not, and some from obscure brands that I had never heard of.  There's some great old stuff that I enjoy collecting, much of it purchased on E-Bay for probably way too much…  A bit of it came in lots with descriptions like, "Fifteen Pounds of Old Boating Literature".  Oh yeah.
As I get around to scanning it, I'll post some here to share.  Please feel free to download, save, print, whatever!
The first piece is from 1972, and is the "Tollycraft Magazine".  It is a great old promotional publication describing some of their new models, as well telling stories of how some owners are using older boats.  Interestingly, there's a story about a boat named the "White Eagle of Spirit Lake", an open workboat Tolly built for the Boy Scout Camp on Spirit Lake, which was near Mount St Helens.  Story has it, just prior to the mountain's 1980 eruption, the boat was used to transport items off the lake, essentially as a basket attached to a helicopter.  She ended up surviving the ordeal and a few owners before being acquired by my friend, Ray Robinson. He has extensively modified the boat over the years, and it is now named "Puget Sound Thunder".  The boat has quite a history, definitely worth writing about some day.
For now, check out the 1972 "Tollycraft Magazine"