I was faced with a dilemma:  I had a few days off.  The weather forecast for those days off was outstanding.  I didn't really have anything I had to do over those days off.
For a fleeting moment, I tried to be rational, and said to myself, "self… you just got back from a nice little trip on the boat.  Shouldn't you stay home and work in the yard, or do spring cleaning around the house left over from springs past?"  It was at that point, I ignored that little voice in my head – I certainly don't need that kind of negativity in my life.  Knowing that life was going to get busy in the next few weeks, and I most likely wouldn't have an opportunity to get out for a bit, I did what any self-respecting boater would do.  I threw some clothes in a bag, grabbed a few groceries, and headed for the boat.
Without too much adieu, I was motoring out of the marina, and after a visit to the fuel dock, I was on my way out the Guemes Channel, and across Rosario Strait for a most pleasant cruise to Watmough Bay on the South End of Lopez Island.  As I arrived, I stole the solitude of the bay from a lone sailboat.  Later, I visited with one of the owners of that sailboat, SV Mom – an  interesting woman who I enjoyed sharing stories of travel, cruising, and comparing favorite anchorages.  I took the dinghy to shore, for an evening walk before dinner and calling it a night.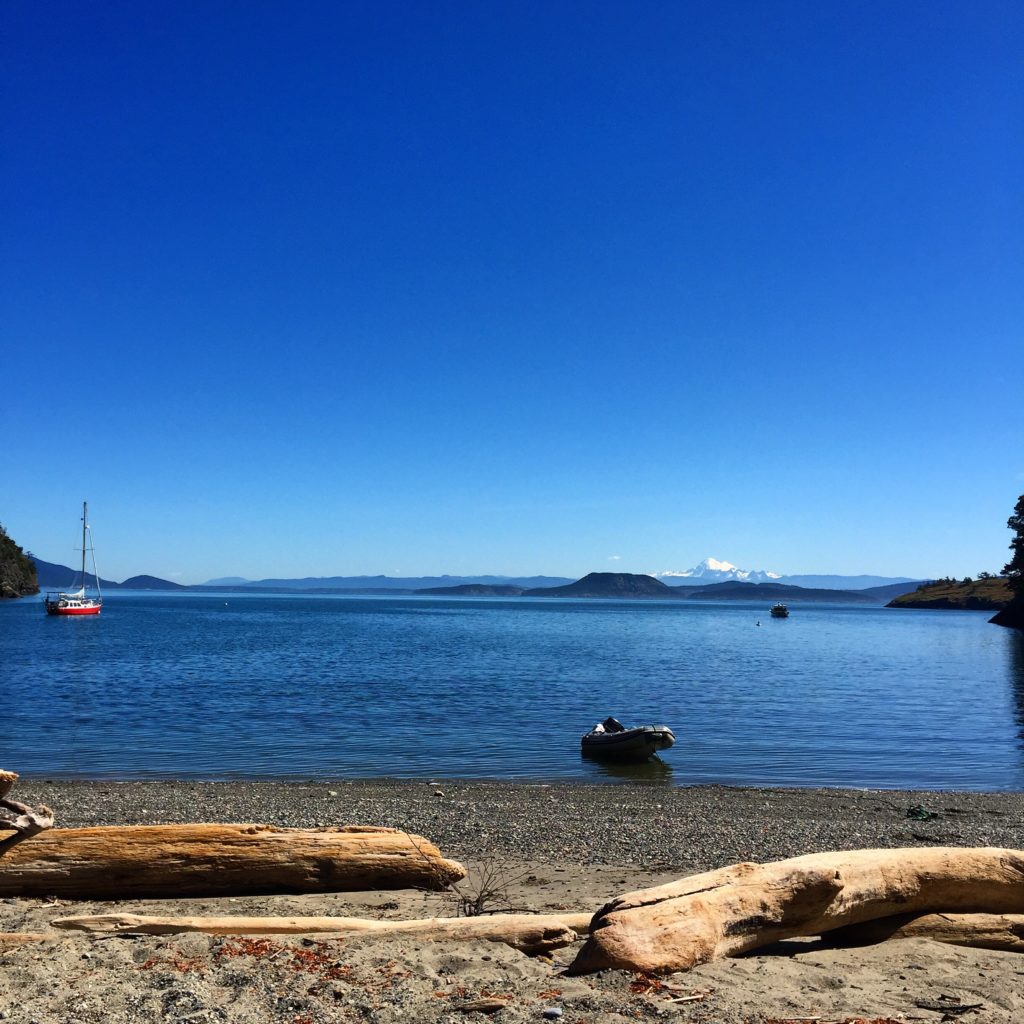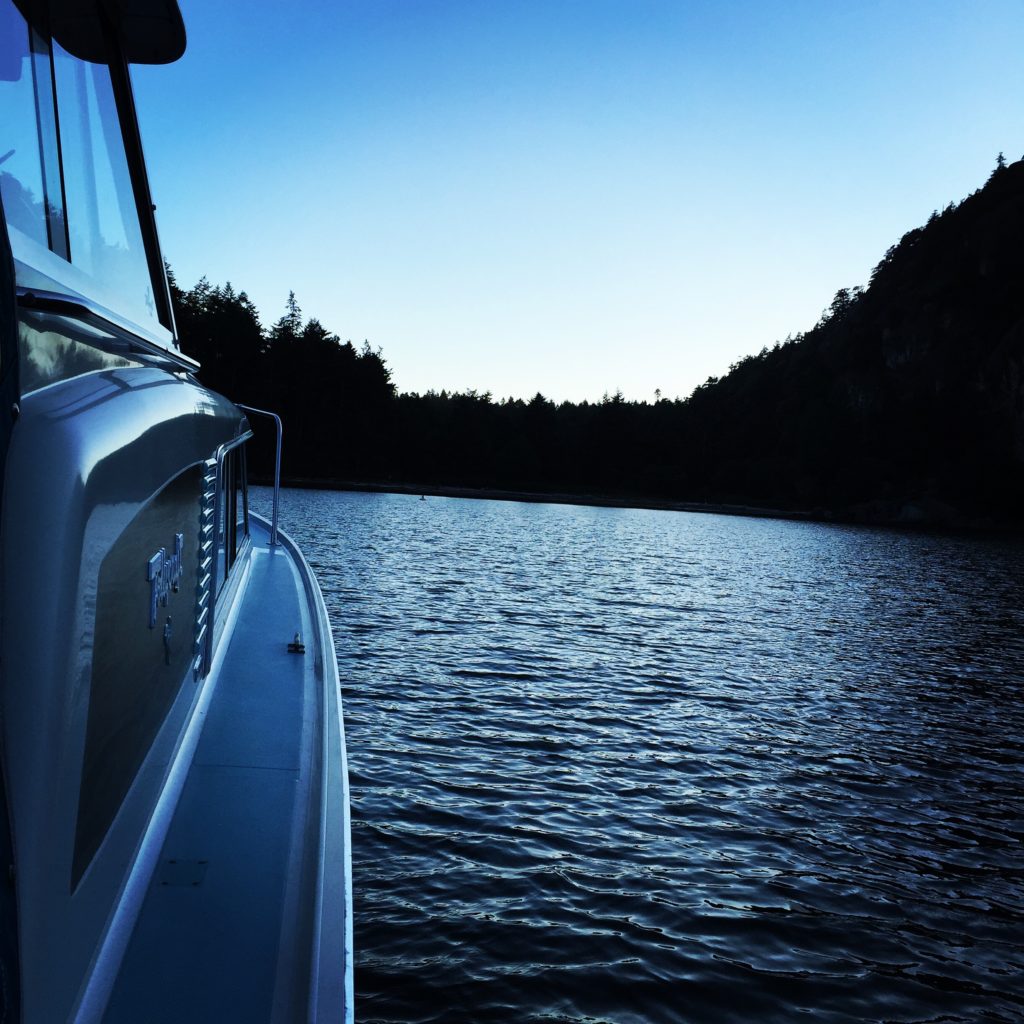 The next morning, after adequately fed and coffee'd, I went back to shore to go for a hike.  Watmough Bay has excellent walking and hiking trails.  On one of my last visits a couple of years ago, I made the hike up Chadwick Hill and took in the amazing view.  This morning offered a nearly cloudless, crystal clear sky, so I predicted the view would be excellent.  I was correct.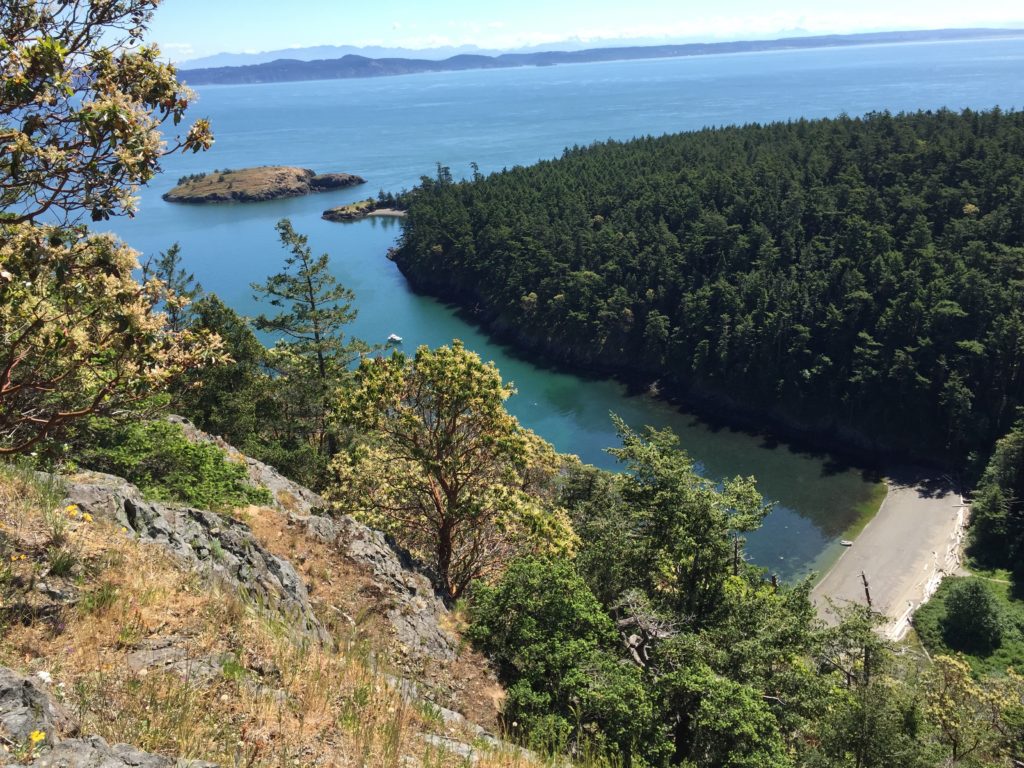 The hike up Chadwick Hill isn't very far, but it's quite steep as you gain 470 feet of elevation in short order.  The view from the top is worth it, though, as you have a commanding view of the Strait of Juan De Fuca and Rosario Strait.  On clear day, like the one I visited, the Olympic Mountains, Mount Baker, and the Cascade Mountains are all in view.
The trails are not very well marked, and there is no clear trail map available, but the trails – once you locate them – are pretty well established.
After a wonderful hike, and back on the boat, I decided on a change of scenery and made the short run over to one of my favorite places – Hunter Bay.  I've been going to Hunter Bay since I was a kid, and it just feels like a home away from home.  There's really not much there in the way of amenities for visiting boaters, perhaps that's part of its appeal.
I set my anchor in a familiar and favorite spot, and settled in for the evening.  The night was absolutely still, with not a breath of wind.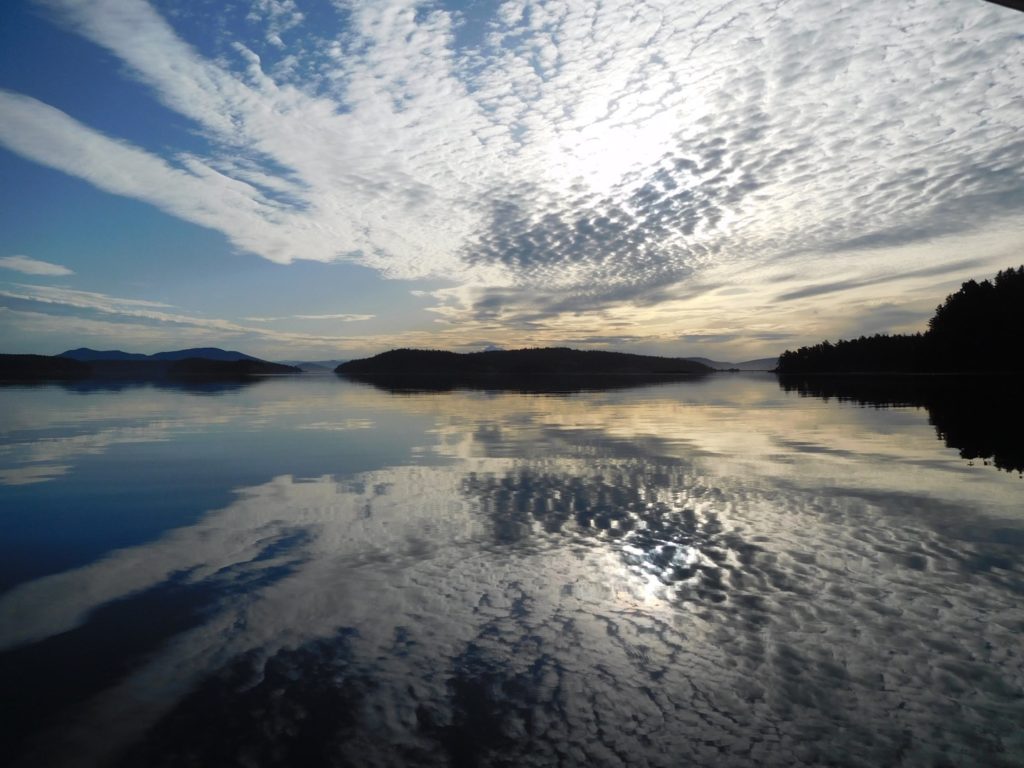 I enjoyed the laziest of lazy mornings before getting my moving.  I jumped in the dinghy and went exploring.  There are a couple of anchorages nearby that I'd like to visit someday, so this was a great opportunity to scout them out.  I admired the homes on Center Island and Decatur Island before buzzing over to Spencer Spit.  I beached the dinghy only to find that I had left my shoes back on the boat, so I didn't walk far.  On my way back, I toured Mud Bay, then motored by to check on Mr. Allen's place.  Back on board, I finished the day as I began it – low key and lazy.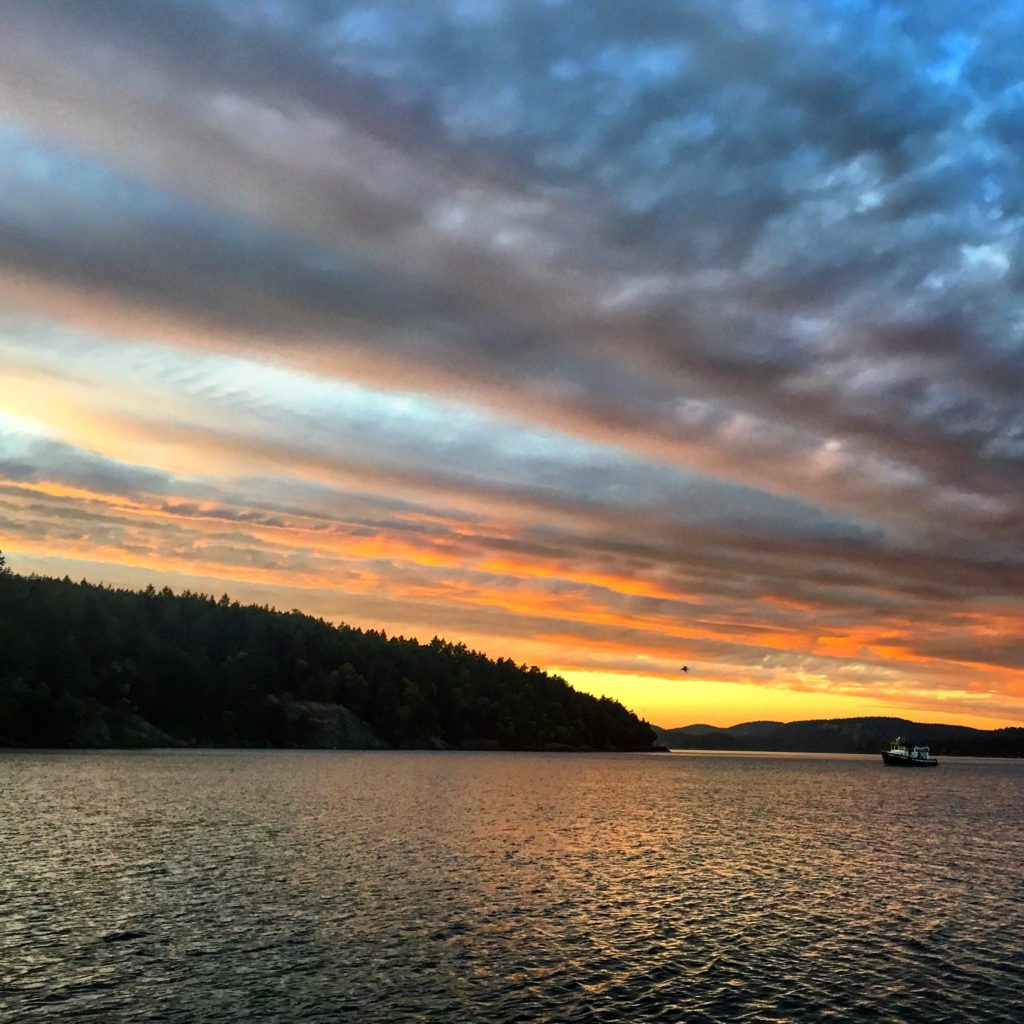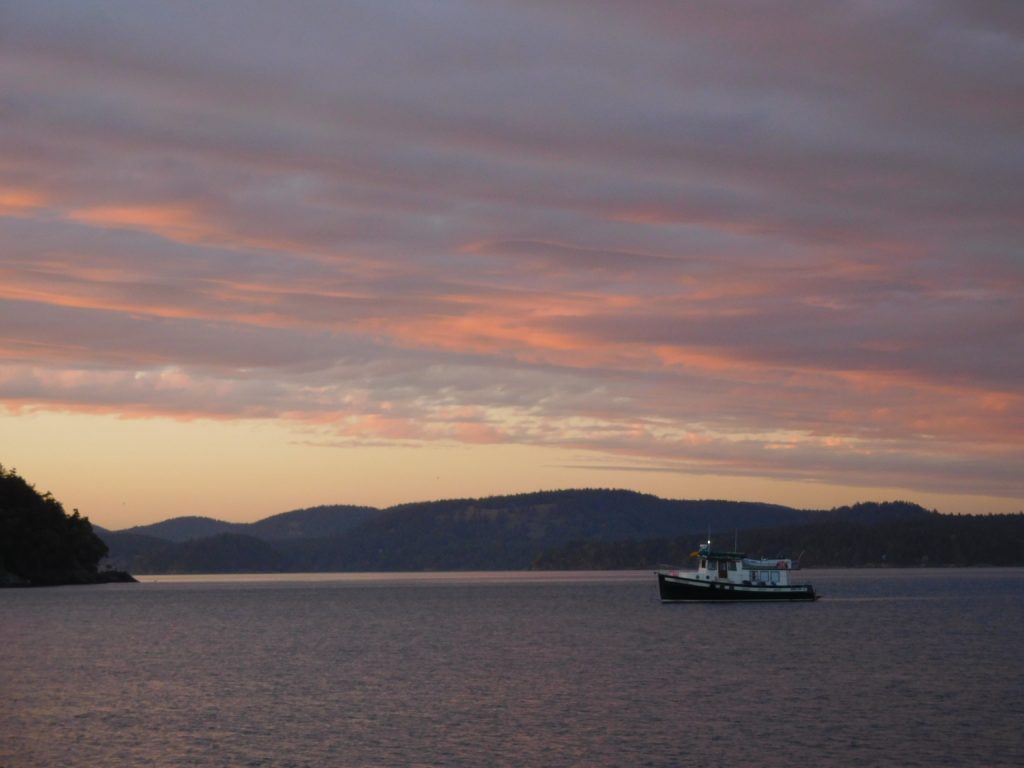 Another low-key morning, breakfast and good coffee.   I took a dinghy ride to shore, where I was greeted by a self-professed landlubber – a retired school teacher from Montana, who along with her husband and fellow landlubber were visiting friends on the island.  As we visited, I shared my connection to Montana, where I have family that live or did at one time.  Turns out she knew them.  Small world, indeed.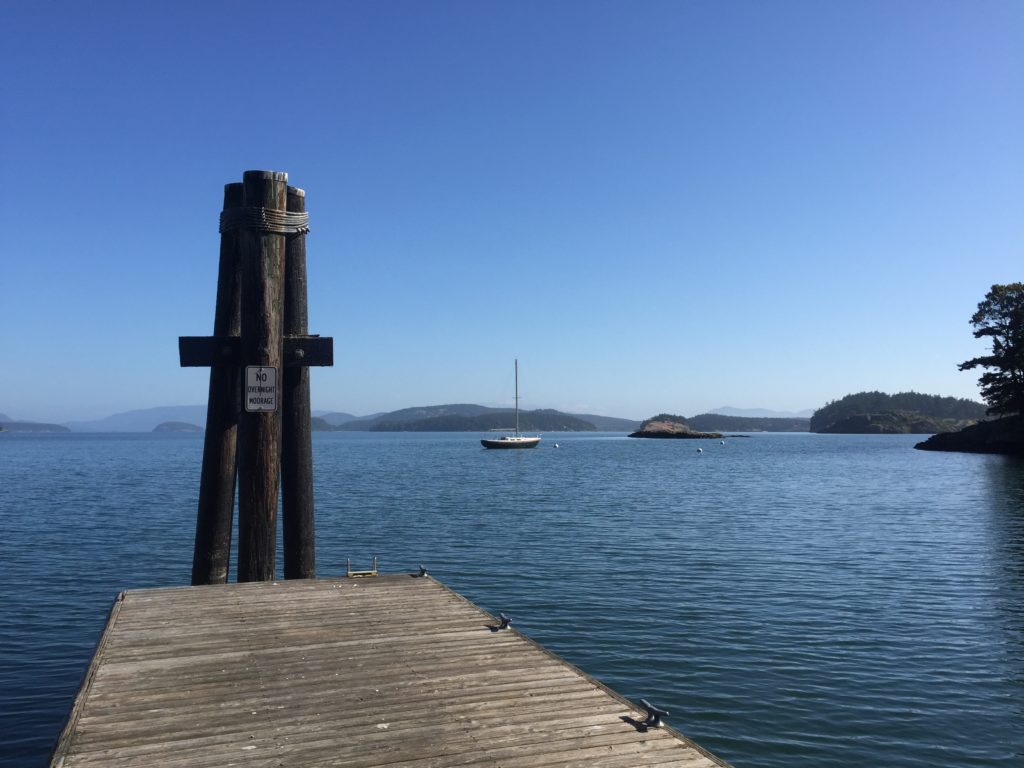 Back on the boat, I stow the dinghy and starting cleaning up a bit before starting the engines to head for home.
This is my second cruising video, and was a lot of fun to make.  It's a little longer than the first one, most likely due to my gratuitous use of time-lapse videos.  If you enjoy the videos, please feel free to subscribe or comment.