In my previous post, I wrote about the journey north to Desolation Sound and beyond. This will be a continuation of that trip, although now we have turned our bows toward home, and are slowly making our way south.
Day 16: Sunday, August 25
We enjoyed a calm night at Anchor in Roscoe Bay and awoke to clearing skies and sunshine. I'm pretty certain I had my fair share of clams and Scotch and guitar playing last night, but I was up and out of bed fairly early. Wind Walker is beginning their trip toward home today. Todd wants a few extra days in a weather window for a comfortable trip home. A slower-moving sailboat, Wind Walker can't just speed up to run ahead of weather like the power boats in the group. We saw them off, leaving us onJolly Mon, Briar Patch, and Enough Time behind. Perhaps we'll run into them down the line. We're hoping to spend a few more days gunkholing in Desolation Sound.
After taking care of a few things, we left Roscoe Bay and made the short run to Refuge Cove for water and ice, with plans to decide our next destination over a burger. During the run, a check of the updated weather forecast predicting big winds and rain on the way, made us re-think our plans. Winds of up to thirty knots would be coming in tomorrow, followed by rain for the next several days. Even though we have a week to get home, maybe it's best to slowly head that direction. Wherever we decided to go today, we would probably be there for at least two days. After considering our options, we decided Westview at Powell River would be a good choice – we could tie to the dock and have power and water, and would have a town to help pass the time. We contacted Westview Marina by phone, and although they do not take reservations, they advised they had plenty of room, and didn't anticipate filling up.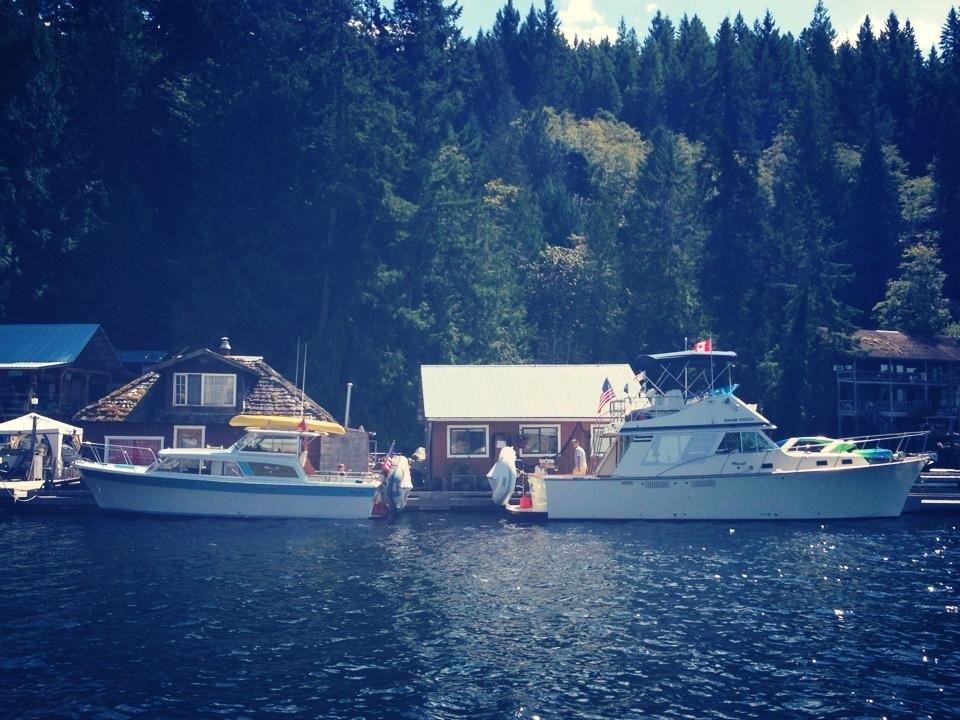 We were a little bummed that the Refuge Cove Cafe was out of burgers… They receive their supplies on Monday, and we were a day too early. We decided on pizza instead, and it was great!
Back under way, motoring toward Powell River, I took in the views of the peaks in the backdrop of Desolation Sound as long as I could. Rounding Sarah Point is an experience that stirs emotions in either direction traveled.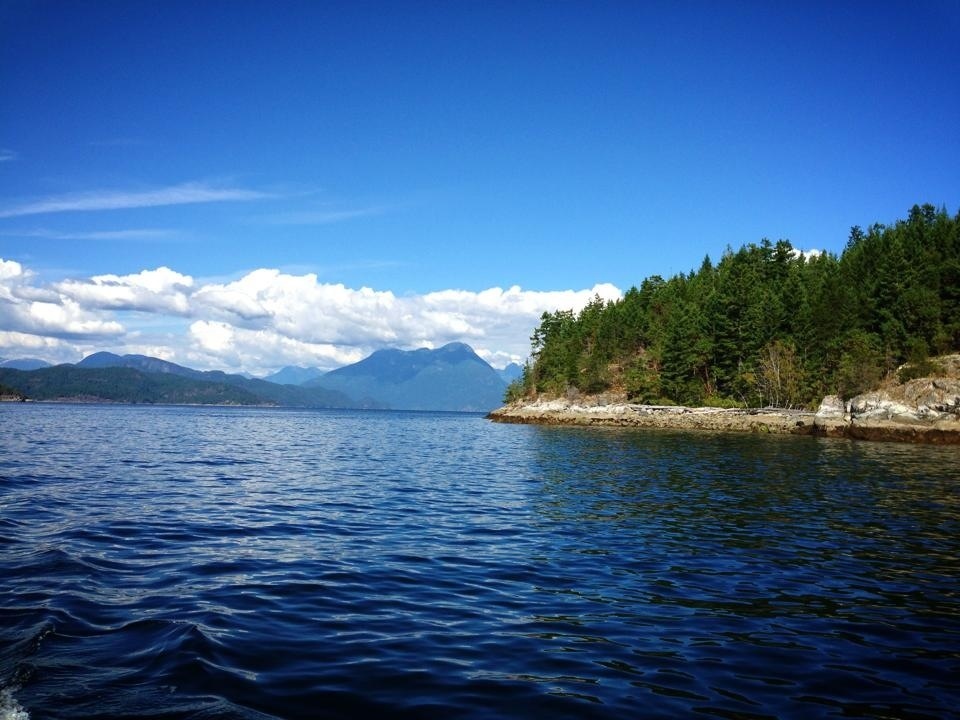 The run to Westview was glass flat. I ran on one engine at 1,400 rpms making six knots.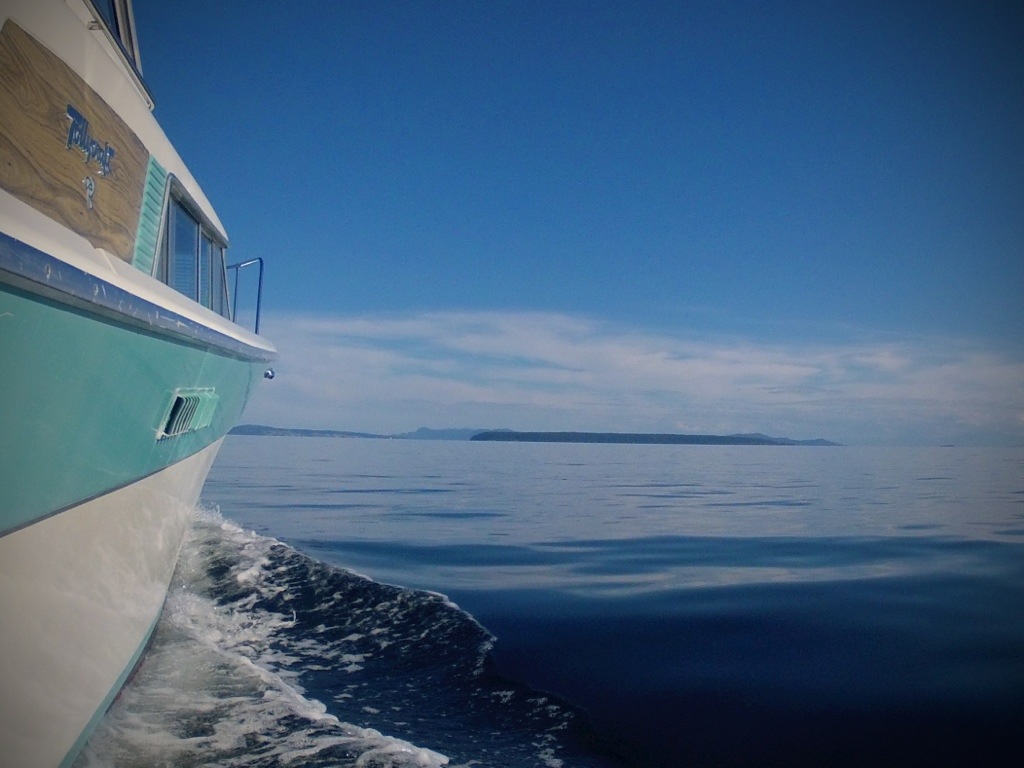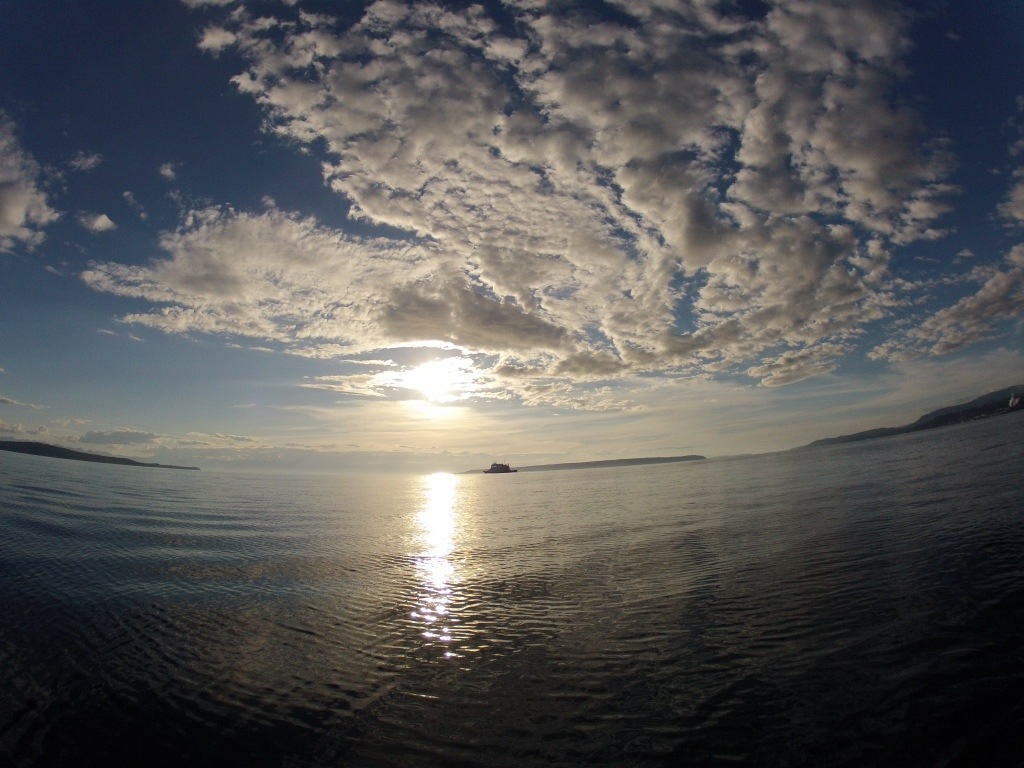 On arrival at Westview we were instructed to med-tie. I would be rafting to Wind Walker. I guess we would see them again.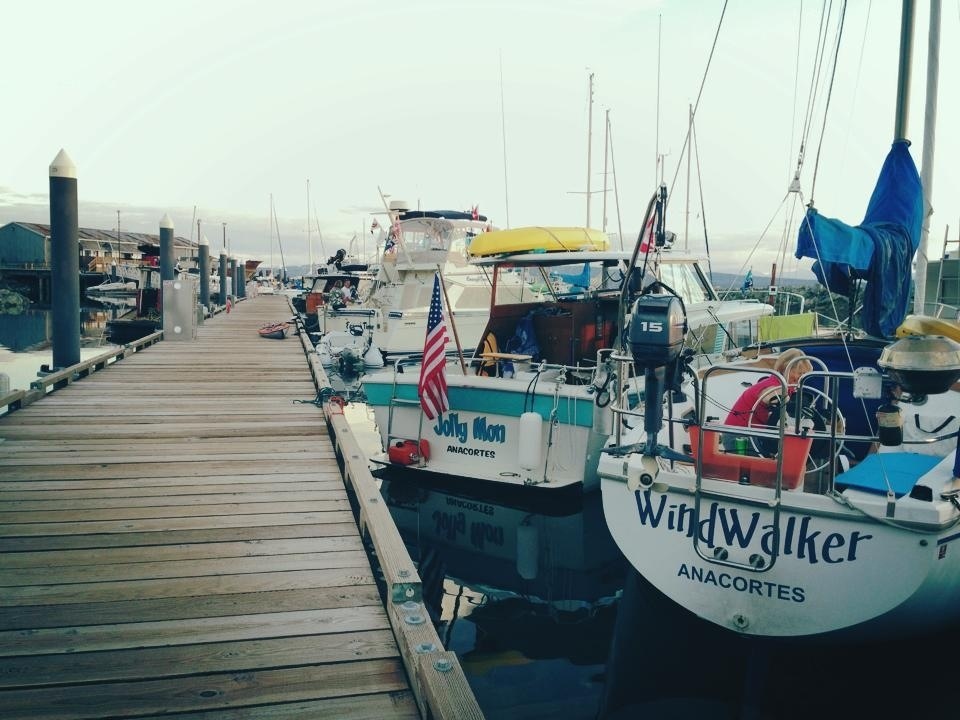 I'm impressed with Westview. The docks are nice, the staff is very accommodating, and the moorage rates are reasonable.
Day 16 total: 30.7 Nm
Trip total: 309.3 Nm
Day 17: Monday, August 26
The breeze began to pick up over night and into the morning, but the rain held off. We hopped on the free shuttle bus to the Town Centre Mall to look around a while, and walked back, stopping for a bite along the way.
We looked out the window and saw familiar faces – Larry and Jan from Scruples and Bud and Helga from Miracle, who were also coming in for some lunch. Both boats were also in the harbor, so we made plans to reconvene later.
Back at the boat, the wind was beginning to blow pretty good, and I think we were all thinking the dock was a pretty good place to be, especially when the rain arrived. Later on, we all gathered on Scruples for "happy hour".
Day 18: Tuesday, August 27
Powell River has some of the friendliest people. Really. I'll provide examples.
Woke up and checked the forecast. Didn't look too bad for a run down Malaspina to position ourselves for a hopefully calm crossing of Georgia Strait tomorrow. We compared the forecast with actual conditions, which looked promising – it's blowing pretty good out in the strait, but pretty calm on the inside. The forecast calls for things to mellow in early evening, so we decided to go for it.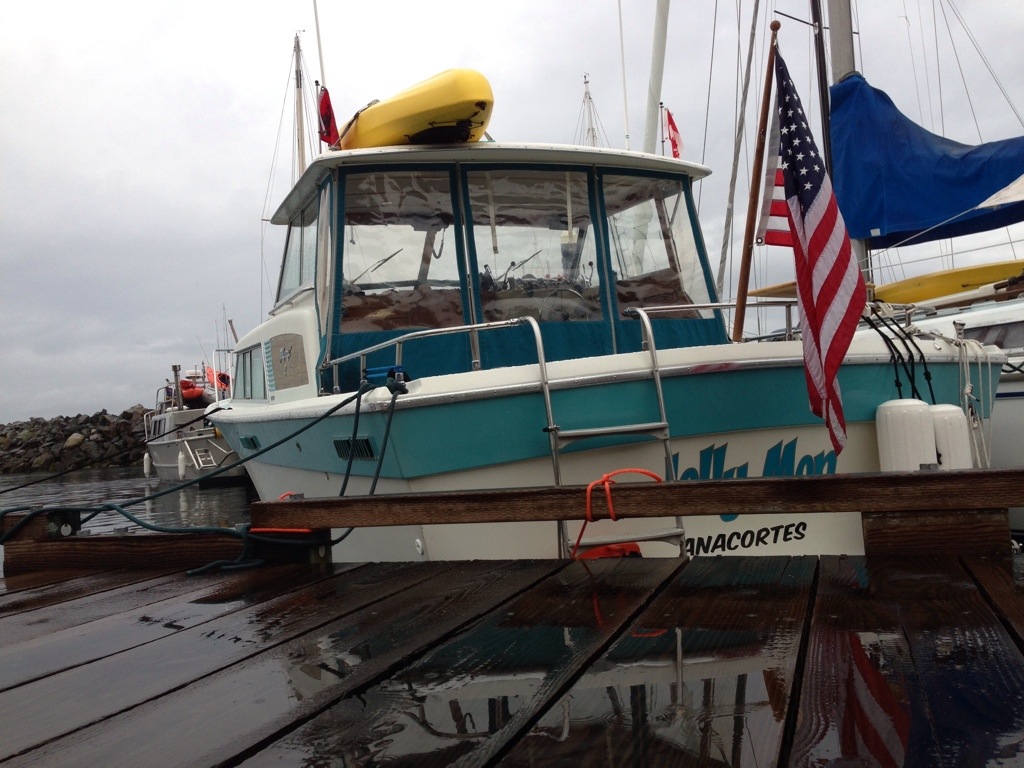 Since the conditions were to improve as the day went on, there was no real rush to get away from the dock. There were a few chores to do, and there was time. Wind Walker needed propane, so Todd went over to the fuel dock to see if any was available, but was advised that they did not fill propane.
Jack, who operates the fuel dock said there were a few stations in town that sold propane, each a few miles away and offering up the keys to his pickup truck to go get the job done. After contemplating the offer a while, Todd and I took Jack up on his offer. He provided detailed directions to where we needed to go and sent us off, apologizing for the mess of tools and spilled coffee in his work truck. Mission accomplished and back at the dock, Todd handed Jack a twenty along with his keys, a gesture of appreciation that he wouldn't hear of. Jack's response, something to the effect of, "Piss off! Keep that up, and you'll never borrow my truck again!" He was happy to help, and received our sincere thanks.
We decided to head out around 10:00, Wind Walker was the first ready to go, hoping to get a head start. As they motored out of the marina, the rest of us were starting up, preparing for the day's run. On starting, Cara on Enough Time noticed smoke in her boat's cabin, and immediately shut down. After some investigation, we quickly determined that one of her starters had gone out- it was locked up and hot – the source of the smoke.
A quick phone call to Ace Auto Electric, just up the street determined that they may have a replacement on the shelf or may be able to rebuild the existing starter. Jonathan (Briar Patch had the starter off in minutes, and we were afoot, heading for town. Within minutes of walking in the door, the still-hot starter was dismantled, and determined that it was not repairable. Unfortunately, they did not have one on the shelf, either. A new one could be order and shipped from Vancouver, and would arrive in the morning, but first a phone call to every possible source in town. Ace is a small business, and a father-daughter operation. Paul and his daughter, Charley went above and beyond to try to find a solution to our problem. Their price was more than fair, too.
By the time we were back at the marina, Wind Walker had returned and reclaimed their space at the dock. They turned back when they rounded Grief Point and began taking water over the bow. We would all be spending another day at Powell River.
Powell River friends Bill and Joyce came walking down the dock to say hello after hearing we were in town. We know them through the Canadian Tollycraft Club, and as two of the nicest folks you could meet, they fit right in in friendly Powell River, which has been their home for many years.
We had read about a craft brewery nearby. Bill knew exactly where we were taking about and provided good reference for their beers. Jonathan, Todd, Cara, and I loaded into Bill's car, and with him at the wheel we were on our way to Townsite Brewing Company.. On the way, Bill gave us a tour of town and the Townsite District. He knows the area well, he's lived and worked here for years.
We worked our way through tasting all of the available beers on tap. We each came away with at least one growler filled with beer. I chose their tasty IPA. On the return trip to the marina, Bill took a different route to show us Powell Lake, and some outlying communities. Great tour guide.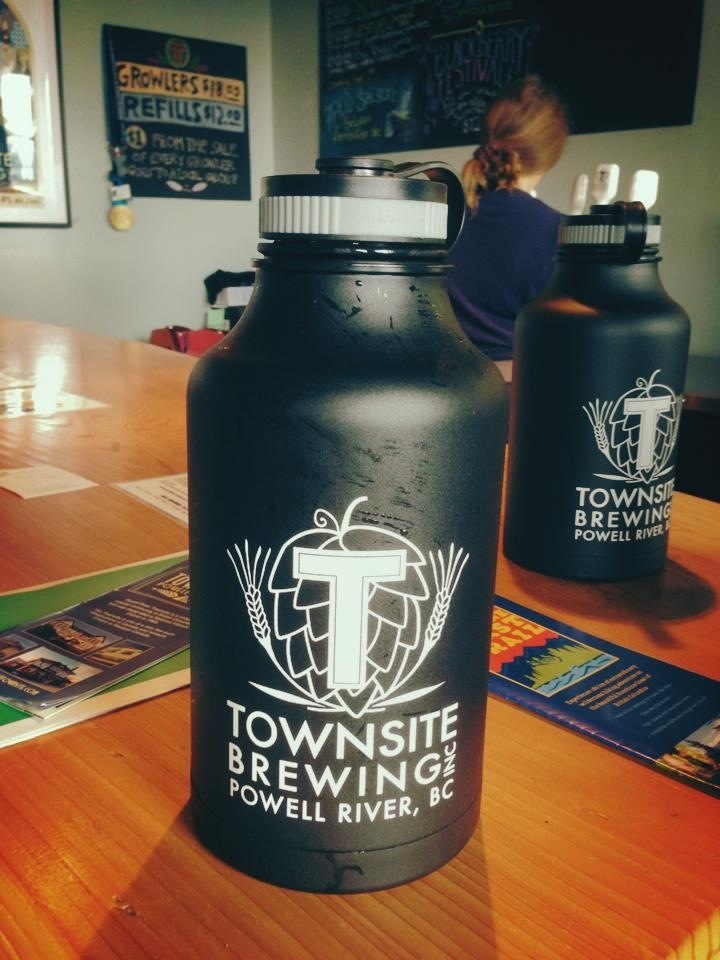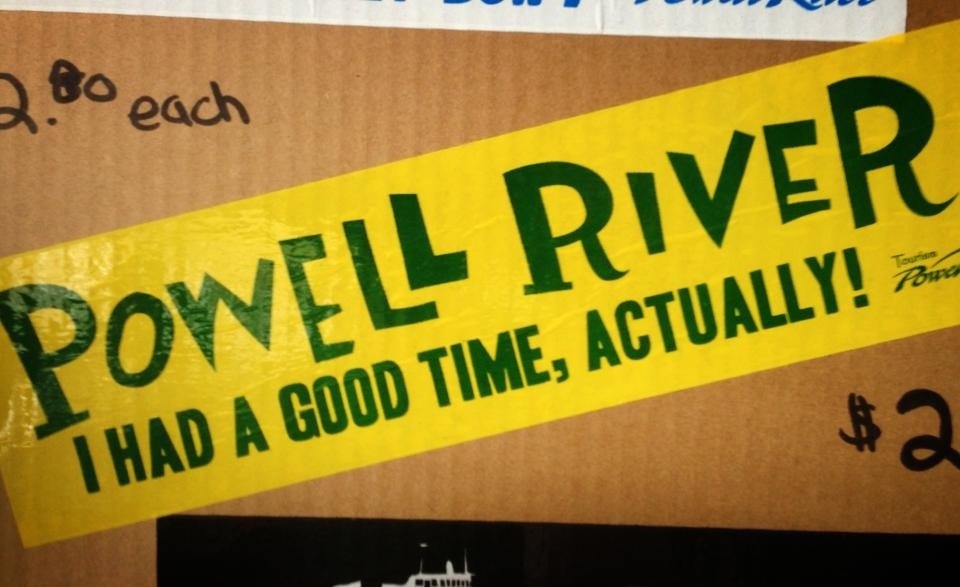 Later, Bill and Joyce joined us for dinner at the Shingle Mill, a pub and restaurant on Powell Lake. Great food and conversation.
I commented at dinner, that although the day did not at all go as we had planned, it couldn't have turned out better. The reason being the time we got to spend with Bill and Joyce. They're quite a couple. They'll soon be leaving their seventies behind, and could fill volumes with their stories of adventures together. They've been on Everest, been locked up in Egypt, and recently went snorkeling in the Cook Islands. They're the original owners of their 30 foot Tolly, El Paraiso,a veteran Alaska cruiser that has been extended by three feet. They are truly a pleasure to know, and spending time with them is a treat.
Day 19: Wednesday, August 28
Wind Walker was up and off from the dock at 6 am for an early start. The rest of us were delayed a few hours, waiting for Enough Time's new starter. Our plan is to make Nanaimo today. The forecast for today isn't the best, but nor are the coming days. We need to get moving.
Right on schedule, we picked up the waiting starter, and it was installed and Enough Time had two purring engines. We were under way.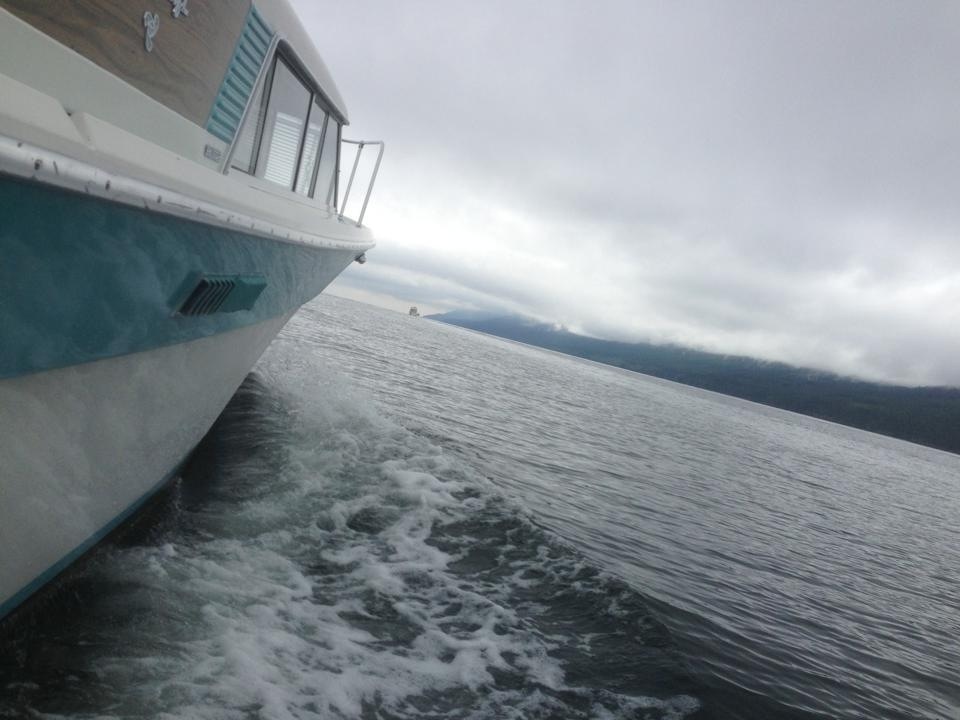 The run down Malaspina Strait was uneventful, pretty nice actually. As we approached the southern end of Texada Island seas began to build. Wiskey Golf is active today, which means beam seas while going around the active area, rather than a preferred angled approach to Nanaimo.
Entering Georgia Strait, things started to stack up. I set a course to run down the western border of Whiskey Golf, and engaged the autopilot to do the driving. With, at times, three to four foot beam seas, the autopilot performed amazingly. I couldn't have driven as well.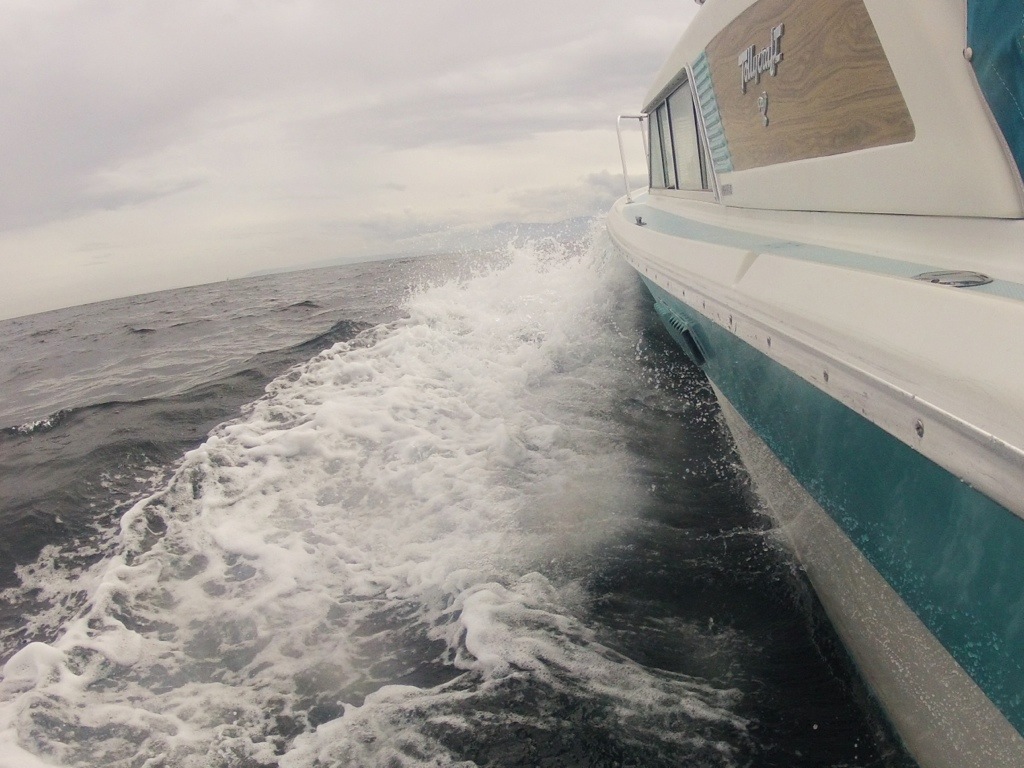 After passing Whiskey Golf, I was able to turn into the waves, providing a much more comfortable ride. By the time we reached Nanaimo, things were settling down. We tied to buoys at Newcastle.
A long day, but I'm glad we got across the strait.
Day 19 total: 51.4 Nm
Trip total: 360.7 Nm
Day 20: Thursday, August 29
It rained throughout the night, and we woke to rain. While I do appreciate the wash down from yesterday's salty crossing of Georgia Strait, I'd appreciate some sunshine…
Not deterred by a little rain, we went for a hike around Newcastle Island. We got soaked, but it was fun.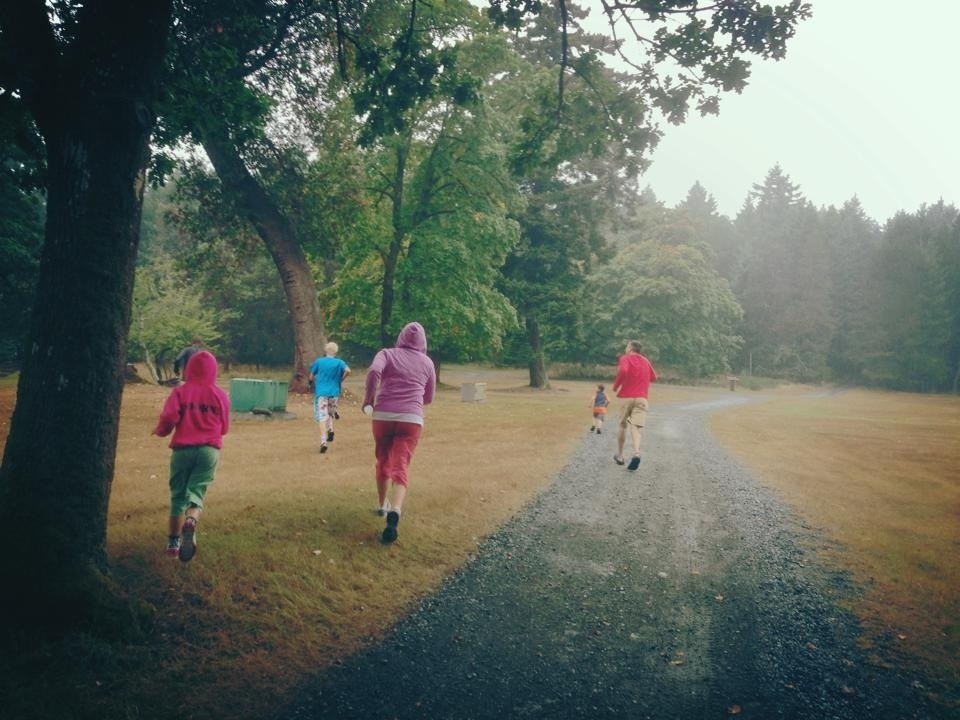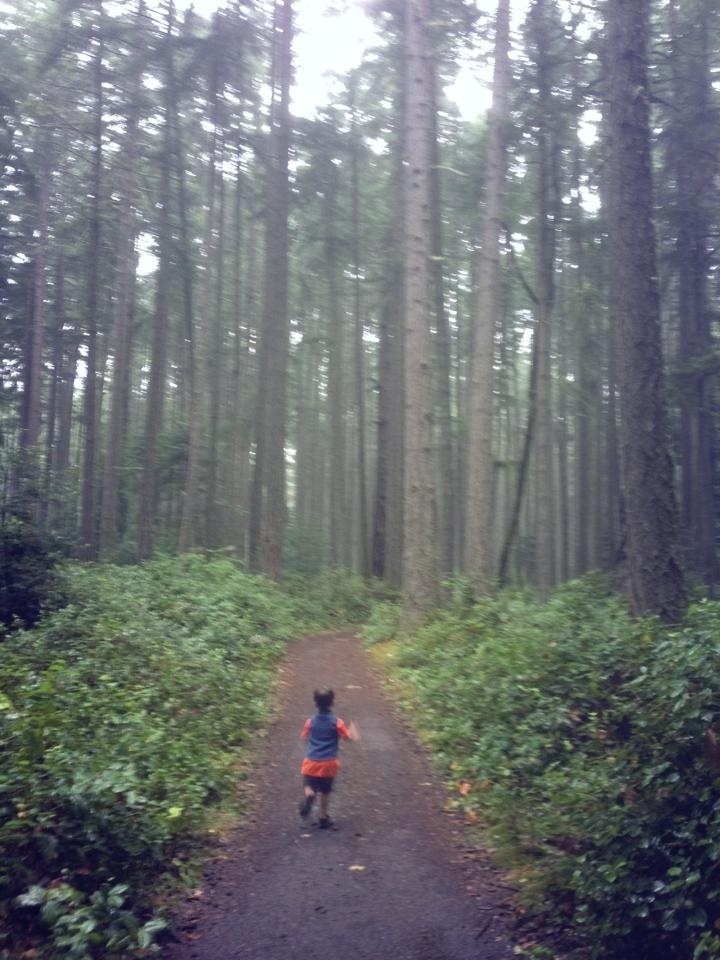 Later, we visited the Nanaimo Aquatic Center, as we did during our northbound stop. It felt good to get in out of the rain spend some time in the warm water. The water slides are fun too…

Day 21: Friday, August 30
Today we're continuing toward home. We've got a few more days to spend in the Gulf Islands before returning home on Sunday.
There's no rush to get moving this morning. We'll be transiting Dodd Narrows, and slack water isn't until around 1 pm. We're heading to Montague Harbor today.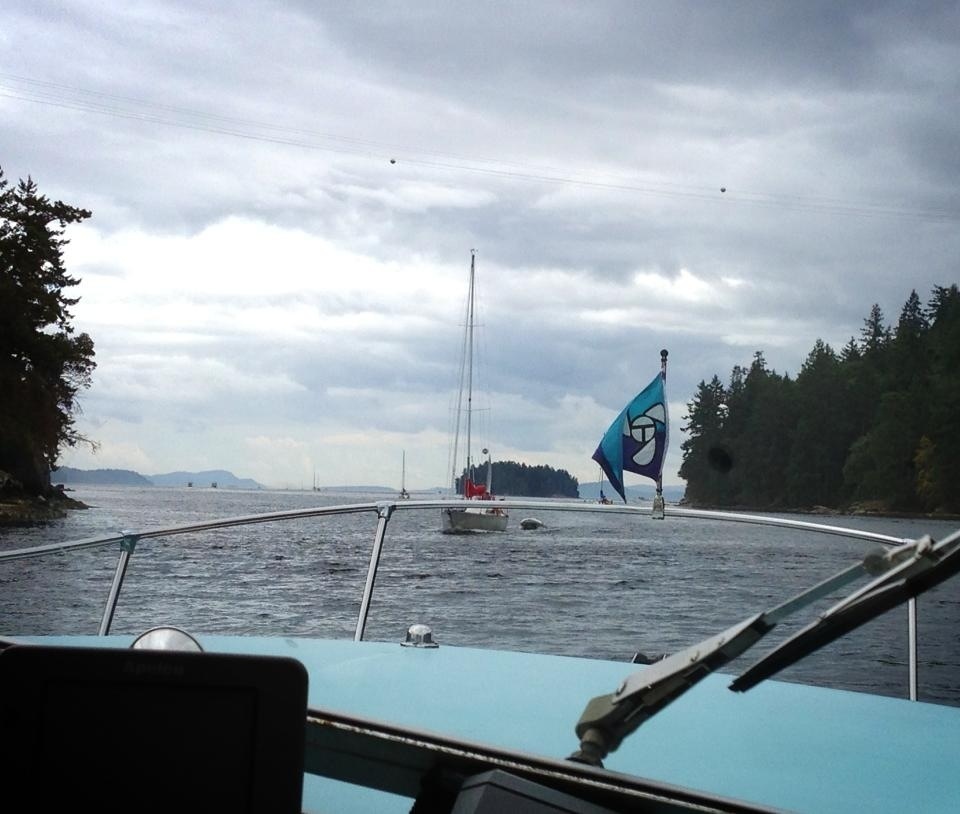 The run to Montague Harbor was nice. The sun came out, something we've missed. We anchored and rafted on the north side of Montague Harbor, where we were treated to a beautiful sunset, while avoiding the crowded harbor.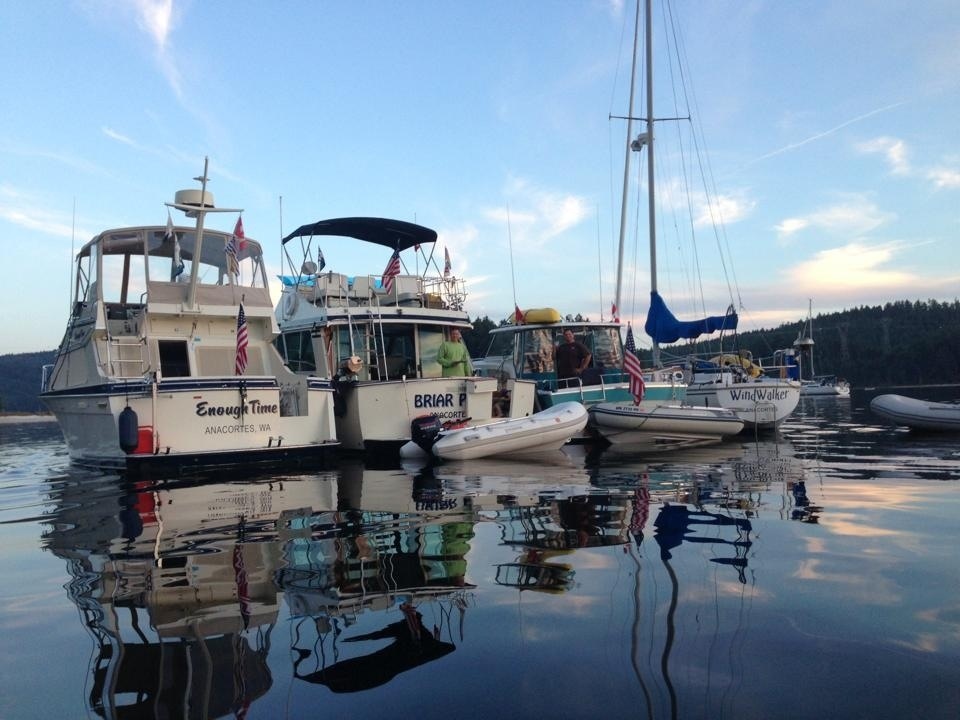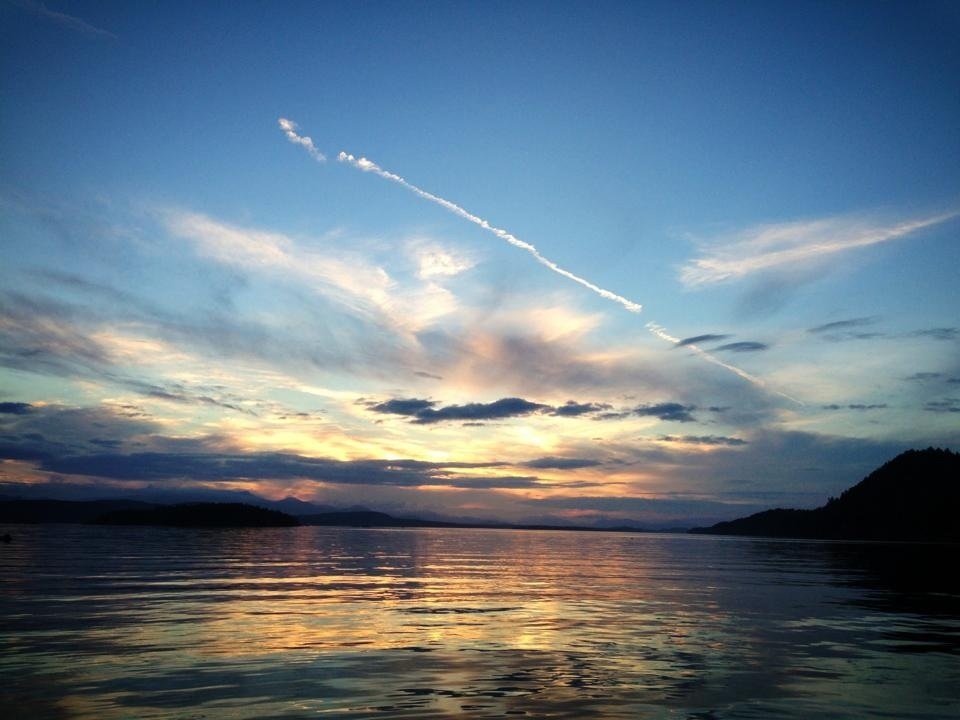 Day 21 total: 28 Nm
Trip total: 388.7 Nm
Day 22: Saturday, August 31
Woke to overcast skies. Saw Wind Walker off as they made their way toward home to meet up with friends for the holiday weekend.
After breakfast, we went for a nice walk and did some tide pool exploring.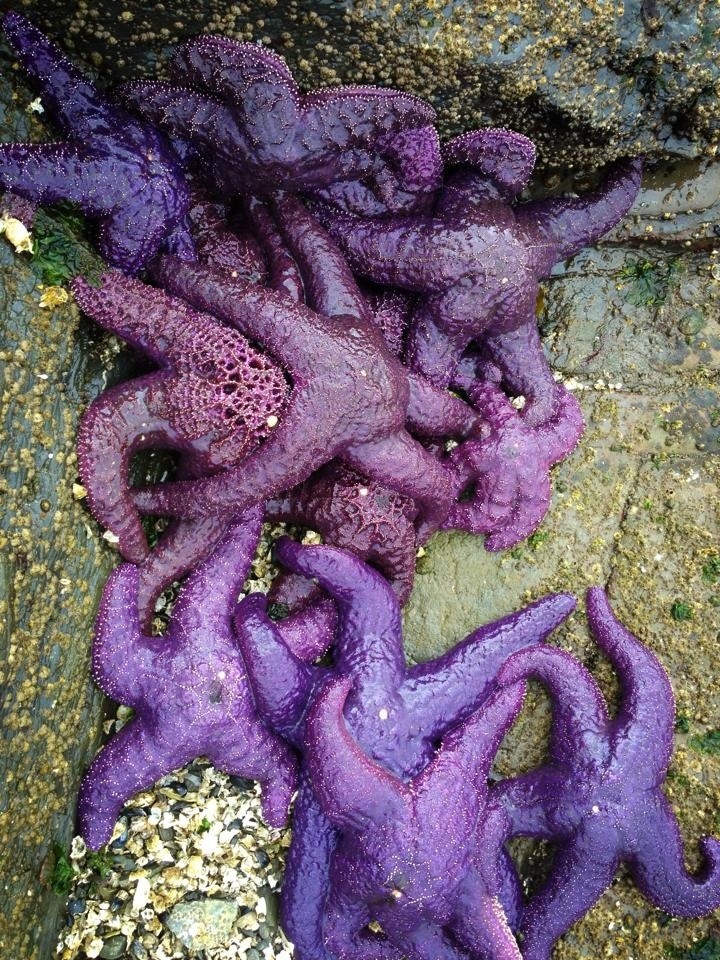 By the time we were ready to leave, the sun was out for the short run to Winter Cove (Saturna Island). Once anchored, we sat in the sun, enjoying the last full day of the trip while sipping on what was left of the growlers of beer from Powell River.
We were treated to yet another amazing sunset.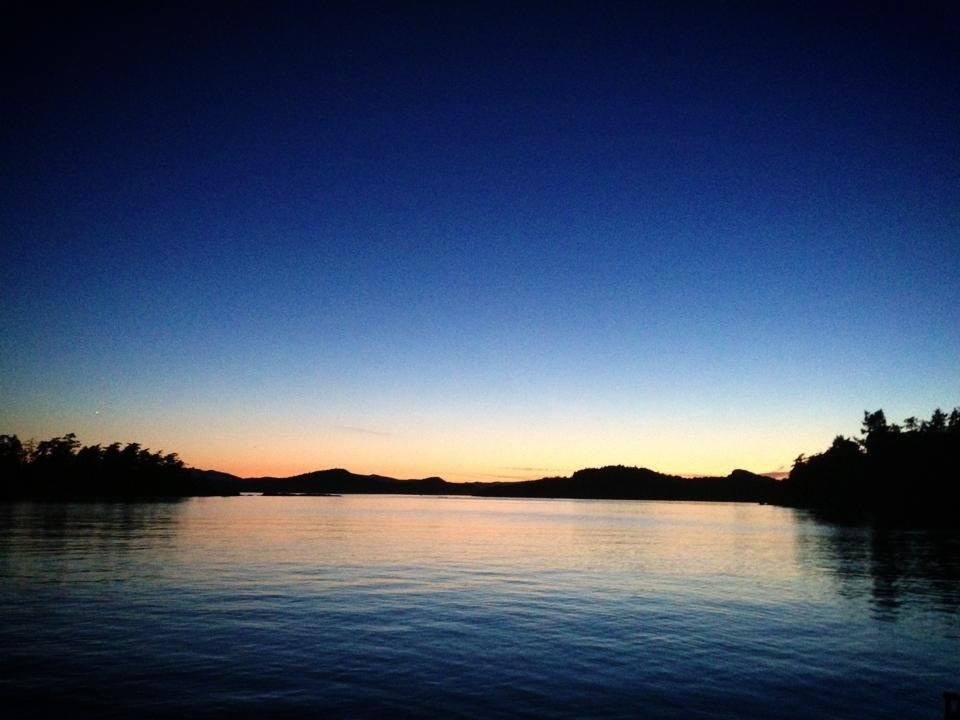 Day 22 total: 11.8 Nm
Trip total: 400.5 Nm
Day 23, Sunday, September 1
Last day of the trip. It's been a great journey, but today we're heading home. We have a beautiful day for the run home, which is nice – it's good to end on a high note.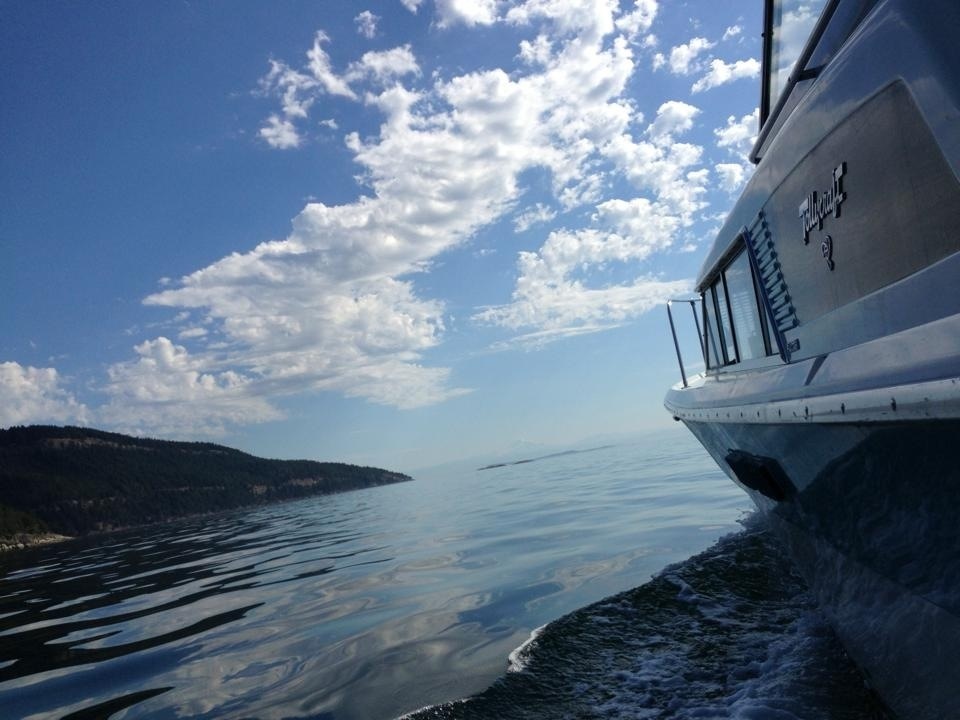 Boundary Pass was absolutely flat for crossing, as was the water most of the way home. The following short video clip captures just how calm it was.

A great ending to a great trip.
Day 23 total: 36.9 Nm
Trip total: 437.4 Nm
Back in the slip, Jolly Mon is all cleaned up and ready for the next adventure. It won't be long…