When I left for my trip, I had intended to keep up on blog entries. Not only would it be an opportunity to keep the folks at home up to date, but would allow me the chance to reflect on things I had seen and done while traveling. Well, it didn't happen. I was simply too busy, always on the move it seemed, and at the end of the day the desire to just rest prevailed. Now that I've been home for well over a month now, I'm finally getting around to pulling it all together.
I fit a lot in to 2 1/2 weeks, and covered a lot of ground. In my previous post I shared my stay in Iceland, and I'll include the rest of the trip in this one.  I'll apologize that this post is a bit long.
May 7 & 8 – Copenhagen, Denmark
I was up early to catch a 4:30 am shuttle to the airport, and a morning flight to Copehagen. On arrival at Copenhagen, the airport was packed – the city is host to the Eurovison Song Contest, which is bringing many visitors along with it. Prior to making my travel arrangements, I'm not sure I had ever heard of Eurovision, but I quickly figured out it was a pretty big deal.
After a short train ride, I arrived at Copehagen's Central Station, and had just a short walk to my hotel, the Hotel Cabinn City. My room was small, simple, and spotless. It reminded me of a efficient ship's cabin, which seems to be the concept for the hotel.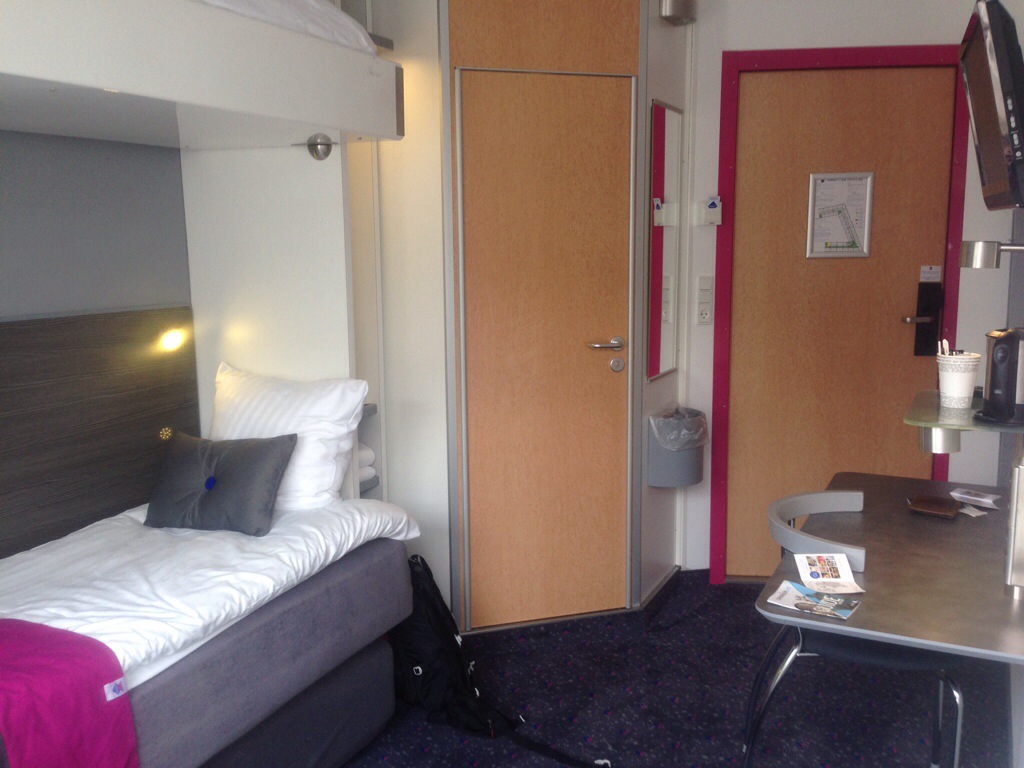 I didn't come on this trip to sit in a hotel room, so after dropping my bags and settling in, I set out to see what I could see.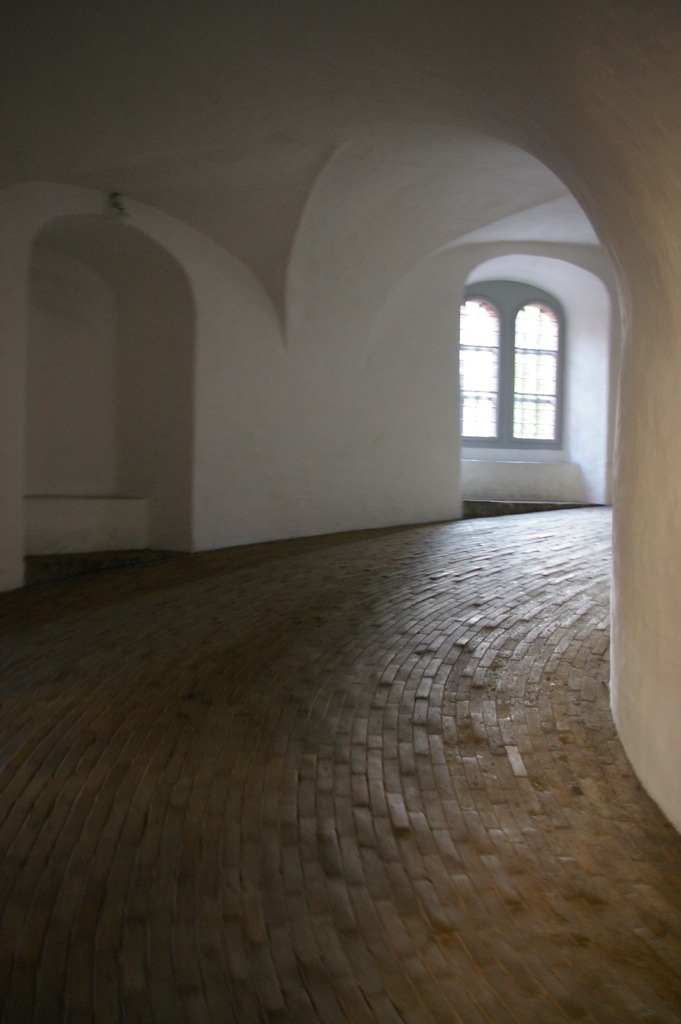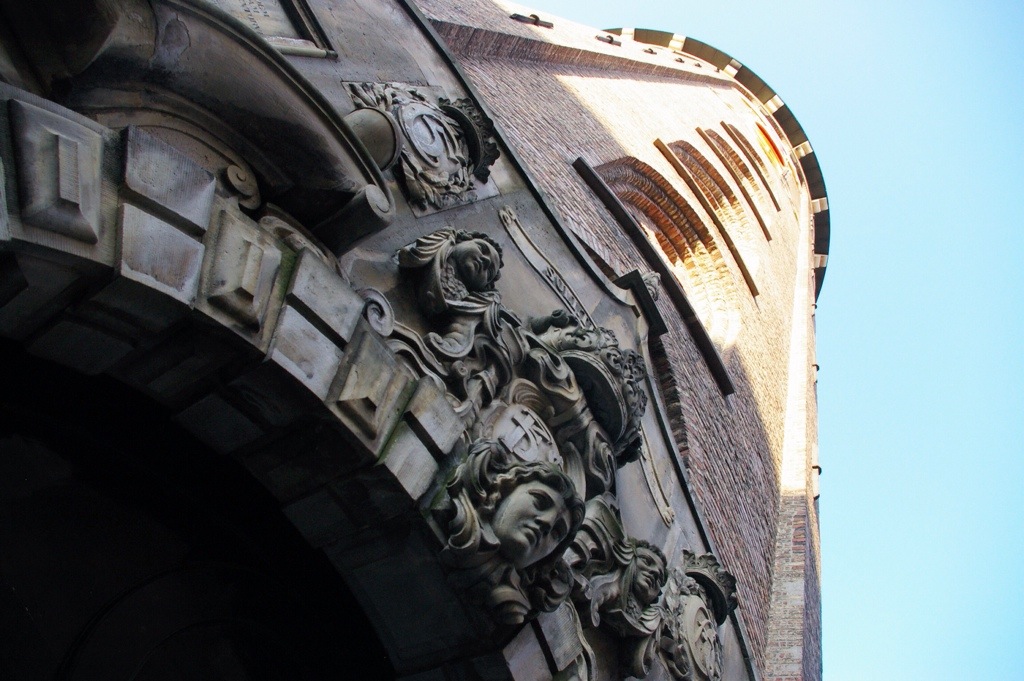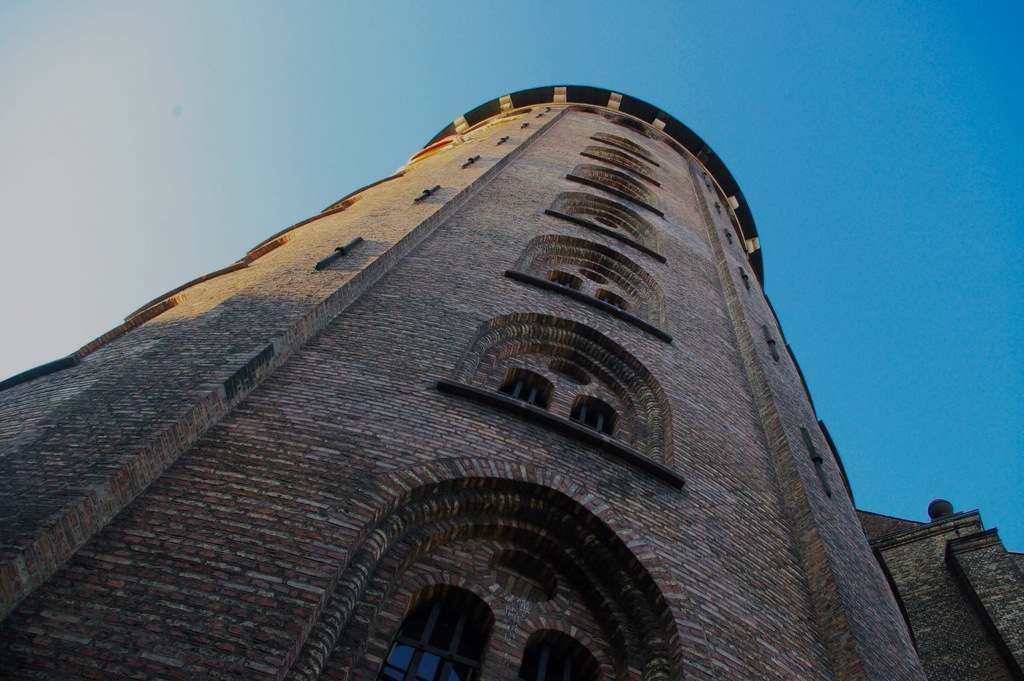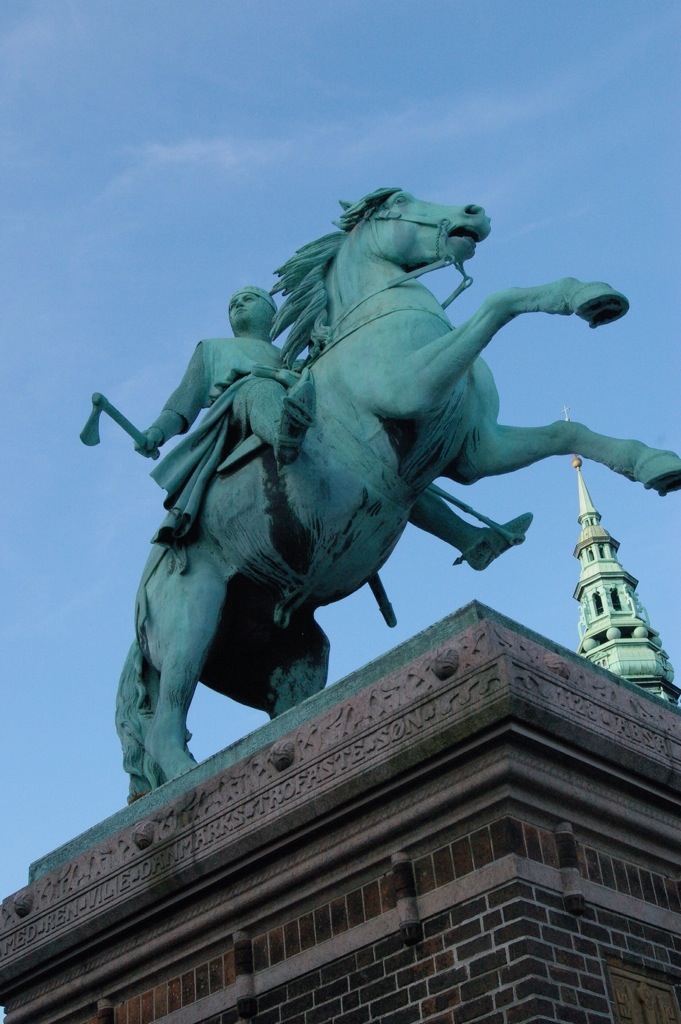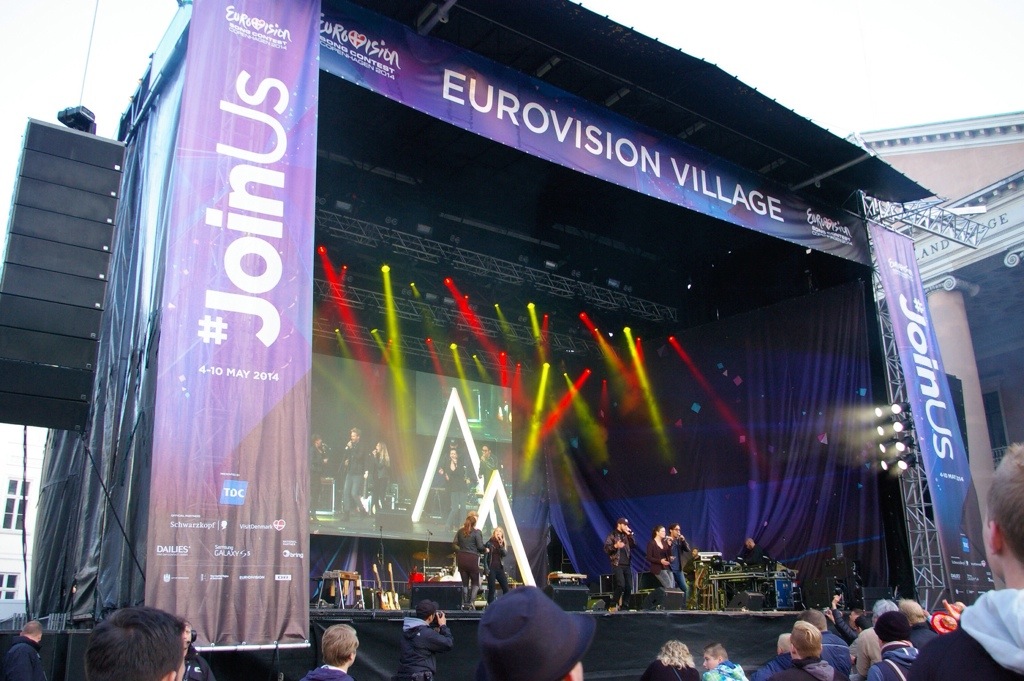 One of the highlights was an evening visit to Tivoli Gardens, an amusement park built in 1843 and the inspiration for Walt Disney to create Disneyland.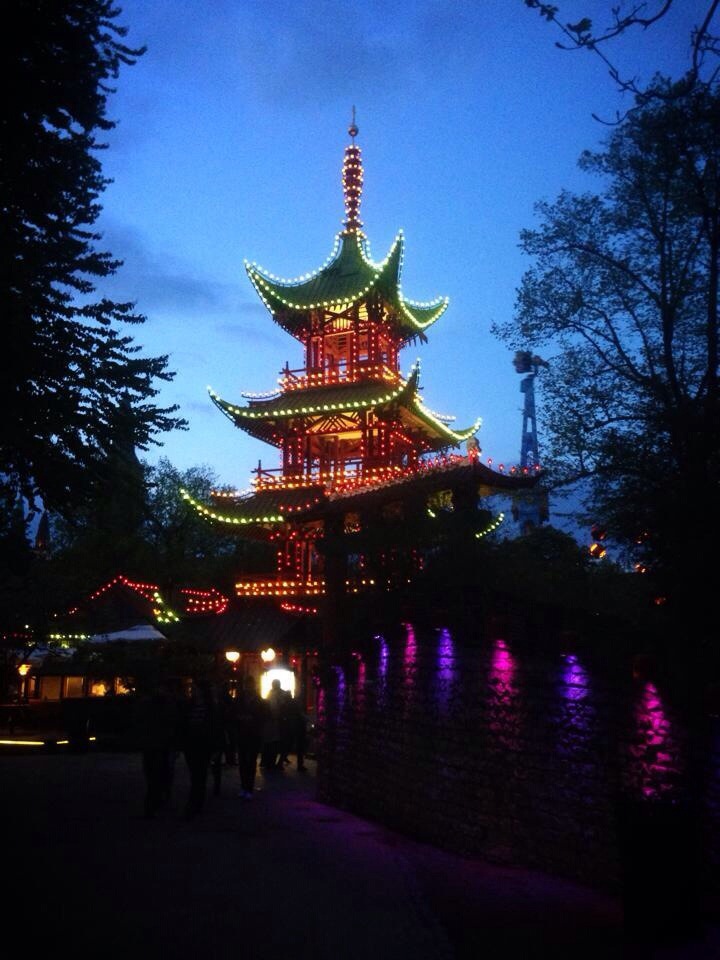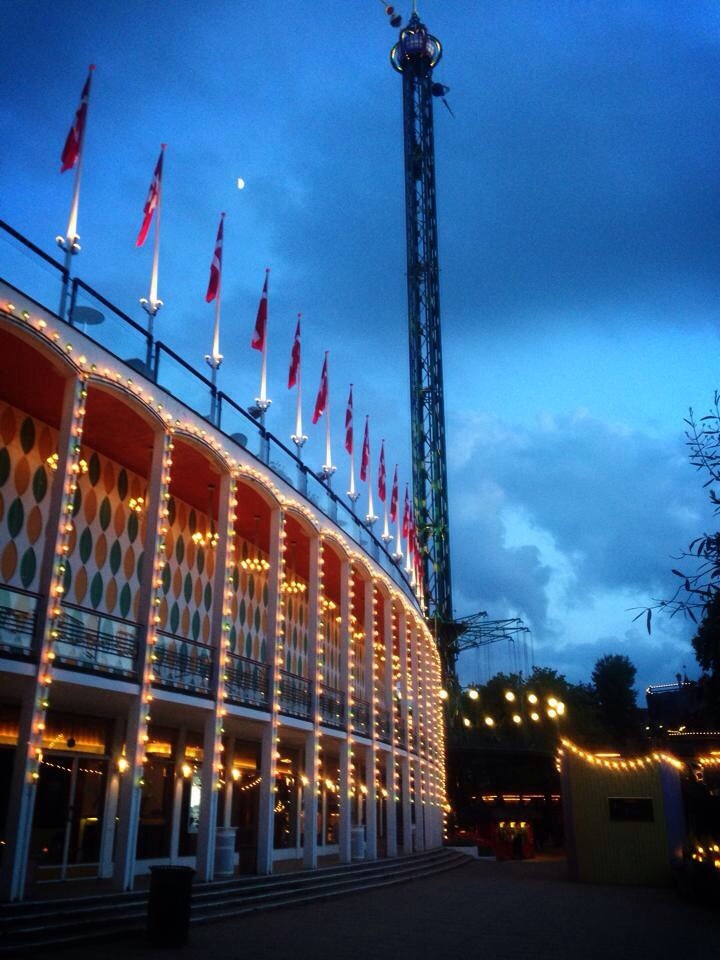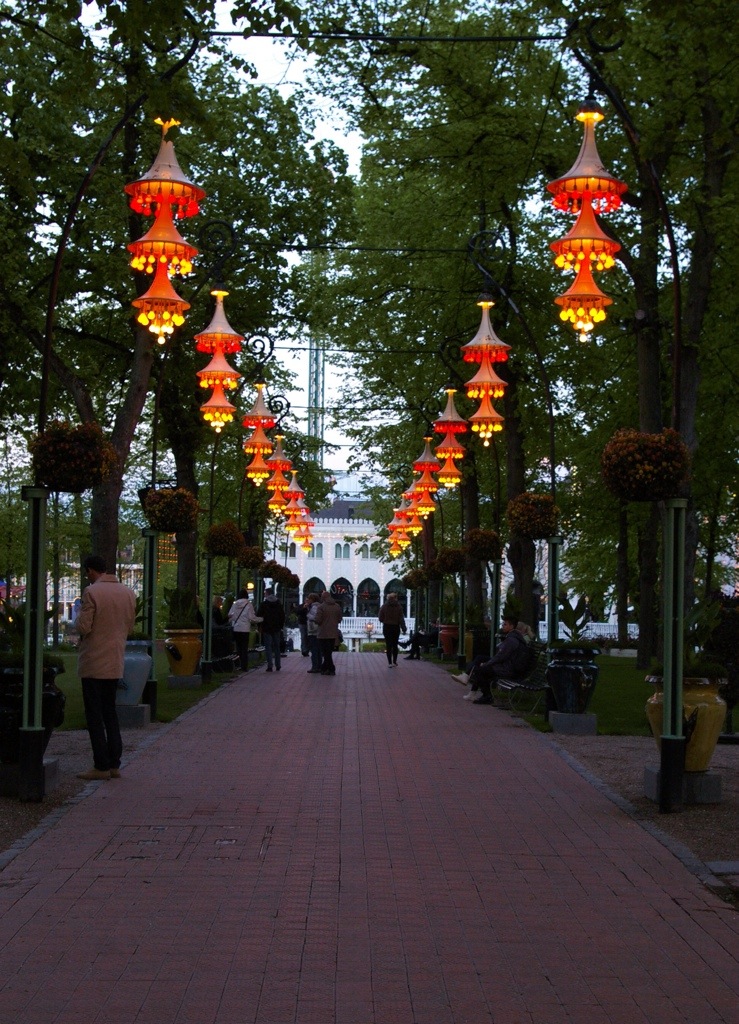 The next morning I got up and moving as soon as I could, although fighting some jet lag, I slept a bit later than I wanted.  Once on the move, I fit quite a lot into a day filled with both sun and rain.
I took a canal boat tour.  It began sunny and warm, but ended cold and rainy.
The perfect way to dry off was a visit to the Ny Carlsberg Glyptotek, an art museum housing the personal collection of Carl Jacobsen, son of the founder of the Carlsberg Brewery.  It was an incredible collection of artifacts that were thousands of years old, and walking about the climate-controlled building, my wet clothes dried quickly.
Here are a few of the other sights from Copenhagen.
May 9 & 10 – Stockholm, Sweden
I quickly realized that what was effectively a day and a half was not nearly enough time to see Copenhagen.  However, I had travel plans set and I needed to catch a morning train to Stockholm.  It was a high-speed train, traveling 125 mph.  I sprung for a first class ticket for not much more money.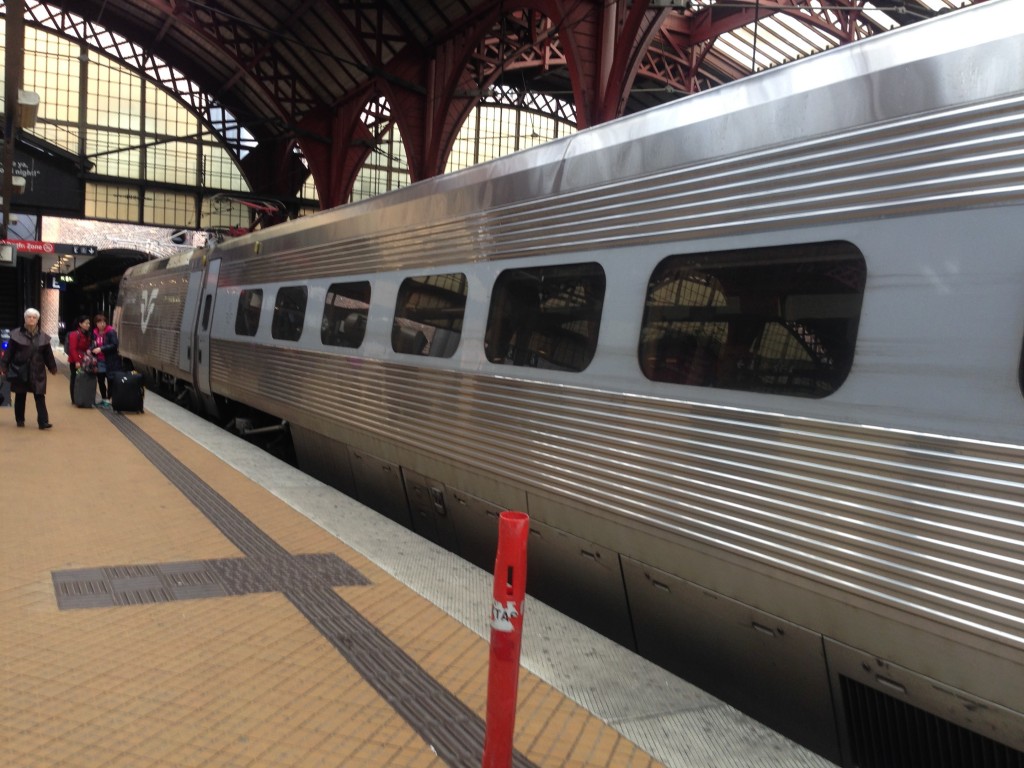 When I arrived in Stockholm, I purchased a Stockholm Card and after getting my bearings, went to find the Långholmen Hostel, where I would be spending the next two nights.  Housed in an old prison, they offer both hostel and hotel accommodations.  The rooms are old cells, but I'm certain they weren't nearly as comfortable in the old days as they are today.  I reserved a shared room, but was lucky enough to have the room to myself for my entire stay.  The on-site restaurant was fabulous.
It wasn't the most convenient location, requiring a subway ride and a 10 minute walk, but it was nice and quiet.  The walk to and from passed over a canal and past a boat yard, which suited me just fine.
Having only two days to spend in Stockholm, I once again got moving to try and see as much as I could.  I quickly oriented myself to the transit system, and made my way back in to the city.  As I often do, I found myself at the water's edge and boarded a boat for a sightseeing tour, which was included with the Stockholm Card.  Even though it rained, it didn't matter this time- the boat was enclosed and heated!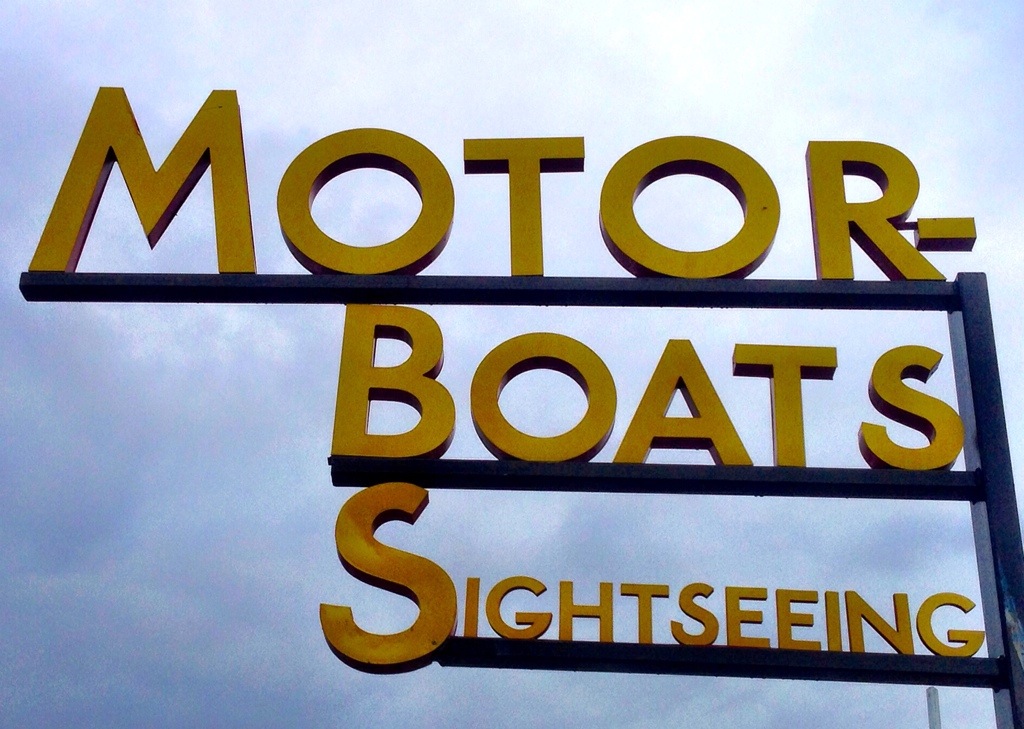 After checking the city out a bit more, I headed back to my room.  It was time to do some laundry…
The next morning I was feeling a little lazy, and didn't manage to get up and moving as early as I had planned.  After a great breakfast, I ventured back in to the city.
I visited the Nordiska Museet (cultural history museum), the Vasa Museum, and The Absolute Vodka Spirit Musem.  While planning my day, I mis-read the museum hours, and was disappointed when I realized they all closed at 4:30 in the afternoon, not later in the evening like I first thought. The Nordiska Museet, was interesting, but had I been more aware of my time limitations I would have skipped it.
The Vasa Museum was excellent, and I wish I had more time. Oh well, next time…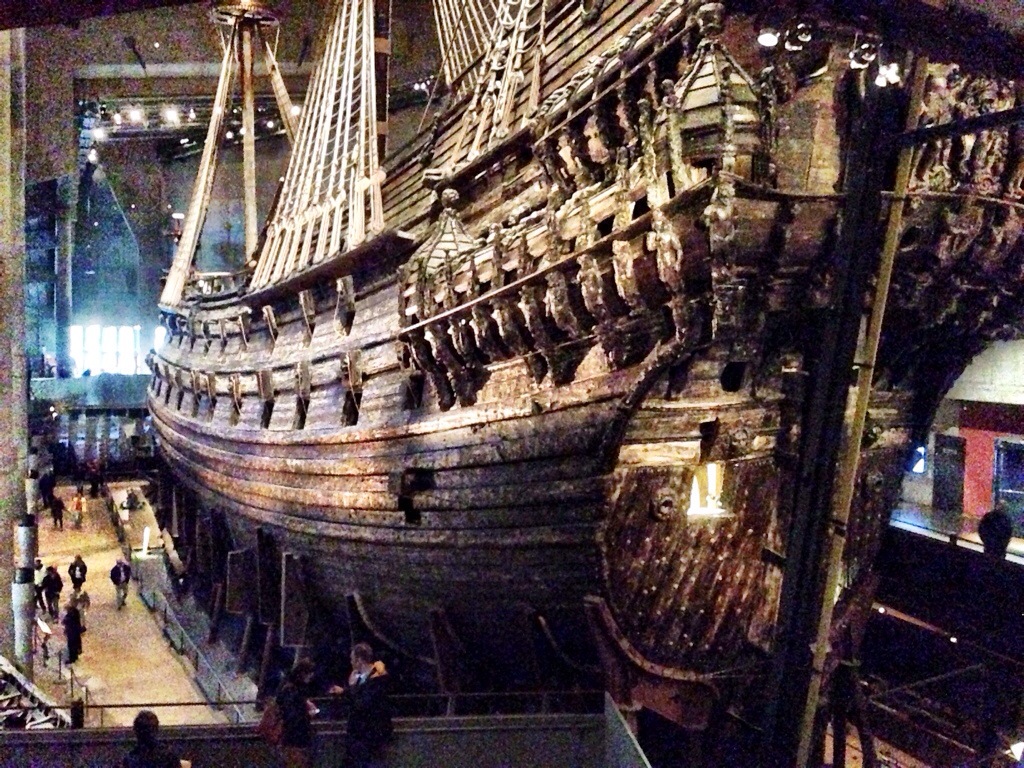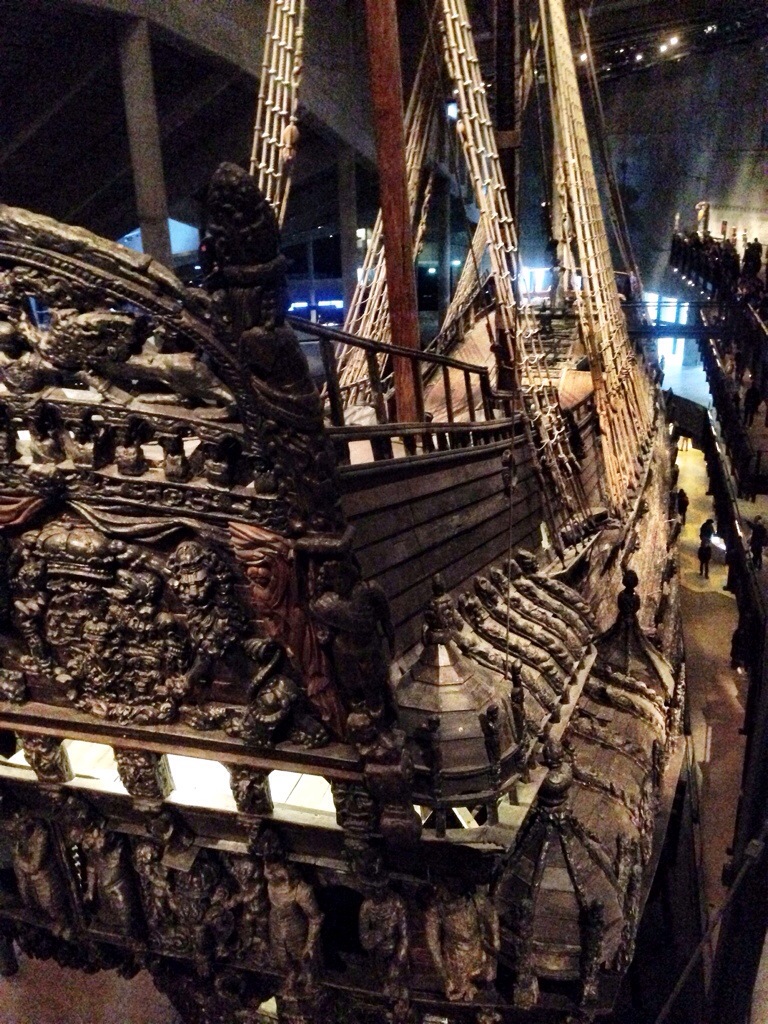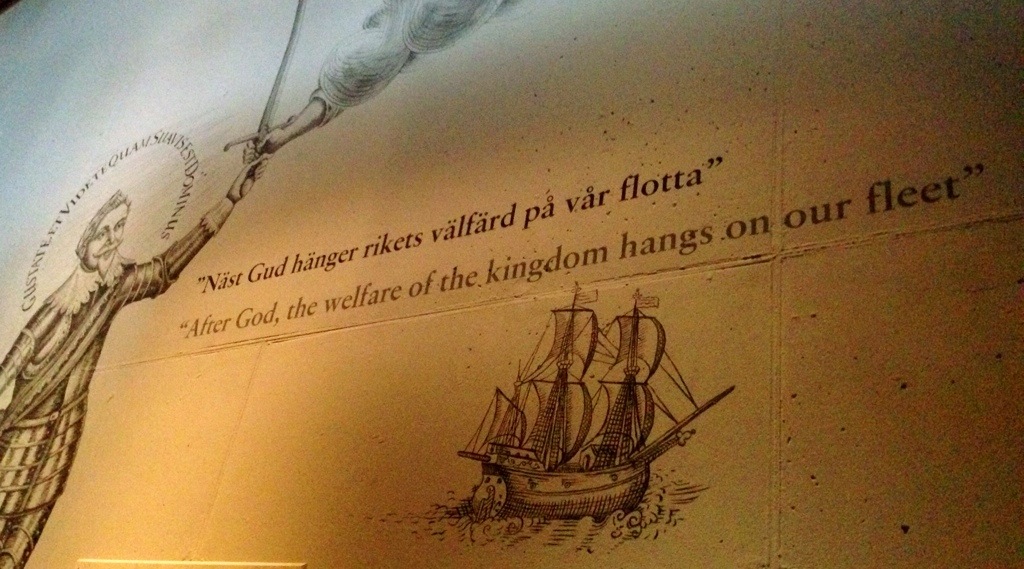 The Spirit Museum had a great exhibit, "Art Pop", featuring famous artists who designed famous rock n' roll album covers as well as Absolute Vodka advertisments.  The exhibit was complete with an impressive collection of vinyl, and visitors were encouraged to spin some tunes on the Hi-Fi for their visit.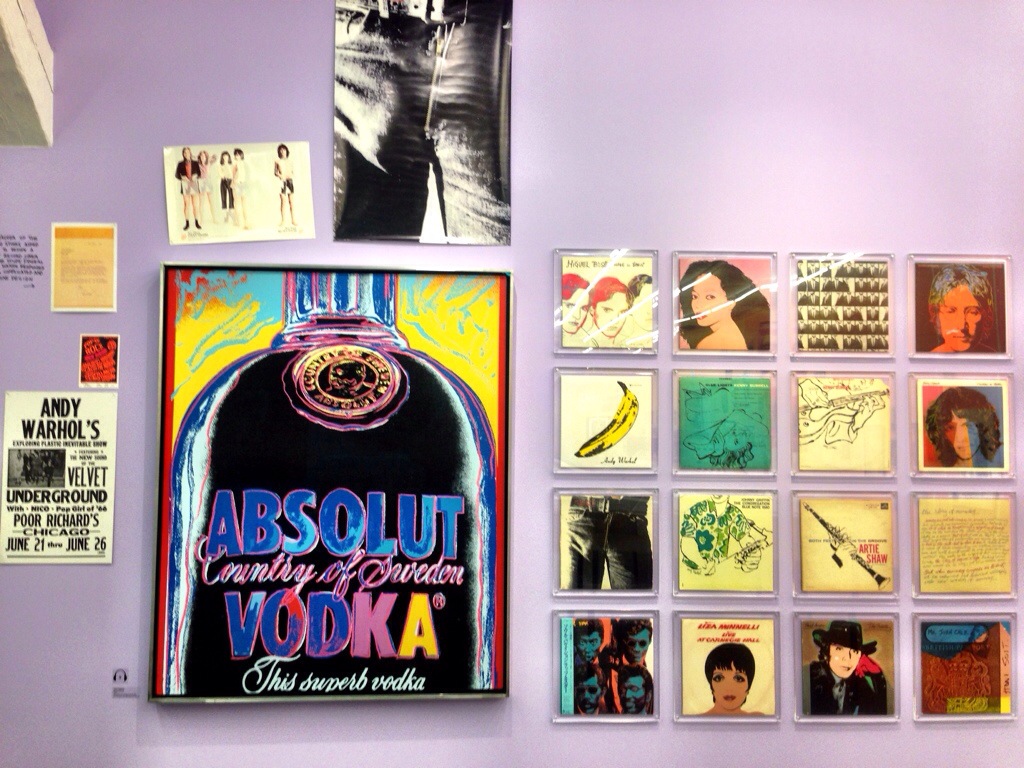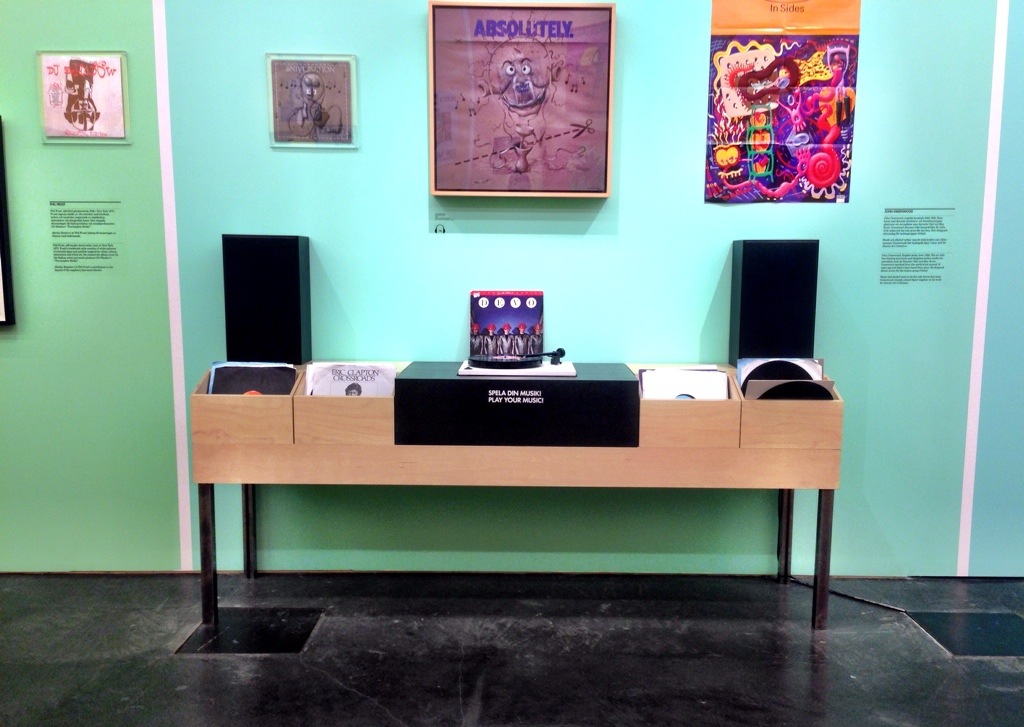 I enjoyed my brief visit to Stockholm, and look forward to returning again some day.
May 11 – Oslo, Norway
I was up early and checked out of my room.  With my pack on my back, I made the walk to the metro for an early morning ride to the Stockholm Central Station for my next train journey to Oslo.
I also booked a first class ticket for this leg.  The extra comfort was worth the extra cost, which really wasn't that much.  In about seven hours, I arrived at the Oslo Central Station, familiar from my previous visit nearly three years ago.
I checked into my room at the Hotel Scandic Byoporten.  Attached to the Central Station, you can't find a location more convenient, especially given that I'm leaving the next morning.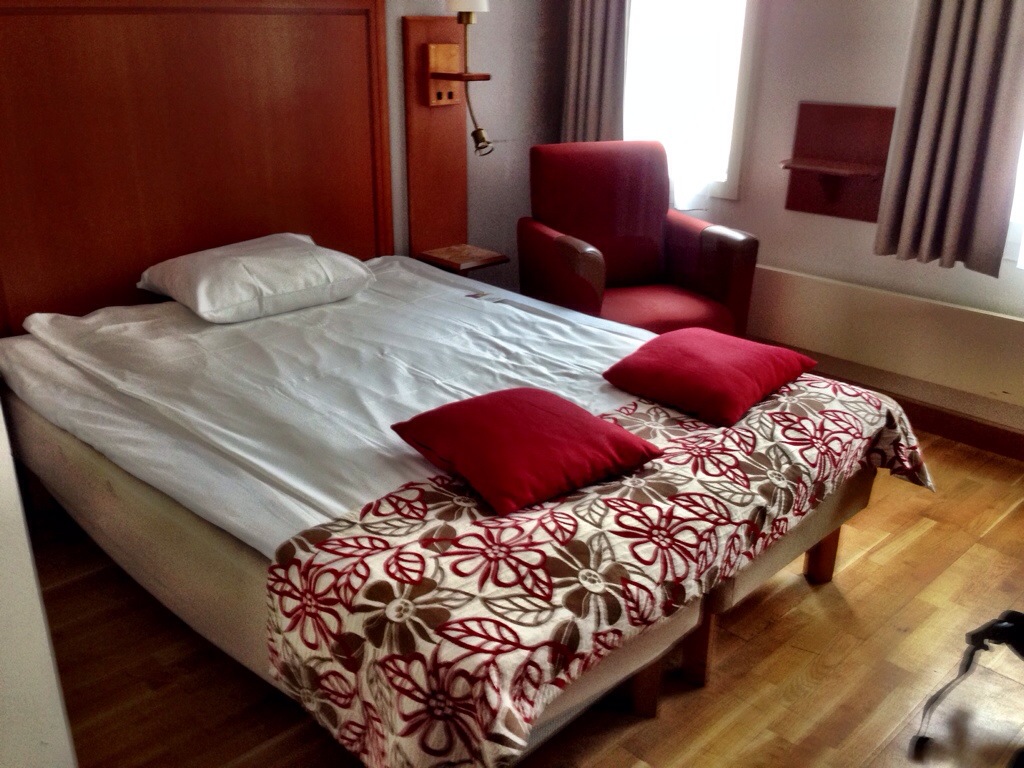 As I arrived, I received a message from my cousin, Petter, who lives in Oslo.  He tells me to drop my things in my room and come join he and his family for a home-cooked meal.  I impressed myself that I remembered the transit system well enough to find his house without getting lost.  It was great catching up with Petter and his family over dinner and a bit of wine.
May 12 – To the Fjords!  Myrdal, Flåm & Balestrand, Norway
Today I'm beginning a portion of the trip that I have really been looking forward to; I'm heading for fjord country.  I'm making my way to Bergen, and will be getting there by train and boat.
The trip began on the Bergen Railway, which many say is one of the most scenic railways in Europe.  The train made it's way over snowy high mountain passes, and transited tunnels through mountains until arriving at the train station in Myrdal.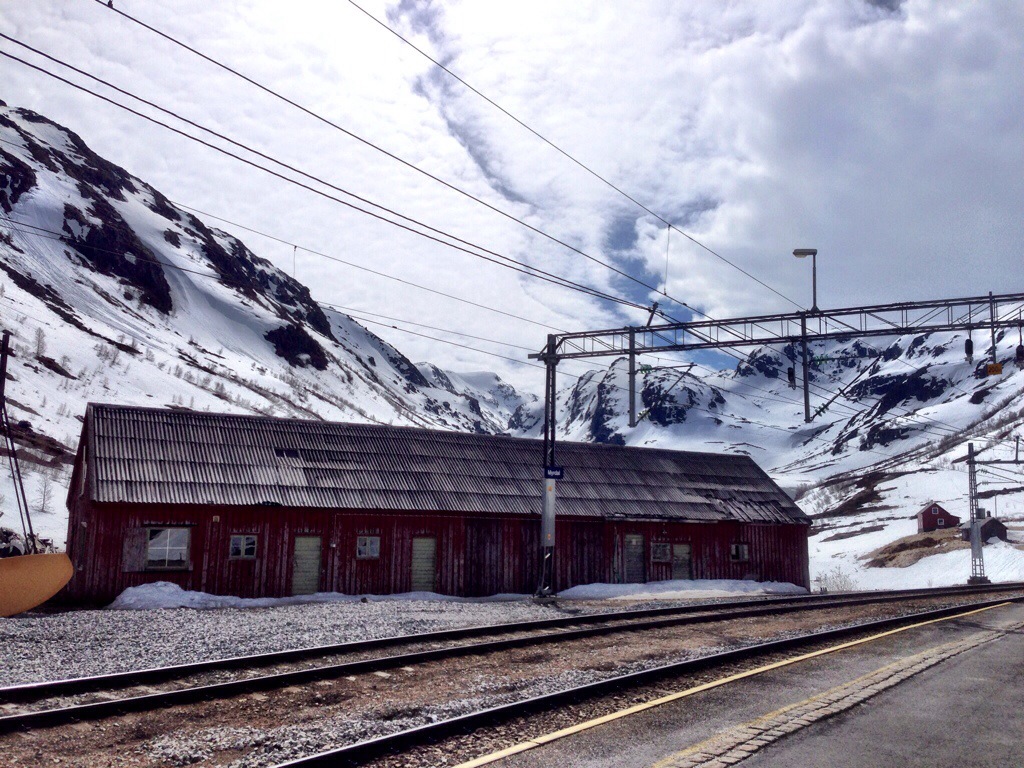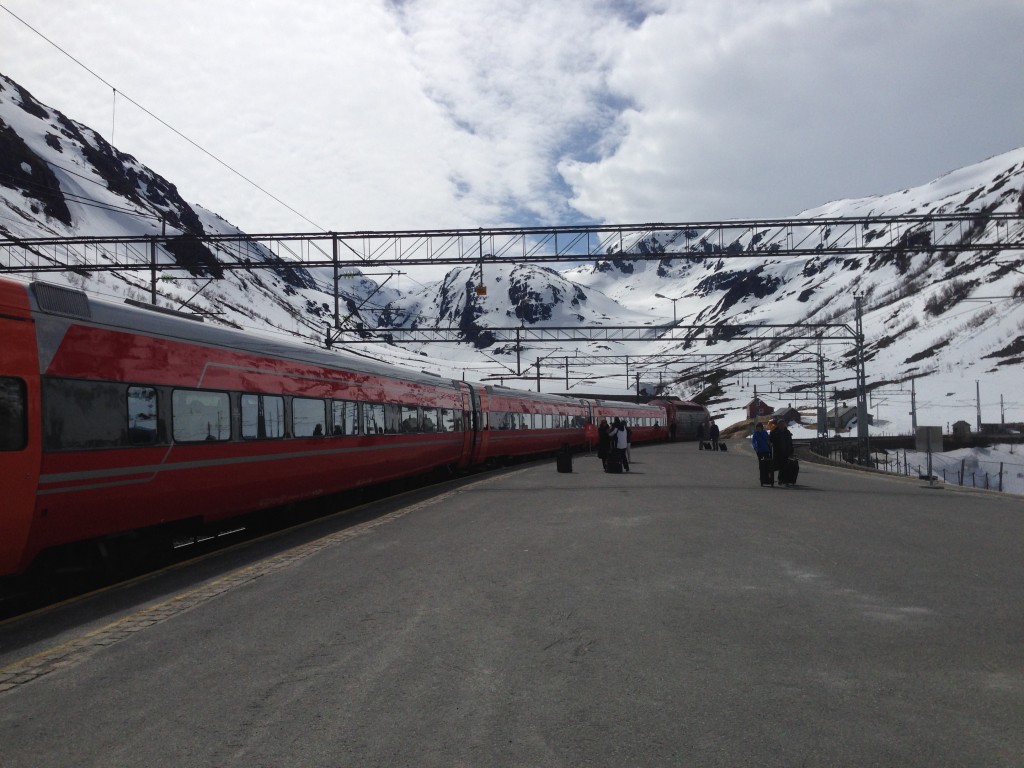 At Myrdal, I boarded the Flåm Railway (Flåmsbana) for a breathtakingly scenic ride to the small town of Flåm.  Lonely Planet called the railway "the most beautiful train journey in the world."  It was pretty much amazing.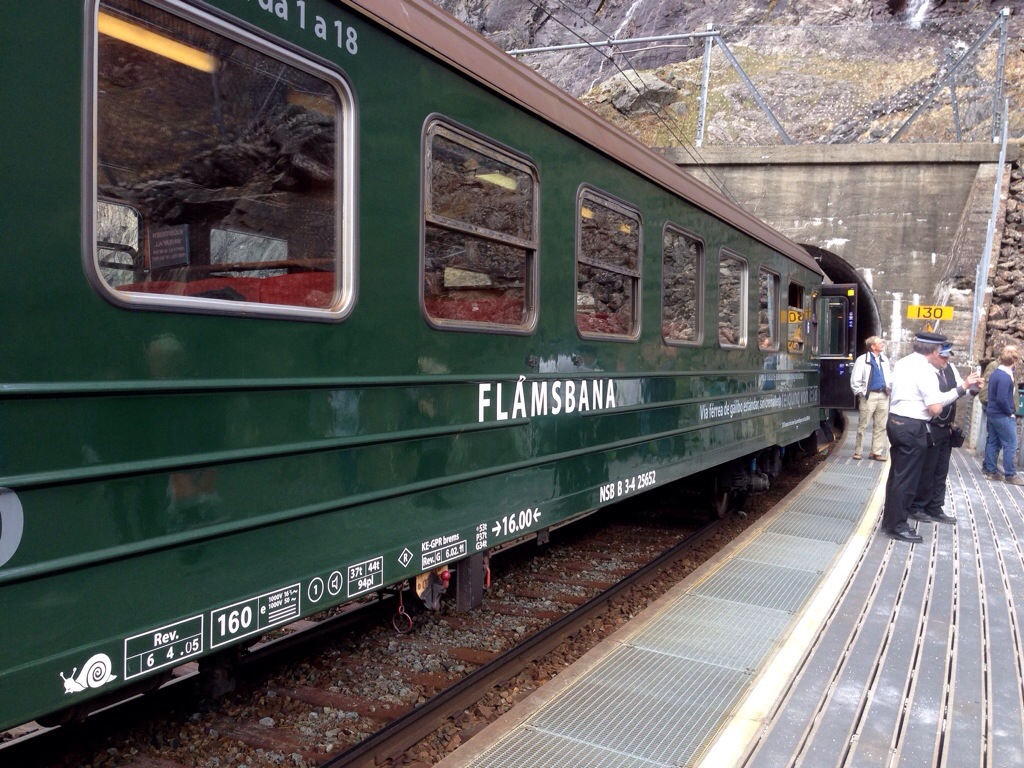 Flåm sits in the heart of fjord country, and is a popular jumping off point for travelers by train and a variety of boats and cruise ships.  I'll be boarding a Norled Express Boat making its way out the Sognefjord.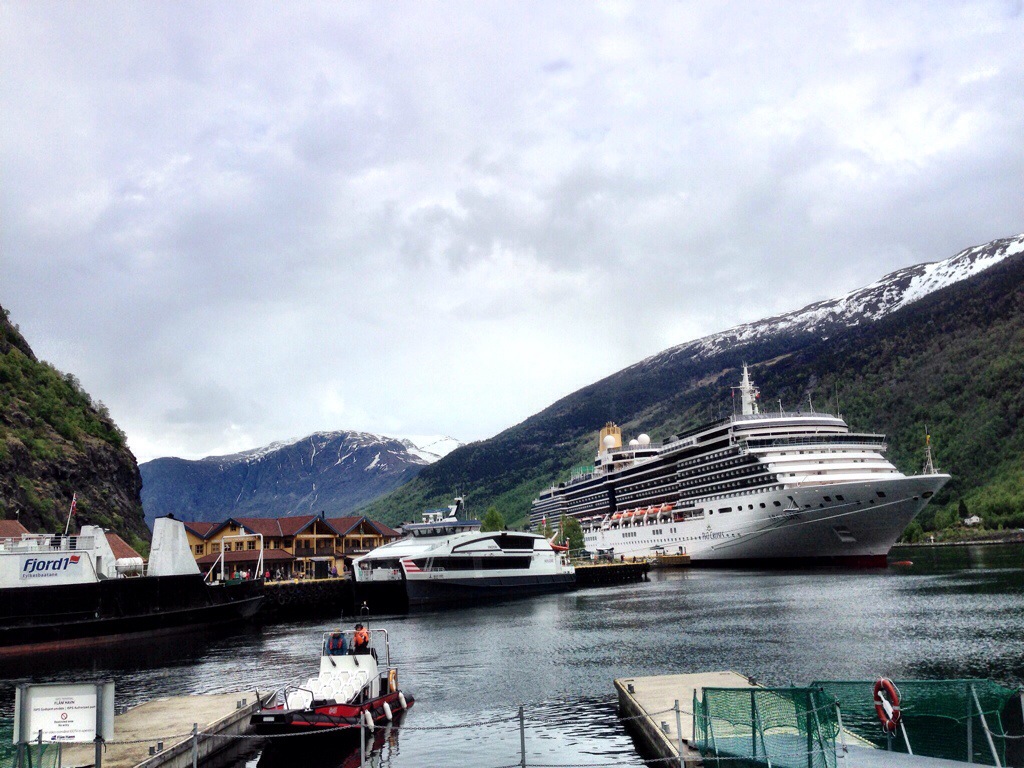 The boat ride was scenic and the boat comfortable.  The scenery resembled places back home, like Desolation Sound, but had its own unique beauty, with small villages and farms fjordside.  The express boat was not only used by tourists, but also locals using it to get around.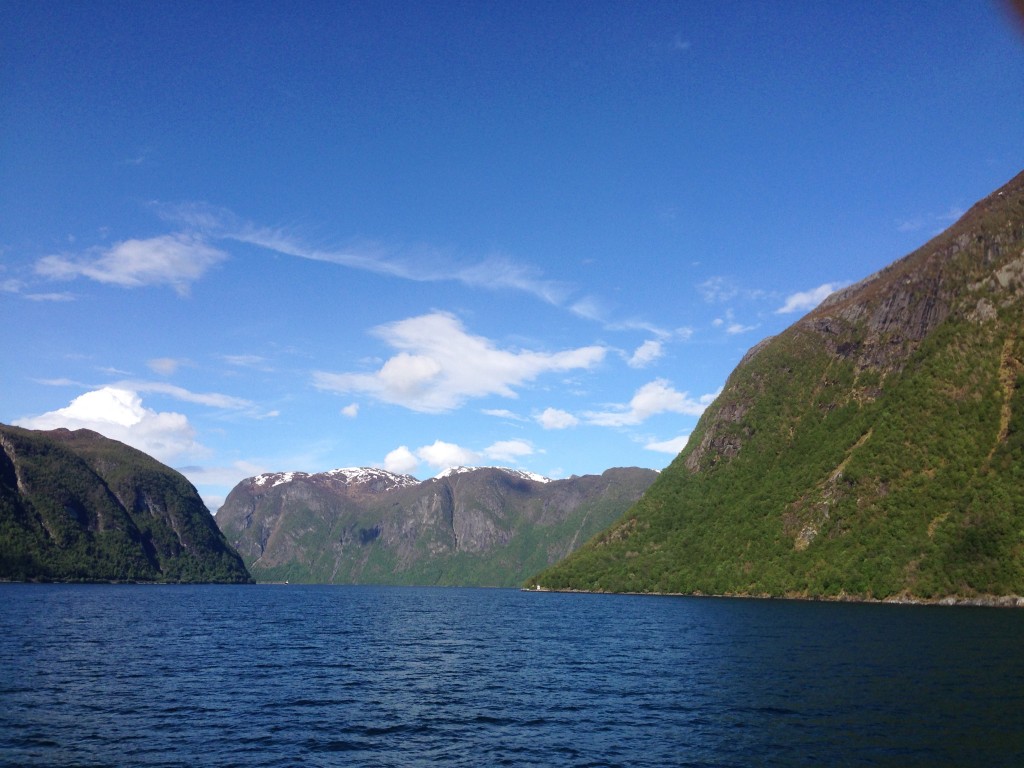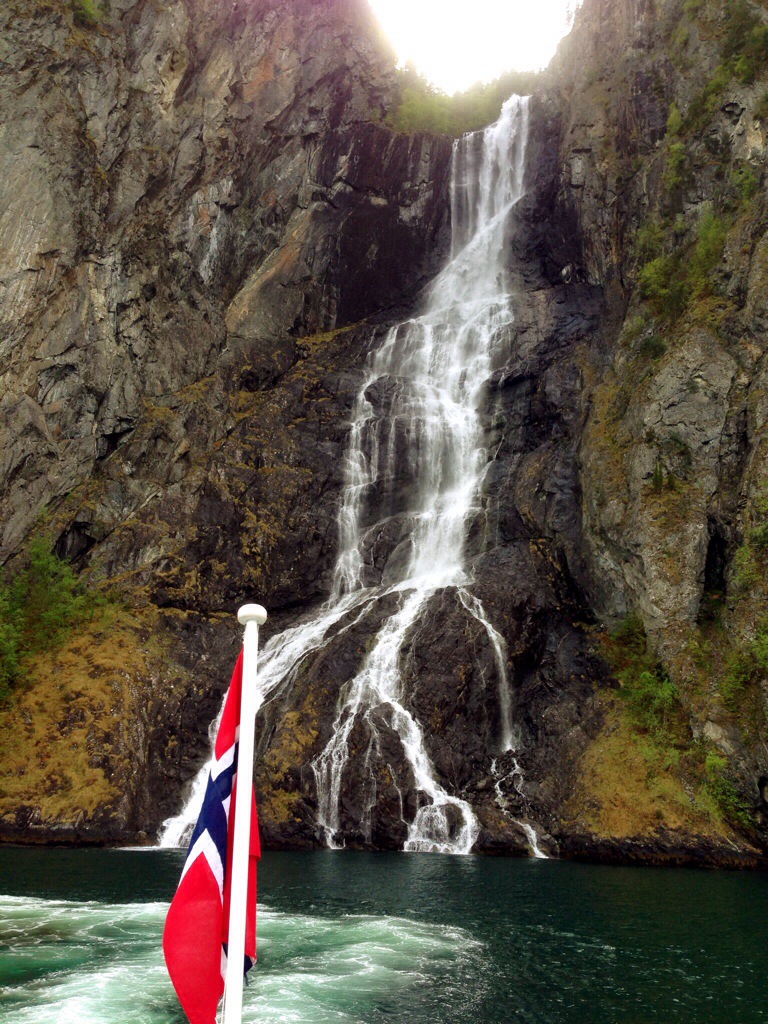 One of the stops was the village of Balestrand, where I stepped off the boat to spend the night.  Waiting at the boat landing was the green Volvo station wagon from the Balestrand Hotel, where I had reservations for the night.  The Volvo, driven by the daughter of the hotel's owners, was there to transport guests luggage, allowing a leisurely walk to the hotel.  As I walked up the road, the first thing I noticed was the quiet.  After several days of cities and busy travel, being here felt really good.
The Balestrand Hotel is run by a family who divides their time between California and Norway.  That explains the Volvo driver's perfect American English.  They provide wonderful hospitality, and a warm welcome, telling me all about my dining options and things to do during my stay.  My room was very comfortable and spotless.  I paid a little extra for a fjord view room, definitely worth it.  I sat on my balcony, watching porpoises in the fjord and enjoying the quiet.  I could hear the baaaaaa's of sheep from a farm across the fjord.  A few hours after checking in to my room and enjoying the quiet surroundings, I realized the room didn't have a TV…  It didn't need one.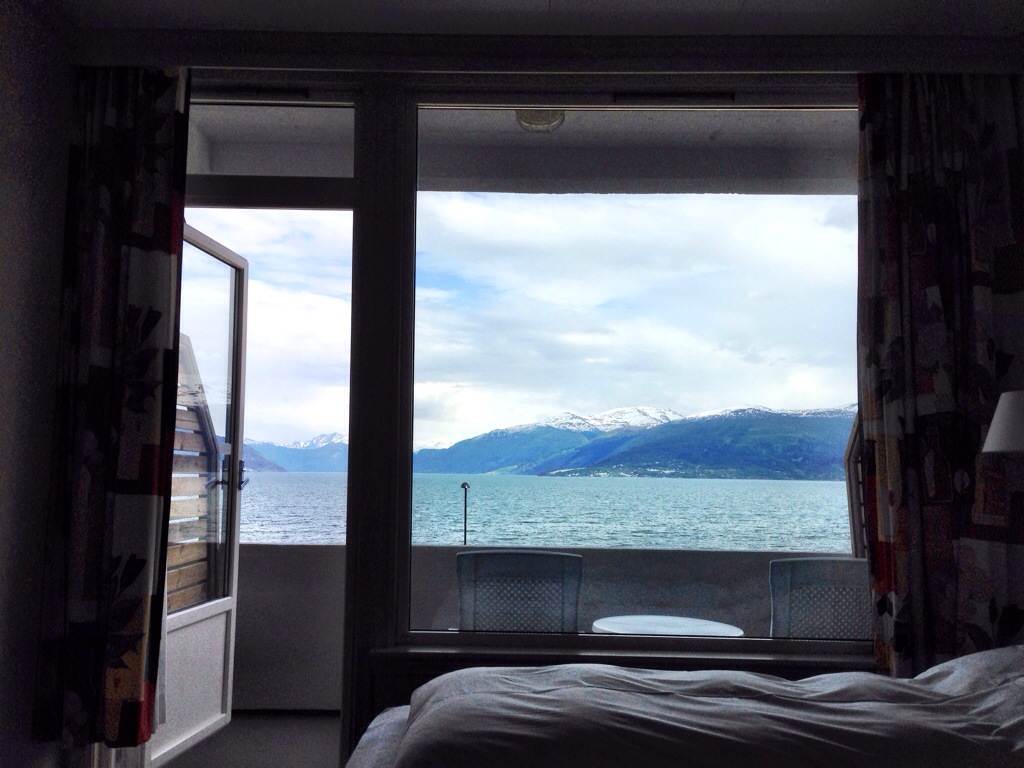 May 13 – Balestrand & Bergen, Norway
After what was undoubtedly the best sleep of my trip, I got up to enjoy the rest of my visit to Balestrand.  The hotel provided a wonderful breakfast, which I enjoyed while visiting with the owners and other guests.  The boat to Bergen wouldn't leave until late in the afternoon, so I had several hours to spend doing whatever I felt like.  I enjoyed some sightseeing on foot, and a little more balcony time.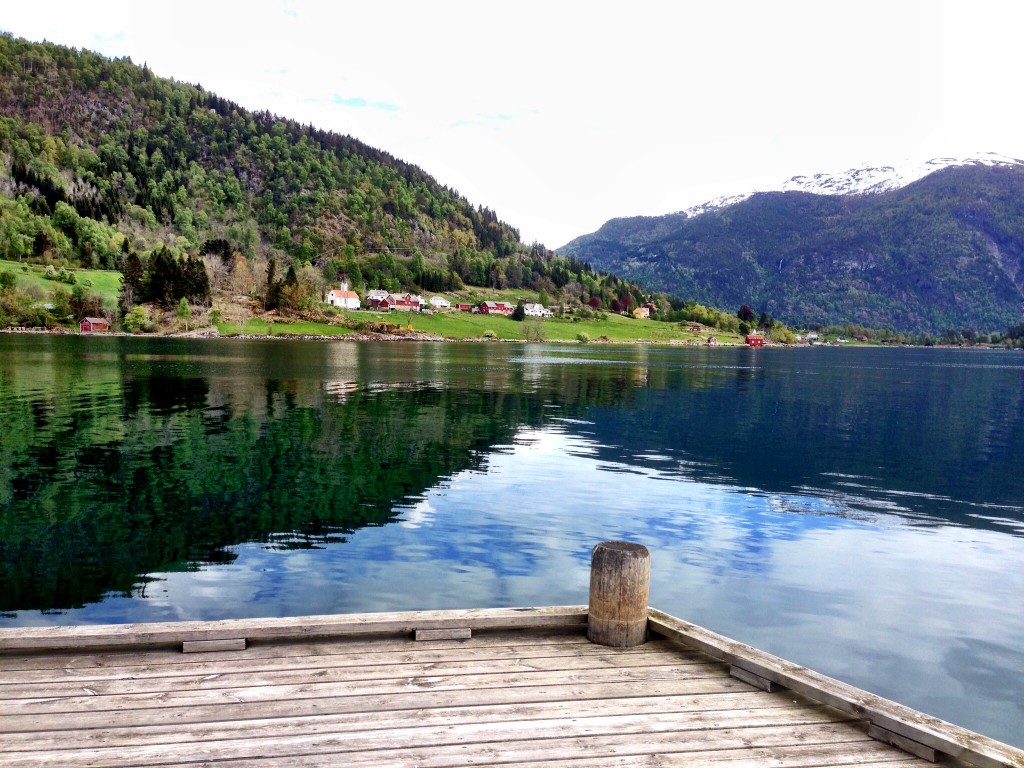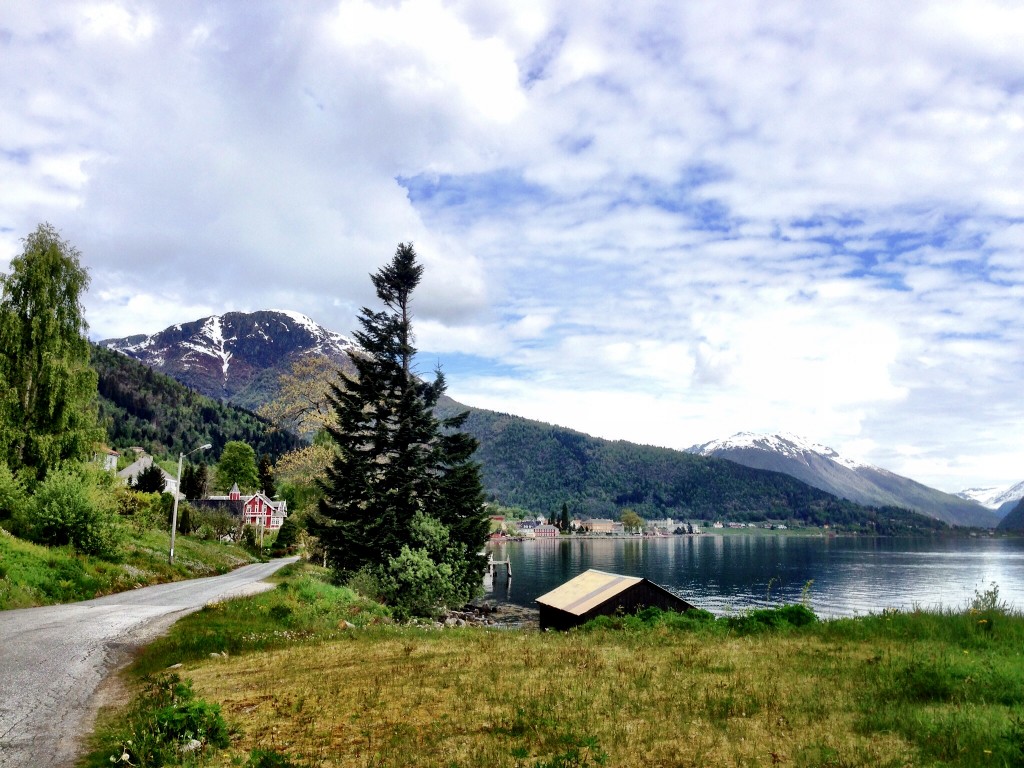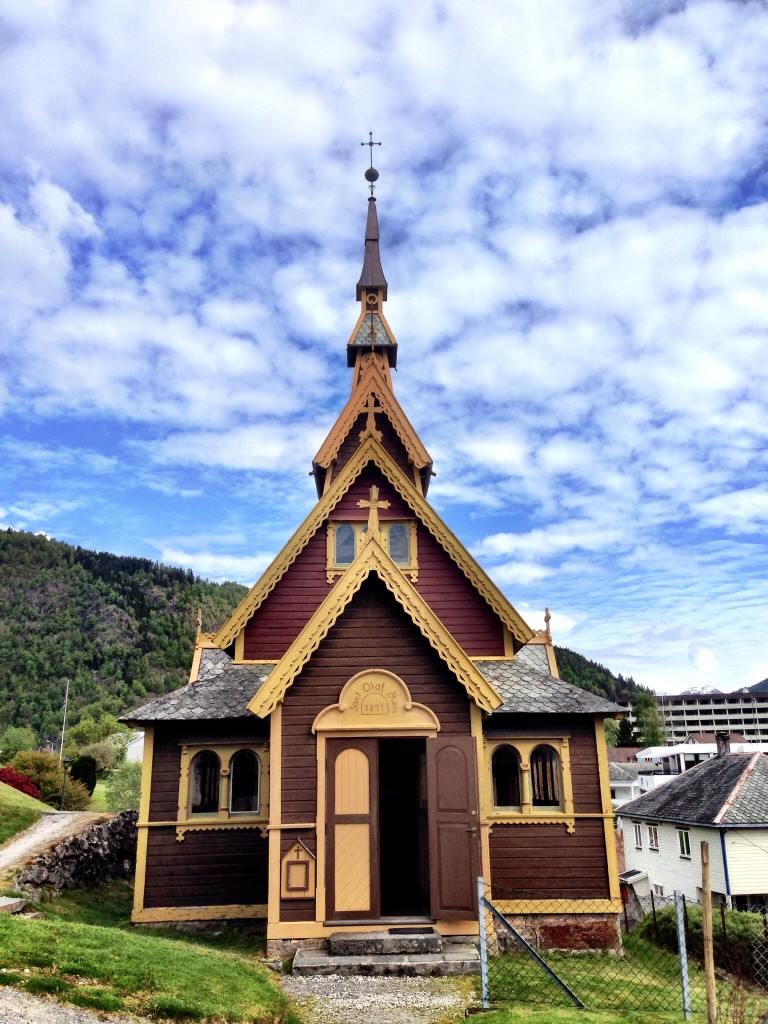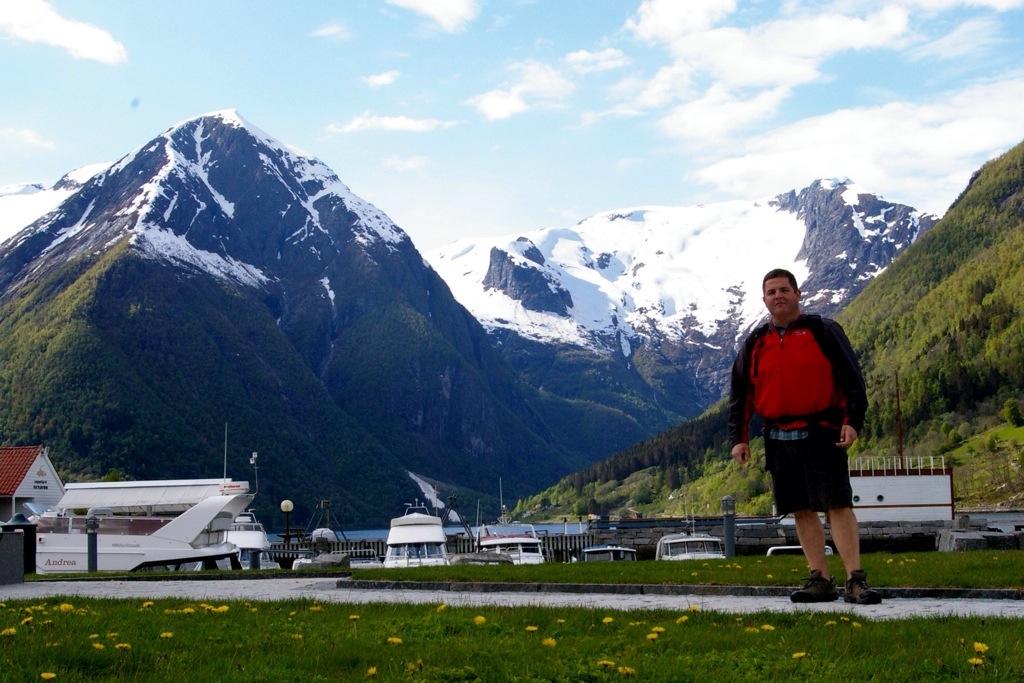 I boarded the same Norled Express Boat that delivered me the day before, this time for the nearly four hour ride to Bergen.  Just as the day before, the scenery was spectacular, and nice weather made the trip even better.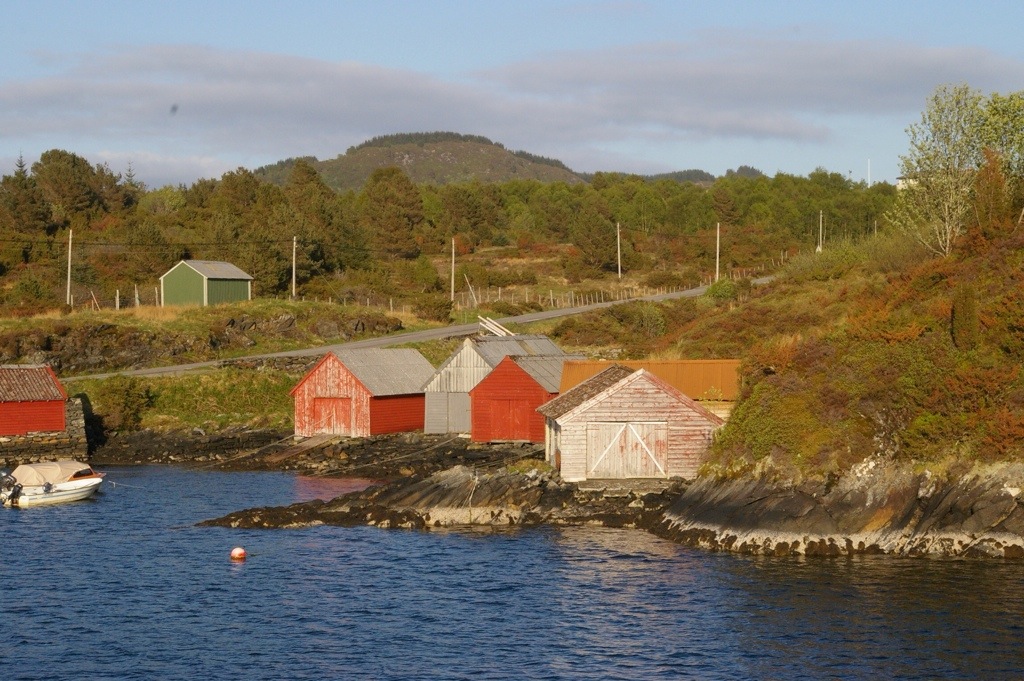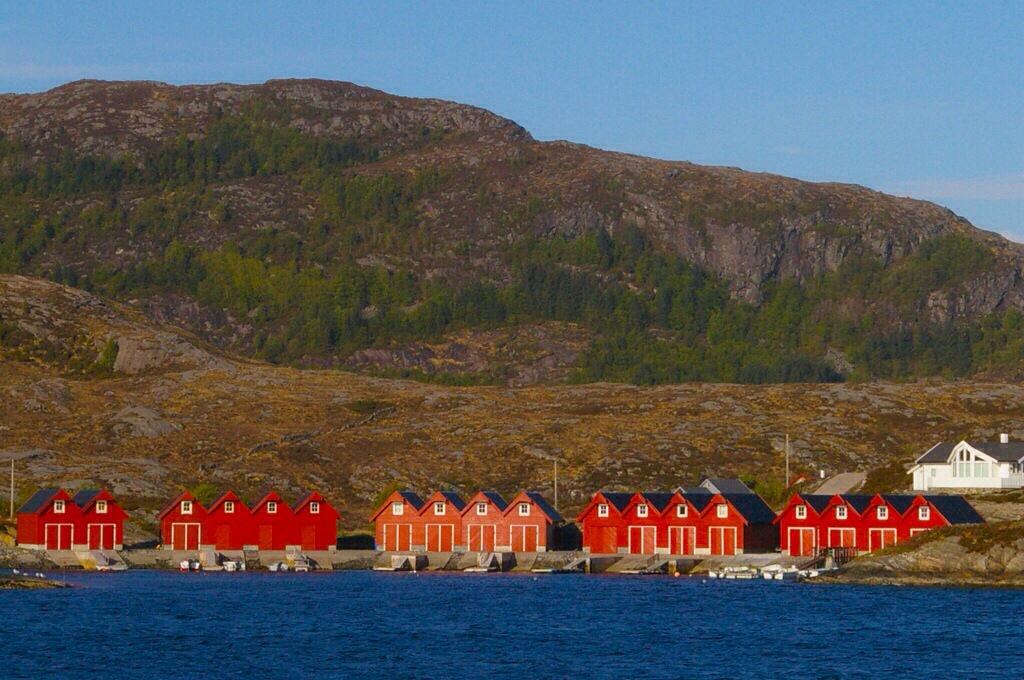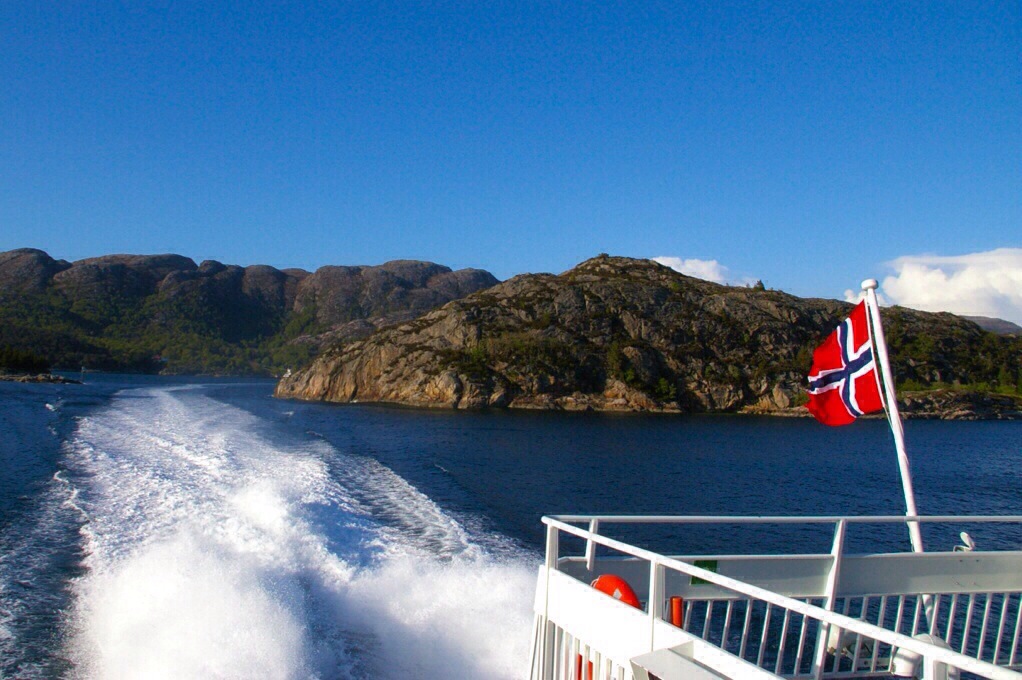 On arrival in Bergen, I found my way to the Bybanen (light rail), for a quick ride to a station where I was warmly greeted by my cousin Catherine, who I would be staying with.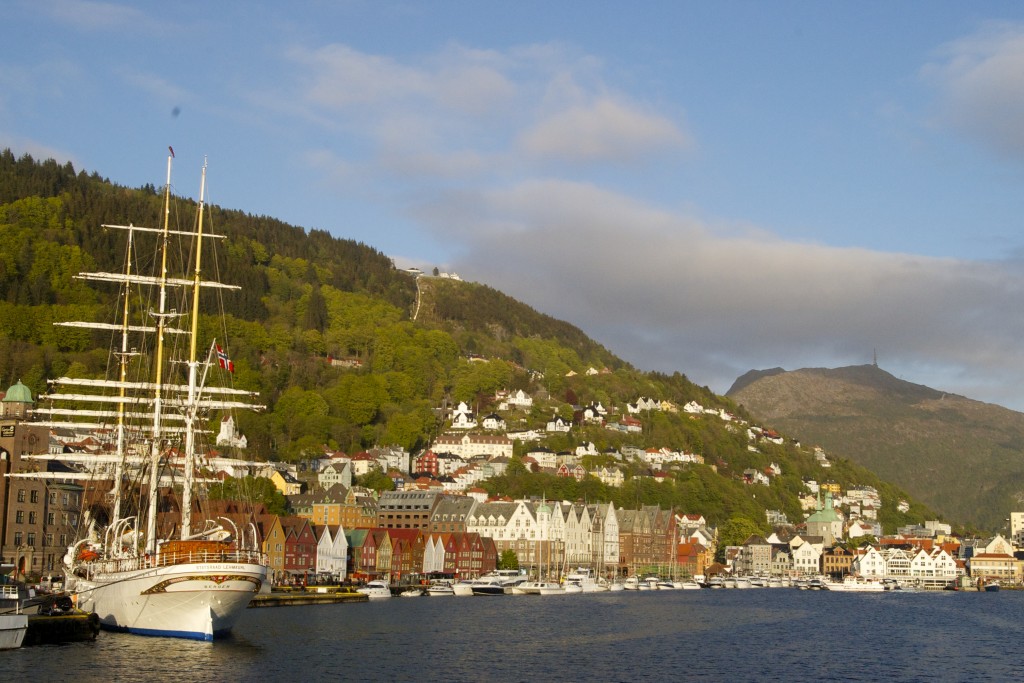 May 14 – Bergen, Norway
With Catherine as my tour guide, we did a bit of sightseeing around Bergen.  On my last visit, we hit many of the popular spots, but this time we rode the Fløibanen, a funicular railway to the top of Fløien mountain.  The view from the top was great, fitting of a "selfie".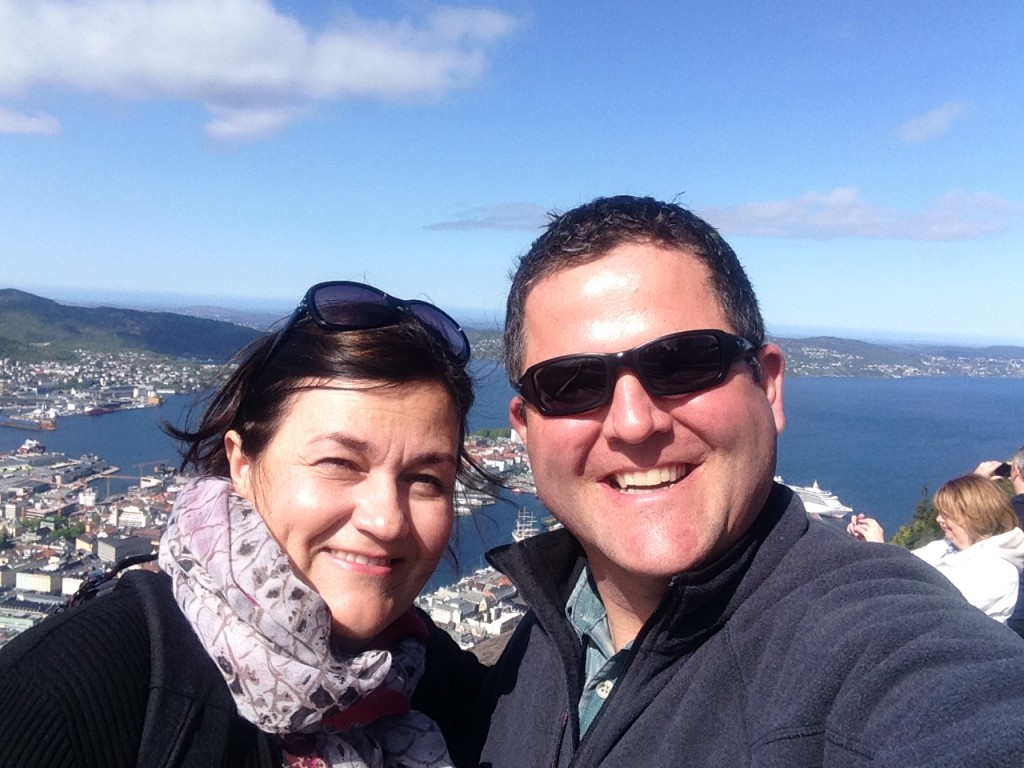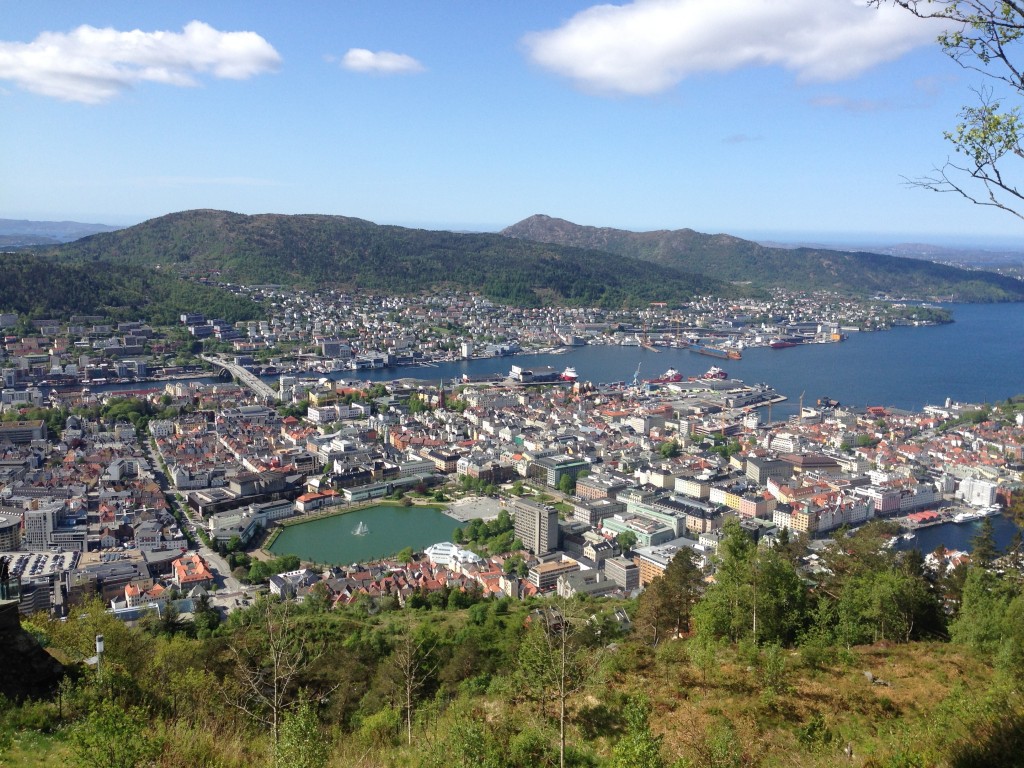 Bergen has a reputation of being rainy, however both times I've visited, the skies have been clear, blue and sunny.
It was great spending time with Catherine and her daughters Mari and Guro.  Unfortunately, her husband Lars-Arne was out of town for work, so I missed visiting with him.
May 15 – Trondheim, Norway
After saying goodbye for now as Catherine dropped me off at the airport, I was quickly checked in, processed through security, and waiting for my flight.  The flight to Trondheim is easy – only about an hour.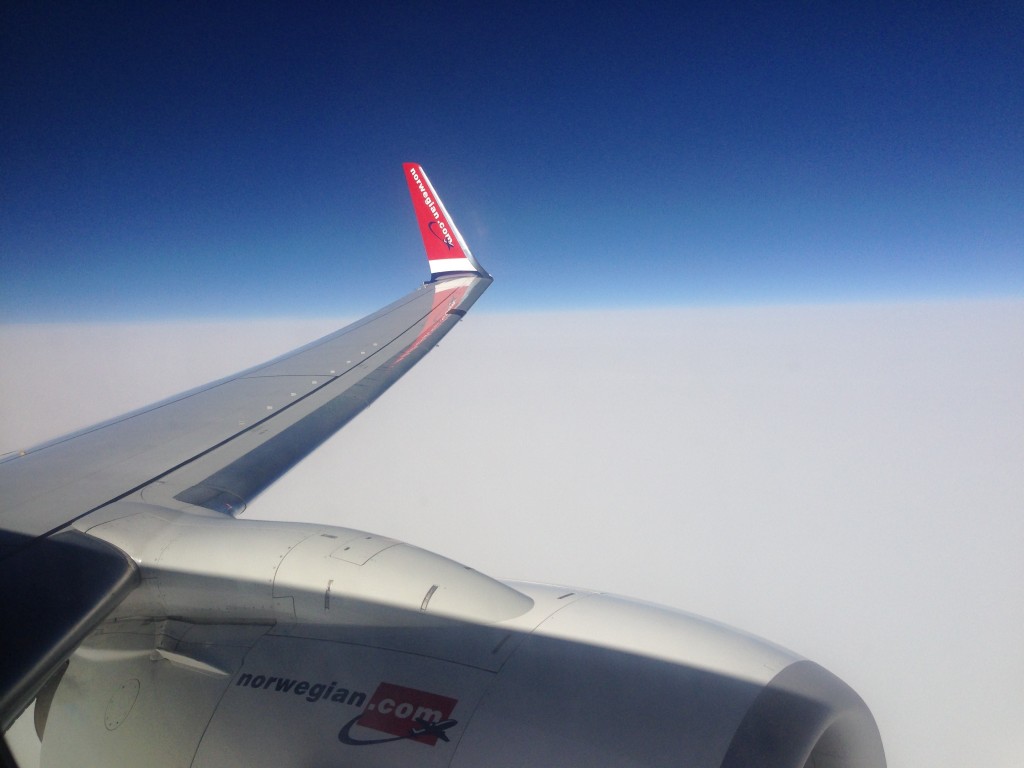 At the airport in Trondheim, I was met by my cousin Martin, who insisted that he would pick me up on arrival.  He's just finishing high school, which means he is in the midst of his Russefeiring, or "Russ celebration" – a traditional celebration in Norway for high school graduates.  It's quite a party, and goes on for over two weeks, and it's kind of a big deal.
As any respectable Russ participant would, Martin met me in his bright red (rødruss) russ overalls.  A tall kid when I saw him three years ago, the now-nineteen year old is a bit taller than I remembered.  Technology has made it easy to keep in touch, and at times help him with his English homework.  He's my buddy, and it's great to see him again.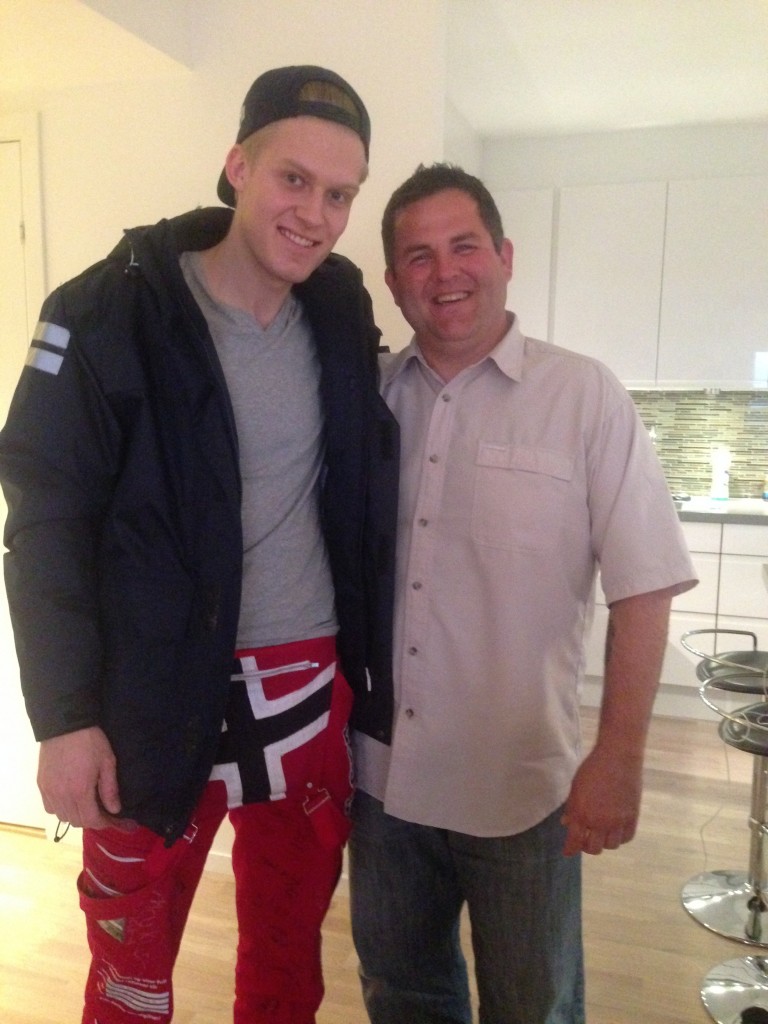 Since I would be in Norway for the 17th of May, or Syttende Mai – Norway's National Day, I packed to dress up for the occasion, which is tradition.  In my backpack I carried my slacks and blazer, but didn't bring along a tie.  Not being a guy that wears ties often, I don't own many.  I thought this might be a good occasion to buy one in Norway for Syttende Mai.  When Martin asked if there was anything I wanted to do, I told him of my plan, so we set out tie shopping.  We visited a few shops, and I came away with something I'm very happy with – a nice tie that has some wonderful memories attached to it.
I was great to spend some time with Martin and his family, even if only for a short time.  I would be staying with other relatives in Trondheim, but Martin's parents, Terje and Tone, invited me to join them for dinner along with Martin's brother, Erik, and one of his sisters, Liv-Karin.
After dinner I was picked up by another cousin, Kjetil, who lives across town.  He and Siri have offered to host me while visiting.  Their home is a busy place, with three small children, who look at me and wonder why all I say is "blah, blah, blah".
May 16 – Trondheim, Norway, day two
I really like Trondheim.  In fact, so far, of the cities I have spent time in Norway, I think it may be my favorite.  I just feel at home here, perhaps in part due to the way my relatives here make me feel at home.
While Kjetil and Siri were working, I had some time to spend some time in the city.  One place I enjoyed visiting last time was the Vår Frue Kirke (Our Lady's Church).  My great grandfather was baptized and confirmed at this church, and my great-great grandparents were married here.  It feels like a special place, so I visited again.  The church is part of the Church City Mission, and is an open church, with "room for everyone", helping those in need.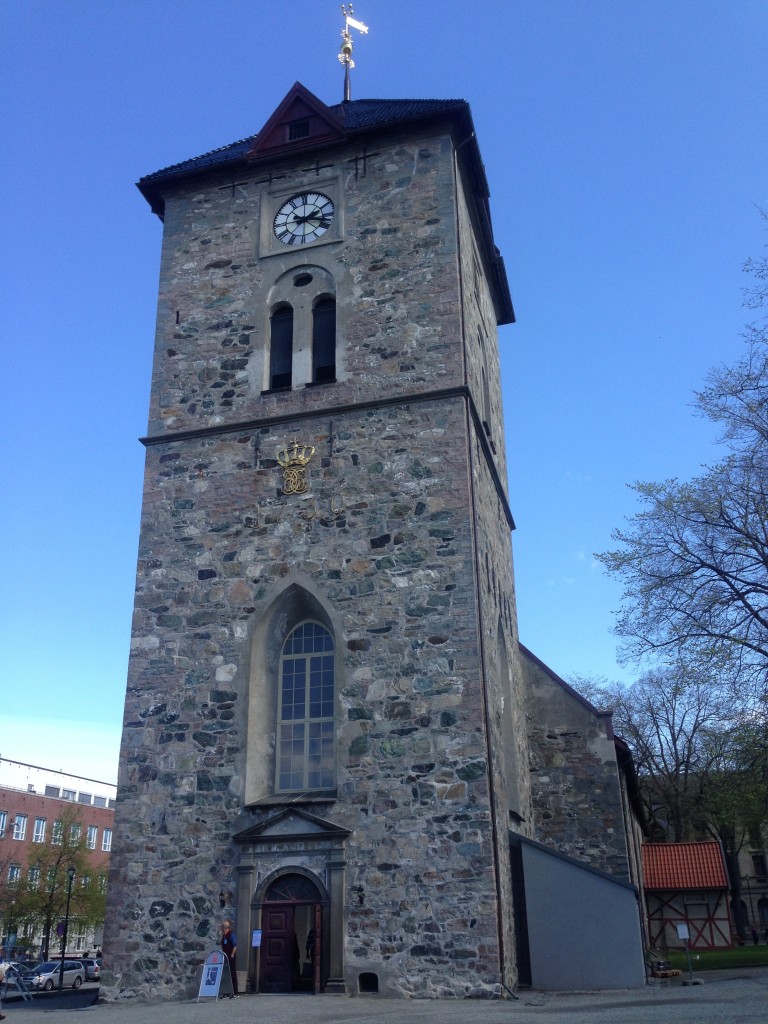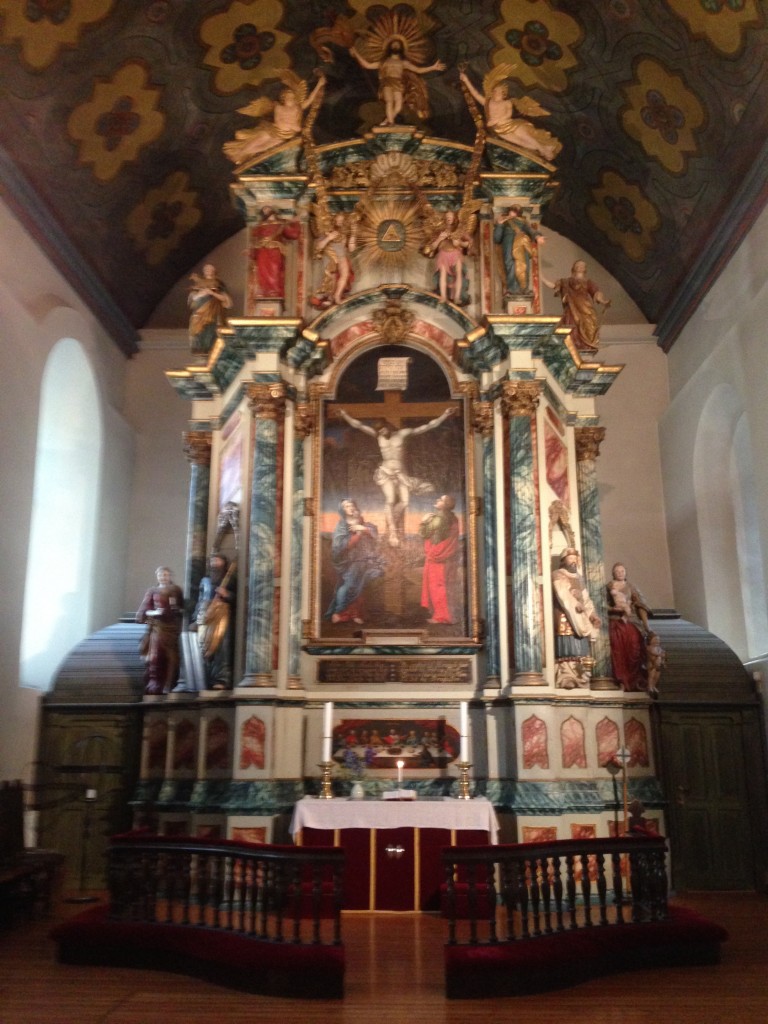 Later in the evening, I joined Kjetil and his son Alve for a football (soccer) match at the Rosenborg Ballklub.  Even though "we" didn't win, it was still fun and a great experience.
May 17 – Syttende Mai in Trondheim
I guess if I needed an excuse to take this trip, this would be it – to experience Syttende Mai, Norway's Constitution Day, in Norway.  This year's celebration is special, as it's the 200th anniversary of Norway's constitution, declaring it an independent kingdom.
It's a long day of celebration, complete with parades with nearly as many participants as spectators that go on for hours.  It's a happy day, and children and adults alike are dressed nicely, many wearing their traditional Bunad.  Tradition dictates that children can eat as much ice cream as they want on this very festive, happy day.  Families and friends gather to barbeque and celebrate the day together and the greeting of "Gratulerer med dagen" is shared.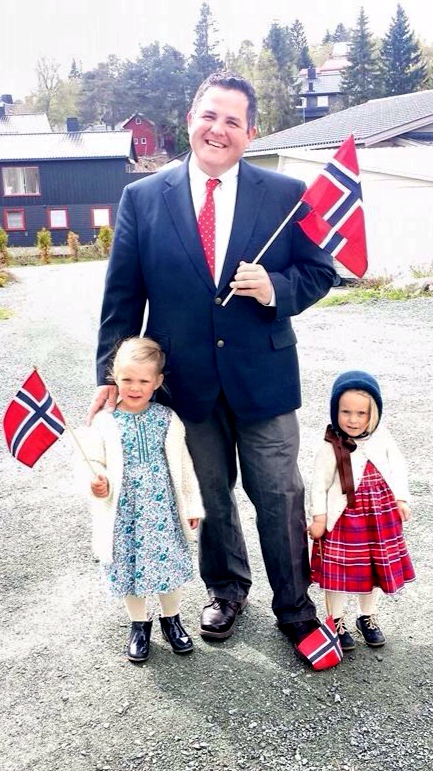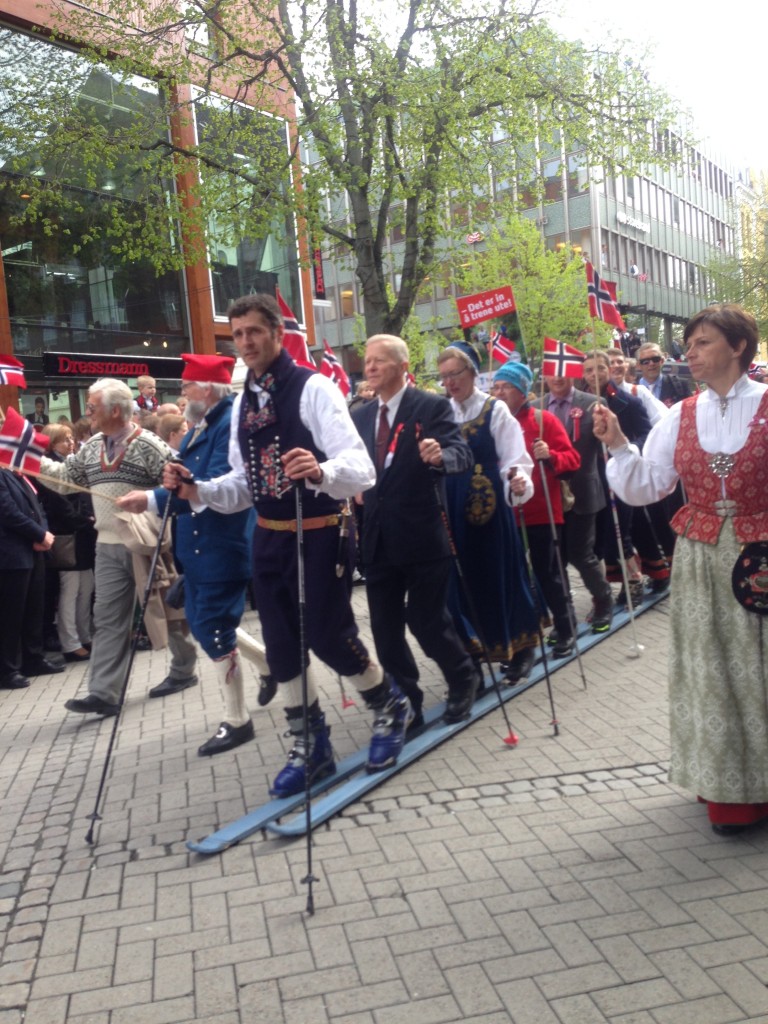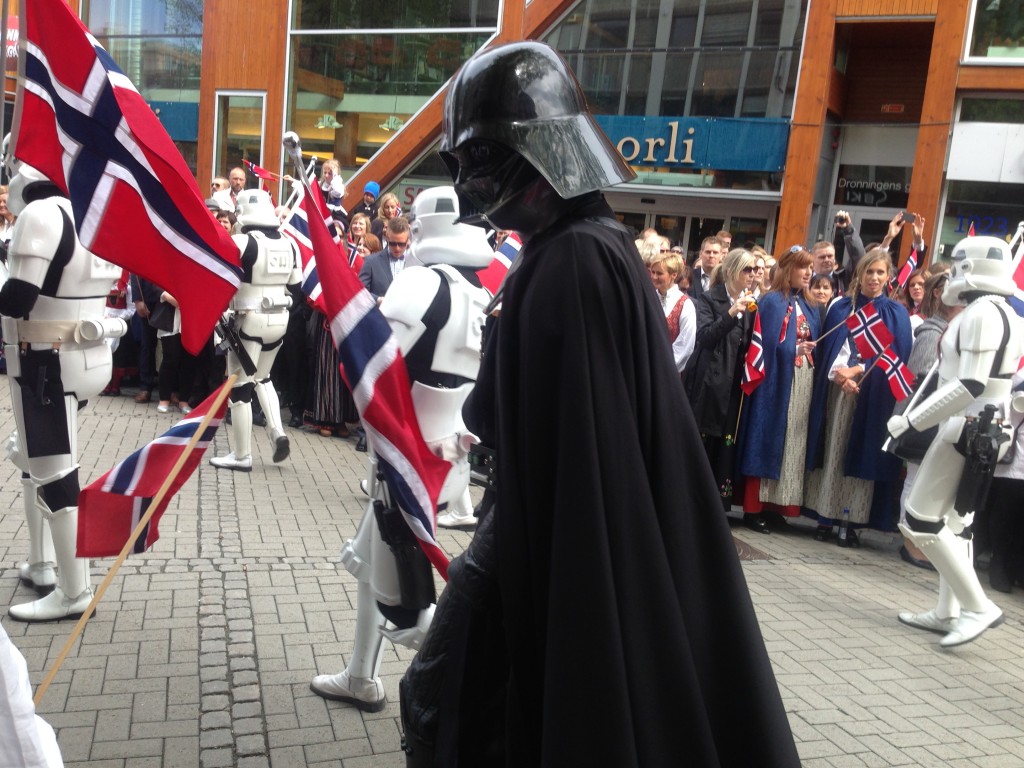 May 18 – Hike to "Goat Mountain"
Norwegians are active people.  At least the ones I know are, and getting out and moving is something they enjoy, and they do it as a family.
I was happy to join Kjetil, Siri, and family for a hike to the top of Geitfellet (Goat Mountain), which overlooks the city and fjord.  At the top, we paused for lunch and to take in the views.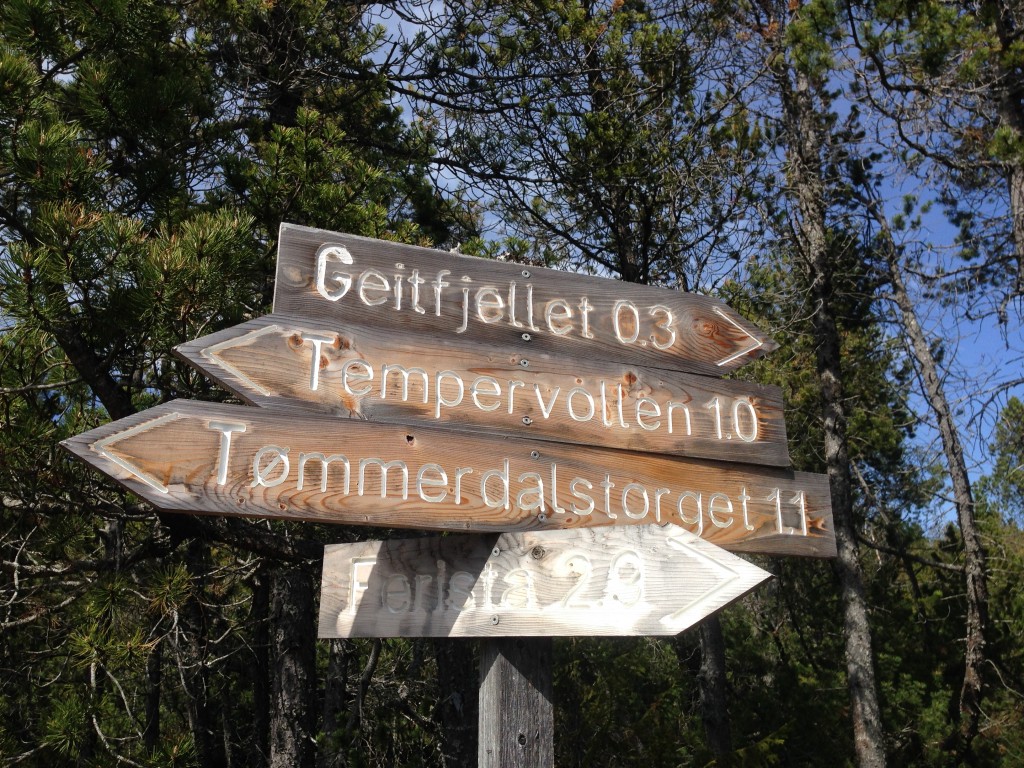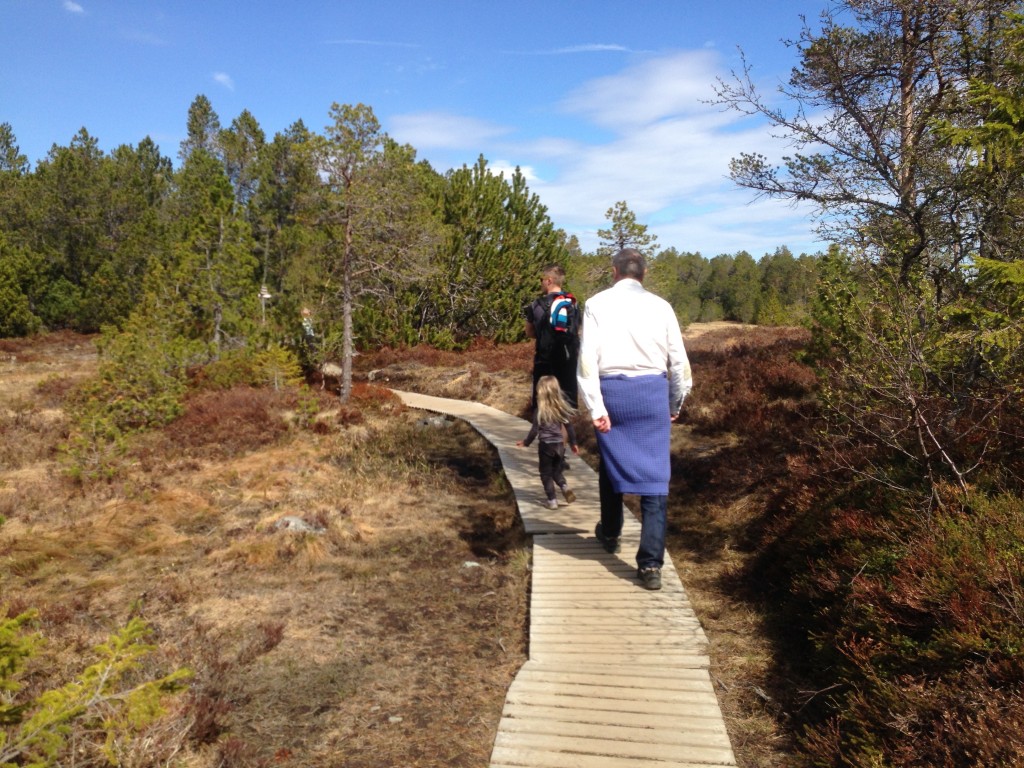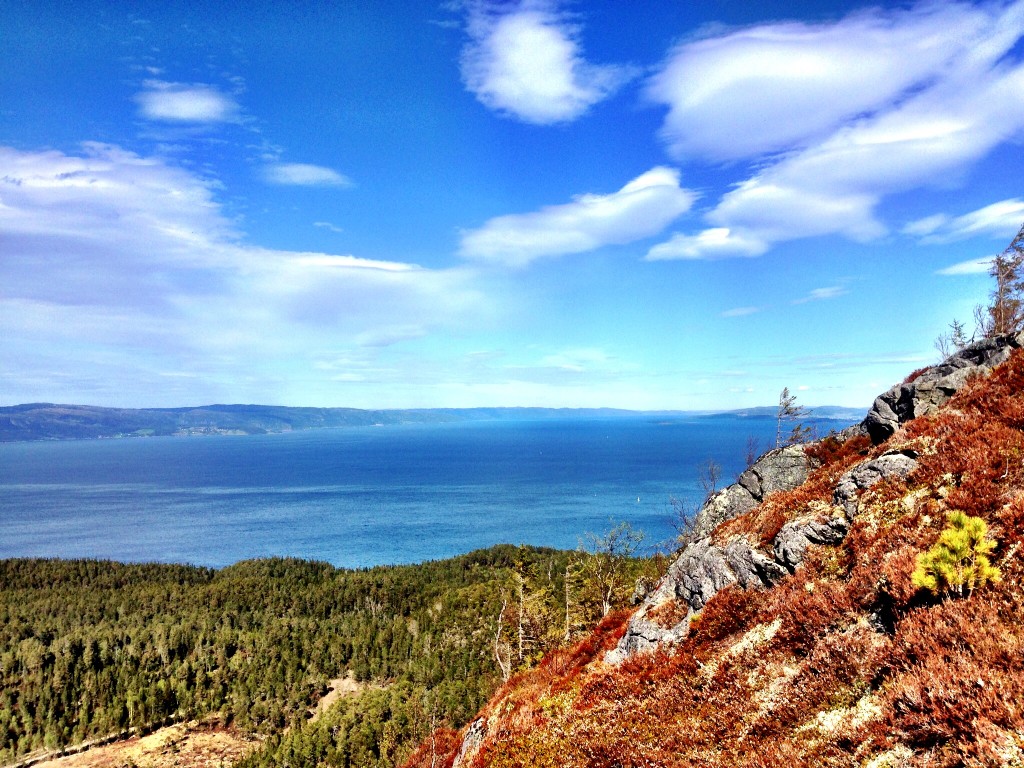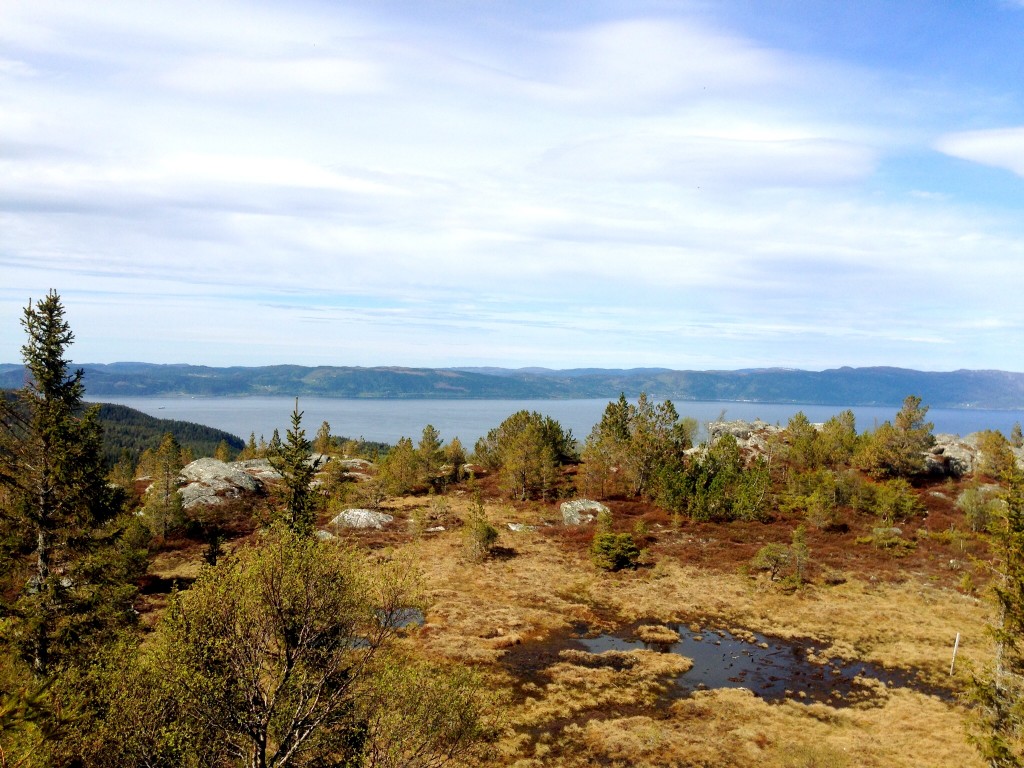 We weren't the only ones enjoying the beautiful day.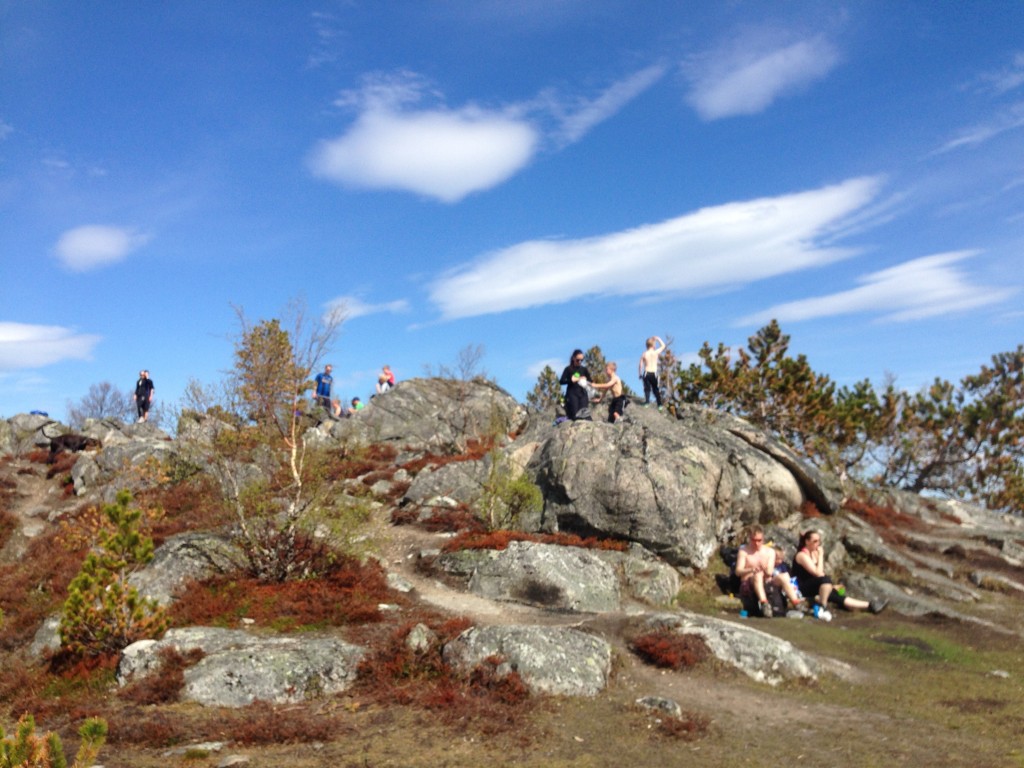 May 19 – Final Day in Trondheim
On my final day in Trondheim, I was able to visit a place that I had never been able to get to: Nidaros Cathedral.  The largest Medieval building in Scandinavia, it is a beautiful Gothic cathedral which was built over the grave of Saint Olav, Norway's patron saint.  Construction began in 1070, but the oldest parts date back to the 12th century.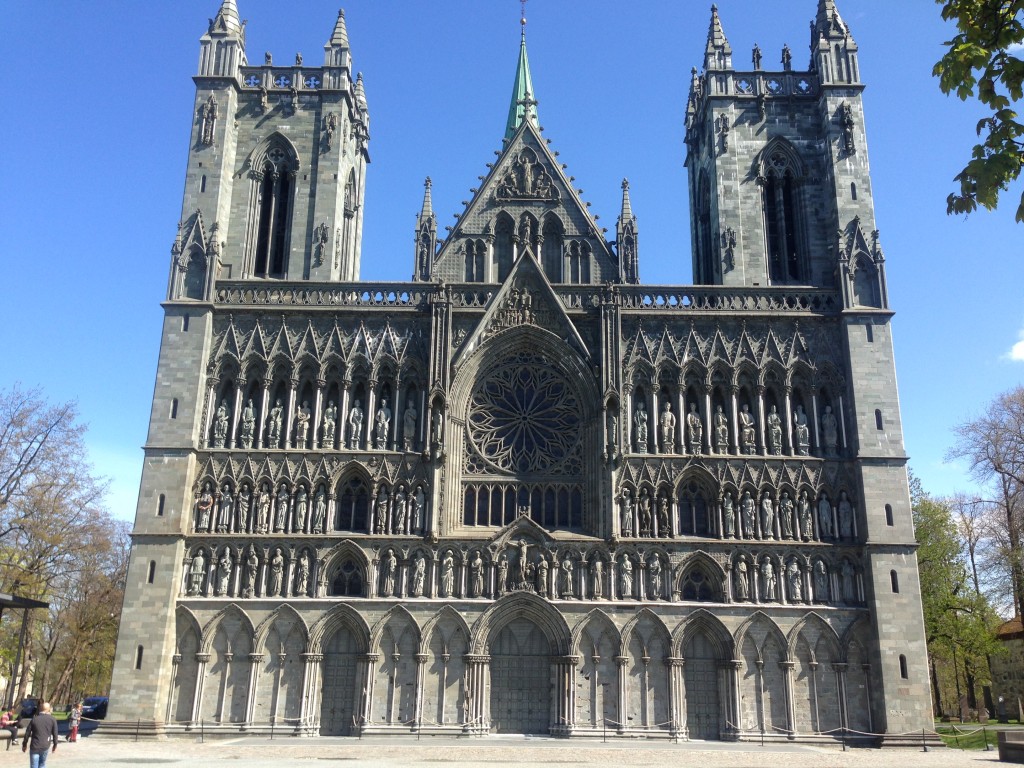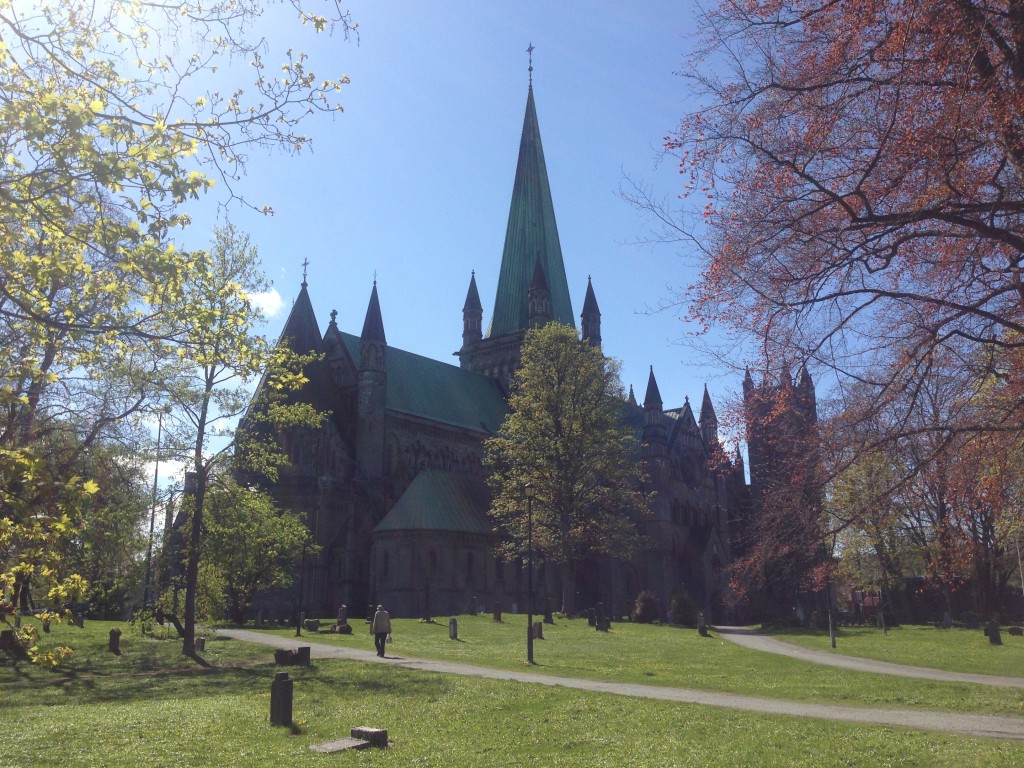 The times I have tried to visit in the past, the cathedral was either closed or simply packed with visitors.  This was my lucky day.
I was able to snap a few pictures with my iphone before being scolded…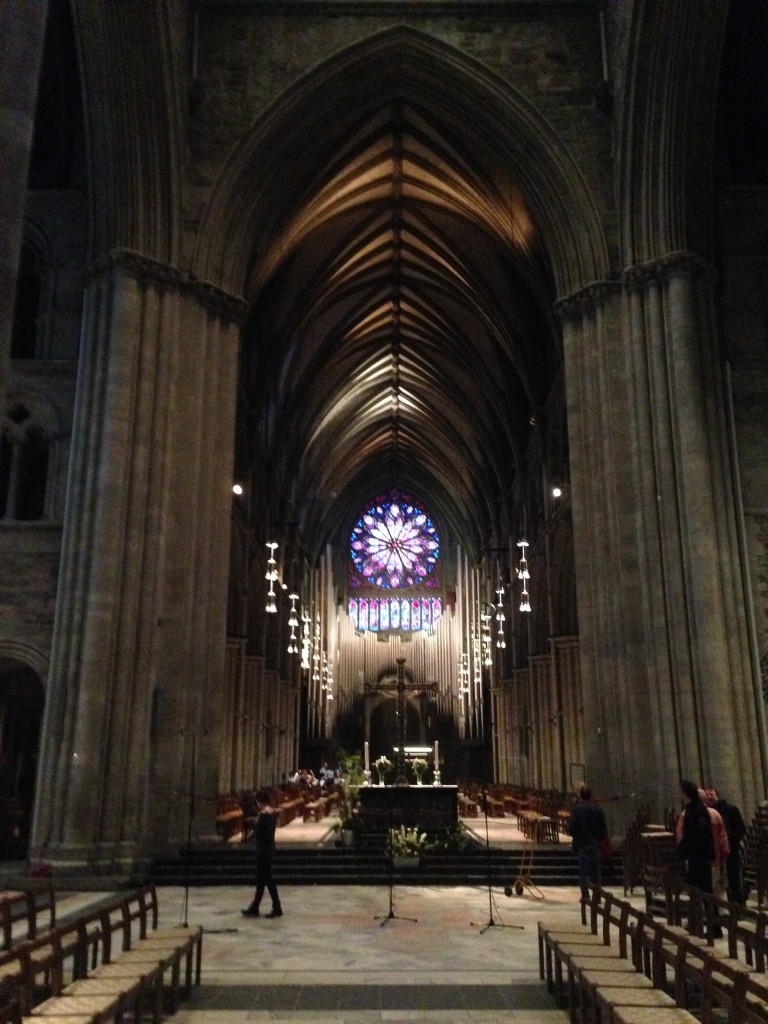 May 20 – Train to Oslo
I said goodbye for now to my Trondheim relatives, and boarded the train to Oslo.  I had a wonderful stay, and I already missed them all as the train departed.  I could have flown, taking much less time, but the train is inexpensive, and I would miss some beautiful scenery if I were miles up in the air.
I took this trip, only in the opposite direction on my last visit to Norway.  The trip was as beautiful as I remember it, and I spent most of the time gazing out the window at the passing landscape.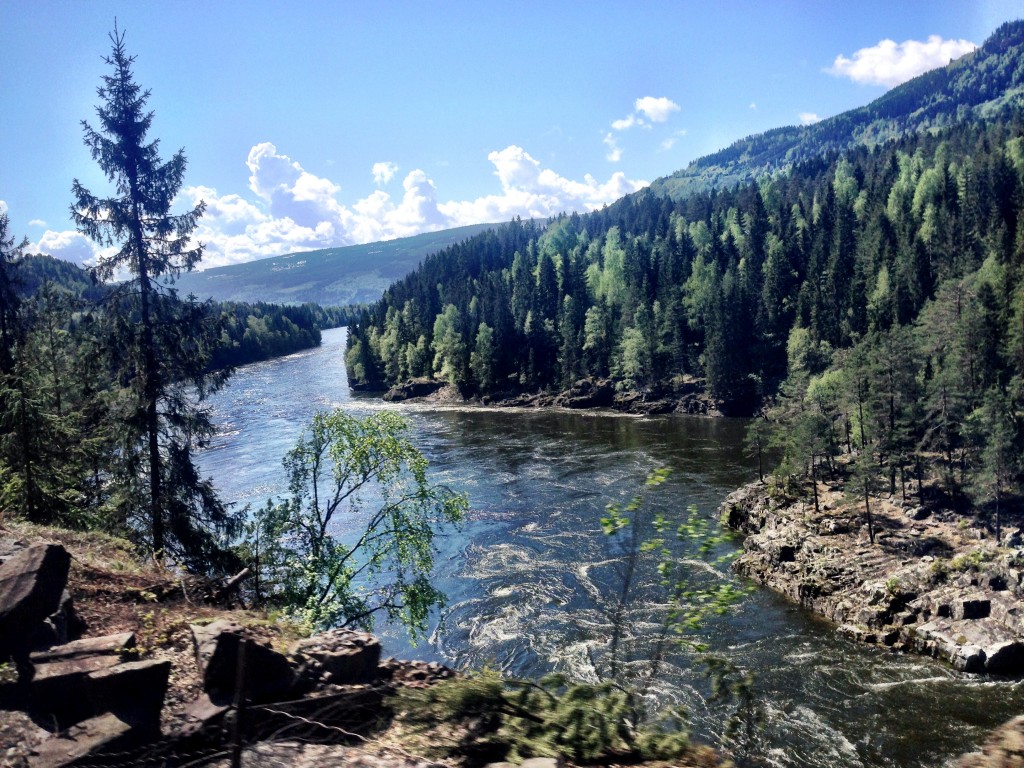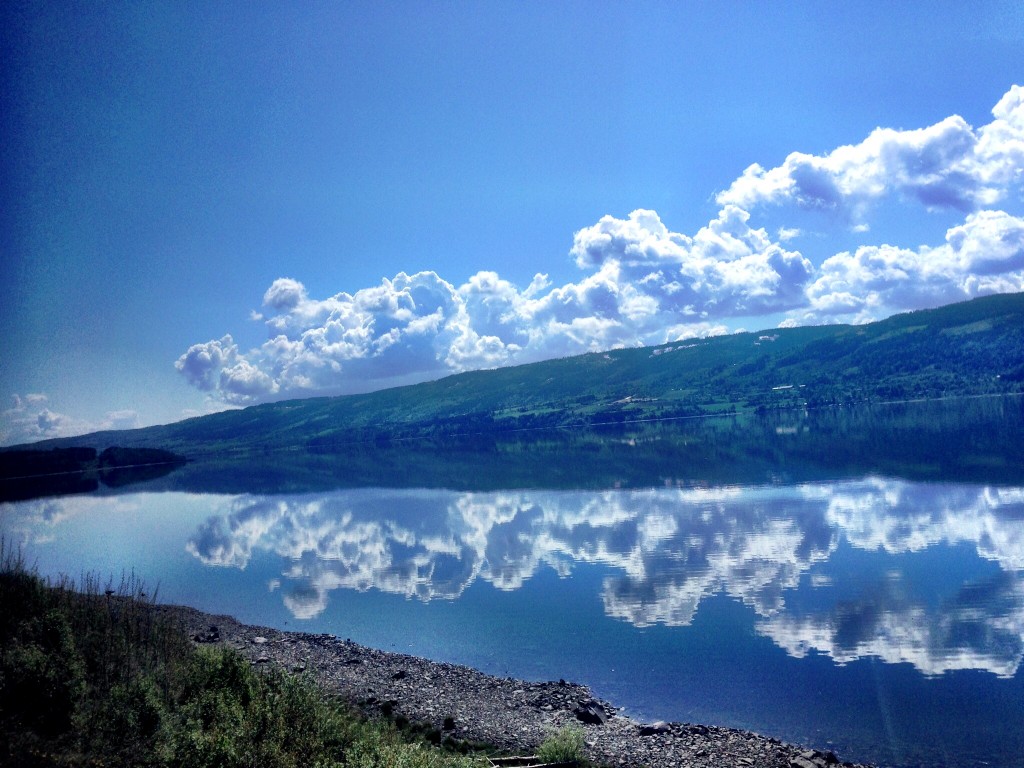 When I arrived at Oslo, I made my way to the Oslo Central Hostel, walking distance from the Olso Central Station.  I sprung for a single room for my last night of the trip.  The hostel was very nice – obviously renovated recently.  My single room resembled a hotel room more than a hostel room, very clean and comfortable, and a very good value.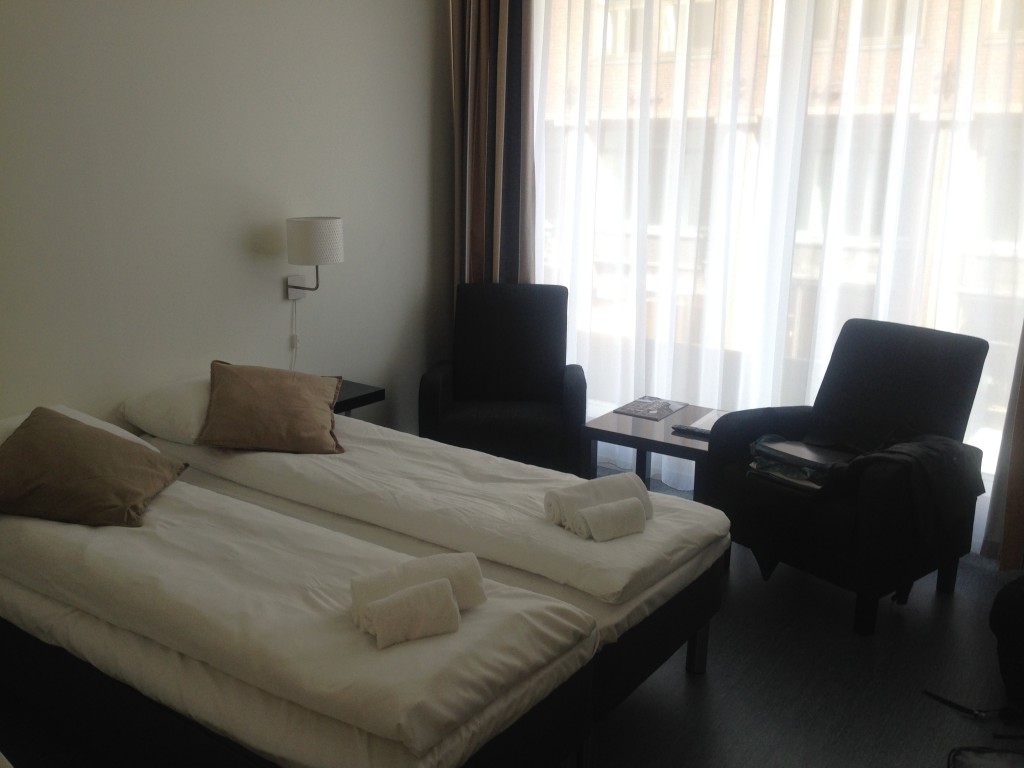 After settling in, I set out to take in all I could in my time remaining.  I received a message from my cousin Aud, who lives in Oslo, inviting me to join she and her boyfriend for a drink or dinner.  I met up with them for a wonderful dinner, before simply spending some time enjoying my final evening.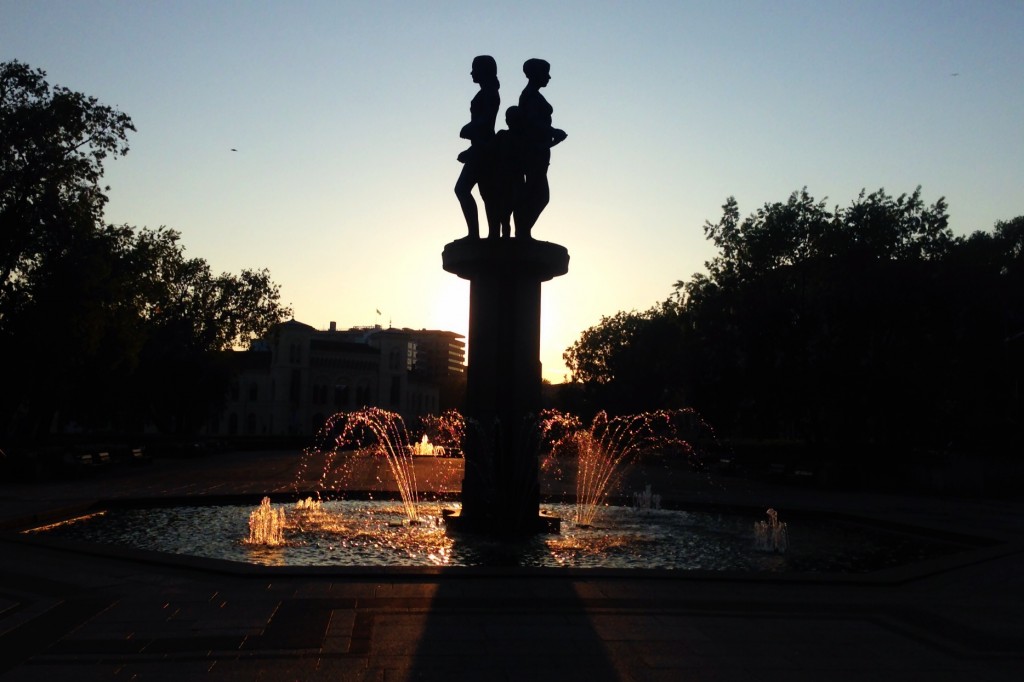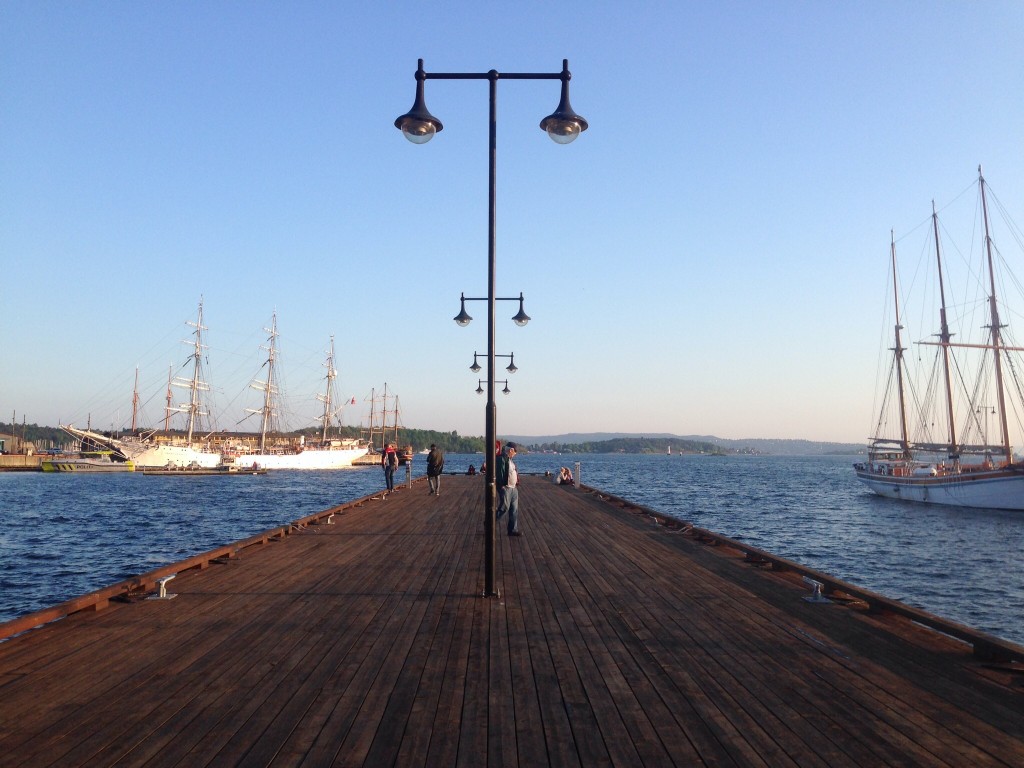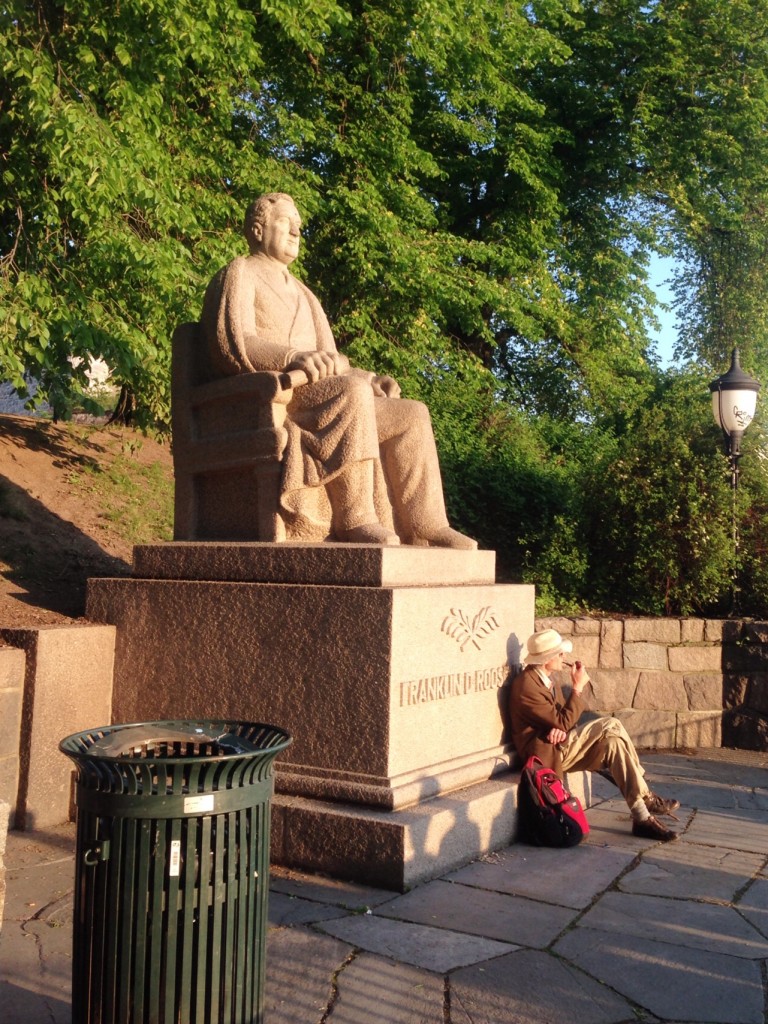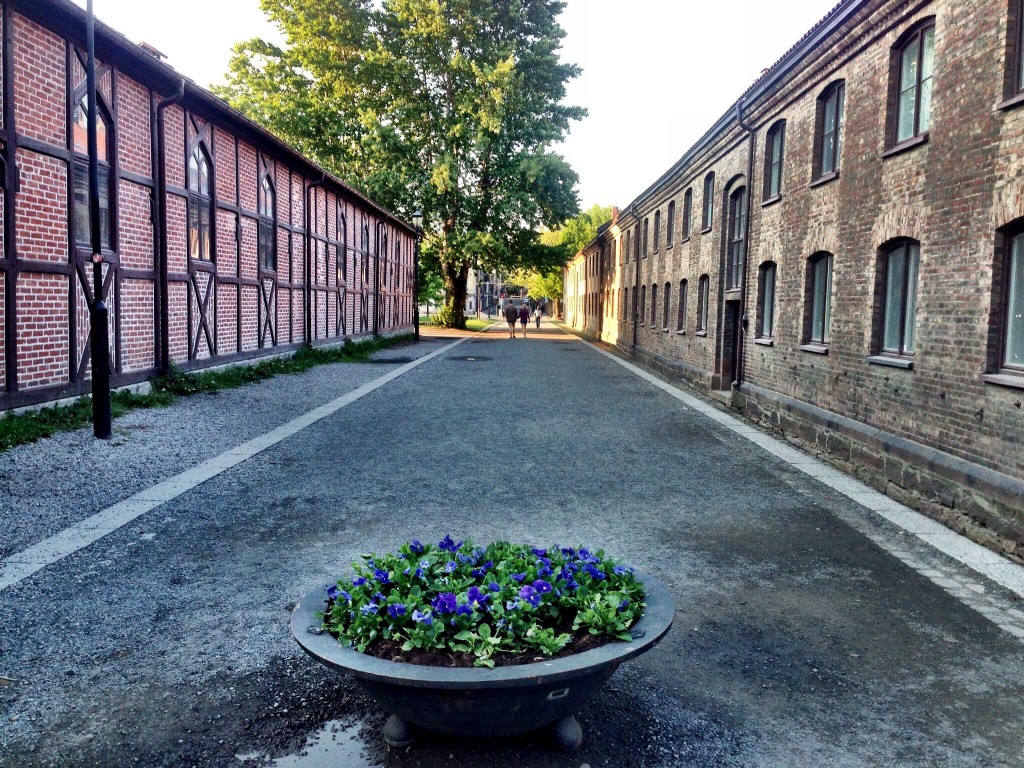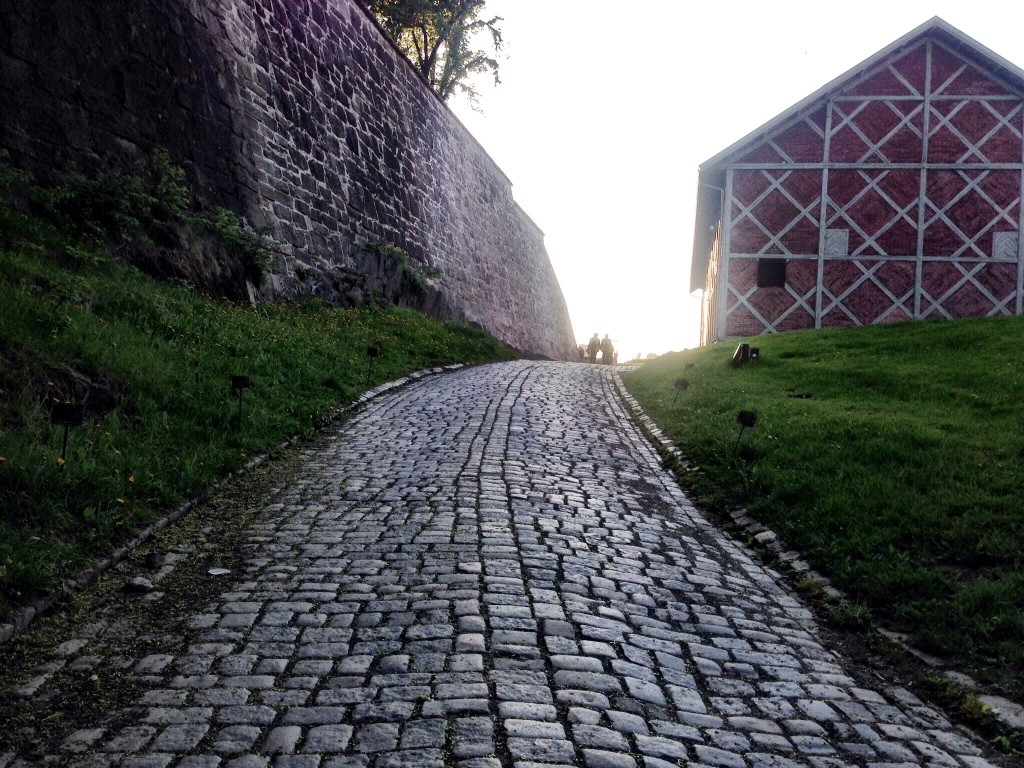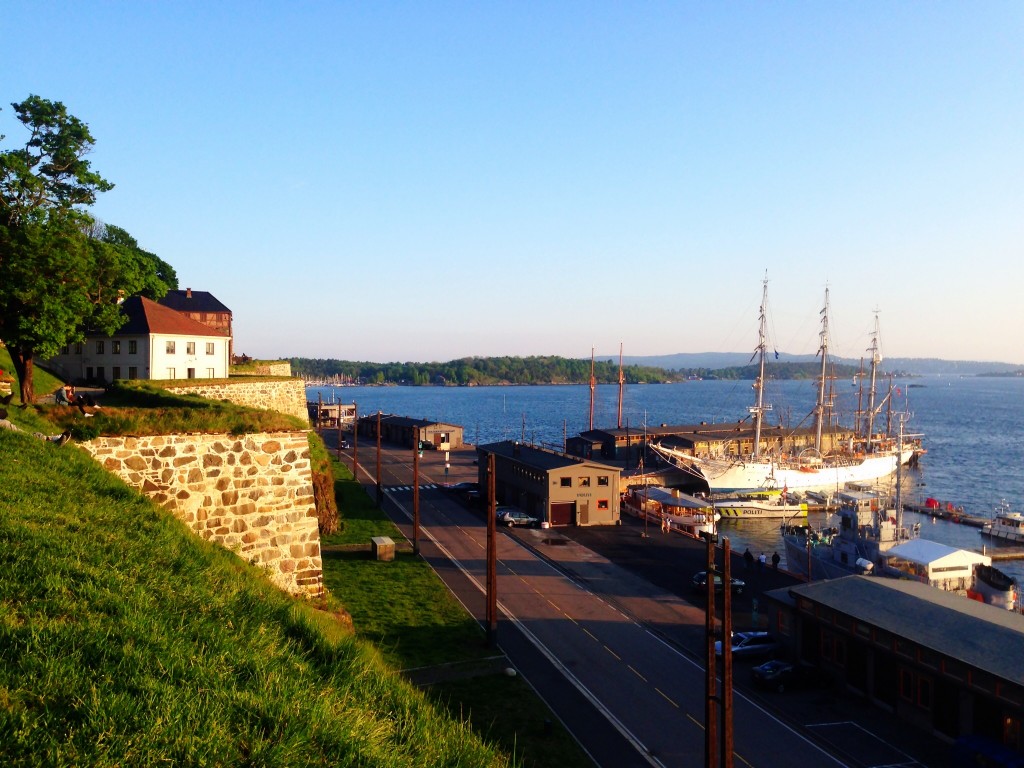 May 21 – Going Home
I had just a few hours in the morning before I began the journey home.  At dinner the evening prior, Aud, who works at the Norwegian Parliament, invited me to come visit her at work.  She had a busy day and a full schedule, but she would fit in a quick tour.
She showed me around and introduced me to some important folks before snapping my photo overlooking the parliament chambers.  Thanks, Aud!
After walking Carl Johan's Gate one last time, I decided it was time to load up my pack and begin the long day's travel.  And a long day it was…
An express train delivered my to the Olso Gardemoen Airport, where I checked in and prepared to say goodbye for now to Norway.  After making a Aquavit stop at the duty free, and having some lunch, I boarded my flight and started toward home.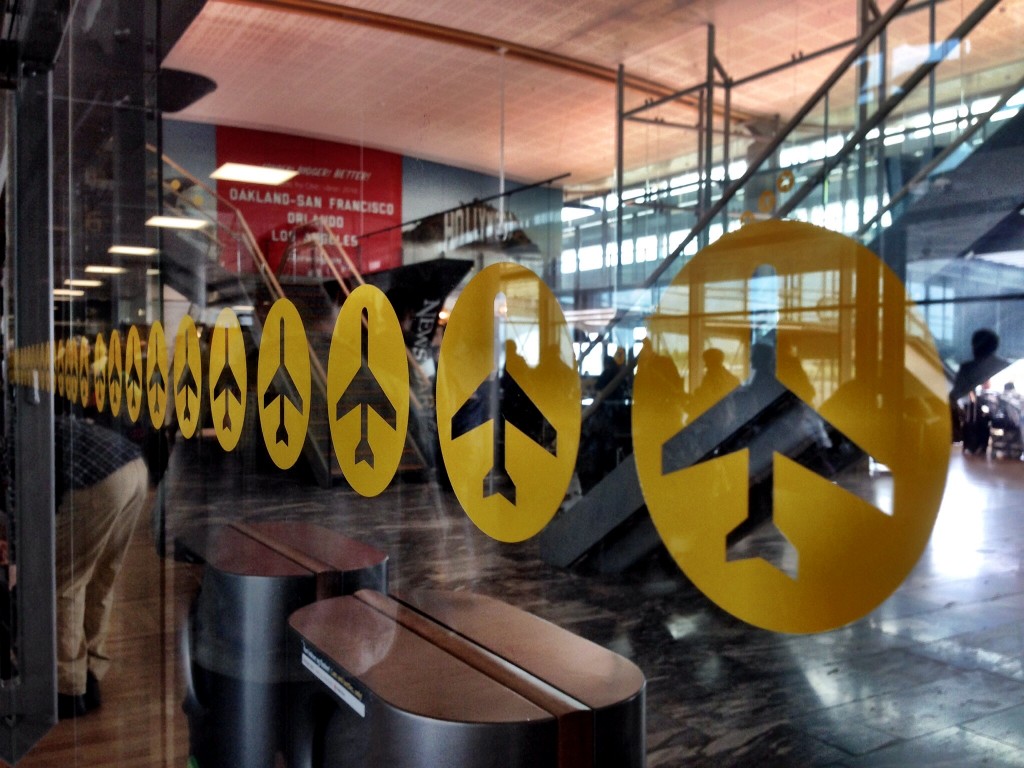 The flight from Oslo to Reykjavik is short, less than three hours.  At Reykjavik, there's a change of planes.  The layover, which is only supposed to be and hour and a half, was a bit longer – flight delayed an hour due to connecting flights running late.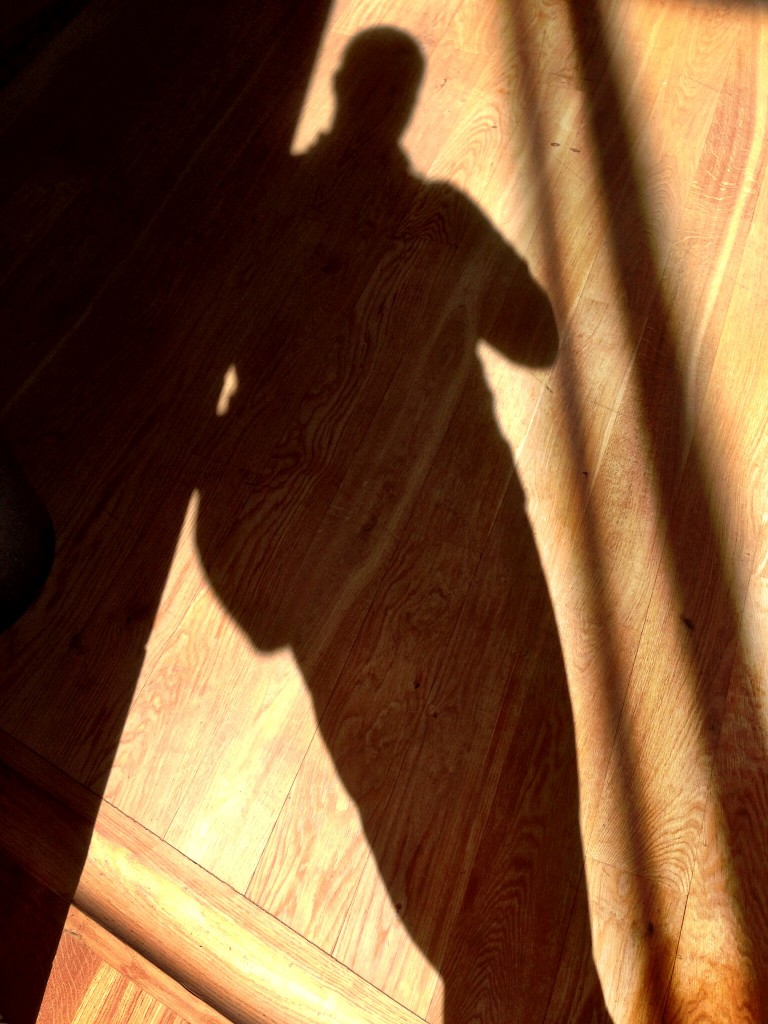 Once in the air, this is the long leg of the journey – eight hours to Sea-Tac.  I ended up with a window seat, trading places with some parents hoping to keep close tabs on their small children.  The trade allowed me to experience a breathtaking view as we passed over ice-covered Greenland.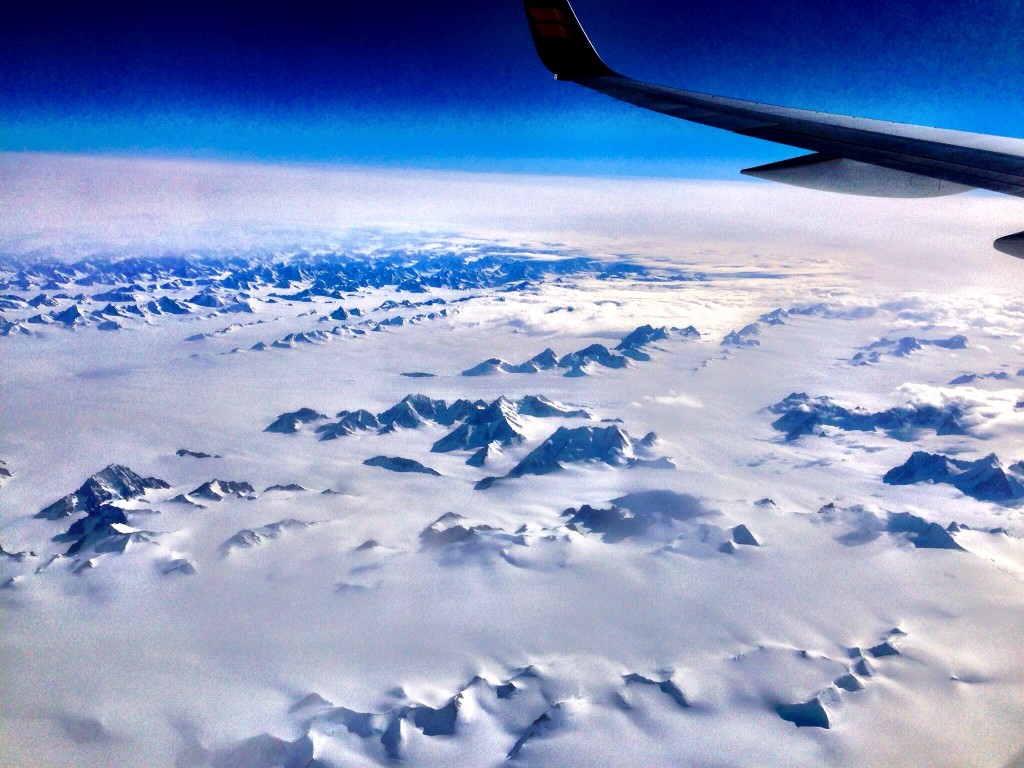 Back at Sea-Tac, I breezed through customs, as I am able to use the Global Entry Kiosks, as I am a member of the Nexus trusted traveler program.  As the rest of the passengers queued in the customs cattle chute, I cleared in less than a minute and was waiting at the baggage claim.
Thanks to the flight delay, I missed my shuttle bus.  By two minutes!  I made a phone call, and was able to get a spot on the next bus two hours later.  As I waited, I saw a familiar face – one of my elementary school teachers and mother of an old friend.  We sat together on the ride home, and shared stories of our travels and other journeys life had take us on.  The ride went by quickly, and was a great way to bring a wonderful trip to a close.  Sometimes a delayed flight can turn out just fine.
The trip ended just as it began – on foot, and after a walk of six blocks I was at my front door.  As I unlocked the door and walked in, I experienced a feeling that I have many times after being away – like I've been gone a really long time, while at the same time feeling like I never left at all…