Wednesday, September 22 *First Day of Autumn*
Distance: 45.5 Nm
Engine Hours: 5:10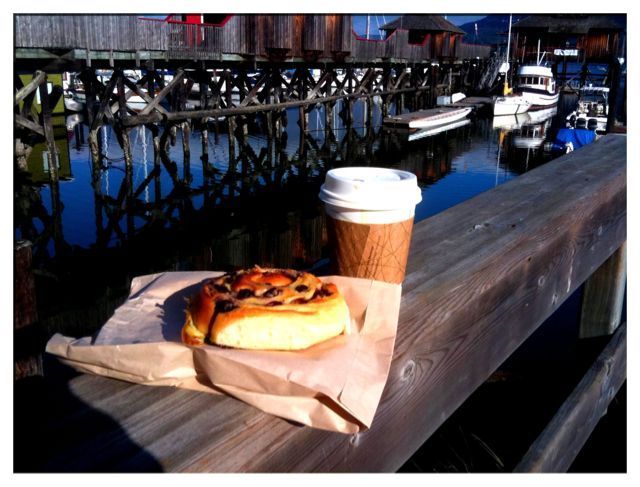 Slept in… Awoke to sunny blue skies at Cowichan Bay. Took a morning walk through town and grabbed breakfast of fresh pastries and coffee from the awesome bakery just down the street.
Most of the "Leftover" Tolly folks have, or are heading out- some are heading toward their home ports while others report they are "stuck" on this side of the Strait of Georgia until early next week due to the impending arrival of forecasted winds. The prediction is the wind will start blowing tomorrow.
Given the forecast, I decide to head toward home. At least get across Haro Strait, which could get interesting if the southeast wind blows as predicted. After having lunch with Terry and Susan from "Papakea", I made a run for the border.
I mentioned to Terry that I wasn't in a hurry, and may just enjoy a slow cruise. My slow cruise lasted only a few minutes before I coaxed the boat to planing speed. Moments later, the VHF radio squawked, as Terry, watching me from his flybridge, asked how my slow cruise was going… The smooth water proved too inviting.
Within an hour I was crossing the border, just off Stuart Island. I slowed to an idle and called to clear customs, using my Nexus for the first time. Piece of cake. So far, Nexus may be the best $50 I have ever spent.
I checked the updated forecast, which has not gotten any better for tomorrow. Smallcraft advisories and rain. Bummer.
I want to end the trip on a high note, not get stuck in nasty weather. I decide I'll go home. But not in a hurry…
With good music playing, a bite to eat, and something to sip on I continued toward home at about 7 knots.
I cruised at displacement speed for the next few hours and loved it. Amazingly, I saw things that I never had noticed going by at 18 knots. I watched tomorrow's weather rolling in.
Am I a slow boat convert? I don't know about that… But, I sure did enjoy it!
The next morning: I awoke in my bed at home to the sound of rain and the wind whipping around the house… I think I made a good decision to come home!
Another great trip to finish out a great summer!
Trip totals
Distance: 132.2 Nautical Miles
Engine Hours: 17.5