Shoal Bay is a cool little spot in the Discovery Islands. It's the epitome of laid back – the kind of place that I'm sure you'd be just fine if you forgot your high blood pressure medicine at home.
Located on the northeast corner of East Thurlow Island, you'll find the Shoal Bay Lodge, which lies near what once was the site of a thriving community of over 5000 inhabitants, drawn to the areas logging, mining, and fishing industries. Rather than spend too much of your time and mine telling you about the location, its past, and its future, I'll direct you to their website, and encourage you to check out every informative and entertaining page within. If you only have time to read one page, make certain it's The Story…
On August 9, Shoal Bay hosted their annual Music Fest, and this year's cruising plans included this as one of the planned stops. During last year's cruise, we were a week late, and learned of the event and how much fun it was. Being a "musician" (no claims of being a good one), I enjoy an opportunity to play and sing.
Briar Patch, Enough Time, Jolly Mon, and Little Bear arrived on Friday, the day before the Fest, to nearly-full docks with multiple boats rafted, and the anchorage filling by the hour. I found a nice spot to settle and drop my hook in about twenty feet of water.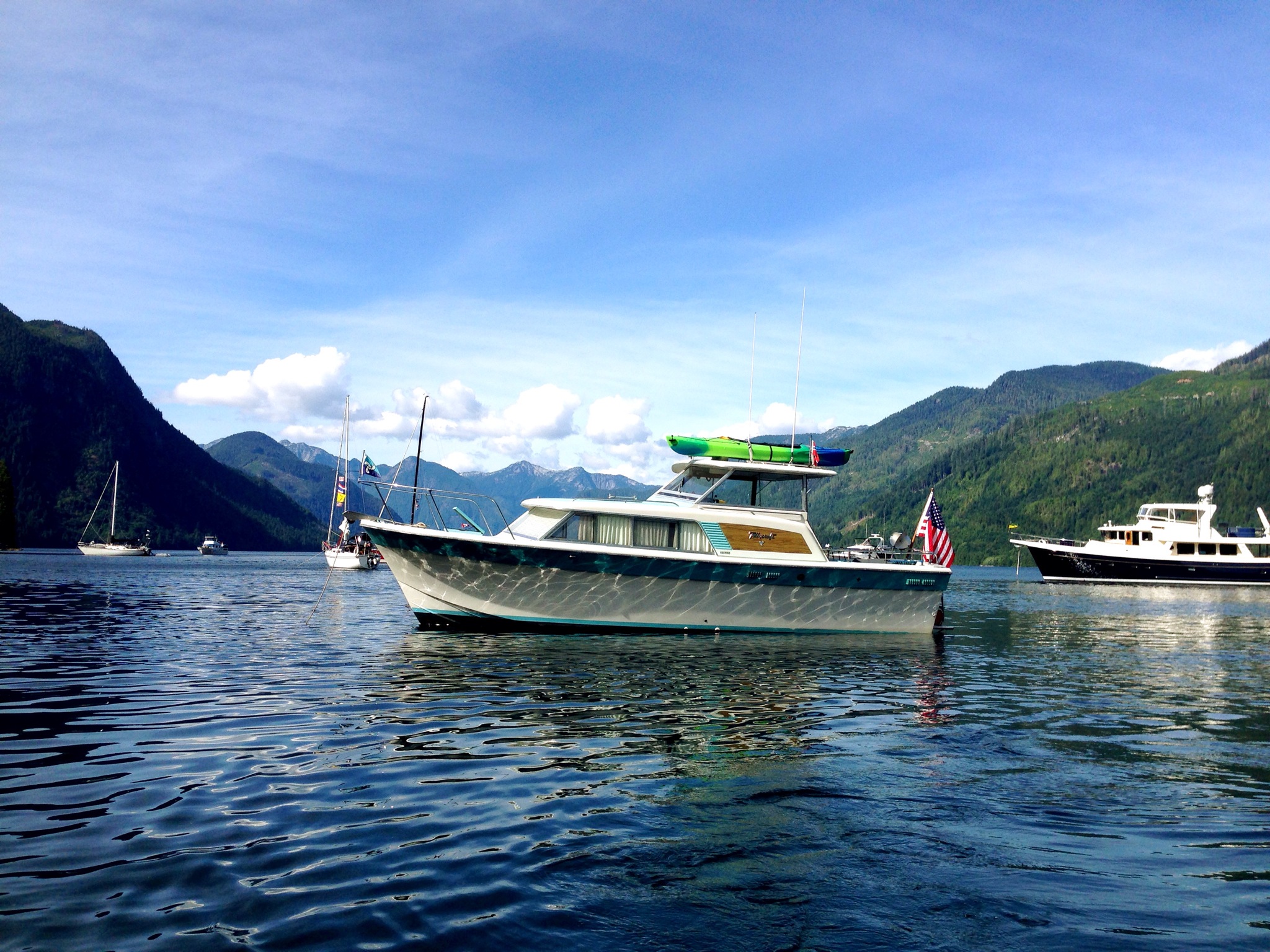 After finding a spot to wedge my dinghy on the crowded dock, I made my way to shore for a walk.  I ran into Paul, who coordinates the music fest, and he filled me in on the details of the event.  When asked if I needed to sign up for a set or get on a schedule, he replied, "Oh hell no! We're not that organized here!"
The music began on Saturday around 1 pm, with mostly solo acts with a folk flair.  As musicians performed, a pig was roasted in a huge barbecue pit behind the stage.  Paul assigned me to play "after dinner".
When the time came, the pig was removed from the pit, and a crew diligently worked to prepare the roasted pork, which was offered along with assorted salads and buns to make wonderful pulled pork sandwiches.  For a donation, dinner was offered by the Gillard Pass Salmon Enhancement Group, raising funds for some of their projects.
After dinner, I took the stage – a portable canopy set up on a deck with a nice little PA system at the ready.  Paul advised, "we really don't have a sound guy, and we're all old and deaf…"  Stage lighting was a few strings of Christmas lights hanging from the canopy, powered, along with the sound system, by the lodge's generator heard humming in the distance.  Without a doubt, though, this stage had the best view of any I've ever played…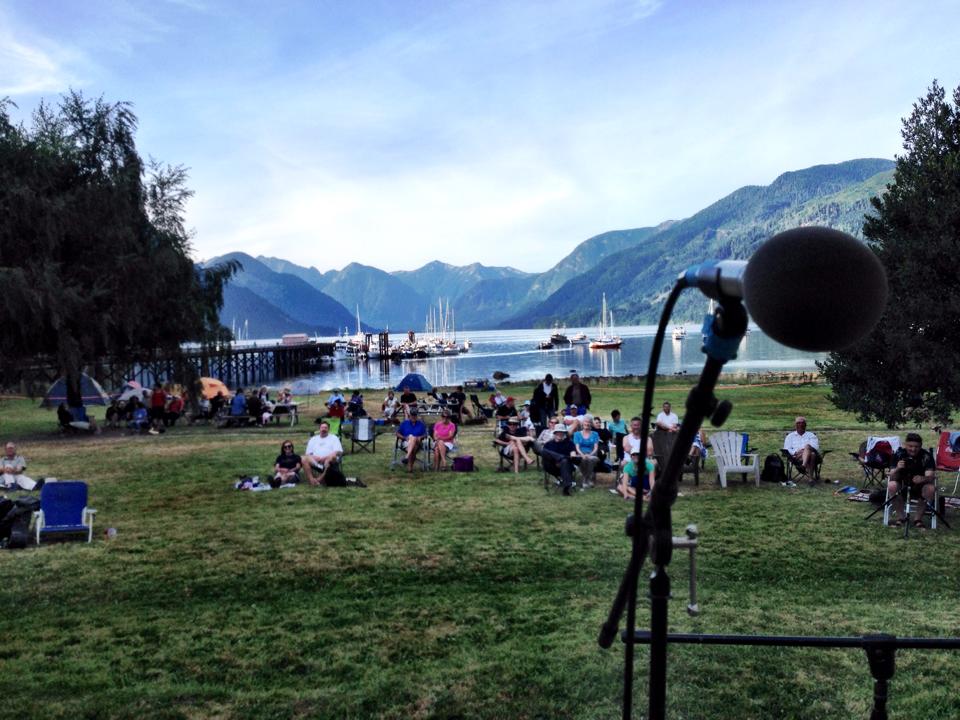 I'm nowhere near a polished performer, and I almost never create a "set list", so I just played and sang songs I enjoy.  I got some good feedback from folks in the audience, who said they enjoyed my performance.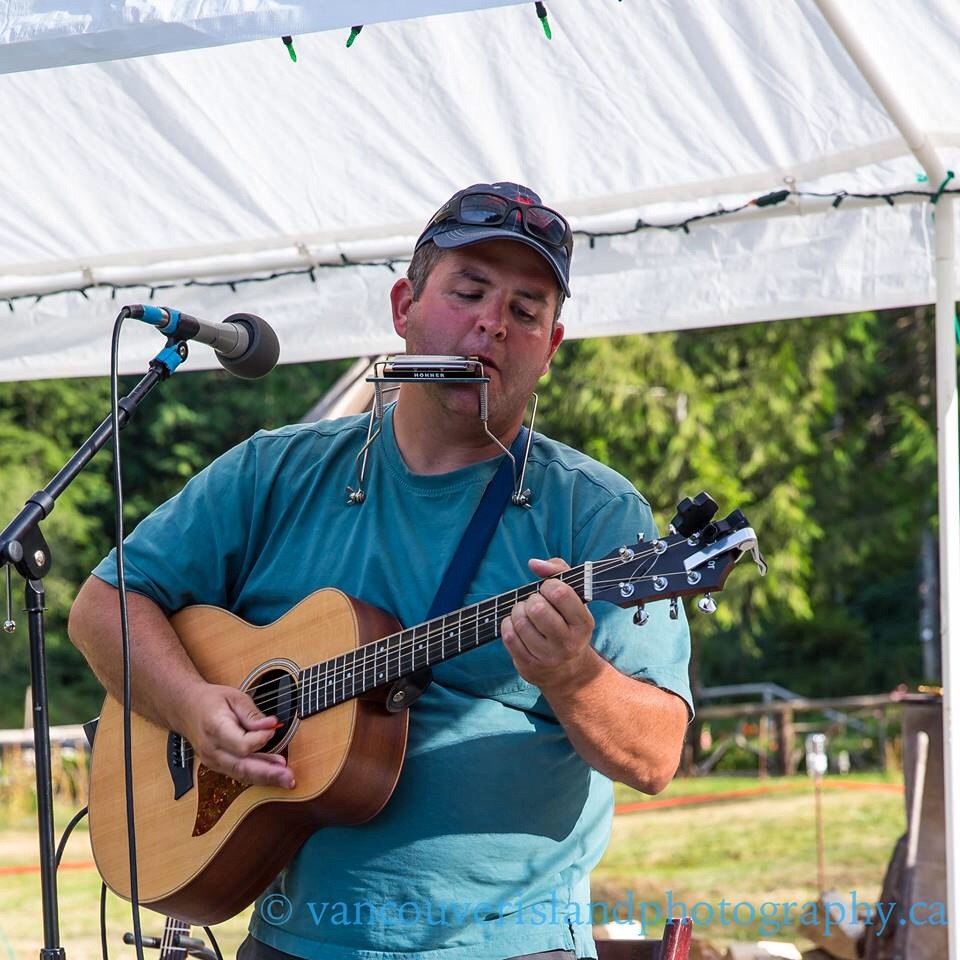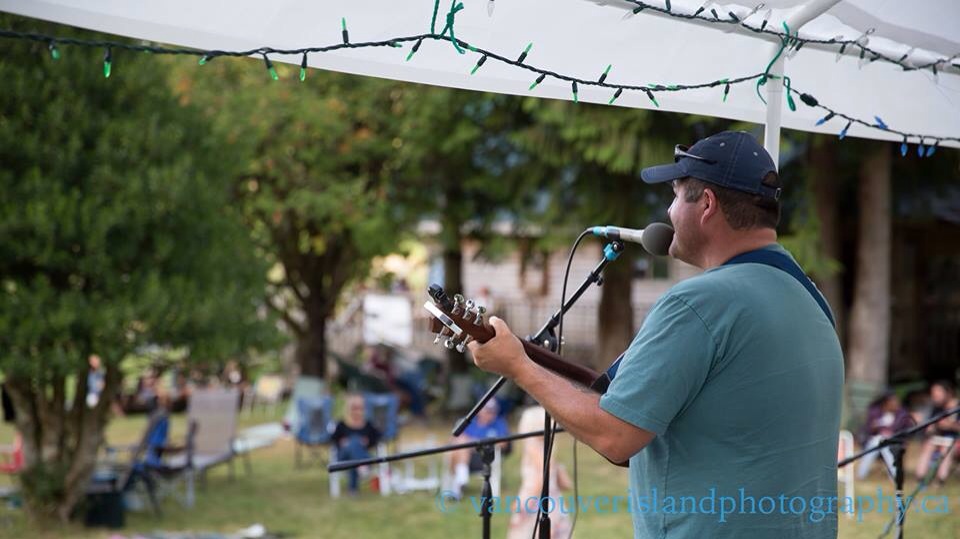 However, the best "compliment" I ever could have received was from a pretty little blond girl – I believe her name was Maisie – who danced with the grace of a ballerina barefoot in the green grass, as I hammered out and belted out silly old cover songs.  She brought a lot of class to the show, and it was a real pleasure sharing the stage with her.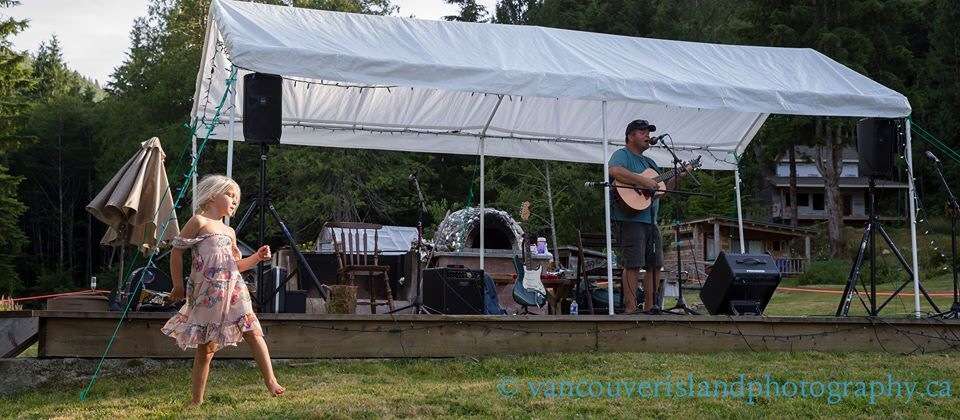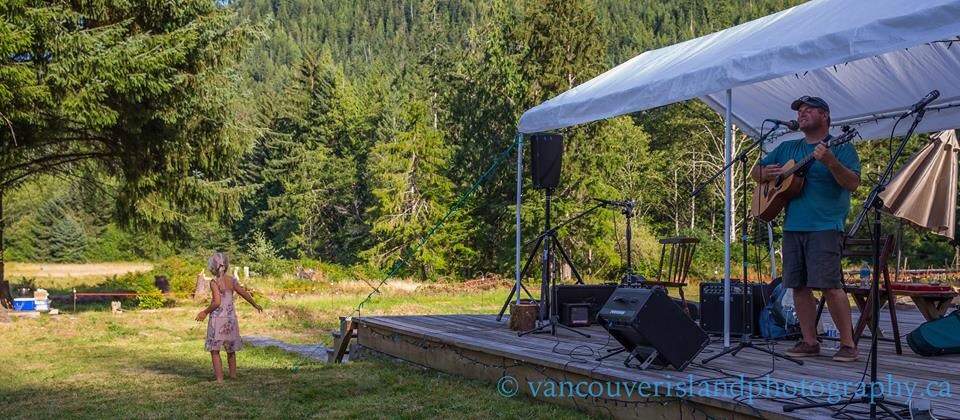 The music continued into the night, with lots of good talent on stage.  This was a great event in a beautiful location, with a lot of fun people that I hope to experience again.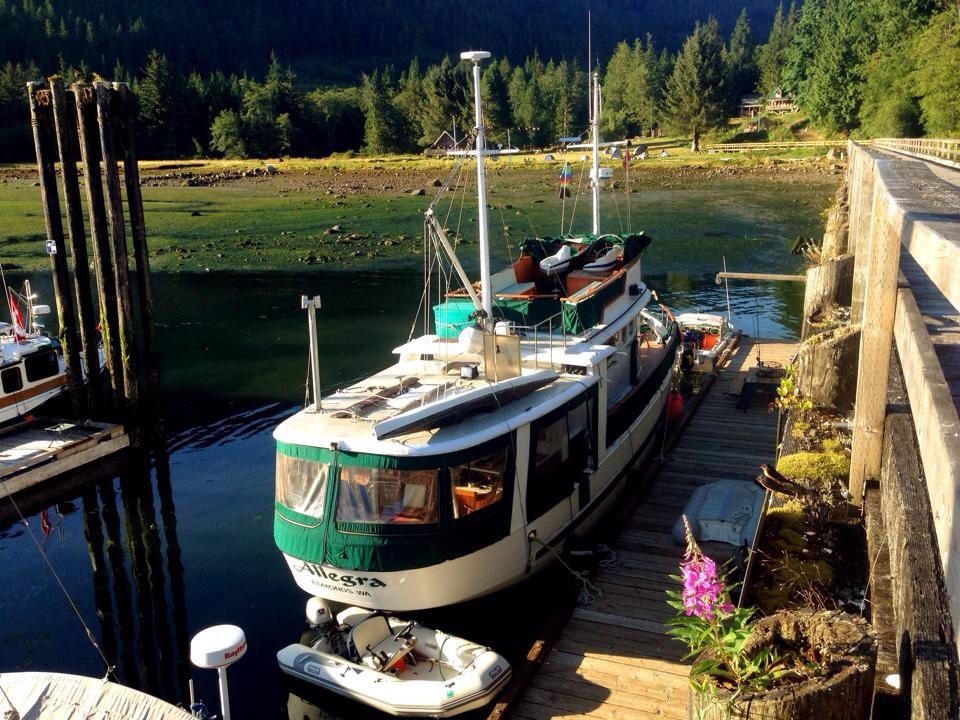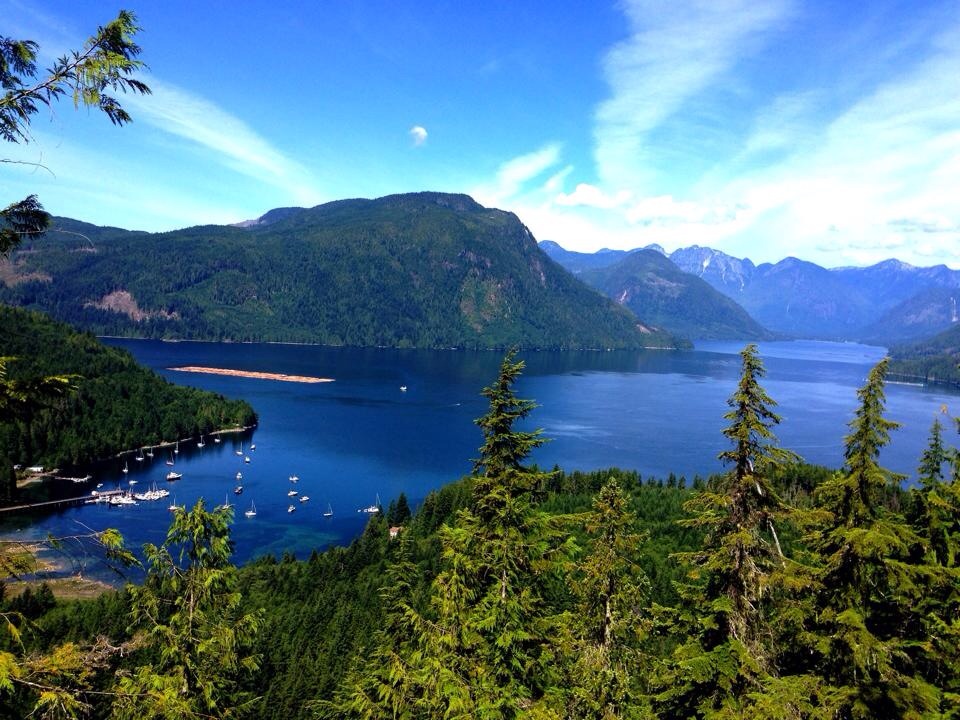 Watermarked photos courtesy of Viktor Davare, vancouverislandphotography.ca