Had a great second say in Reykjavik. Spent a lot of time walking around the city and checking out the sights. Visited the National Museum of Iceland, which was very interesting, with an amazing collection of Viking artifacts.
In the evening, I joined some other travelers staying at Kex for a movie. We saw "Monsters" at the nearby cinema. The movie wasn't very good, but it was fun addition to the overall experience. It was interesting to visit with others and hear of their travels.
Morning came quickly for a 5:30 am shuttle ride to the airport. Even though my 7:50 flight was delayed until 10:10… After checking in and going through security, I found a place to catch a little nap. Fortunately, I woke up in time for my flight.
It was stormy in Keflavik. The climb out was bumpy, but once we pierced the clouds, the ride was smooth in blue sky above the clouds. It was a quick two hour and ten minute flight. After collecting my baggage and going through customs, I was greeted in the main terminal by my cousin, Petter holding a sign with my name on it.
Although I've been in contact with Petter for a couple years now, we've never met. We connected a few years ago in the process of some genealogy research. It was great to finally get to shake his hand.
On the way to Petter's home, we went through downtown Oslo. We were quite close to the building that was bombed last week, which was closed off to public access with armed military presence. Outside of the Oslo Domkirke was a growing memorial with people leaving flowers, candles, and written messages of condolence. It was a powerful scene.
I appreciated a good nights sleep, battling some jet lag. After getting up and moving we returned to the city. We arrived just in time for the national moment of silence in memory of Friday's attacks. You could hear a pin drop.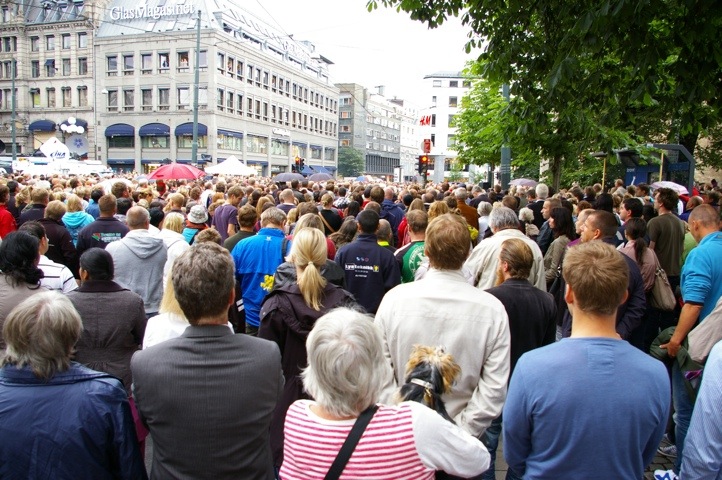 Petter gave me a good overview of the downtown, walking past buildings that dated back as far as the 1600's. We visited one of Petter's favorite watering holes, the Dubliner – an Irish pub and sat down for a pint. I noticed the bartender spoke English and spoke it quite well, so on the way out I asked where he was from. Seattle. It's a small world after all.
We made our way through downtown and to the waterfront and took in the sights. While sitting down for some lunch, Petter received a phone call from another relative, Aud, who also lives in Oslo. Neither of us have ever met her, but she has agreed to meet with us this afternoon.
More on that in an entry of it's own…
Oslo Opera House