Note: For no particular reason, it's taken me a while to finish this post. I actually began while out, with hopes of writing each day to keep up, but that just didn't happen. Better late than never, here's my entry for my wonderful early summer cruise.
While I enjoy working on boat projects – in fact more so than yard work at home, the reason I have a boat is to use it. As mentioned in my last post, I managed to complete some projects, while others were left untouched. They can wait. It's time to go cruising. Men and ships rot in port!
I'm heading out for the annual Tollycraft Rendezvous at Roche Harbor, always a good time and a wonderful kickoff of summer.. I'm taking my sweet time getting there and getting back. The boat is fat with fuel, water, groceries, and thirteen pairs of underwear.
Sunday, June 23
After a couple glorious days of "summer", this morning it rained. Oh well. I don't mind a little rain, and actually rather enjoy running in it. I pushed away from the dock with no particular destination in mind. I had a nice current helping me along through Guemes Channel, and with the autopilot driving crab-walked across a flat calm Rosario Strait. Going through Thatcher Pass, I decided Blind Bay (Shaw Island) would be a nice place to drop the hook, so I pointed the nose in that direction and in what seemed like no time at all, my anchor was set.
Sun breaks alternated with showers throughout the day, but that was ok. Sometimes a rainy day on the boat is nice – sort of forced relaxation and things that might seems boring at home are quite pleasant on board the cozy boat. Reading, napping, and watching whatever TV the antenna can pull in…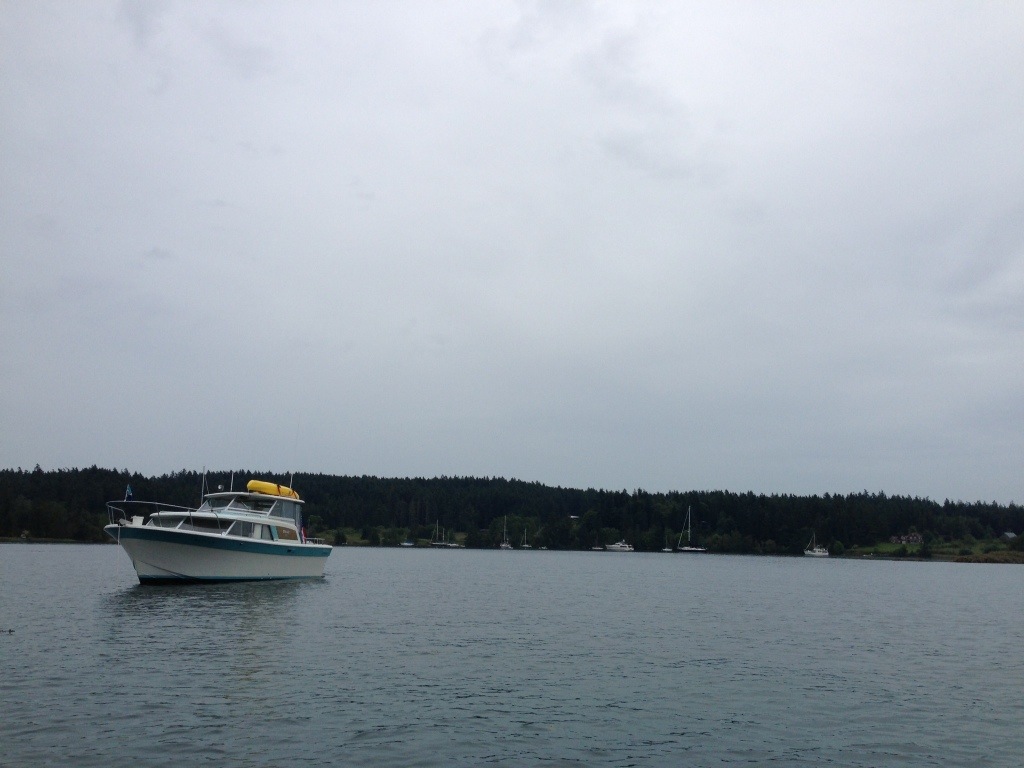 Monday, June 24
It was a calm night at anchor, with virtually no wind, but it rained throughout the night, and I awoke to more of the same. After taking my time getting up and moving about, I pulled anchor and motored toward Friday Harbor. It rained hard… But I was warm, dry and comfortable and sat back and enjoyed the ride.

The rain stopped just before I arrived at Friday Harbor for a stop to pick up a few things in town and hit the shower. I also walked over to meet and say hello to Darren and Lisa O'Brien aboard Traveler, who operate PacificNWBoater.com, which offers some outstanding video cruising guides for the area. I've enjoyed their website, so it was nice to have a chance to meet and visit with them.
The weather continued to improve as I left Friday Harbor and made the short run across San Juan Channel to Parks Bay on Shaw Island, where I rafted to Teaghlach and good times ensued.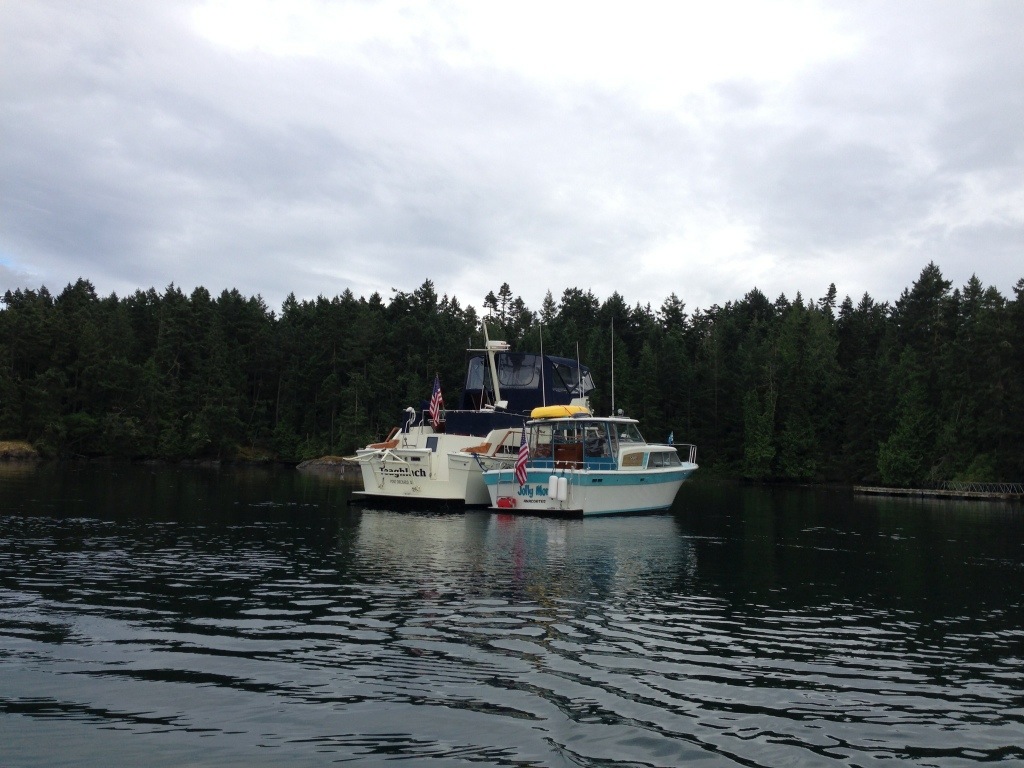 Tuesday, June 25
After a morning of leisure, we pulled anchor and made an easy run to Reid Harbor, where we tied to one of the "party docks".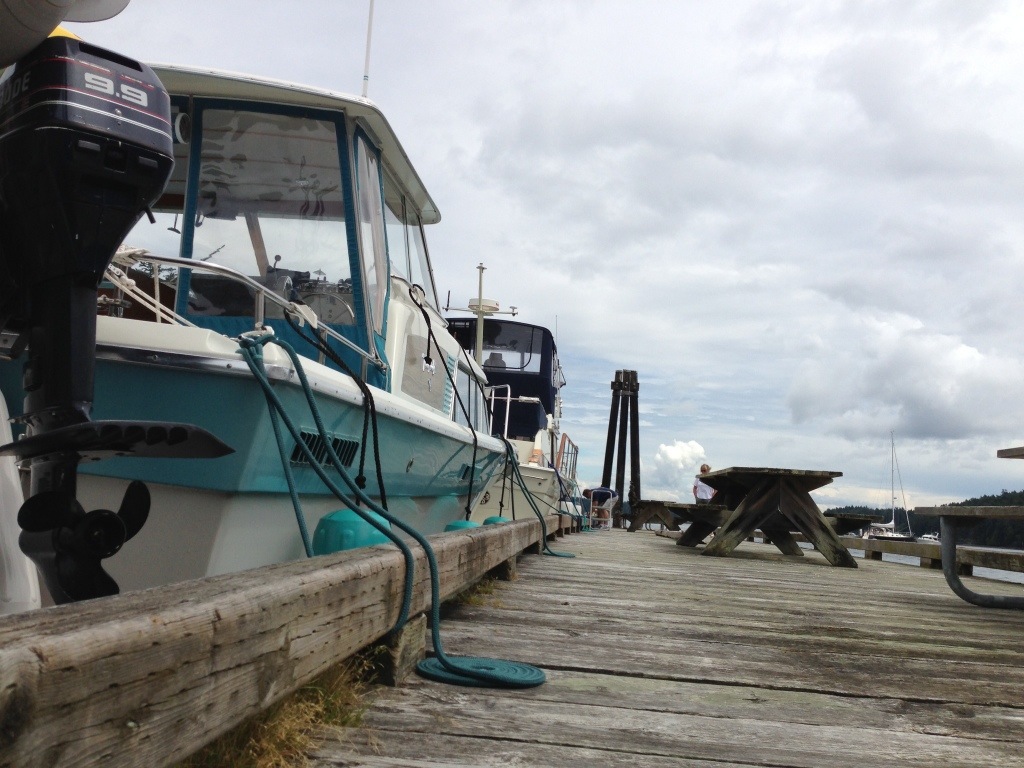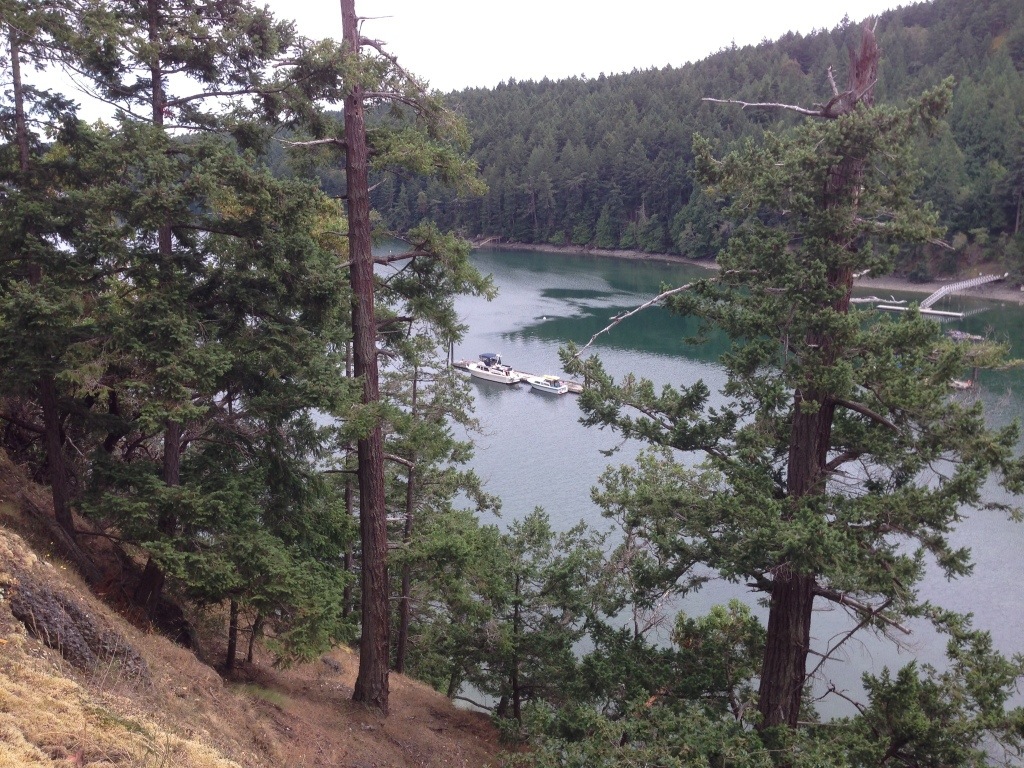 Reid Harbor has become something of a "second home" it seems. I usually end up there several times during the year, and I enjoy it each and every time. There is just so much to do, that it hasn't become boring.
On this visit, as others, one of the fun things to do on a calm evening is to take a dinghy cruise out through Johns Pass. It was such a nice evening, we circumnavigated Stuart Island, stopping to take in the views. It seems we're always treated to an amazing sunset, and often sightings of whales and porpoise. No whales this time…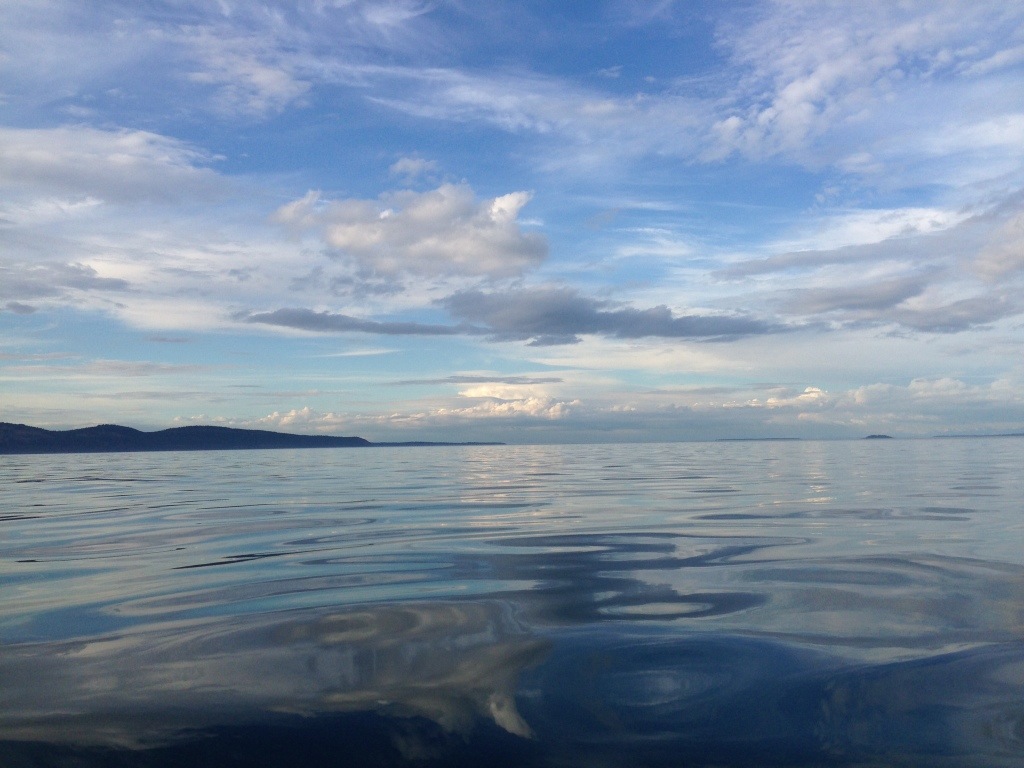 Wednesday, June 26
One of the great things about Stuart Island is the opportunities to get out and stretch the legs with a good hike. This morning, we made the trek out to the Turn Point lighthouse. It felt good to get out and get moving, and the scenery is worth the trip.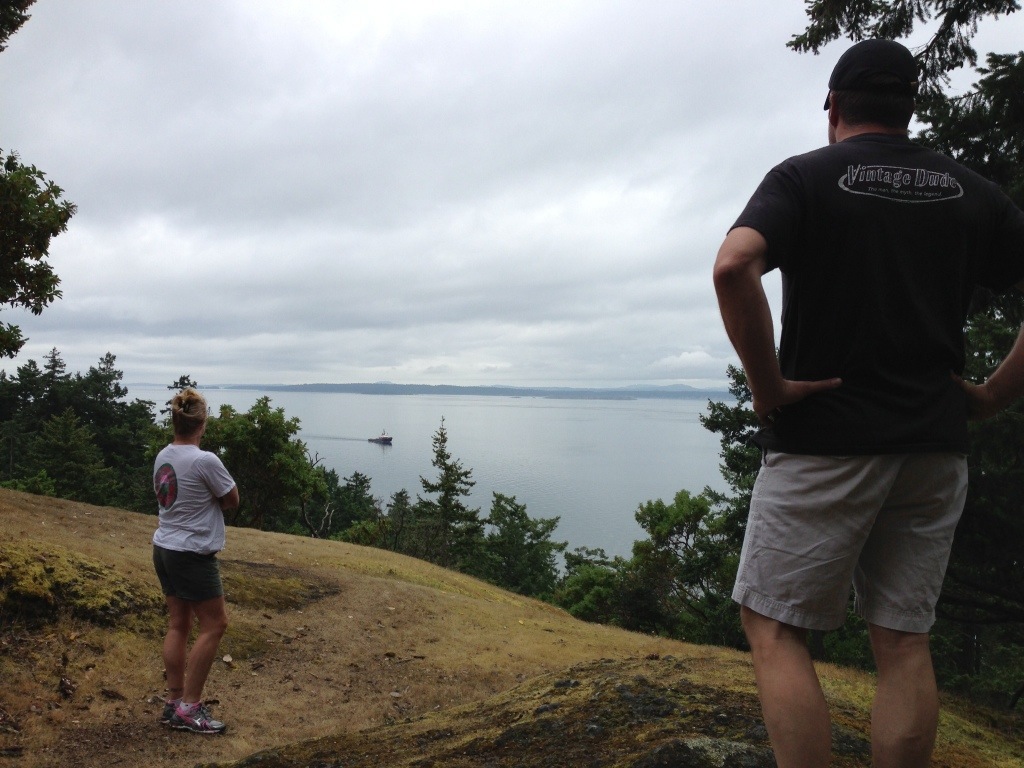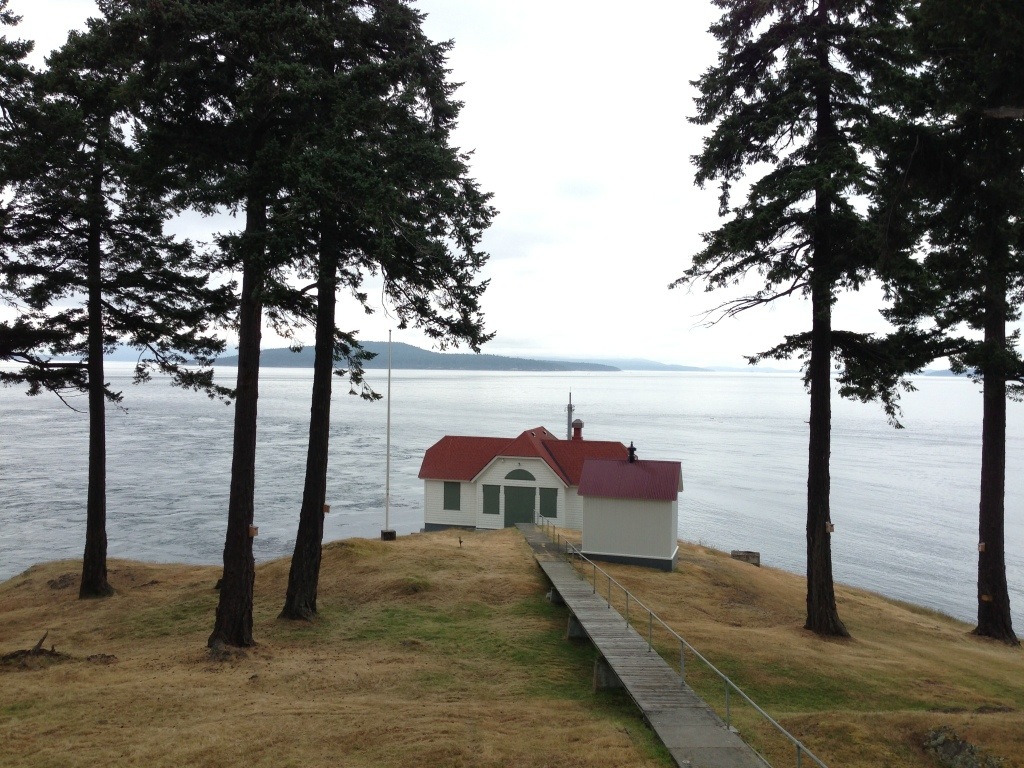 Shortly after returning to the boats, Teaghlach left for Roche Harbor to prepare for the Tolly Rendezvous. I meandered over to Garrison Bay, as rumor had it some friends would be there. It was an absolutely flat run at displacement speed. As I entered the Bay, I was greeted by Murph on Papakea waving me in to raft along side. Later on, Destiny arrived and joined the raft up. Channel Dancer was anchored nearby, as were several other Tollys making Garrison Bay a final stop before the rendezvous.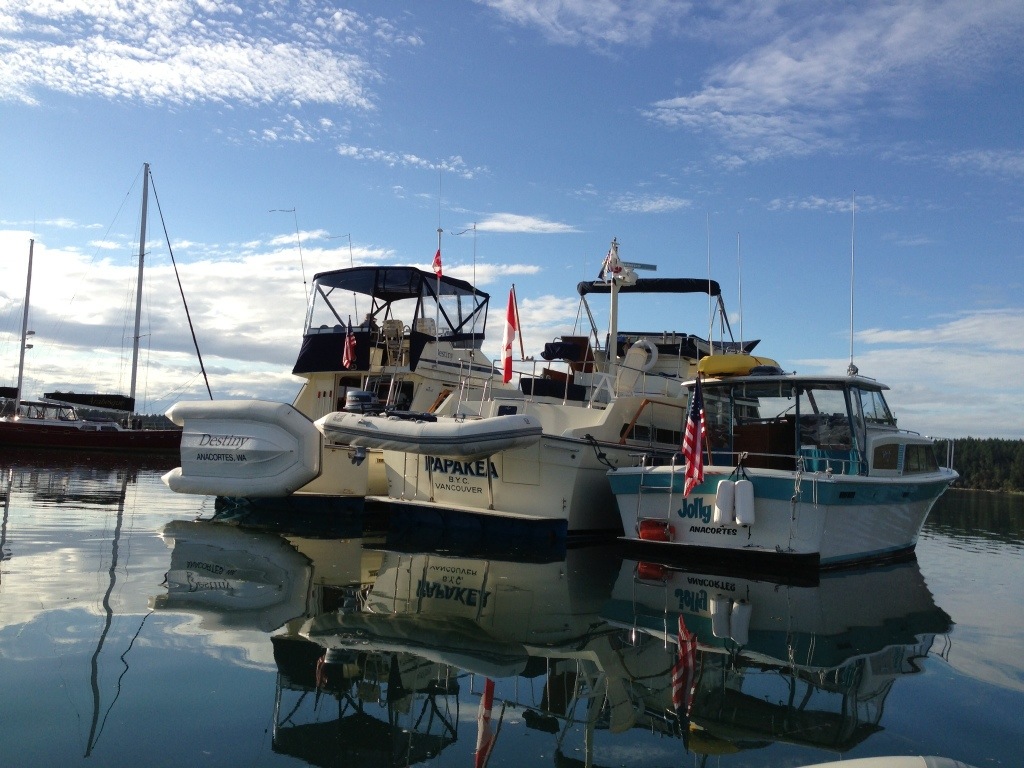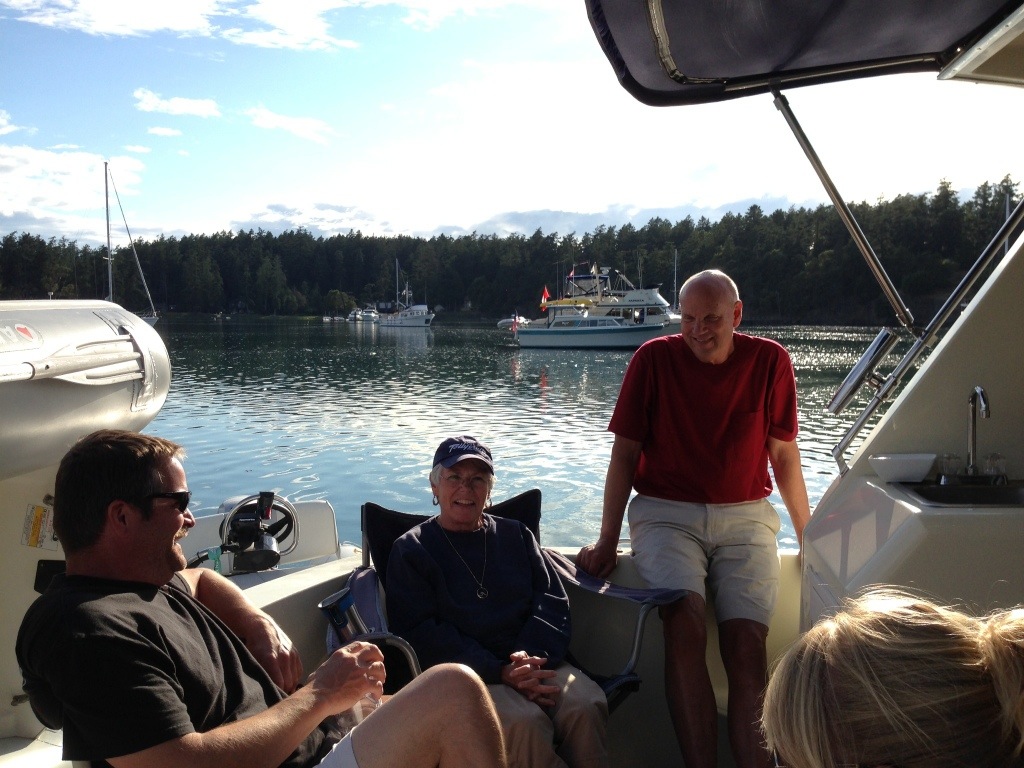 Thursday, June 27
Arrived at Roche Harbor, along with ninety or so other Tollycrafts for the annual Tollycraft Boating Club rendezvous. This is my ninth rendezvous, and they are always a good time. It's always fun to catch up with friends and trade stories of places we've been and things we've done with our boats. It's cliche to say the club is like a family, but it's tough to find better words to describe a special group like this.
Attending the rendezvous for nearly a decade, it's been interesting to see how the group evolves. You see familiar faces every year, along with new ones. It's fun to have watched families grow- little kids are now young adults. On the same token, we all miss people that were part of this special group that no longer make the event – they've gotten out of boating, perhaps failing health or advancing age has left them shoreside. I chatted with one member, newly widowed, on his first cruise without his first mate. He wasn't sure if he was going to make the trip, but with damp eyes he explained, "she just loved this place so much." Oh, he missed her – you could tell. But his smiles said he was glad he came.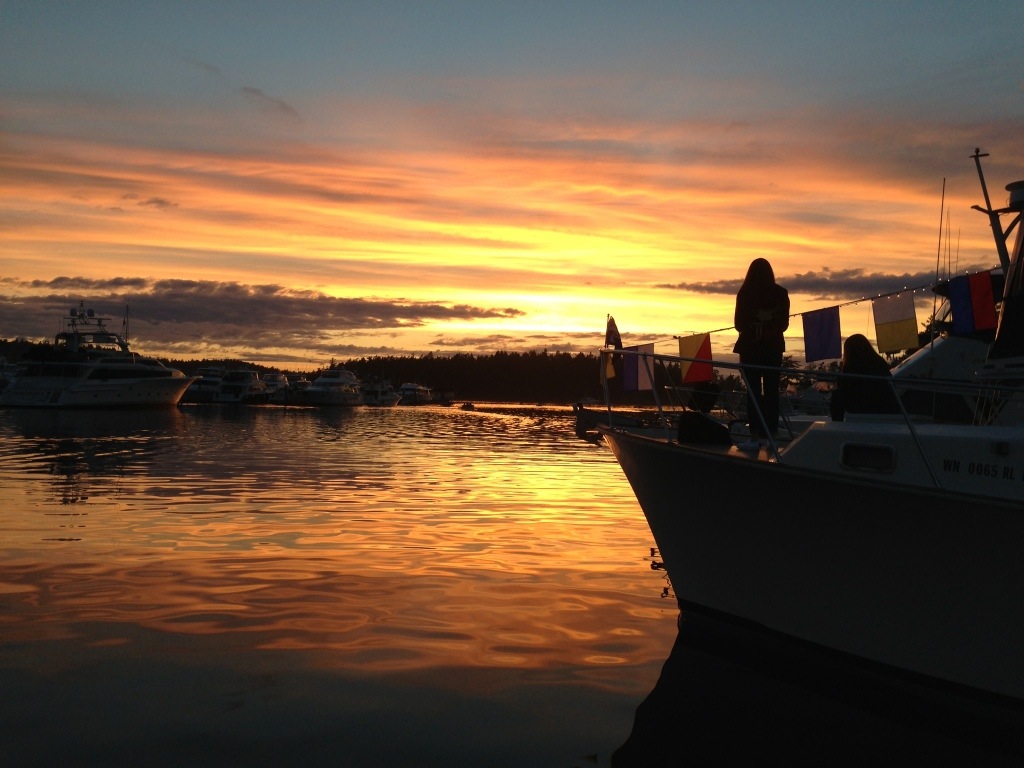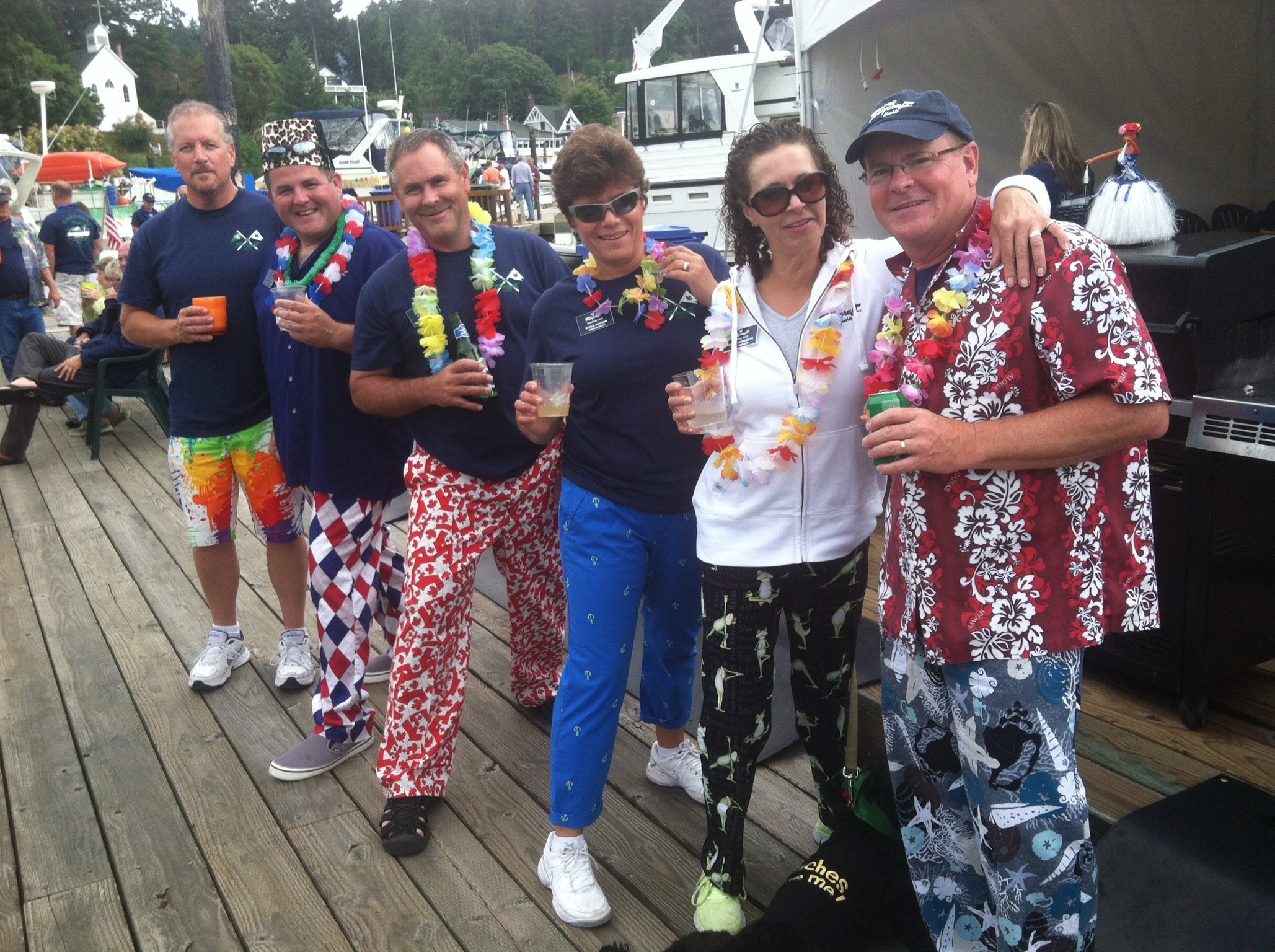 The weather was beautiful for the busy four days of fun. This year's theme was "Tollycraft Cruise Ship", so the attire and decor were tropical, from casual grass skirts and coconuts to Saturday evening's "formal" dinner.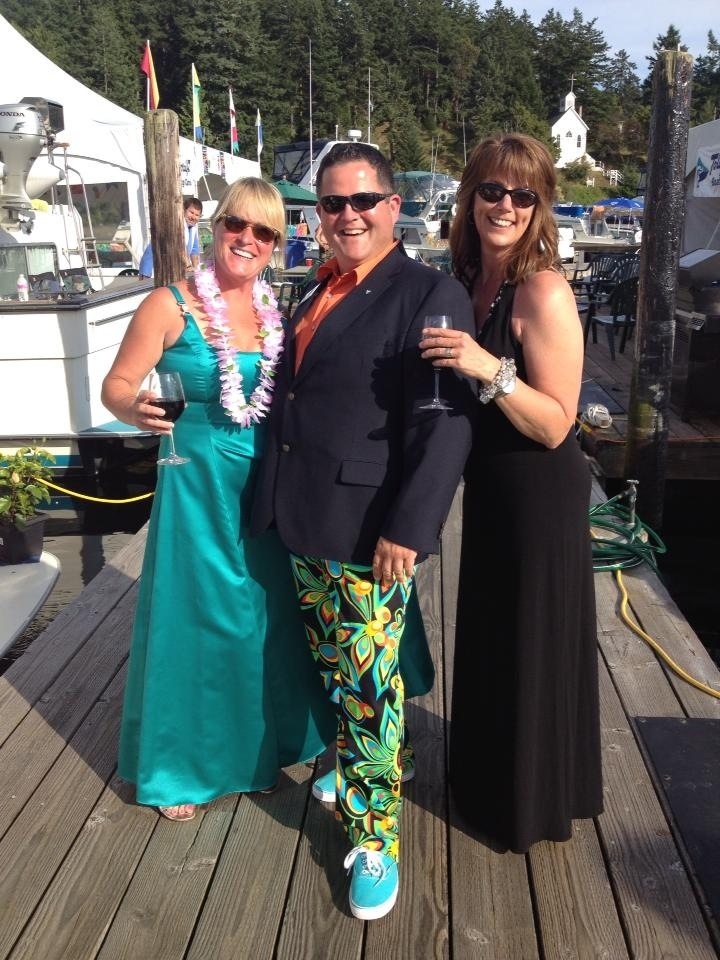 As usual, a good time…
Next year's theme: "Tolly Roundup".
Sunday, June 30
It seems over the past several years there has been a rendezvous after party at Reid Harbor, so I made my way back to the familiar spot and joined a raft-up. The good times continued along with lots of good food, and plenty of laughs.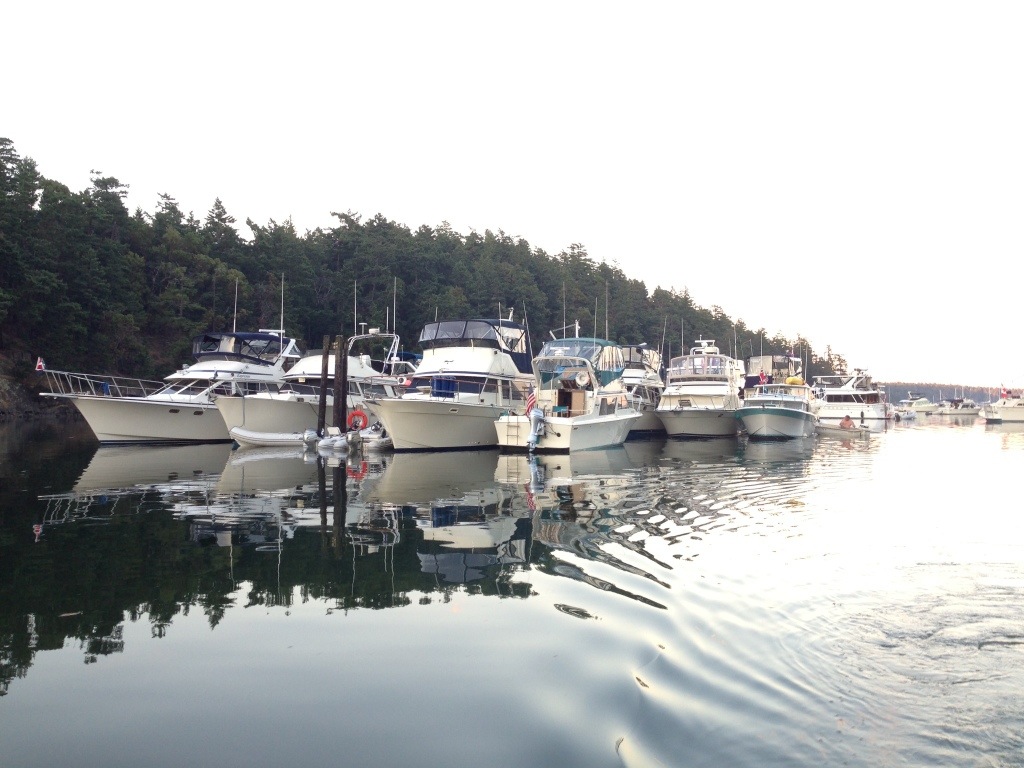 Tuesday, July 2
While at Reid Harbor, I noticed my dinghy outboard stopped pumping water, so I decided to head for Friday Harbor, in hopes of finding parts. I wasn't successful finding parts, but I did find Dem Bones, Richie Buoy, Breakaway, Papakea, and Double Play. Friday Harbor was busy, as slips were filling for the upcoming holiday.
Wednesday, July 3
Easy run over to Deer Harbor on Orcas Island, where I dropped anchor. It was nice to swing on my own hook for a change, after being at docks and rafted with groups.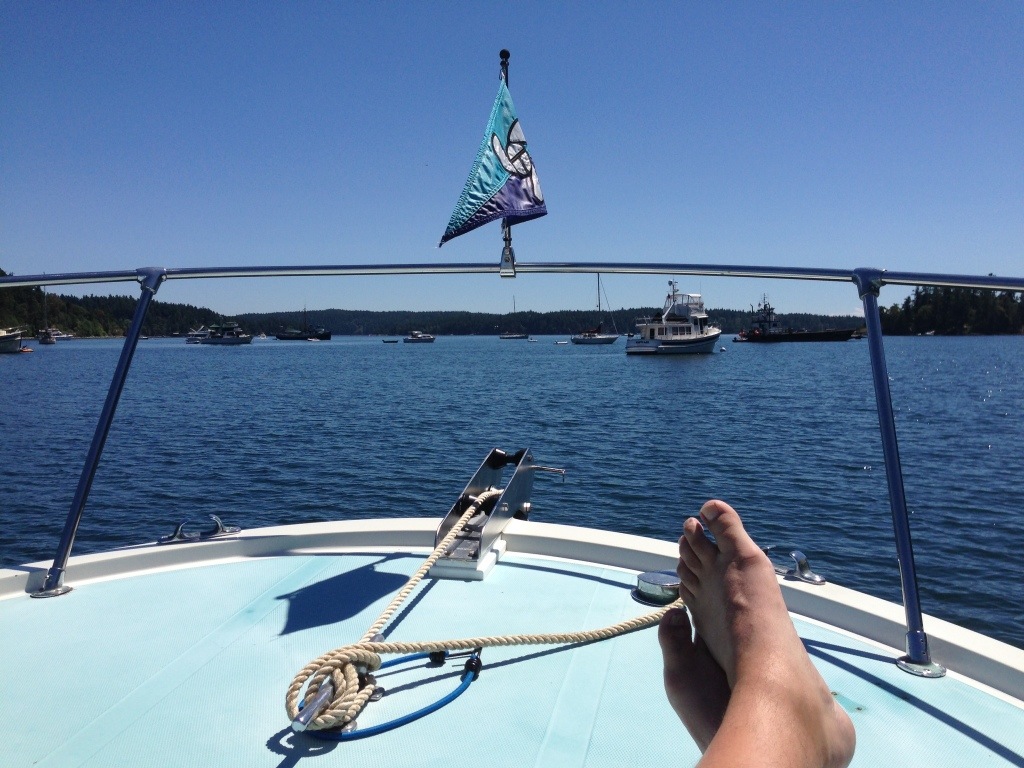 Over at Deer Harbor's docks were Briar Patch, Wind Walker, Diver's Inn, and others. I paddled over in the kayak to join the group for the fireworks display, which Deer Harbor does on the third.
Thursday, July 4
After I was unable to acquire outboard parts in Friday Harbor, Jonathan from Briar Patch was kind enough to pick up what I needed before leaving town. We pulled the outboard off the dinghy onto the dock and pulled the lower unit. Suspecting a bad water pump impeller, we pulled the pump housing to find the impeller looked pretty much perfect, but on closer inspection we determined that it had spun its hub. With a new impeller in place, the little outboard was pleasantly peeing water.
I pulled anchor and made the run over to Hunter Bay on Lopez Island, one of my favorite anchorages.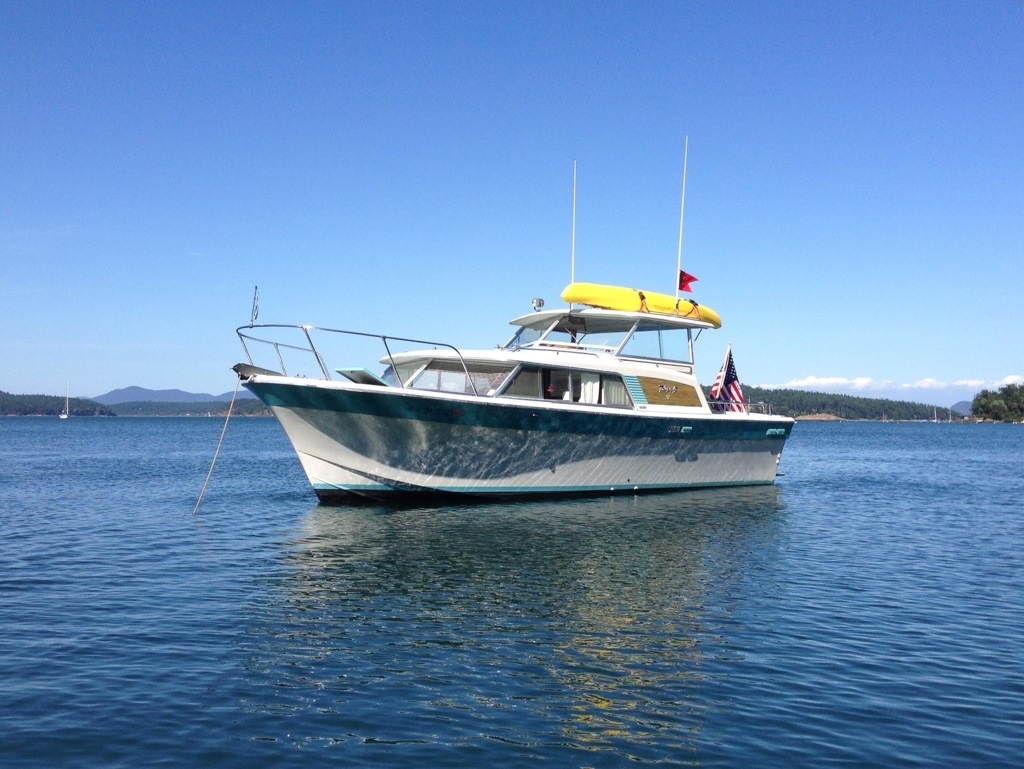 I met up with my cousin, Geri and her husband Butch. It's always fun to catch up with them…
Friday, July 5
All good things must end, and such was this trip. After enjoying good conversation over coffee and blueberry pancakes with Geri and Butch, I pulled anchor and headed toward home.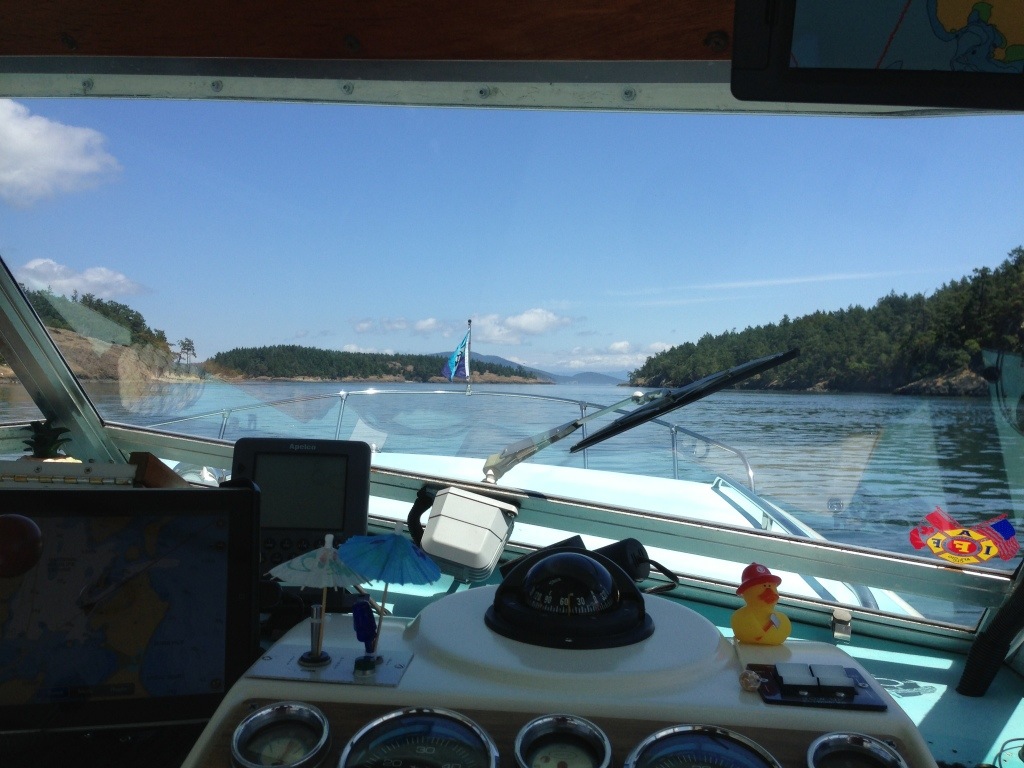 I didn't rush home, which was right in line with the pace of this entire trip. I have really enjoyed slowing down. I'm surprised how much I have, in fact.
Back home, and back to work, I truly consider myself fortunate to have the time and resources to do the things I love to do. I came across the blog of some very good friends of mine, the Davis family, who are doing the same. I've enjoyed following their adventures, traveling to Alaska and back with their truck and trailer. It looks like they'll be returning with a well-stocked freezer.
Time to prepare for the next adventure.
Trip total 101.1 nautical miles.