This year will be a first for me… The first time I've taken my boat to Desolation Sound. While I've spent a lot of time in the Canadian Gulf Islands, I've never made the leap across the Strait of Georgia and and ventured north to add to my cruising pedigree. I'm excited, the boat is ready, and time off from work secured.
I'll be traveling with Briar Patch, Enough Time, Little Bear, and Wind Walker; all Desolation Sound veterans. Big Sky and Jolly Mon are first-timers. We have no real itinerary, other than a date we need to return by.
I'll do my best to keep a log of my travels and things we do and see along the way. This post will contain several days.
Day 1: Saturday, August 10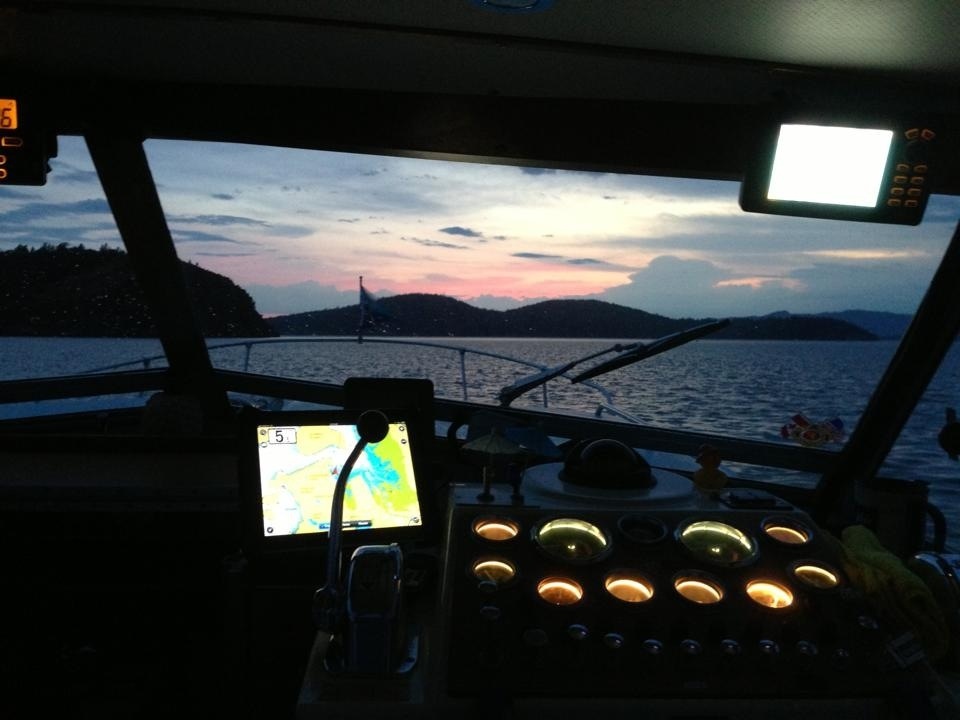 Briar Patch, Enough Time, and Jolly Mon departed Anacortes at about 5:30 am – just before daylight. The several mornings prior, Anacortes was socked in with fog, but this morning was the exception, so we were thrilled when we had the opportunity to leave early with clear skies. Wind Walker, the lone sailboat in the group, left the day before. Our plans were to make Nanaimo by evening.
We enjoyed calm seas and light winds, so we elected to run straight up the western Strait of Georgia. I'll admit much of the run up the strait was rather boring, the autopilot running the boat on a straight course for thirty miles. If I would have had to steer myself, I would have quickly grown impatient and put the boat on plane and burned some fuel. We'll be logging some miles on this trip, so the improved fuel economy of running slow is worth it.
Almost exactly twelve hours later, we arrived at Nanaimo. Clearing customs was a breeze with NEXUS, and we were soon tied tied to buoys in Marks Bay. A long day, but we covered some ground, and were at our jump off point for crossing Georgia Strait. Little Bear, already tied to a buoy, had a few days head start, as did Big Sky, who was at the Nanaimo Yacht Club dock.

We originally had planned to cross the next day, but decided to spend another day at Nanaimo. This would give us a chance to stock up on groceries and allow Wind Walker to catch up with the group. Also, we'd be able to visit the pool…
The Nanaimo aquatic center is a wonderful public pool, complete with hot tub, saunas, wave pool, and water slides. It's the best three bucks you'll spend, and a great way to get some exercise. It felt good to go splash around and take some trips down the slide after a long day at the helm.
Day 1 total: 76.0 Nm (Nautical miles)
Day 3: Monday, August 12
"Steeeeeeve… It's time to wake uuuuuuuup… Everybody's leaaaavvvvinnngg!"
That was my wake up call; the motherly shouts of Lori from Briar Patch's bow through my forward hatch.
I had slept in…
I had set an alarm on my phone to wake me with plenty of time to be up and ready for a 7am departure. Apparently, when I plug my phone to charge, it's important to ensure the other end of the chord is plugged in to something.
I was up and out of bed in no time, and fortunately I had gotten everything pretty much ready to go the night before. I had the engines fired up and was under way in just a few minutes. I brewed some coffee, found some breakfast, and put on some pants as I was entering the strait, with a course set for Pender Harbour.
The crossing was uneventful, and although a bit lumpy, was far from intimidating. However, I can see how this piece of water can get downright ugly, and all respect is due.
The autopilot performed beautifully, driving the boat in a strait line to the intended course through the beam and quartering slop. I fall in love with it a little more each day.
Once in Pender Harbour, Briar Patch dropped their hook, and ran a shore tie before we built our raft. We launched the dinghies for some exploring and a visit to Madiera Park for liquor store detail. The water was warm, so a swim was in order once back at the boat. An evening ice cream run gave us an opportunity to explore other bays.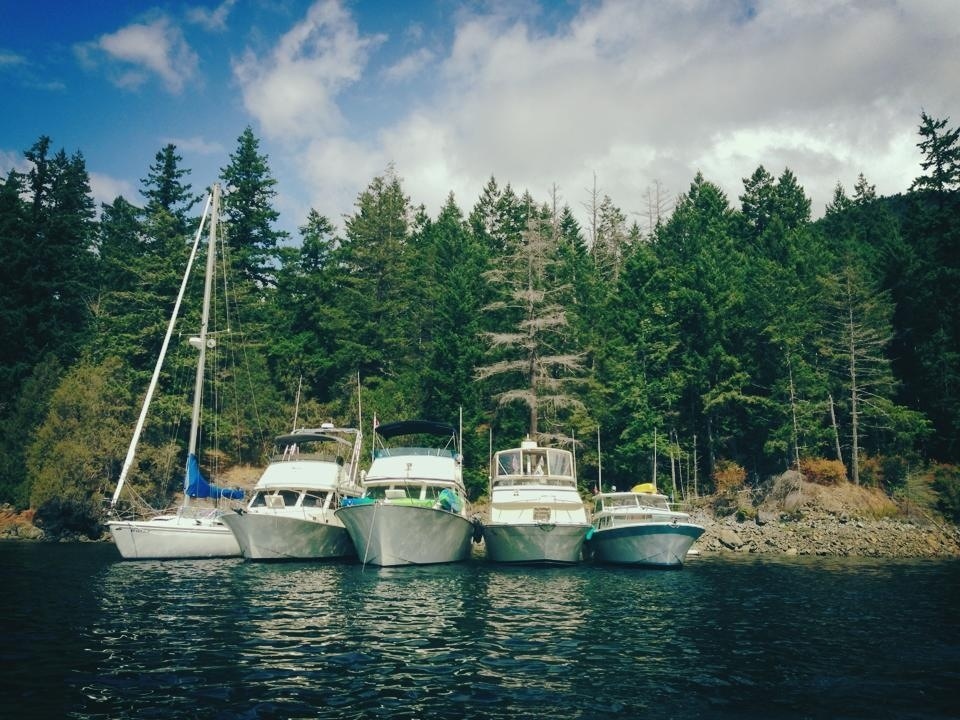 Day 3 total: 31.0 Nm
Trip total: 107.0 Nm
Day 4: Tuesday, August 13
We broke the raft up and made a morning departure to continue north toward Desolation Sound. We cleared Pender Harbour, setting a course for Westview, Powell River.
Our little northbound fleet was greatly outnumbered by boats heading south. That won't be us for a while, and we like the prospects for less crowded anchorages up north. I recognized one boat heading home as the Mark and Linda's R&R II, so I hailed them on the VHF and chatted for a few moments. Their newly-repowered 26 Tolly looked good powering into the Malaspina Strait chop they were taking on the nose. Sounded like they had a nice visit to Desolation Sound.
A little further up the strait, another radio conversation. This time with Bill and Joyce, some fellow Tolly-owning friends who live in Powell River. Bill was watching us cruise by.
Arriving at Westview, we each got in queue for the fuel dock. With little space to maneuver and a bit of a breeze, it's a dance to jockey for position while maintaining your spot in line. Once at the fuel dock I took on fuel and filled my water tank. My fuel economy so far is better than 1.5 Nmpg. I've been running at displacement speed, which seems to give me around fifty percent better economy than planing.
Back under way, I continued on toward today's destination, Savary Island. Any forecasted winds are out of the southeast, so the north side of Savary seems like a suitable anchorage. Little Bear and Big Sky were already resting on their anchors when I arrived, so I idled around the bay looking for a good spot.
The anchorage at Savary is interesting. A sandy shelf lies offshore, but drops off quickly and shoals quickly. The best spots are lined with private mooring buoys, but otherscan be found.
As I idled along, watching my depth sounder, my port engine suddenly stalled.
"Hmmmmm…"
It restarted without trouble, and seemed to run fine. I dropped the transmission into forward gear. Stalled again.
"Oh ____! (insert your favorite expletive)"
I looked over the side, and saw what looked like rope. It was tangled in my port shaft, and whatever it was attached to was on the bottom – I was "anchored".
After a conversation on the VHF, John and Paul ran over in their dinghies to assist. Paul had a dive mask I could use. After he came aboard, I jumped in and went below to assess. What looked like crab pot line had tangled in my port prop and made several wraps around the shaft. I was going dead slow, so it was not wrapped very tightly. I went to work with a knife between breath holds. I was making some headway, but it was slow going. Then I remembered one of the tools of my trade that I carry on board; a pair of "trauma shears".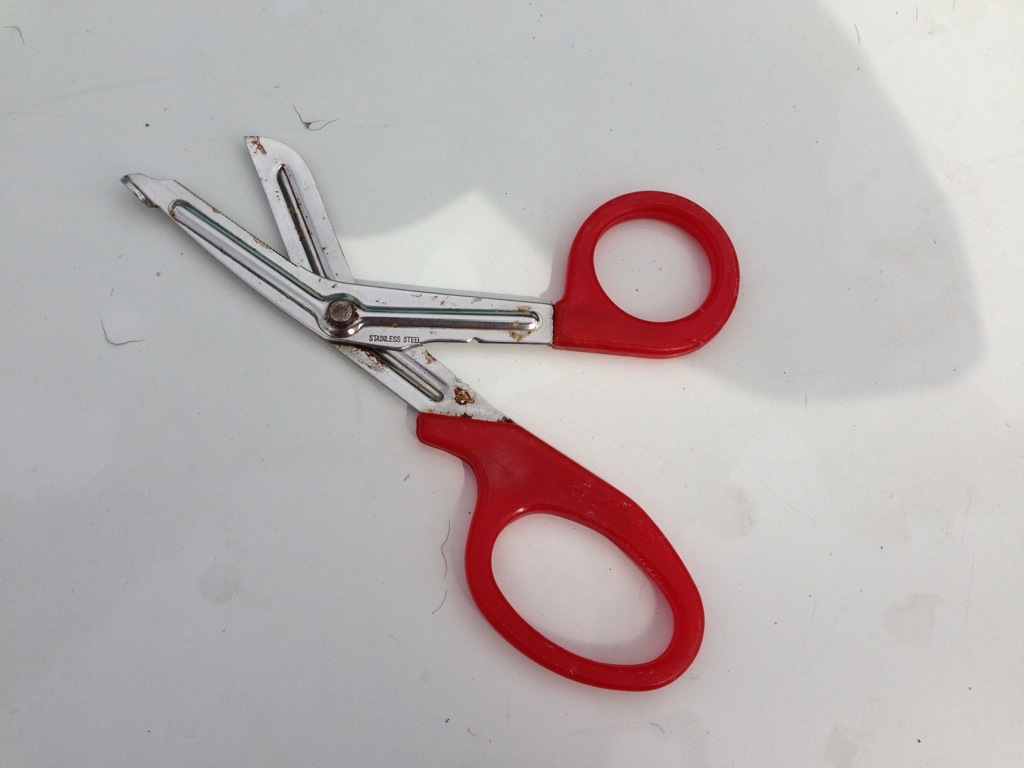 These are the angled scissors that we use to cut clothing off of sick and injured people. They're durable as heck and will cut almost anything. I've cut battery cables on cars at accident scenes with them, and they aren't known as "penny cutters" for nothing… I'd recommend every boat carry a pair. They can be often found in your hardware store's bargain bin, and the cheap ones seem to be just as good as the more expensive ones.
Back under I went, and snip, snip, snip… I was free and clear. I collected the line, which had no buoy or float attached for disposal, to hopefully save another skipper some grief. Judging by the growth on the line, it had been there a while.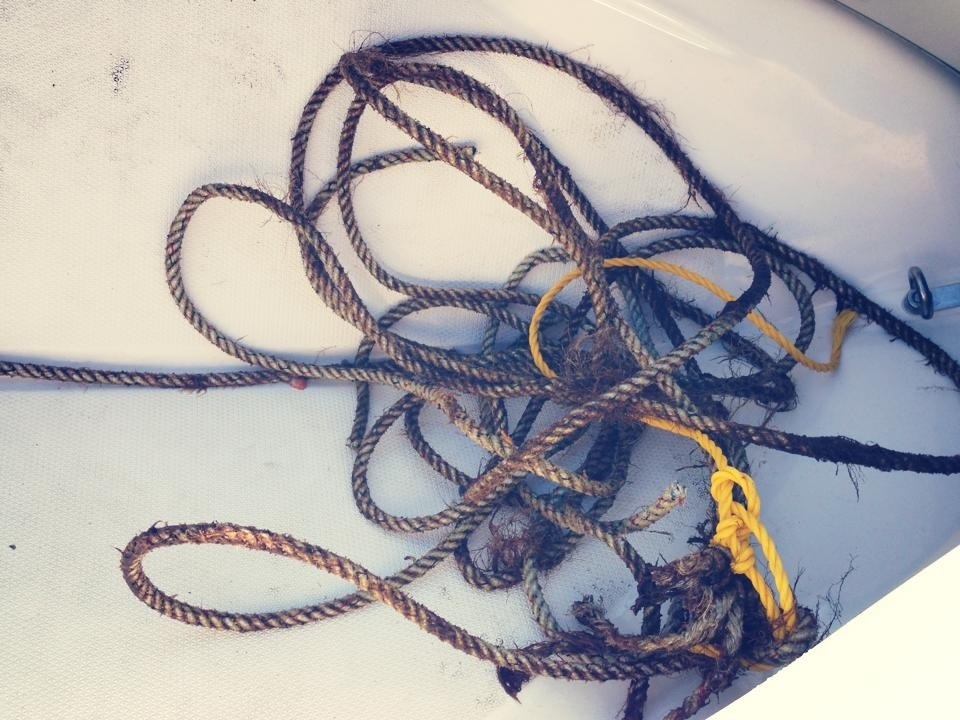 Crisis averted, I dropped my hook near the other boats. Dinghies were launched and we went to shore to enjoy Savary's white sandy beaches. Local kids were jumping off the public pier. It looked like fun, so Todd, Spencer, Jonathan and I took our turn a couple of times. I'm loving swimming in the warm water…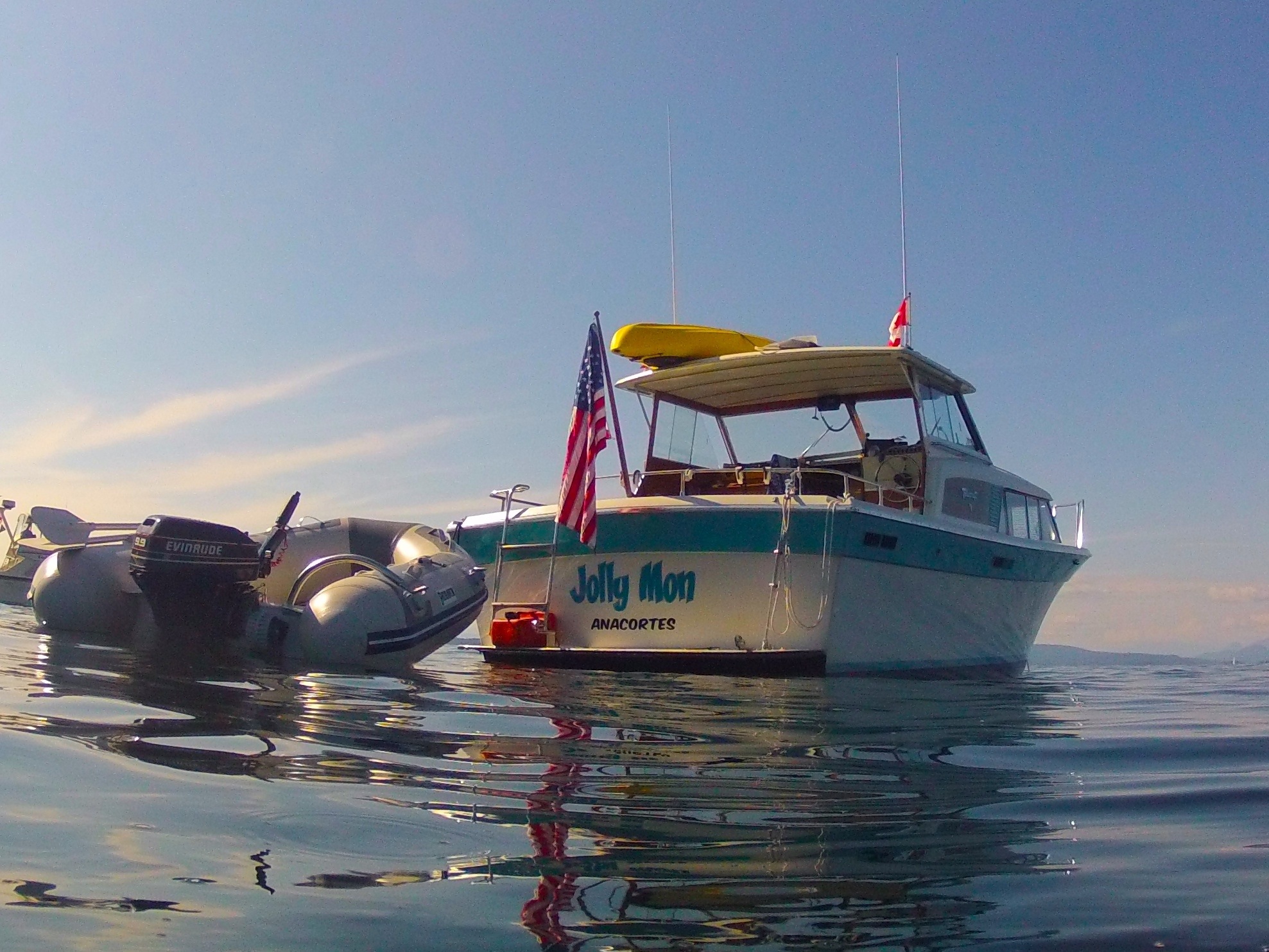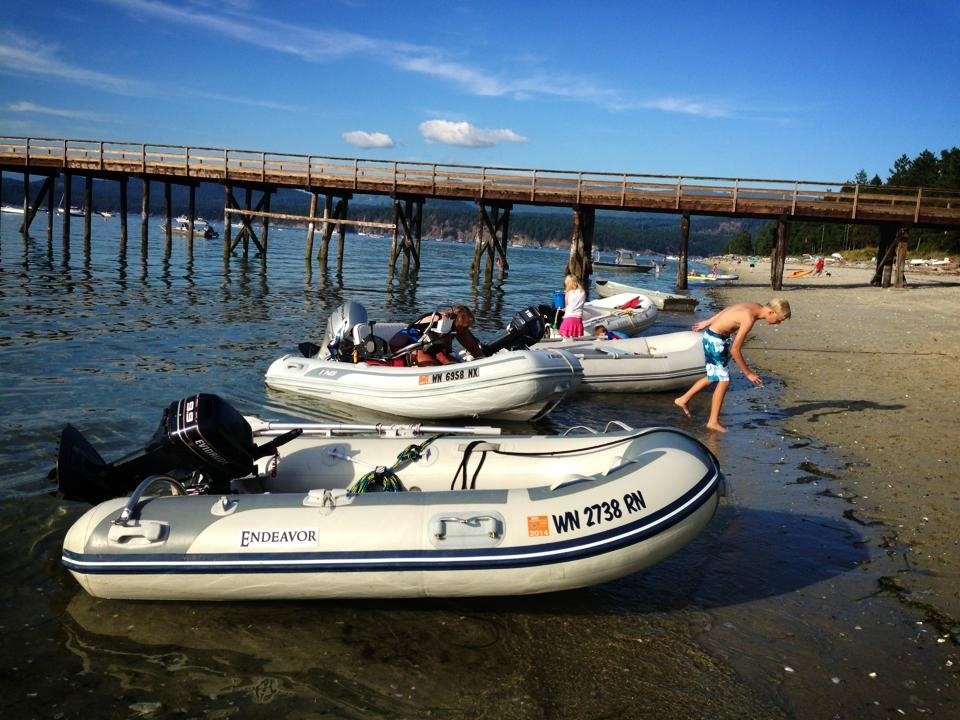 Back on board, a nice dinner. A calm night made for a good night's sleep.
I awoke to a glow of the sunrise though the forward hatch above my bed. I got up and went outside to see Wind Walker and Briar Patch silhouetted by the beautiful sunrise. I snapped a photo and went back to bed for a while longer.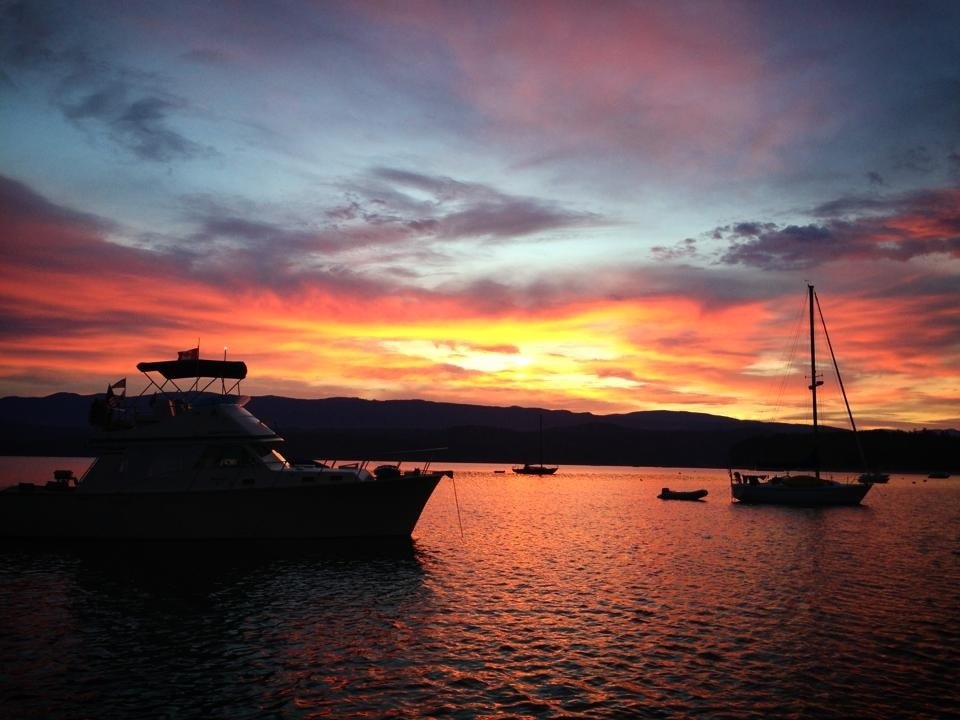 Day 4 total: 39.0 Nm
Trip total: 146.0 Nm
Day 5: Wednesday, August 14
We've been watching the forecasts over the past few days, and the anticipated change in weather is beginning this morning. Some winds are expected to pick up, and some rain is on the way. Rather than continue into Desolation Sound and sit in the rain, we've decided to venture a little further north and head toward the Discovery Islands to explore and time our return to Desolation Sound with improved weather. We elected to make today's destination Rebecca Spit. But first, we'd take a detour to experience rounding Sarah Point.
There are places we go, and things we do that can best be summed up as a spiritual experience, and rounding Sarah Point, for me, was one of them. I heard a friend say, "you could take an atheist around Sarah Point and have them rethinking things." There's just something magical about rounding the point and seeing the majestic peaks come in to view. I'll be honest here – I got a little emotional.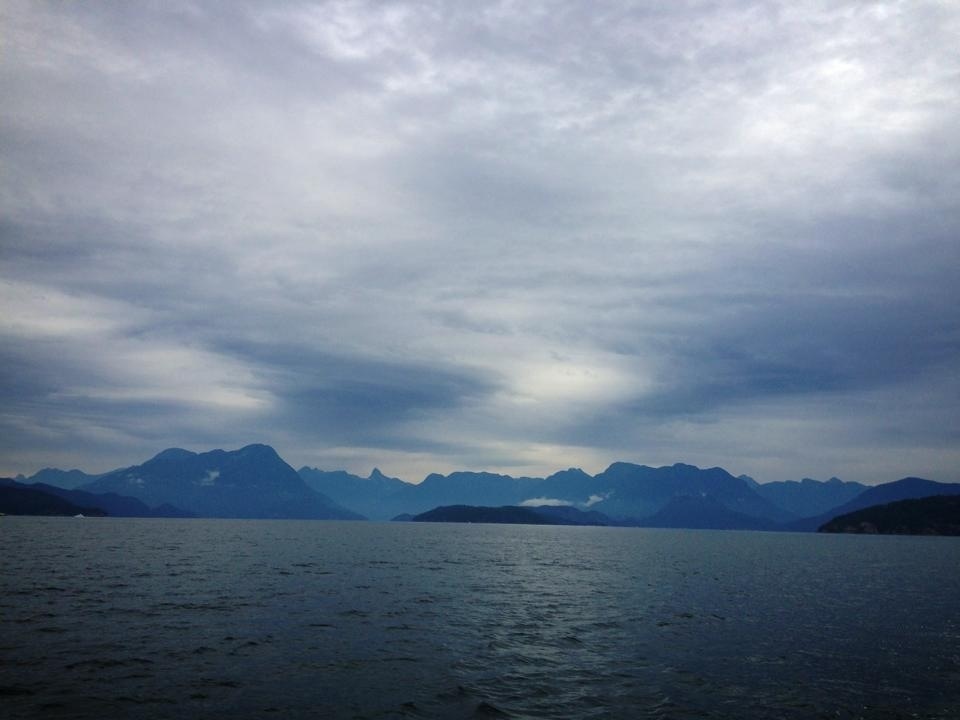 Back under way, we continued on to Rebecca Spit (Quadra Island). We intended to anchor in the bay, but after the updated forecast looked less than pleasant, we called and were able to secure space at the Dock at Taku Resort. I encountered the roughest water of the trip during this run. While rounding Sutil Point (Cortez Island), we were taking a beam sea. Due to some vessel traffic, I had little choice but to just take it and rock and roll in the three-plus footers slapping me alongside. After I cleared the other boats, I was able to turn the bow into the waves for a more comfortable ride. After rounding the buoy, I was able to turn and surf the waves nearly all the way to Rebecca Spit.
We made a good choice going to the dock. Shortly after tying up the winds built and the rain poured.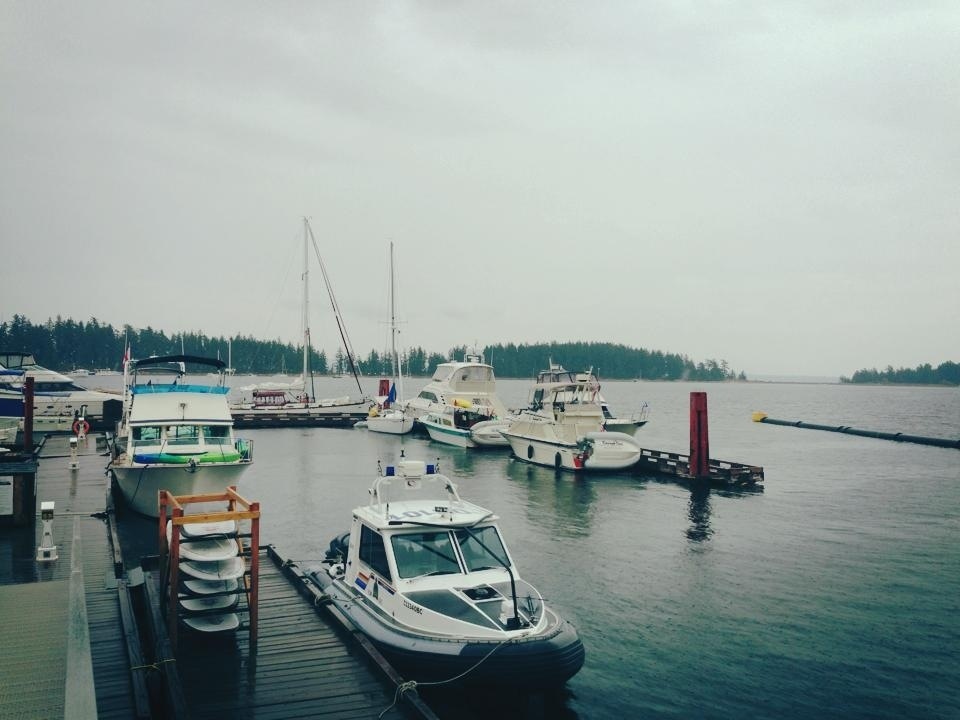 Day 5 Total: 28.1 Nm
Trip Total: 174.1 Nm
Day 6: Thursday, August 15
Today's destination is Octopus Islands. We have a set of rapids to transit with an early afternoon slack, so there's no rush getting moving this morning. A few of us walked for coffee and pastries. Had, what may possibly be, the best latte I've ever had at the little coffee shop in the Heriot Bay store. Back at the boat, I topped off my water tank and my sun showers and got ready to leave with plenty of time to spare.
There was barely a breeze, and the sun was beginning to shine as we left the dock. We still had plenty of time before slack water at Surge Narrows, so we cruised slowly. This would be the last cell service we'd see in several days, so while idling along, I caught up on e-email and Facebook.
We arrived at Surge Narrows with time to spare. Little Bear poked their nose into Beazley Passage. It looked good, so they continued. Then Briar Patch. Then my turn. Piece of cake. We continued to idle along, waiting for the rest of the boats to clear the rapids, and were met by a pod of Orca Whales heading toward the narrows. My view was from a distance, but Wind Walker was close.
At Octopus Islands, we built our raft in Tentacle Bay. We shared the bay with only a few other boats. The weather was pleasant, we went for a nice kayak paddle.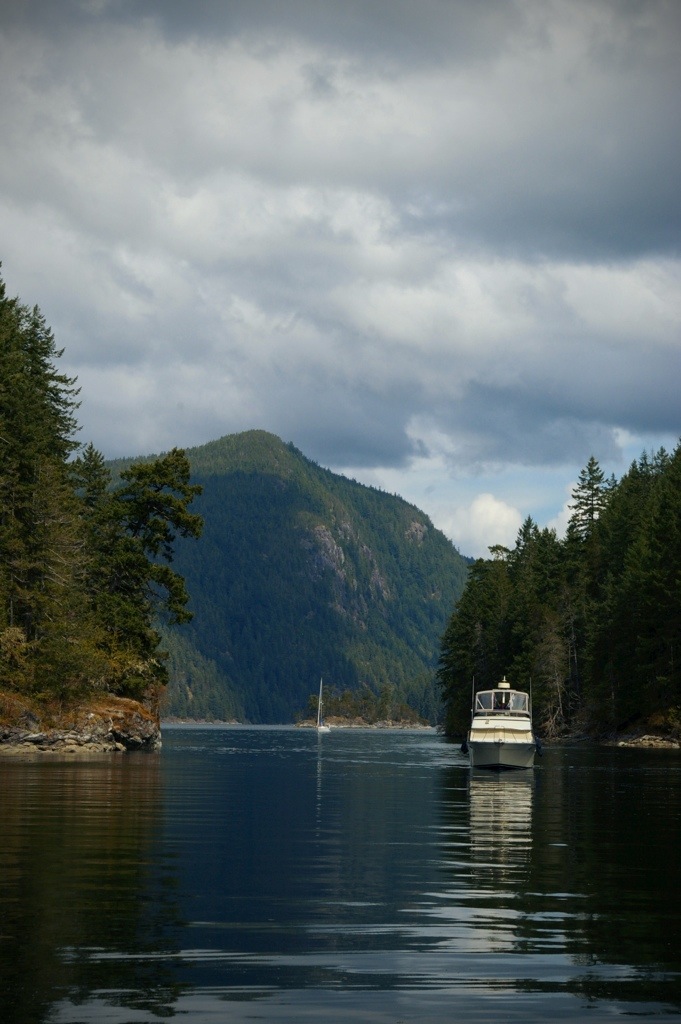 Day 6 total: 15.7 Nm
Trip total: 189.8 Nm
Day 7: Friday, August 16
We planned to spend two days at Octopus. There's plenty to see and do, but the weather really isn't cooperating. Between rain showers, we get out for some exploring. There's an old cabin on Octopus where cruisers hang signs they've created to memorialize their visit. I work on mine, my medium is sharpie on Rebecca Spit driftwood.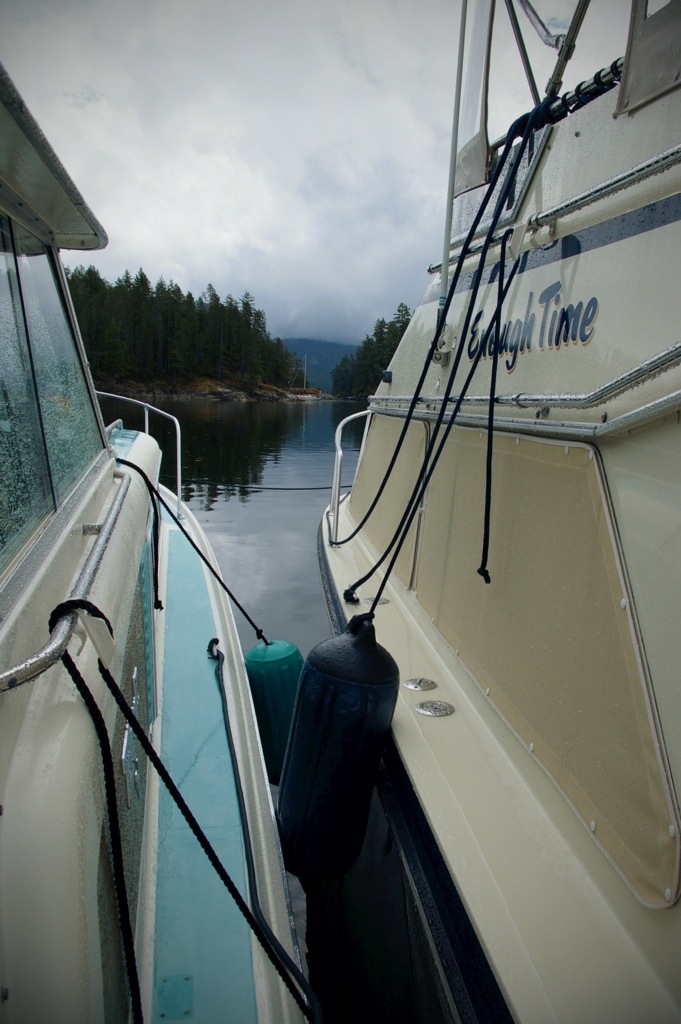 During a lull in the rain, we all took a ride over to the cabin to leave our artwork. Amazing. Some of the pieces are simple, while others required a lot of time and talent. If you visit, see if you can find mine!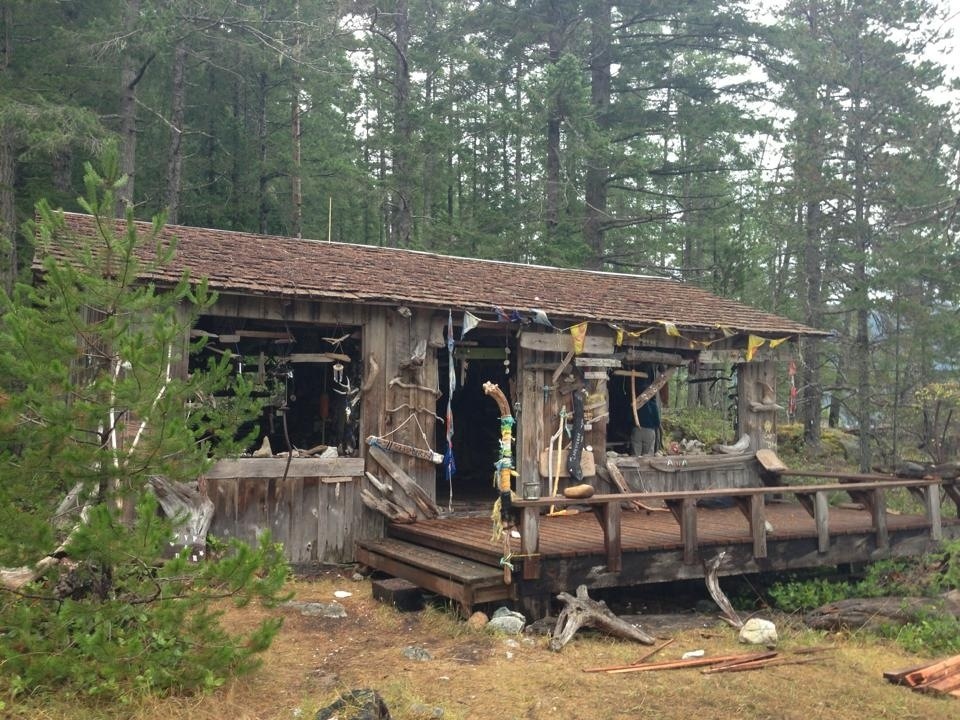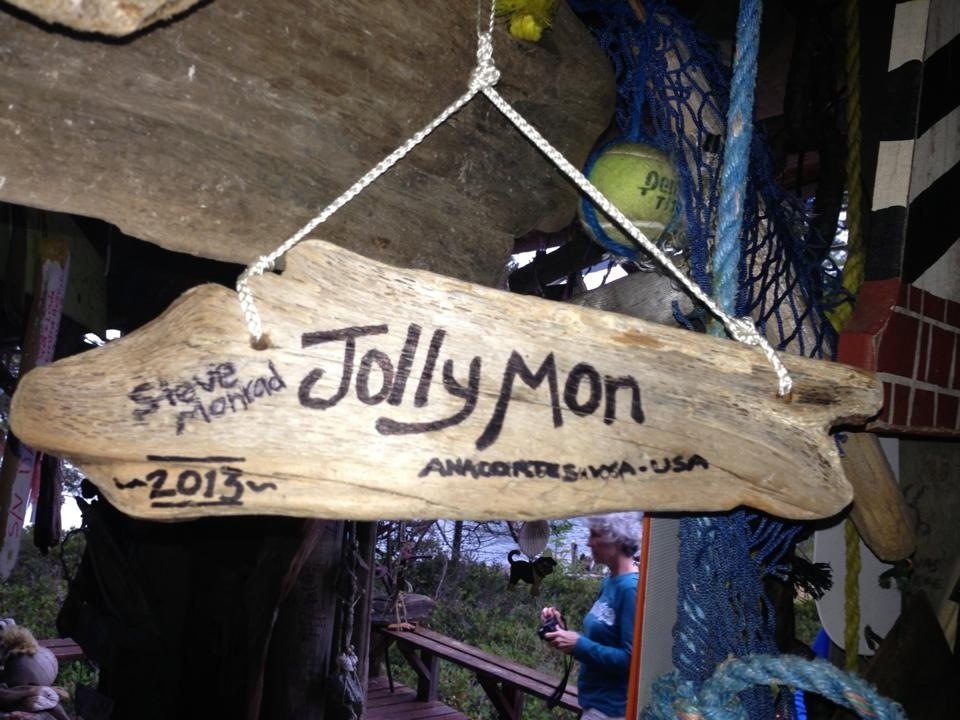 We cruised in our dinghies around Waiatt Bay. Near the head of the bay, was a familiar looking Kady-Krogen. It was Daisy, a boat I've shared a dock with several times in the San Juans. Her owners' Gary and Jean are experienced cruisers, and are two of the nicest people you could meet. Stopped by for a visit before heading back to the boat.
Day 8: Saturday, August 17
"Back to bed…"
"Back to bed??"
"Yep, back to bed…"
"Okay, back to bed!"

The conversation across the raft-up went something like that. We had planned for an early, 6 am departure to transit Upper and Lower Rapids en route for today's destination of Anchorage Lagoon (Sonora Island). Fog lay on the water, and poor visibility is reported on the VHF radio weather observations. We'd wait for the next slack.
On this run, timing is important for two points. First we want to time our transit of the rapids close to slack. Second, we need to ensure there is enough water to enter Anchorage Lagoon.
Anchorage Lagoon is a destination that isn't written about much, and I hesitate writing about it here. It's a small bay with room for several boats that seems like would be comfortable in almost any wind. It's entered through a narrow, shallow passage with depths of two feet at zero tide.
We were once again ahead of the slack, so the Upper Rapids were still running a bit- maybe two knots. We all easily cleared the rapids, passing by several boats waiting for slack at Hole in the Wall.
The run up Okisollo Channel and into Discovery Passage was flat. Passing Chatham Point, Johnstone Strait looked flat as well.

Our timing was good, and we all entered Anchorage Lagoon with plenty of water. When the first two boats arrived, a black bear was on shore. They waited a while before running the stern tie in. Rick and Pam on Flash were anchored nearby. I've met them a few times. They spend a good part of the summer cruising all over in their go-fast Formula.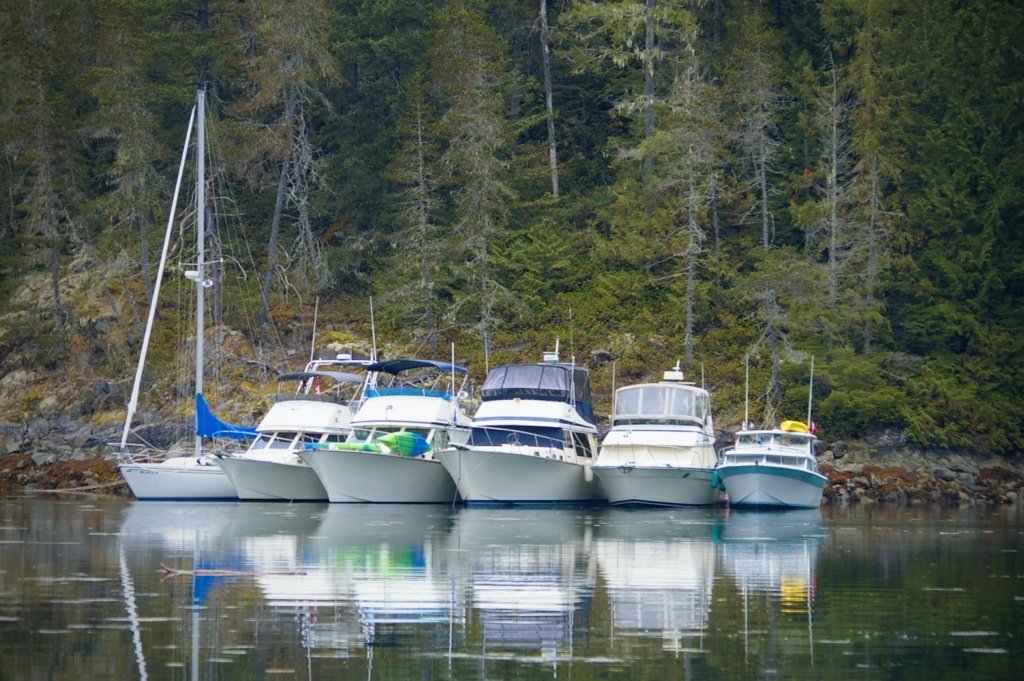 It was a nice evening. I brought my guitar to Briar Patch's aft deck. I took some requests and did my best…
Day 8 total: 17.0 Nm
Trip total: 206.8 Nm
Day 9: Sunday, August 18
I can't remember what day it is. Mission accomplished.
We're spending two days at Anchorage Lagoon, with hopes to get some paddling, dinghy exploring, and some fishing in. It's been raining off and on.
The weather cleared a bit, so it was time to get out and do some exploring. We launched the dinghies and went to check out Chameleon Harbor, Handfield Bay, and Thurston Bay, with hopes of seeing some wildlife. No bear, but a lot of salmon jumping and a few porpoise. The tour was cut short, when the rain started. It poured. When I say it poured, I mean it POURED. Shortly after getting back to the boat, soaking wet, the rain stopped, skies cleared and the sun came out. Mixed bag weather we're having.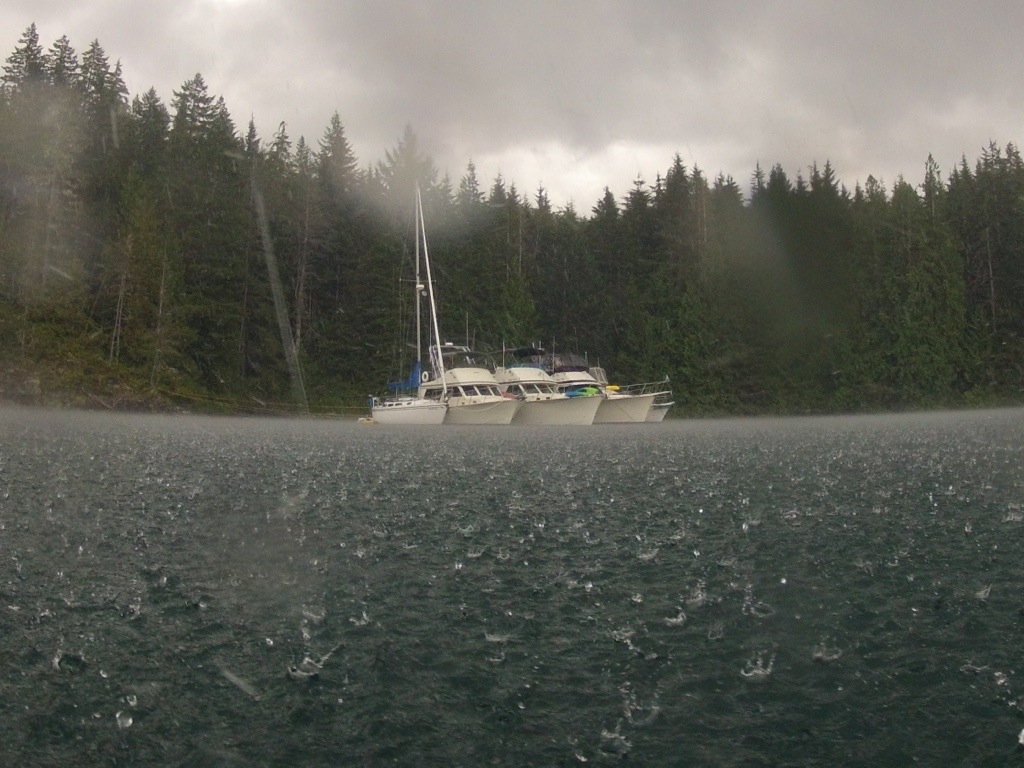 We filled our bellies with fresh-caught cabezon, sea cucumber, Baker Lake Sockeye (thanks Dad!), and crab all washed down with a favorite libation. Life is good.
Day 10: Monday, August 19
Woke to rain on and off. The forecasts have been indicating improved weather, and we're ready for it any time. Today we're planning to head for Big Bay (Stuart Island). Once again, timing is important. We need to have enough water to get everyone out of Anchorage Lagoon, and we'll be transiting Dent Rapids.
Throughout the morning, the rain ceased and the skies cleared. By the time we were getting ready to leave, we were warmed by the sun. As we were starting up and breaking up the raft, Big Sky was having trouble with one of their engines. They decided it best to head for civilization to look for a mechanic, as many places up here you would have to fly one in. We said goodbye to Paul and Laurie as we motored on.
The water was flat and the sun was shining. With time to spare, waiting for closer to slack at Dent Rapids, we made a slow run up to Shoal Bay, where Briar Patch and Jolly Mon tied to the public dock and went ashore for a while. What a cool, funky, low stress place. We heard about the Shoal Bay Music Festival that took place recently. Sounded like a lot of fun and something worth checking out some time.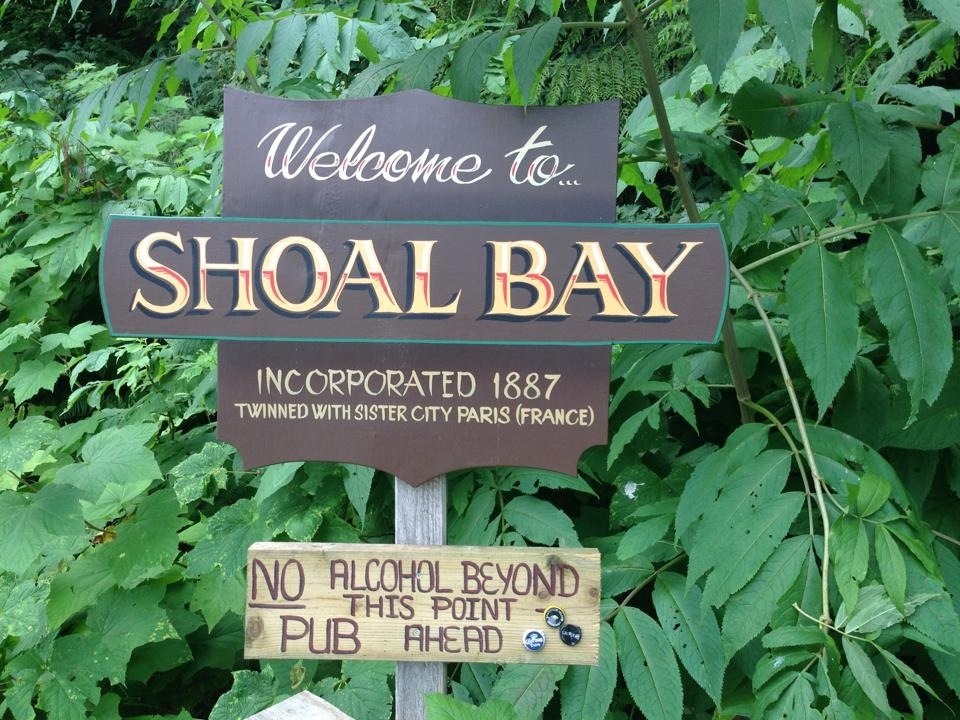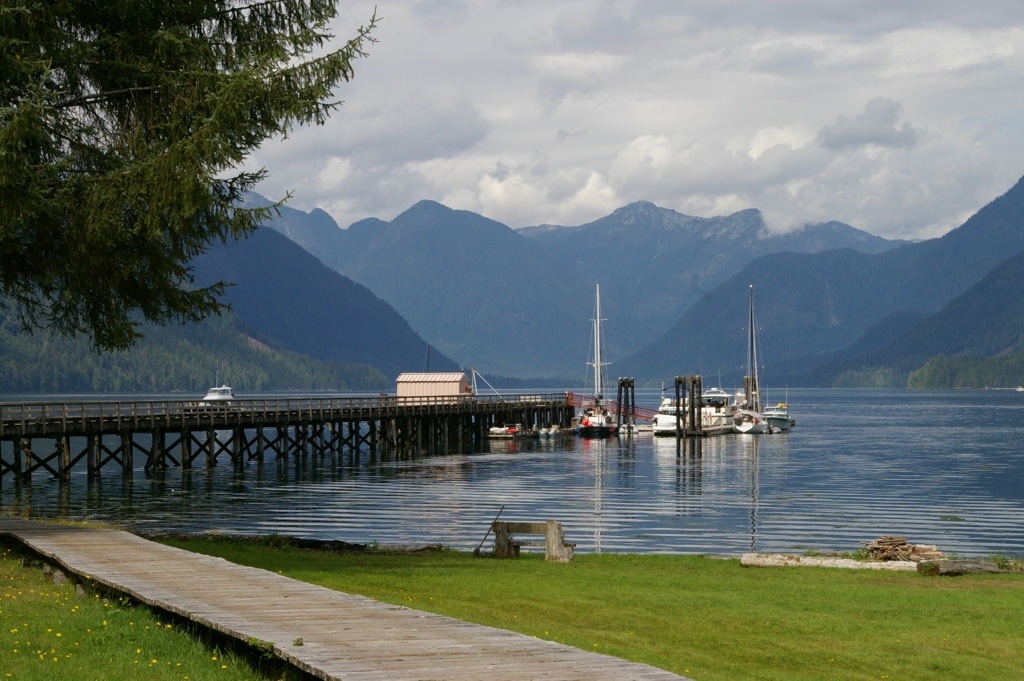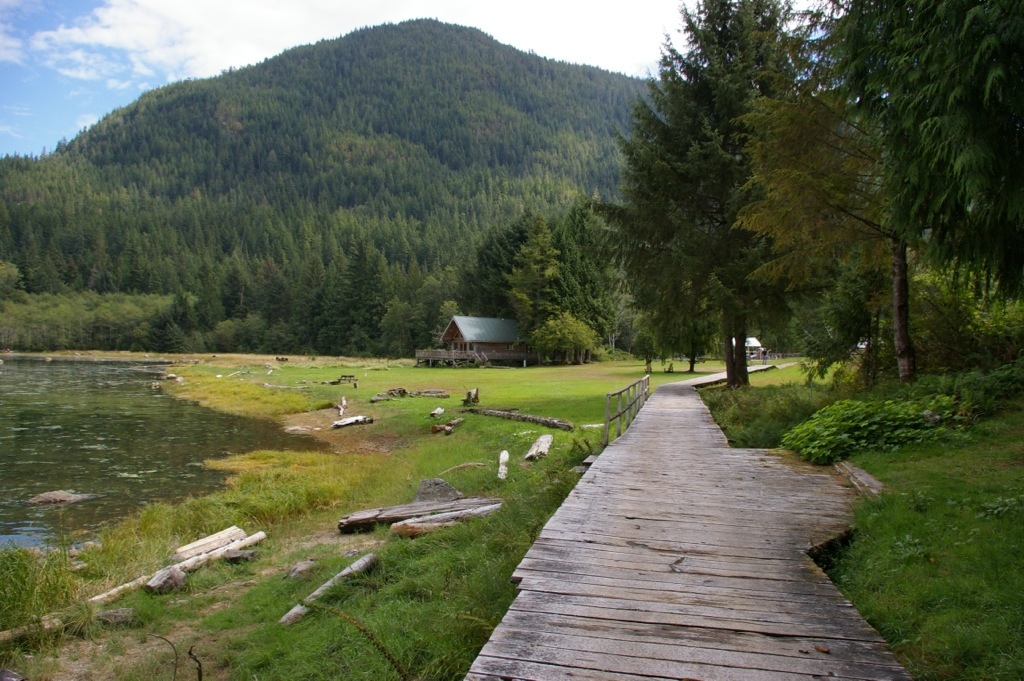 Back under way, we pushed on toward Dent Rapids. We were ahead of slack, so the rapids were still running pretty good, but the ride through was fine. We were running with the current, with a three or so knot push helping us along.
At Big Bay, we tied to the community dock, which had plenty of room. Electricity is generated on site, so a few of the group ran up to do some laundry before the generators shut down at 6 pm.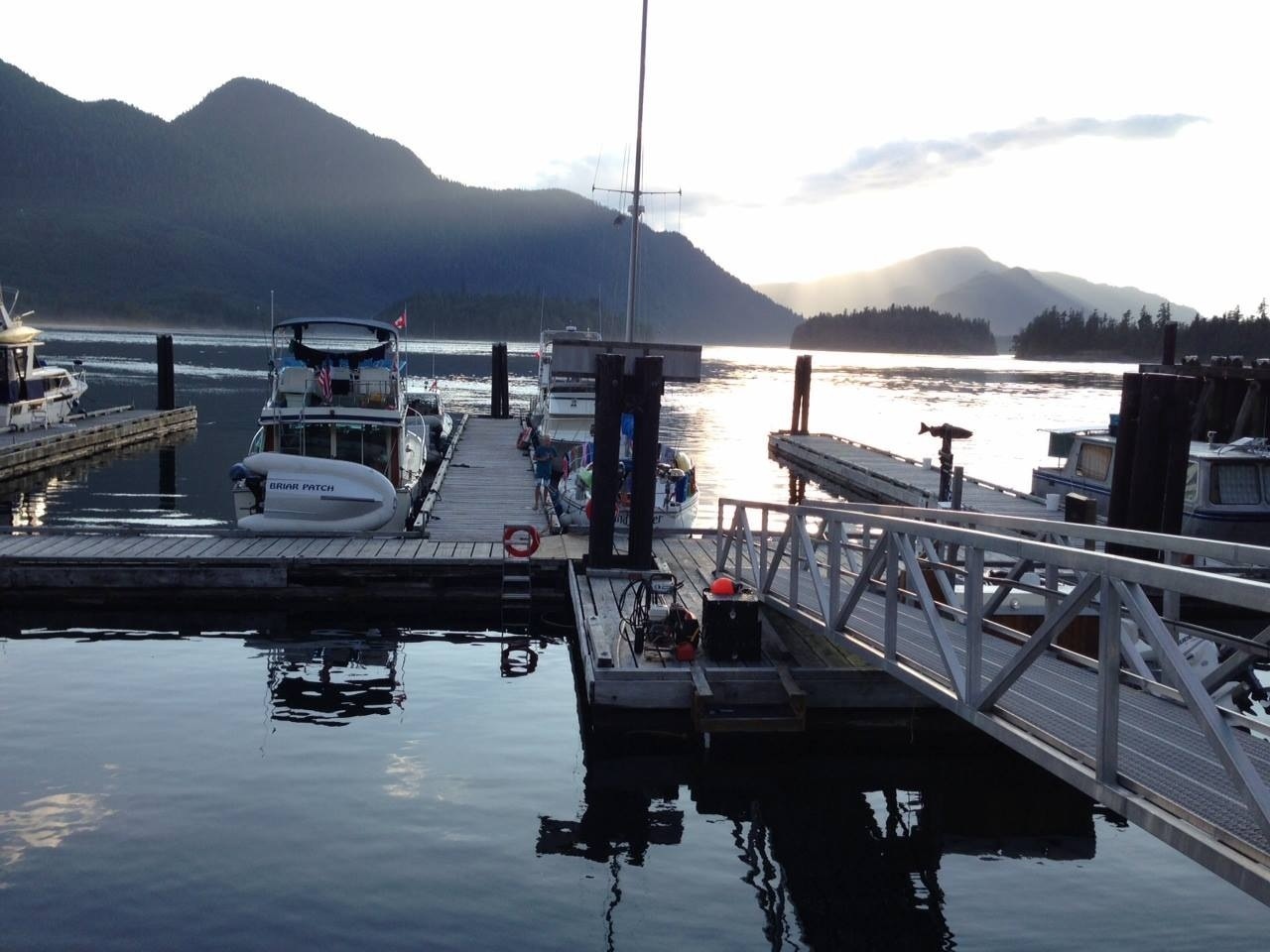 Briar Patch's littlest crew member, Thomas, took a tumble coming down the ramp. Two skinned knees required a little bandaging and some TLC. Smiley faces drawn on the bandages seemed to help the patient feel a little better.
Since the marina is powered by generator, when night falls and the generators are shut down, the place goes dark. They have wonderful shower facilities, but remember to bring a flashlight if you intend to shower after the sun goes down.
A great day.
Day 10 total: 19.5 Nm
Trip total: 226.3 Nm
Day 11: Tuesday, August 20
For the first time in what seems like a while, we woke to blue skies. We've earned some nice weather, and hope it sticks around a while. Today we're heading for Refuge Cove. We all could use some groceries and a chance to plug in to shore power to put a good charge to the batteries. I'm due to do laundry, and may fuel up, too.
We departed Big Bay and ran through Yuculta Rapids, which were still running a bit, but weren't a problem at all. We ran a little bit out of the way over to Church House Bay, where we had heard that bear had been seen, but no such luck.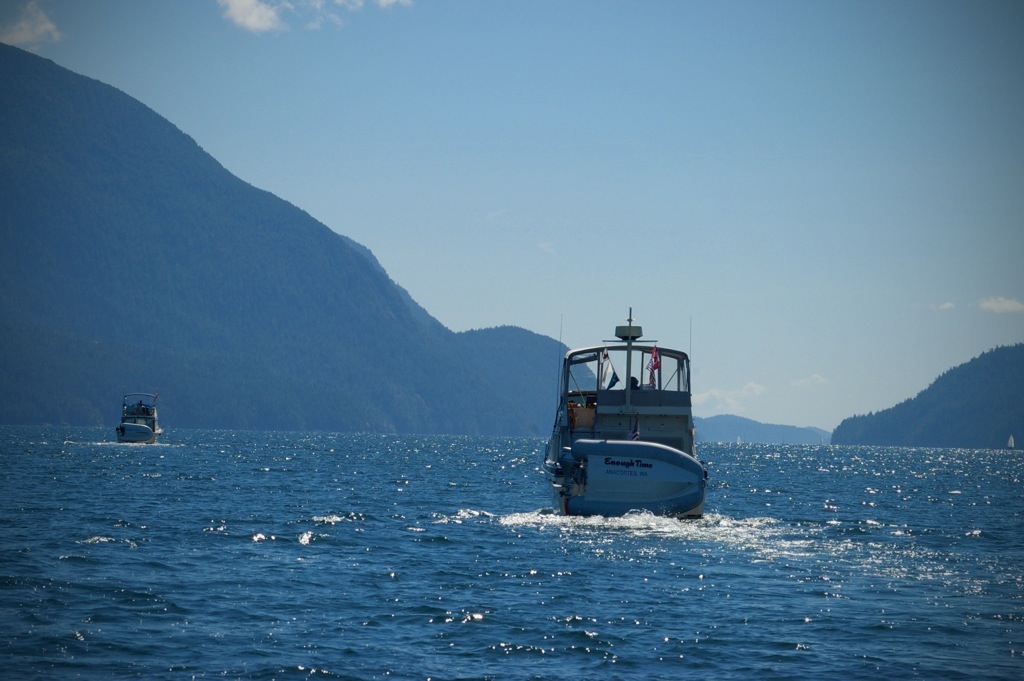 Briar Patch, Wind Walker, and Jolly Mon turned up Teakerne Arm, while Little Bear and Enough Time continued on to Refuge Cove. We anchored and rafted and went to shore for a hike and a swim in Cassel Lake. Our visit was only a couple of hours, but we had a great time, and I look forward to returning.
Back on the boats, we continued on, and in what seemed like no time, we were tied up at Refuge Cove. It's Jonathan from Briar Patch's birthday. We had a great dinner on the dock, complete with cake and ice cream, and a toast to the birthday boy.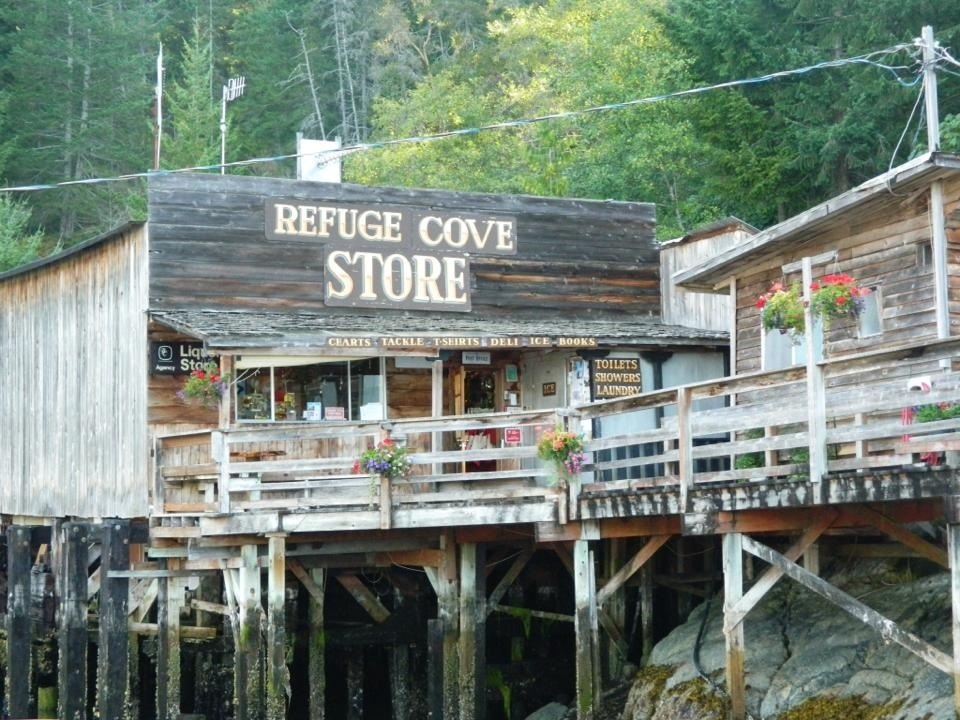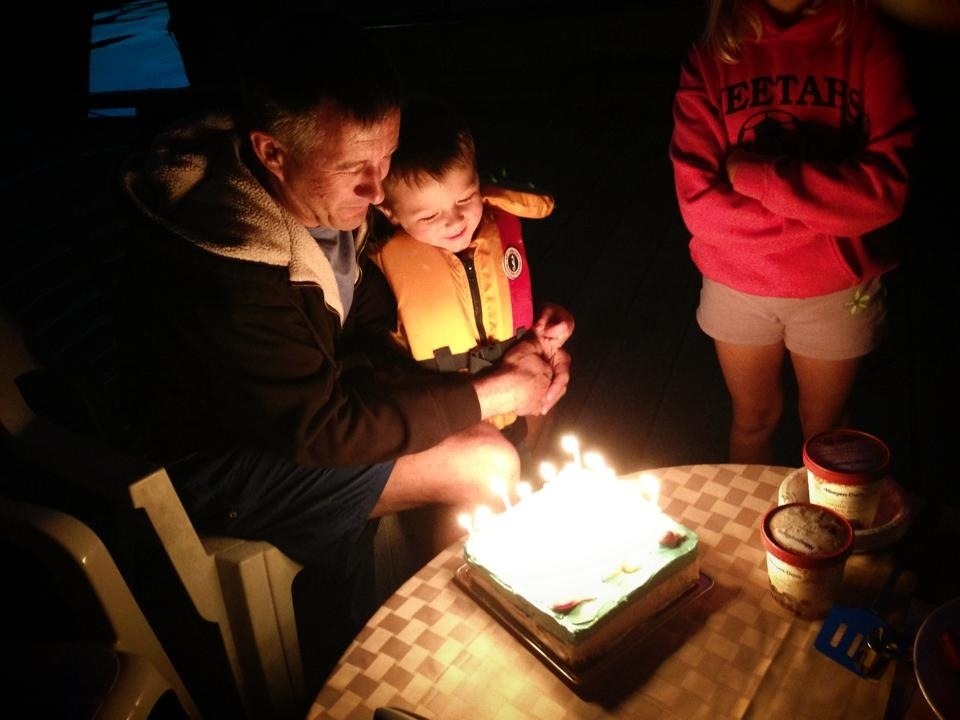 Day 11 total: 27.4 Nm
Trip total: 253.7 Nm
Day 12, 13 & 14: Wednesday, August 21 – Friday, August 23
Another beautiful morning. After grabbing a few groceries and taking on fuel we were under way for Pendrell Sound, where we're planning to spend three nights. We're excited for the clams and oysters there, as well some good swimming.
The past couple of days I've had a passenger. Spencer from Wind Walker asked if I could use a deck hand. He's twelve, knows his way around a boat, and a pleasure to have on board.
The run up Pendrell Sound was perfect. No wind, blue skies, and sunshine. I ran on one engine at about 1200 rpms making about 5 knots.
Briar Patch set their hook, ran their stern tie to shore, and we built the raft. We then set two lunch hooks to help secure the anchorage. We are sitting on a shelf that is about thirty feet deep that drops off to about 150 feet. The anchor hangs over that ledge, and catches on rock, while the stern line keeps tension on the anchor chain. This is my first time anchoring like this, so it's interesting to see how it works. It's definitely not for those who are squeamish about anchoring or not comfortable with their anchoring skills and ground tackle.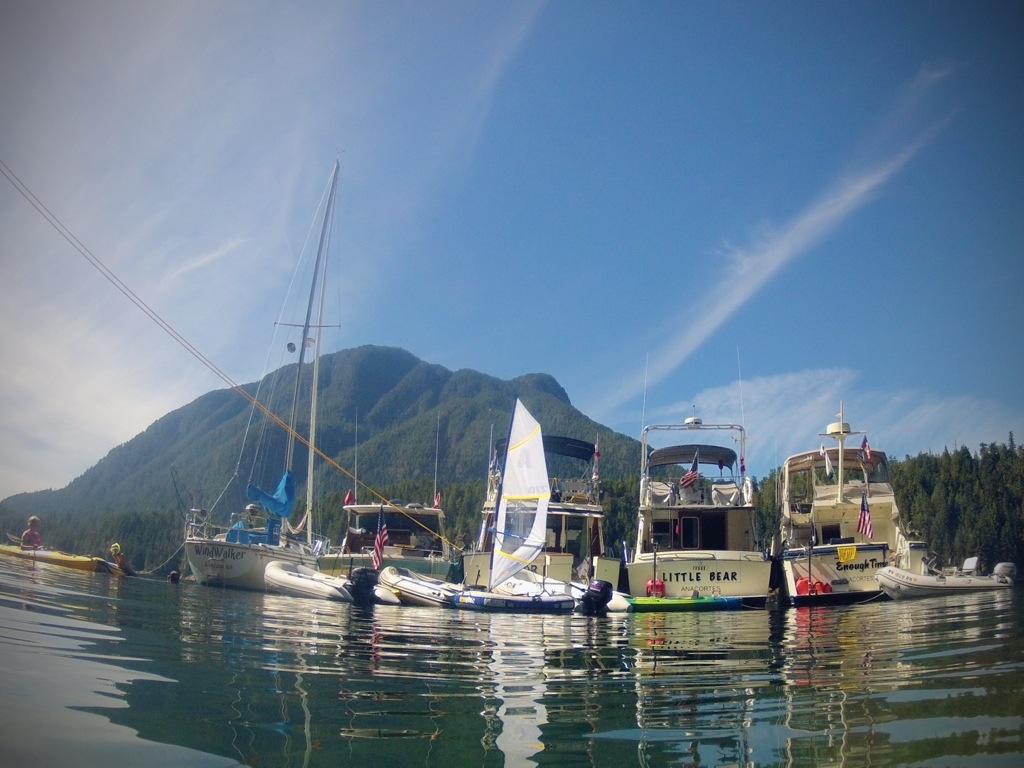 Once settled, you quickly heard the splashes of bodies hitting the water. The water temperature here is 72 degrees, and feels wonderful. There's a great rock cliff for jumping from right behind our boats.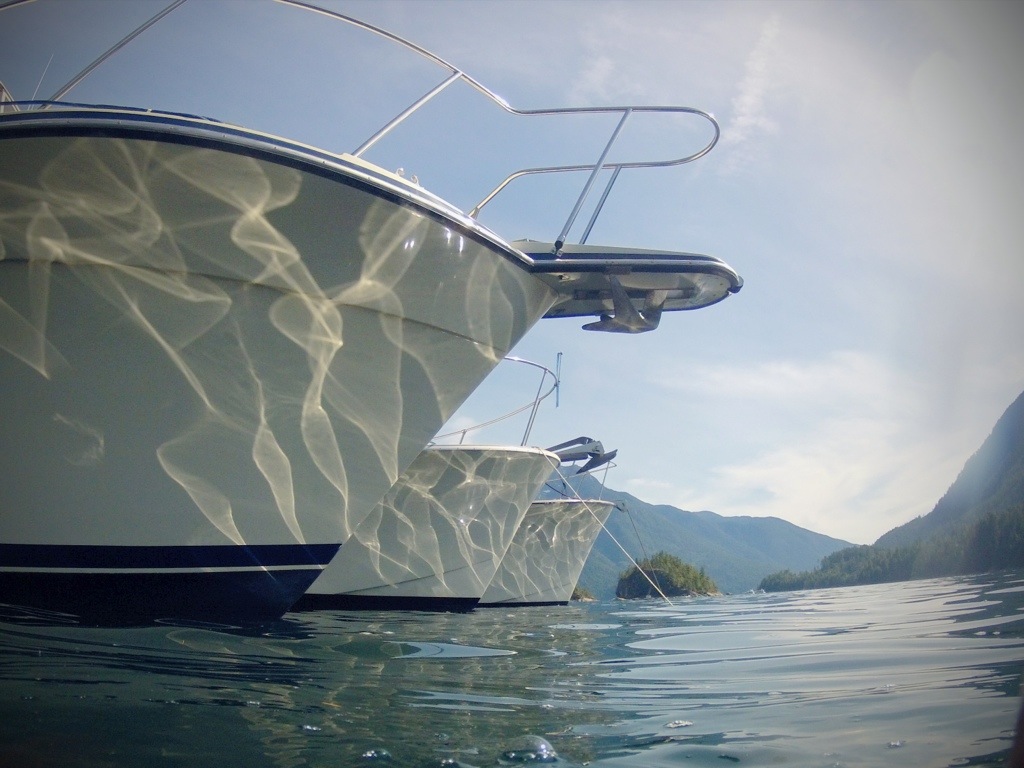 A short dinghy ride away there's a beach full of oysters. They're the perfect size, and are probably the most delicious I've tasted. Steamer clams are found right under the surface with a scratch of a rake, or even bare hands. If you like seafood, you wouldn't go hungry here.
This place is a little slice of heaven, and we've had a lot of fun here.
A few days ago, running the Upper Rapids after leaving Octopus, I ran over a piece of wood, that I didn't see until it was spit out behind the boat. I felt a bit of a vibration on the starboard side, so once in the warm water I put on a mask and went under to inspect. I bent one of the blades on the prop pretty good…
What do you do when you carry spare props and a prop puller, and have nice warm water? You change the prop!
To begin, we untied my boat from the raft up and slid it back the stern line so we could work in shallower water, and tools, props, etc would not have as far to fall. Todd from Wind Walker and I went below, while Jonathan from Briar Patch remained on board, handing us tools, tethered with poly rope. The swap was quite easily, and aside from having to hold our breath, wasn't much more of a job than in the boat yard.
By Friday afternoon, the weather is starting to change again. There's a forecast for some significant wind in the Northern Strait of Georgia. We're getting some inconsistent breeze here, and have a plan to move and a spot picked out across the bay if things get too surly.
So far, so good. A great dinner and some more swimming to round out another great day.
Day 12 total: 15.4 Nm
Trip total: 269.1 Nm
Day 15: Saturday, August 24
Our anchorage remained protected from the wind, but we did get rocked a bit by wind waves from the more exposed areas of the bay. By morning the wind was calm, and we were up and moving fairly early to move on to our next destination, Roscoe Bay (West Redondo Island). The entrance to Roscoe Bay dries at zero tide, so we needed to get under way to ensure we had plenty of water for Wind Walker to enter safely. Little Bear left the group to start toward home – it was sure nice spending some time with John and Nancy on this trip.
The run down Pendrell Sound was calm, and we were the only boats moving until we entered Homfray Channel. We entered Roscoe Bay with plenty of water, where we anchored and rafted. Roscoe Bay is a pretty spot.
After some lunch, Jonathan from Briar Patch and Spencer from Wind Walker and I went to shore for a hike. From Roscoe Bay, a trail leads to the top of Llanover Mountain, spanning 3.2 miles and gaining nearly 2,200 feet. It's not a hike for the faint of heart, but the view from the top is the reward. It was about a four hour round trip.

Back on board, we stuffed ourself with clams and oysters we harvested from Pendrell Sound. I'm pretty certain I've never eaten so many clams in my life – they were delicious.
Todd from Wind Walker pulled out some Scotch, and I brought out my guitar. A nice evening for sure.