I've decided to begin a new "feature" here that I'll call "Boatable Burgers". I like burgers, and if there was one food I'd choose to eat for the rest of my life, the hamburger would probably be it. However, if that were all I ate, I understand that time could be shortened significantly.
I get the idea from one of my boating friends who conducted a study of fish and chips he ate from the San Juans to the Broughtons a few summers ago. I'll concentrate on burgers from places that can be reached when boating, and share my tasting notes with you here.
On my last visit to Friday Harbor, while walking around town looking for some dinner, I decided to give the Cask and Schooner Public House and Restaurant a try. Formerly the Front Street Ale House, it is literally about a minute's walk from the Port of Friday Harbor Marina. When I arrived there was already quite a dinner crowd, so I sat down at the bar next to a local guy we'll call "Tim". Everyone seemed to know him and they all came to greet him. He was chided for missing morning yoga by a few, and his excuse was that he had a little too much fun square dancing on Lopez the prior night.
The atmosphere is comfortable and inviting. Cool nautical artifacts line the walls. Several beers on tap and the bar looked well-stocked.
For dinner I chose a burger which the menu described as grass-fed island beef that I ordered topped with white cheddar and bacon. It came out nicely prepared with a generous portion of house cut fries.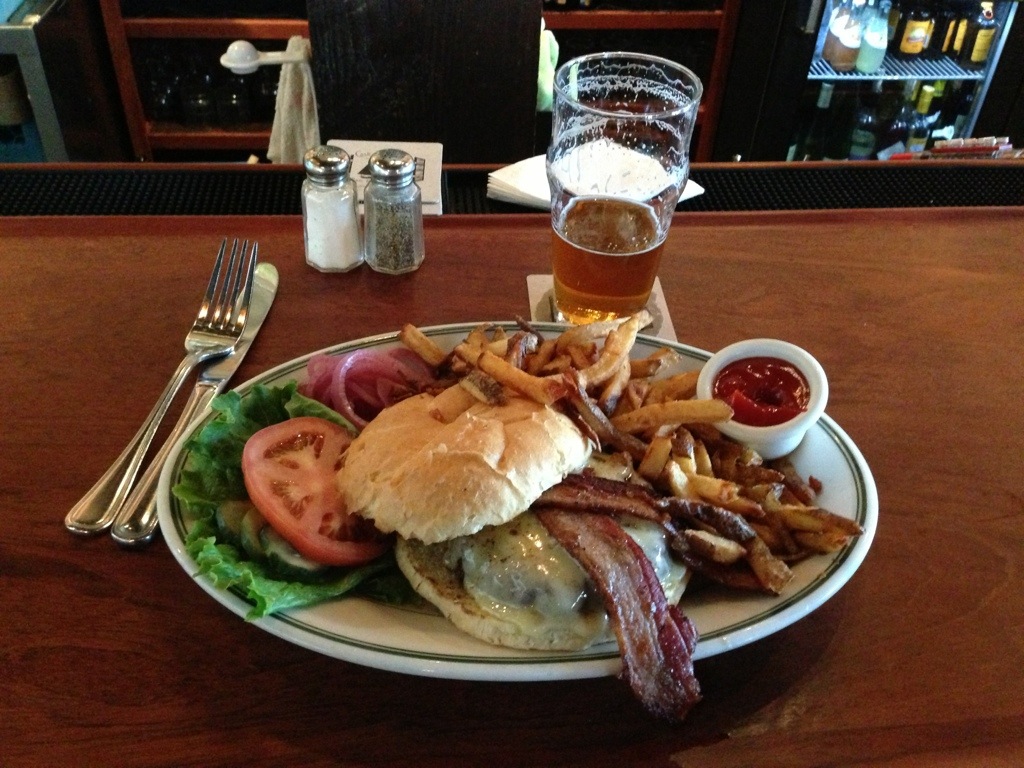 The bun was lightly toasted and served with a caramelized onion aioli, and was not the kind you find in a plastic bag from the supermarket. The meat, very lean and flavorful, didn't require much else but a dab of ketchup. On the side was some fresh lettuce, tomato, and some tasty pickles.
It was delicious, washed down with a pint of Stone IPA. From where I sat, I saw some nice looking plates going by as they left the kitchen. Definitely a spot to visit again.