For this installment of Boatable Burgers, I'll be featuring another Anacortes location – Dad's Diner.
At 906 Commercial Ave, Dad's is a short walk – literally only minutes away – from the Port of Anacortes' Cap Sante Marina. Open for breakfast and lunch Tuesday through Sunday, Dad's has become a popular local spot since opening in February of this year.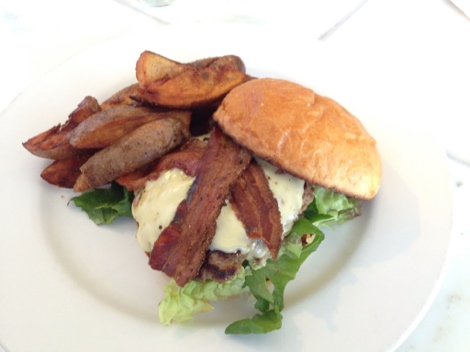 The atmosphere is fun and inviting, with a vintage eclectic decor. Ample seating is available either at tables or along the bar. Shelves display old guitars, radios, toys, and other cool artifacts that give the space a classic diner feel. The menu is written on a blackboard, amongst the "Wall of Dads" – a collection of framed pictures of customers' fathers. The place has a really cool vibe.
Owners Fletcher McLean and Neil Stuchal cheerfully greet customers. Fletcher has an amazing ability to remember names. Visit a few times, and he'll remember yours. Neil is hard at work in the open kitchen, creating the dishes that make up Dad's menu.
I decided to try the Bacon Cheeseburger. The patty is a generous portion of brisket, ground in-house, topped with smoked bacon that is also house-made. Being of good Norwegian heritage, I chose Jarlsberg cheese from the several cheeses available. The bun is a Schwartz Brothers Bakery brioche bun that is lightly toasted, bringing all of the fresh ingredients together for a great burger. Crisp hand cut Jo Jo potatoes are served on the side, making this is a plate of food that won't leave you hungry.
This would have to be on my short list of favorite burgers.
The menu offers variety for the non-burger types, and there is not much that comes out of the kitchen that is not house-made or locally sourced. Their breakfasts are amazing. They offer beer on tap as well as some great bottled sodas.