On a recent weekend trip to Bellingham, my burger research led me to visit the Boundary Bay Brewery. It's my duty.
Located approximately one mile from the Port of Bellingham's Squalicum Harbor, it's within walking distance with some worthwhile stops along the way. Not far off course, about mid-way is Pacific Marine, with it's huge assortment of used marine "stuff" as well as nautical books, charts, and artwork. When you reach the brewery, directly across the street is the Bellingham Farmers Market, open every Saturday of the season.
The Boundary Bay Brewery is a popular spot in downtown Bellingham, and as we found out, they do not take reservations for lunch on weekends. With a packed house lunch crowd, our party of seven had to be split up over two tables. Had we wanted to wait a while, they would have been happy to accomodate us, but we were hungry.
I decided to try their burger topped with bacon and pepperjack cheese. The menu described local beef on a "pretzel bun". I elected to forgo fries for a salad.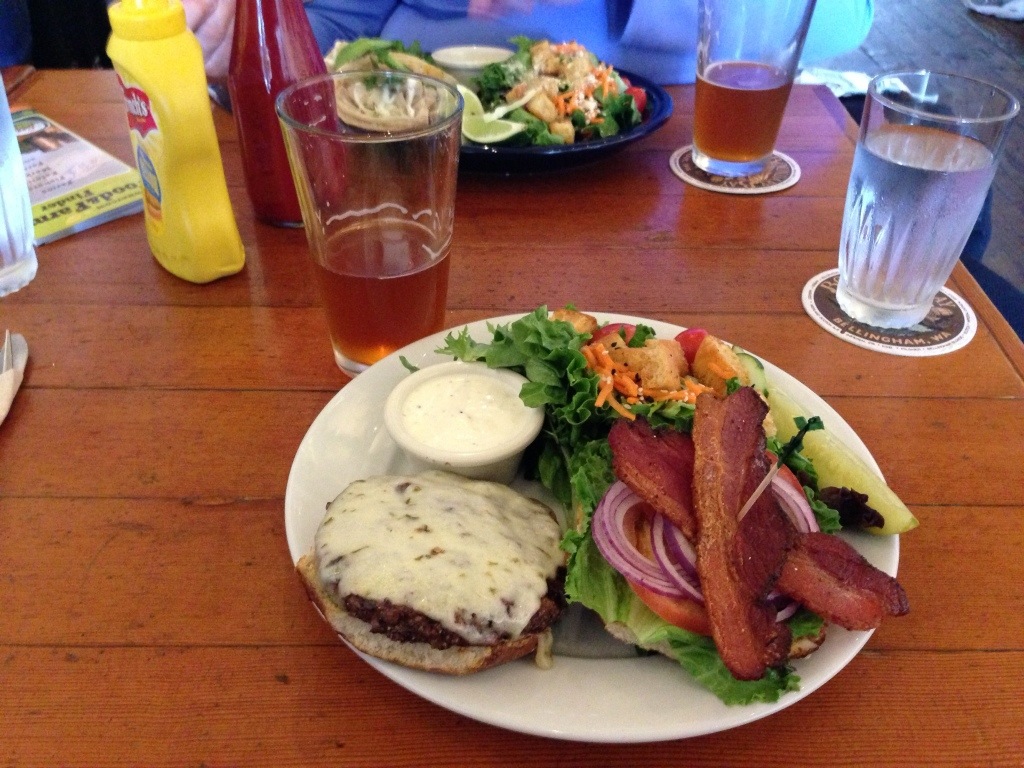 The burger was nicely presented with a generous side salad and all the accompaniments you would expect. The meat was lean and flavorful, the bacon thick sliced. The meat was cooked a wee bit more than I prefer, but it was still juicy. The bun had an interesting crisp texture and flavor unlike your average hamburger bun. Altogether a good burger. The salad was excellent, and I actually dove in and finished it before even starting on my burger… I would definitely have this combination again.
Others at my table had a pesto salmon sandwich that looked very good, and reports indicated such, as well as a nice-looking plate of fish tacos. The menu is varied, so there's probably something for every taste. Some desserts passed by that looked pretty amazing, too.
They brew several beers, their IPA being my favorite ever. I refer to it as my "measuring stick" IPA that I compare all others to. They offer bottled beers for sale, and sell and fill growlers. All ages are welcome in the bistro, offering a family-friendly menu and atmosphere.
The Boundary Bay Brewery is worth a visit if you find yourself in Bellingham, by water or by land.